We pride ourselves on customer service and go above and beyond to ensure our guests are happy. With over 30 years of experience in making memorable vacations for our guests, we are proud of our consistent 5-star reviews.
Our team has personally visited each Caribbean destination and knows our villas intimately. We offer a complimentary pre-arrival concierge service before your vacation to arrange everything, from VIP fast-track and airport transfers to booking excursions and dinner reservations.
How to Choose the Perfect Caribbean Luxury Vacation Rental
Touching down in the Caribbean is a welcomed adventure. The plane doors open, the warm air gently brushes your face, and you hear the reggae band playing on the tarmac as the locals greet you with warm and welcoming smiles.
You arrive at your luxury Caribbean villa, greeted with a rum punch in hand. You hit the beach within minutes and take a dip as the azure Caribbean Sea awaits you. You have arrived in Paradise!
When it comes to choosing luxury villas in the Caribbean, there are many things to consider:
The Destination
There are endless options to choose from when picking the right island. From the popular destinations of Antigua, St Barts, and St Lucia to the more sophisticated islands off the beaten track, such as Nevis, Canouan, or Anguilla, we have an island for you. While each has its distinct character, all boast glorious beaches, crystal clear waters, and an infectious charm you won't find anywhere else.
Choosing the perfect destination for you and your travel companions can be daunting. Let us do all the work for you. Our team is knowledgeable about each of our destinations. They have been to every island and will be delighted to make their recommendations for you.
Suppose you prefer a destination that offers many activities, such as tennis, golf, and zip lining. In that case, we suggest destinations such as Jamaica or the Dominican Republic. Suppose you prefer to be on a flat island, directly on a white sandy beach. In that case, we recommend an island like Barbados, Turks and Caicos, or St Martin.

For those looking for glitz and glamour, we recommend the chic French island of St Barts. Grand Cayman should be on your list if you want the most magical sunsets. We suggest locations such as Tamarind Hills in Antigua or Seven Mile Beach in Grand Cayman for those seeking breathtaking ocean views.
If you want to be embedded in nature, we suggest St Lucia or Nevis. For those that love a laid-back island vibe and like to island-hop, we suggest the Grenadines or the British Virgin Islands.
Each island varies in size, typography, activities, and the vacation rentals it offers; therefore, we recommend speaking to one of our team who will carefully listen to your requirements, understand your needs, and make suggestions based on your preferences.
If you are flying from the USA, you have endless destinations to choose from. Particularly for those flying from the East Coast, there is a great selection of direct flights from New York to the Caribbean.
The Location of the Villa
The location of your villa within a destination is one of the key factors our guests consider when choosing a luxury vacation rental in the Caribbean.
Some guests prefer to be centrally located close to restaurants, bars, and cafes and within easy reach of water sports. In contrast, others prefer to be off the beaten track and enjoy a tranquil vacation surrounded by nature to totally switch off.
If the latter applies to you, check out our recommendations for Caribbean Vacations off the beaten track.
Beachfront Villas
The powder-like white sandy beach comes to mind when we think of the Caribbean. After all, it is one of the main reasons people visit these tropical paradise islands.
Many of our villas are located on the beach, offering direct access to the Caribbean Sea. Guests can look forward to waking up to the sounds of the sea.
Often staying in a Caribbean beachfront villa means you don't need to rent a car, and you can easily reach the azure waters within seconds. Beach-side dining with your toes in the sand can also be an option if you stay on the beach.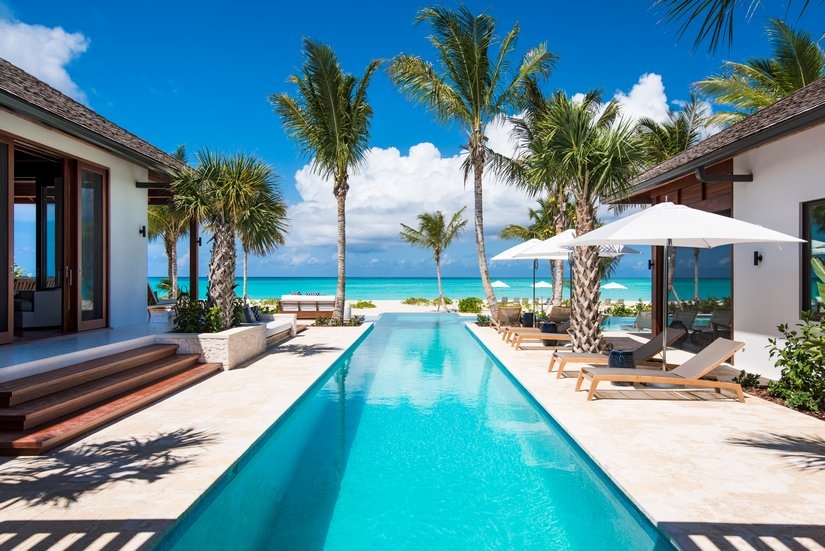 Ocean View Villas
Choosing an ocean-view villa provides wonderful sea views and a picture-perfect backdrop.
Sunsets can be magical from these villas, and you can also enjoy a gentle breeze which can be very welcomed in the tropical climate.
One of the best parts about being located off the beach is that you can rent a car and explore the island while trying out a selection of beaches. Why not visit Antigua and enjoy 365 beaches – one for every day of the year.
Golf Villas
Being located right by the golf course or overlooking the fairway is often a unique experience for golf lovers. We have a selection of golf villas to choose from.
Our most popular Caribbean golf destinations include Jamaica, Dominican Republic, and Barbados.

Resort Villas
If it's your first time staying in a luxury villa rental in the Caribbean, you might prefer to stay in a resort.
Resort-style villas offer the best of both worlds by providing you with the space and privacy that comes with staying in a villa while giving you access to onsite amenities, such as a kid's club, tennis, communal pools, and restaurants.
If you want a family-friendly resort, we highly recommend our lagoon villa at Mandarin Oriental in Canouan. A complimentary butler is included to take care of your every need, plus an excellent complimentary kid's club. Click here to check out our full list of resort villas.
Staff & Service
Suppose you are looking for five-star service coupled with attention to detail and discretion. In that case, we highly recommend choosing one of our staffed villas.
Most guests choose this option if they wish to switch off, relax, unwind, and don't fancy cooking or cleaning. One of the unique things about the Caribbean is the friendly staff who genuinely want to ensure you have the most memorable vacation.

Chefs/Cooks
Choose from a wide range of luxury Caribbean villas that come with a qualified chef who can prepare gourmet meals for you and your guests, or if you decide to take a cook, they are generally a local person who has wonderful cooking skills and will prepare family-style meals using the freshest ingredients. No matter your requests, our chefs can adapt to your tastes and preferences and any dietary requirements.
Butler
Staying at a villa that comes with a personal butler is one of the best experiences you can have.
Your butler will be on hand to assist with your luggage, provide you with snacks throughout the day, set up beach loungers for you, and prepare drinks by the pool.
Your butler is often an in-villa concierge who can assist you with any additional request you have while at that destination.
Housekeeping & Laundress
Most of our villas include housekeeping – some villas include this service up to 6 days per week, depending on the chosen villa.
Often the housekeeper will provide nightly turn-down service too.
A Laundress will take care of all your laundry, so you don't need to worry about over-packing or ironing your shirt before heading out for dinner.
Other Staff
Other staff may include a gardener, pool person, property manager, and guest-relation coordinator.
The staff at each villa varies, and we suggest contacting a villa specialist to discuss your requirements to make the most suitable recommendations.
Amenities at the Villa
If you are traveling as a multi-generational family or within a group, you may find you need to book a luxury villa that offers amenities at the villa to keep everyone entertained.
Many of our Caribbean luxury villa rentals include onsite amenities for guests, including your own personal gym, private tennis courts, home cinema room, Games room, and water sports equipment such as paddle boards.

If you have specific amenities you would like at your property, please let our team know, and we will gladly make the most suitable recommendation according to your needs.
Activities Within the Destination
For those thrill-seekers, you may need to choose wisely when choosing a destination that offers you various activities.
Some of our larger Caribbean Islands, such as Jamaica and Barbados, can provide you with endless options for things to do.
Our villa experts are on hand to assist you with choosing the right destination based on what you would like to do while on vacation. Whether you wish to get an adrenaline rush from zip-lining through a rainforest in Antigua or experience a drive-in volcano in St Lucia, we can provide you with the best options and recommendations.
If you prefer to switch off and relax while on vacation, we can organize a luxury catamaran day sail for you or enjoy a romantic picnic on a secluded beach cove – the choice is yours.
You will also have access to our complimentary app while on vacation, meaning you will have your itinerary of everything we have pre-booked for you at a click of a button.
Dining Options
If you are an avid foodie and dining out is particularly interesting to you and your group, we will gladly make the best recommendations of where to eat in your chosen destination and will pre-book your restaurants for you.

Our knowledgeable concierge team can offer their advice on the best things to see and do in your chosen destination.