Cap Cana is located on the South Eastern point of The Dominican Republic and is only a 10 minute drive to the Punta Cana International Airport (puj). It is the largest planned resort in the Caribbean and it is spread over more than 30,000 acres. Cap Cana is filled with breathtaking natural beauty, stunning vacation homes, great golf courses and ofcourse white power sand beaches.
Cap Cana is a private gated resort destination. It is very exclusive and has 24 hours security. Few places in the world are safer then Cap Cana. It has been classed a completely unique development and comparable to the world's most exclusive destinations.·
10 Minutes from Airport·
Largest Resort & Marina in Caribbean·
Espada #1 Ranked Golf Course in the Caribbean·
Powder Sand Beaches with crystal clear waters·
Dozens of fine dining restaurants·
Beach clubs including Caletón Beach Club
View more information about Rental Villas at Cap Cana
---
Golf
Punta Espada, a Jack Nicklaus "Signature" Golf Course, is the #1 ranked course in the Caribbean or Mexico (Source: Golf Week) with ocean front and ocean views from everyhole.
Find Golf Villas in the Dominican Republic
---
Fishing
Some of the best fishing in the Caribbean is located only three miles away from CapCana's Marina.
---
Watersports
At Cap Cana, you will be able to enjoy every imaginable water sport including snorkeling,kayak and scuba diving excursions at Juanillo beach
---
Tennis
Tennis is available at both the Golden Bear Lodge and at the Eden Roc at Cap Cana.
---
Horse Riding
Guide horseback riding is available in Scape Park along the Juanillo Beach. You will getto see beautiful birds and interesting vegetation and a brief stop at a lagoon where youmight find some turtles and their unmistakable nests if you look closely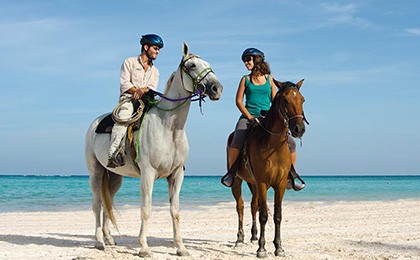 ---
Scape Park
Scape Park is an adventure center located in the heart of Cap Cana and below the dramatic Farallon cliff, which sits 265 feet above sea level.Cap Cana's natural resources and extent makes it possible for Scape Park to offer all kinds of attractions for every taste. There is really no need to look for anything else outside Cap Cana. At the Park: Zip Line Eco-Tour, Adventure Buggies, Hoyo Azul Natural Lagoon, Cart Rentals At the Marina: Catamarans, Fishing, Sailing, Scuba Diving, Snorkeling, Yacht Rentals A the Beach: Horseback Riding, Paddle Board, Kayaks, Windsurf, Paddle Boat, Sunfish and Hobie Cat Sailboats Scape Park can also help you plan your private group activities and events anywhere within Cap Cana.
---
Shopping
There is excellent shopping available at both the Marina and Centro Comercial Las Canas.
---
Restaurants and Bars
There are over 12 restaurants in Cap Cana offering a variety of dining options from casual to fine dining. In addition there are five bars including a "Chivas Club"
---
Ecological Reserves
The Ecological reserve at Cap Cana comprises of 74 acres of forestry with 15km of trails.There is a natural spring called Hoyo Azul located at the bottom of a cliff. There is an excellent program in place for the preservation of some endangered species such as Ridgway's hawk, Iguana Ricord, Barrancoli and Jutia. And for something really thrilling,you can go whale watching in the mating season.
---
Spa Facilities and Beauty Centers
The Sanctuary Spa is stunning with nearly 20,000 square feet featuring one indoor spa-suite, four outdoors massage suites, two couples suites, yoga studio, beauty salon, and hydrotherapy circuit. In addition there are three beauty parlors located at Sanctuary, Aquamarina, and Marina Sands.
---
Fitness and Sports Facilities
There are four fitness centers located at Sancturay, Aquamarina, Marina Sands, and Golden Bear Lodge
---
Kids Club
Eden Rock's Koko Kid's club offers day camp facilities for children aged from 4 to 12 years old