---
Cap Cana Resort
An exclusive and perfect world has been created for you at Cap Cana Resort, Dominican Republic.  With a Resort footprint covering 30,000 luscious tropical acres, this marvel of the Caribbean has captured all the natural beauty of this spectacular Caribbean coastline.
---
Sometimes bigger is better. Cap Cana Resort is the largest planned resort in the Caribbean and it has employed the most talented and creative team to devise a luxurious, gated resort that promises a serene, exciting and memorable vacation for guests of all ages. It is home to a multitude of luxury Dominican Republic vacation rentals
At a mere 2.5 hours from Miami, you will arrive at Punta Cana International Airport (PUJ) and make the short 20 minute transfer direct to paradise. Glistening white beaches, world class golf courses, beautiful vacation homes, and restaurants that offer diverse and delicious dining experiences – it's all here, waiting for you.
Whether you are that busy family that just want to hang out and enjoy the limitless offering of activities from tennis, hiking, snorkelling, kiteboarding or a group of guys or gals who want to play some golf (all year round), or the romantic couples who either want to get married here or just enjoy the perfect honeymoon, the Cap Cana Resort has something for everyone.
---
Location
Where is Cap Cana?
Well, Cap Cana is located on the South Eastern point of The Dominican Republic, south of Turks and Caicos and West of the British Virgin Islands. The Dominican Republic was one of the places that Columbus landed during his first voyage.  It is a country that has the oldest castle and cathedral in the Americas and its old Colonial Zone in its capital city, Santo Domingo, offers some incredible buildings to explore for those who are keen on a bit of history.
The stretch of coastline that includes the spectacular Cap Cana Resort is known as the Coconut Coast. No surprise when you see the leafy coconut trees waving in a warm breeze above the softest and whitest sand imaginable. It is a postcard-perfect destination.
With lots of direct flight services from Europe, the USA and Canada, it's not a complicated journey to get to this majestic part of the world.  At Exceptional Villas we can meet you at the Airport and whisk you direct to your luxury accommodations within the enclave that is Cap Cana.  Vacationing has never been so easy.
---
Golf
Golf legend, the Golden Bear, otherwise known as Jack Nicklaus, has designed the award-winning Punta Espada Golf Course that curves dramatically around the Caribbean coastline of Cap Cana.  As one of the very best things to do in Cap Cana, taking in a round of golf or even just getting some lessons to launch your future golfing career, is certainly a must.
This par-72 Course has been ranked #1 in the Caribbean and Mexico for the 8 consecutive years. With a Course and climate that supports golf all year round, Punta Espada is the place for all you golf enthusiasts.
At Exceptional Villas we have the most luxurious properties ideally located for ease of access to the Course. The beautiful golf villas, dotted around Cap Cana golf resort, are spacious and perfectly designed for golfers to relax after a day on the fairways with a refreshing beverage and a cigar.
Find Golf Villas in the Dominican Republic
---
The Water …. and all that entails
Not many resorts boast their own private marina but Cap Cana is one!  The modern marina, skirted by shops and restaurants is a great place to wander, stop for lunch or get out onto the water. With amazing wrecks off shore there is world-class diving to be enjoyed.
For the more ambitious, there is some of the best deep sea fishing just 3 miles off shore.  Day trips, with lunch, can be organised for the fisherman/fisherwoman in your group who want to pit their wits against the mighty fish of the Caribbean.
For the wannabe pirate, why not book your own private yacht and explore the coastline of Punta Cana. See the Coconut Coast from the comfort of your own boat while you enjoy a picnic at sea.  At Exceptional Villas we can pre-book all of your sea-faring excursions whether it's fishing, diving or yacht rental, we know the best teams to take you out and ensure you have a memorable and fun day on the waves.
---
Watersports
Stretching between Cap Cana Marina and Sanctuary Cap Cana Golf & Spa Resort is the beautiful Juanillo Beach. This is the epicentre of water-sport activity in Cap Cana.
If you want to do some snorkelling, kayaking or paddle-boarding, this is the place to go. If you simply want to relax, it's a great place to sunbathe and take a dip or two into the warm and calm waters of the Caribbean.
The beach often hosts volleyball tournaments and Cross-fit events, so depending on the timetable, it will be a busy lively destination or a very laid with a bohemian vibe. The famed Little John restaurant provides delicious lunch and snack food throughout the day and transforms into a romantic yet casual dining destination after sunset.
---
Tennis and Fitness
The variety and diversity of delicious foods available throughout Cap Cana resort mean that any guest who is determined to burn off those extra calories will find lots of active things to do to win the battle of the bulge. What better way than with tennis with courts available at both the Golden Bear Lodge and at the Eden Roc at Cap Cana, this is an enjoyable way to maintain your levels of fitness while you vacation.
For those who enjoy an early morning gym session, there are four fitness centres located at Sancturay, Aquamarina, Marina Sands, and Golden Bear Lodge. All the usual machines and equipment you would expect to find at an ultra-luxurious Resort are here.  Also, there are regular exercise classes and yoga that you can book, which are just some of the healthy and enjoyable things to do in Cap Cana.
---
Horse Riding
Not always viewed as a fitness regime but getting on a horse will give you a very noticeable work out.  Wonderful guided horseback riding is available in Scape Park and along the Juanillo Beach. On your trek, you will get to see beautiful birds and interesting vegetation as well as making a brief stop at a lagoon, where you might find some turtles and their unmistakable nests.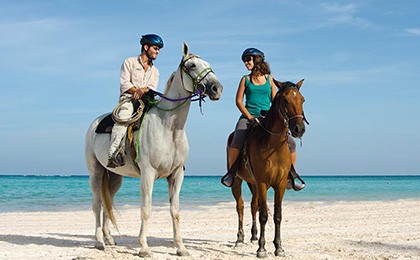 You will enjoy the unmatched sensation of working in harmony with a mellow and graceful horse.  There are inductions for newbies to the world of horseback riding so don't be timid about signing up. It could be the start of something extraordinary for you.
---
Scape Park
Your own personal adventure park awaits at Scape Park which is one of the very best things to do in Cap Cana, Dominican Republic. Located in the heart of the Resort and sitting below the Farallon Cliff, all of the dramatic natural resources of this country are harnessed to provide lucky guests with a myriad of activities and thrilling experiences.
How about some Zip Line Eco-Tours where you whizz over a canopy of tropical foliage. Or jump into some Adventure Buggies to traverse some wild and untamed jungle paths.  The Hoyo Azul Natural Lagoon is a sapphire blue crystal clear pool where you can swim.
Hop onto the Truck Safari and visit a plantation house, see animals in their natural habitat, dip under a waterfall for a refreshing break on your day out. Scape Park stretches right down to Cap Cana beach where you can get on the double decker catamarans, go sailing and enjoy just about every adventure on land or on sea.
All guests, regardless of age, can find something fun and interesting about Scape Park. The flora and fauna you will see as you explore the Park is colourful and unique to this part of the world. A lot of adventure awaits!
---
Restaurants and Bars
Cap Cana Resort, Punta Cana offers guests a wonderful variety of dining options.  From quick and casual snacks on the beach to elegant fine dining and everything in between, you can find the perfect dish in the perfect location to complete each day.
Mediterraneo, located at Eden Roc opens for breakfast and dinner and is one of the top restaurants in the Caribbean presenting the very best of Mediterranean cuisine fused with local flavours. As a dining experience it is chic and romantic.
Little John on Juanillo Beach is a lively place to enjoy delicious food and beverages accompanied by good music. The location right on the best beach in the Dominican Republic makes this a go-to dining destination during your vacation.
Api at Marina Cap Cana is a fun place to enjoy a weekend lunch as you soak up the sun and splash in the turquoise waters.  Casual beach dining in your swimsuit, why not?
Sanctuary Town offers El Rincon de Paco a Spanish tavern offering delicious tapas and wines. There is a wonderful deli counter where you can purchase authentic Spanish produce to enjoy at your Villa.
The Sweet House is an ice cream parlour for everyone to enjoy some delicious sweet treats.  The train-station themed building is a fun place for kids of all ages!
Estacion 16 is a modern sports bar with big screens so you can hang out and watch those big games while you are on vacation. Burgers, wings, beers – pretty much everything you'd want to accompany your sporting event.
These are just a very few of the many indoor and outdoor dining choices available to guests in Cap Cana. There are wonderful coffee houses where you can grab the latest magazines or newspapers, casual snack bars and so many gorgeous restaurants dotted across the resort.  You will be spoiled for choice each day.
The wonderful local meats, ocean fresh fish coupled with organic local fruits and vegetables are prepared and presented in the loveliest of ways. Indulge yourself or stick to a healthful regime – the choice is yours. Simply enjoy!
And the enjoyment doesn't end there ….. after all the lovely dining, kick back under the star-filled sky at one of the five bars including a "Chivas Club" in Cap Cana. With the restful sound of the sea and a little music, this is the sublime conclusion to every great evening.
---
Spa Facilities and Beauty Centers
Get polished to perfection at The Sanctuary Spa. Spread over a 20,000 sqft area, featuring state of the art indoor treatment rooms and beautiful private outdoor spaces too, this is the place to relax and replenish. Facials and massages are tailored specifically to suit your needs, as well as treatments for the romantic couple who cannot be apart, this is the tranquil setting where you can let all your cares be swished away.
In addition to this, there are three beauty parlours located at Sanctuary, Aquamarina and Marina Sands. Why not get a full mani/pedi or perhaps have your hair styled before a glamorous dinner at Eden Roc?
---
Kids Club
Holidays are for everyone so the professionally run Eden Rock's Koko Kid's club offers day camp facilities for children aged from 4 to 12 years old. As parents you get to enjoy all the tranquil quiet time that Cap Cana Beach Resort has to offer while your precious little ones get to make new friends.
---
Ecological Reserves
The Ecological reserve at Cap Cana comprises 74 acres of forestry with 15km of trails. There is a natural spring called Hoyo Azul located at the bottom of a cliff. There is an excellent program in place for the preservation of some endangered species such as Ridgway's hawk, Iguana Ricord, Barrancoli and Jutia. And for something really thrilling, you can go whale watching in the mating season.
The value of preserving the natural flora and fauna wonders that exist along the Punta Cana coast is a high priority at Cap Cana. All of the guides explain to guests how best to engage with the natural world around them. In this way, we get to enjoy all of these fabulous wonders for generations and the creatures and organisms can flourish unimpeded by us.
---
Cap Cana Resort
Cap Cana Resort, a luxury destination on the Coconut Coast blends together every imaginable facet making this exclusive resort one of the best vacations you'll ever experienced. Spectacular beaches, world class luxury accommodations, tropical jungles, adventures on land and sea, divine cuisine, golf, tennis and sensational spa treatments.
The list goes on and on. Reach out to us at Exceptional Villas where our experienced and friendly team of Cap Cana experts can help make your bespoke dream vacation a reality.
We are only a call away.