---
Casa de Campo Villas
Go to the Casa de Campo Guide
Casa de Campo Resort and Villas
The luxurious Casa de Campo in the Dominican Republic combines the glamour of a five-star resort with the classical vibe of a chic country club. Stretching languidly over 7,000 acres, the Casa de Campo villas occupy picturesque settings that offer unparalleled views over both parkland and coastal vistas.

Not surprising is that this destination resort is a long-time winner of countless prestigious awards for its world-class amenities. Casa de Campo dubs itself "the Caribbean's most complete resort" – and with good reason. Hugging the south-eastern shoreline of the Dominican Republic, Casa de Campo is a magnificent self-contained, seaside paradise containing the most incredible facilities and villas that are the pinnacle of luxury.
In addition to the awards that focus exclusively on the accommodation and amenities, The World Travel Awards has praised Casa de Campo as "the world's leading golf resort" for five consecutive years. This Resort is loved by many international dignitaries and has welcomed no less than 3 American presidents in the last number of years.
It has also attracted many discerning celebrities who have come here to enjoy the wonderful weather and facilities in an atmosphere of privacy and exclusivity. These are just some of the many reasons that have made Casa de Campo resort and villas a desirable choice for the informed traveller.
Bars and Restaurants
Casa de Campo has an incredible selection of food and beverage options to choose from within the Resort. There are 9 bars and 12 restaurants offering everything from casual to fine dining.
Even if your group are enjoying the splendour of one of the large Casa de Campo house rentals like Punta Minitas 34 with your own private chef or a smaller, more intimate property like Golf Villa 8, you will want to sample the relaxing sociability of one of the many restaurants within the Resort.
La Cana
At the heart of Casa de Campo is La Cana bar and restaurant. It offers guests lunch and dinner – the cuisine is French with a twist. The bar comes alive at night with DJs and bands. Sample delicious cocktails, some local rum and puff on a rich locally rolled cigar. La Cana is the beating heart of Casa de Campo.
Casual Elegance
A more sedate but high-end offering is SBG. Its dining attire recommendation is 'Casual Elegance' and this expresses perfectly the entire experience that awaits you. As you enjoy delicious Mediterranean inspired cuisine, you will love the elegance of your surroundings. Throw in a star-filled night sky and you have all the ingredients for a memorable and romantic evening.
Chilango Taqueria
If you are in search of the perfect family night out, away from one of our Casa de Campo rentals, you will absolutely love Chilango Taqueria. Overlooking the Square and church in Altos de Chavon, you can dine on a variety of Mexican dishes. It's a casual destination for both lunch and dinner. A firm favourite with all ages.
Minitas Beach Club
Minitas Beach Club is where you'll find the beautiful people. It's one of the key destinations for wealthy young South Americans. A 23m infinity pool, adjacent to a private beach make this a stylish and pampering destination for lunch or dinner. With a westerly aspect, the sunsets are legendary.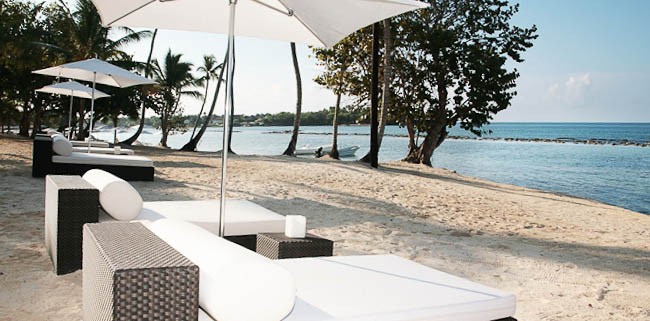 So, whether you are dining alfresco at home by your own pool in one of these Dominican luxury villas like Darsena 20, strolling to one of the incredible food trucks or visiting the Marina, you can switch up your vacation to keep it exciting and surprising without ever leaving the safe confines of the Resort.
If you decide to take the Casa de Campo inclusive supplement, you will be provided with unlimited drinks in specified bars and lounges too.
Golf
If you are a golf aficionado, then the name Pete Dye will be well-known to you. One of the world's most eminent and renowned golf course architects, along with wife and LPGA Hall of Famer, Alice Dye, has created three of the most challenging courses in the game within the boundary of Casa de Campo: Teeth of the Dog, The Links and Dye Fore! have put Casa de Campo at the forefront of golf within the Caribbean.
Teeth of the Dog
The Teeth of the Dog is the flagship golf course in Casa de Campo. Scenically beautiful, it is ranked as the number one course in the Caribbean and 43rd in the top 100 courses worldwide.

This is the course that attracts the best professional and amateur golfers in the world. Tricky shots such as a devilish dogleg and signature Dye obstacles will both challenge and captivate in equal measure.
Dye Fore!
Dye Fore! is the newest golf course to be built at Casa de Campo. It has 27 holes and is 7,740 yards in length. It includes 7 holes that hug the Cliff side of the Resort dropping 300 feet to the Chavon River below.
There are breath-taking 360 degree views from every position on this course. Dye Fore also boasts two of the greatest par three holes in the world #12 and #15. The Links, on first appearance, is a beautiful inland course at Casa de Campo.

You may not think it as exciting or challenging as its seaside and cliff-hugging siblings, but don´t be deceived. Renovated in 2012, it has five holes where water comes into play and ask any golfer who has played The Links and you will hear that this course is equally as challenging as the Teeth.
An interesting fact about Dominican Republic is that it has 27 golf courses and people travel from all over the world to enjoy the sporting challenges that they present. One of the contributing factors to the great golf in DR has to be the wonderful climate. With year-round warm temperatures and entire months with very low rainfall, it presents the perfect conditions for the sporting enthusiast golfer.
Spa
From the sanctuary of one of the beautiful villas Casa de Campo has to offer, why not sample the array of divine treatments of the Spa.
Tapping into the holistic credentials of some of the best treatments in the world, the Spa has a broad offering that includes Ayurvedic Shirodara oil stream to counter anxiety and stress, Japanese Hanakasumi exfoliation treatment, a unique golf and tennis player specific massage, Reflexology, hot stone therapies, Yoga classes, beach meditations.

Not forgetting the deliciously sounding chocolate, coffee or sugar cane facials and massages that harness the restorative qualities of local ingredients. The treatments and activities coordinated by the Spa are designed to rejuvenate and refresh body and mind.
Just yield to the healing power of touch as luxury spa technicians masterfully administer these holistic services. The Spa is open from 9 AM to 8 PM, 7 days a week. Spa Holidays in the Dominican Republic
Equestrian Center
Making a new friend on holiday can be the icing on the cake of any great vacation. Some of the loveliest new friends waiting to be met at Casa de Campo are equine. The purpose-built Equestrian Center has a stable of handsome horses and ponies.

These gentle creatures are much-loved employees of the Resort chosen for their intelligence and patience – perfectly suited to guests of all abilities. You can enjoy an easy trail ride or have a showjumping or dressage lesson. There is even instruction available in rodeo stunts and grooming techniques. It's just another wonderful facet to a vacation at Casa de Campo.
Shooting
Casa de Campo has one of the best shooting centers anywhere in the world. There´s no greater test of concentration and coordination than the sport of shooting. No other resort can match the shooting excitement found at Casa de Campo´s Sporting Clays Shooting Center!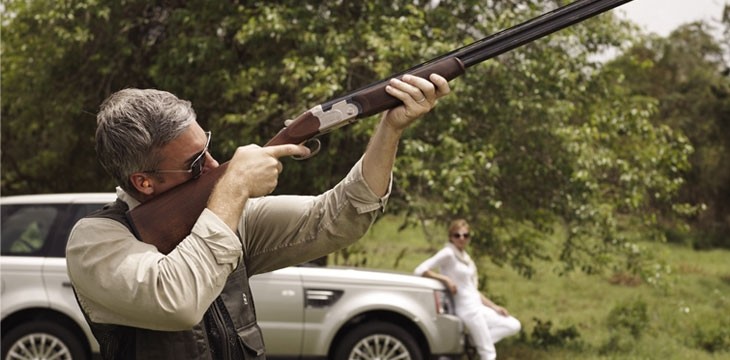 It's set on more than 245 acres and features over 200 stations fortrap, skeet and sporting clays, including one of the largest towers in the world, pigeon rings, and an airy Safari-themed clubhouse.
Tennis
Casa de Campo features an incredible country club style tennis center located on a lush tropical hillside. It offers 13 immaculately maintained fast-dry Har-Tru courts, (10 lighted), the finest equipment and staff with a spectacular view of the sea.

There is excellent rental equipment available in the Tennis Pro Shop and the Casa de Campo Professional staff are always on hand for volleys and private lessons.
Beaches
Casa de Campo has several stunning beaches, including the only private beach in the Dominican Republic. The three main beaches include Minita's Beach, which is a private beach located just minutes from the center of the Resort. Here you can enjoy a variety of water sports, including snorkelling, kayaking, hobie cats and windsurfing. Or simply relax, sunbathe and enjoy the delights of the Beach Club.
For a wonderful day trip you can take an excursion to the beautiful Catalina Island. It is a mere six square miles, but you will find long stretches of stunning white sandy beaches surrounded by a crystal clear turquoise sea.

You can choose to take a sunbed right on the water's edge or under the natural shade of one of the many palm trees. Take a gentle amble around the Island or swim just offshore to explore some of the best reefs in the Dominican Republic.
If you like the idea of experiencing a true desert Island, then a trip to the nearby Saona Island is a must. Again, you will find stunning unspoiled beaches and crystal clear waters to explore. The Island is also rich in wildlife with many tropical birds and marine fish. It is a fabulous place to go snorkelling. Both Saona and Catalina Islands are part of the protected nature reserve called the Parque Nacional del Este.
Fishing
There is excellent deep-sea fishing available at Casa de Campo. Wahoo, tuna, kingfish, sailfish, marlin and barracuda are all plentiful in the local waters. There is also freshwater fishing available if you take a trip that winds through lush tropical vegetation, tall cliffs and palm trees down the Chavón River.
Shopping
Who doesn't enjoy a little retail therapy on vacation? You will be pleased to find there are over 45 retail stores in Casa de Campo. You will find everything from designer clothes and jewellery to natural spa products, souvenirs and fine cigars. There are three main areas for shopping, including the main hotel area, The Marina and Altos de Chavon.
Altos de Chavon
Located above the picturesque cliffs of Casa de Campo, Altos de Chavon is a replica of a 16th-century Mediterranean village. You will be able to stroll along cobblestone streets and enjoy the architectural grandeur of days gone by.

This beautifully rendered village is as close to authentic as any such village you might visit in Europe. The quaint shops, boutiques, art galleries, fine restaurants and museum create a magical world within the wonderful Casa de Campo.
The Marina
The Casa de Campo Marina extends over some 90,000 square meters and is a boat lover's paradise. There are 105 residences located here, including villas, townhouses and apartments, many of which have their own private pier. There are numerous shops and some stunning restaurants, cafes, ice cream parlours and pizzerias to choose from as well as lots of nightlife options. A lovely place for a gentle stroll before or after lunch.
General Information
There are a network of roads and paths throughout the 7,000 acres.
With access to a motorised cart, you can explore the Resort and enjoy all of the wonderful amenities.
The flying time from Miami to Dominican Republic is a mere 2 hours. The transfer time from the airport to Casa de Campo is 45 minutes. It really couldn't be easier.
The only difficulty might be trying to decide which of the luxurious Casa de Campo villa rentals to choose for your memorable vacation. That's where Exceptional Villas Sales and Concierge Teams can help you. With decades of experience and with top ratings on Trust Pilot, we can identify the very best properties within the Resort to suit the size of your group, your mobility, your sporting interests and so on.
If you are travelling with young children, we highlight the properties that cater specifically to your family's needs.
Once you arrive at Casa de Campo you will instantly feel all of your stresses and cares melt away. You are essentially stepping into a world that's been sympathetically created to blend seamlessly with the natural world in which it sits while at the same time offering all of the modern amenities and services that allow guests of all ages to have a truly satisfying vacation experience.
It's everything you might want in the ultimate Caribbean vacation wrapped up in one delicious and delightful package.
Welcome to Casa de Campo.