---
Punta Cana Villas Rentals
Go to the Punta Cana Guide
Punta Cana Villas
The Dominican Republic is home to one of the most lavish resorts in the Caribbean. Gracefully spread across 15,000 acres, with 3 miles of pristine white sandy beach, the exclusive gated enclave that is Punta Cana Resort and Club is quite simply irresistible. Winner of numerous awards, this destination resort, fully loaded with its own 45 holes of championship golf, has welcomed the discerning traveller to its tropical shores for years.

The Dominican Republic has coastlines that embrace the Caribbean Sea and the Atlantic. It's a diverse and beautiful country that offers its lucky guests an opportunity to embrace the pleasures of a beach holiday, coupled with the glories of nature, golf and fishing. So, when you ask yourself which are the top things to do in Punta Cana, Dominican Republic, you will find it's a wonderful challenge to try to narrow down your favourites.
For families, the romantic honeymooners, the golf excursion enthusiasts, historians, or anyone who enjoys lounging by a pool or long walks on the beach, at Punta Cana you will find so much to captivate. At Exceptional Villas, we've been offering the most spectacular luxury vacation rentals to our valued clients for years. It's the one-stop Resort and Club that's home to some of our favourite Dominican Republic villa rentals.
Read more about the best resorts in the Dominican Republic.
Getting There
The easy proximity of The Dominican Republic to mainland USA makes it a wonderful choice. At a mere 2 hours direct from Miami or under four hours from NYC, US travellers can touch down in Punta Cana International Airport and make the very short transfer to the paradise that is Punta Cana Resort and Club.
For International travellers, Punta Cana is also easily accessible with direct services from London, Amsterdam or Madrid. You can get to the Dominican Republic on non-stop services in under 10 hours.
With temperatures averaging 26 C, the gloriously tropical climate of this Caribbean country means that all sorts of vacation activities from sunbathing, swimming, sailing, golf, horseback riding, and so much more can be enjoyed all year round.
Where Pleasure meets Design
The Punta Cana Resort and Club is a tapestry of gorgeous villas that are sewn into the fabric of this incredible coastline. Unique properties from avant-garde designs to those with a more classical colonial feel effortlessly exist within the most natural landscaping. Birdsong is the musical backdrop to an afternoon spent lounging by the pool. Pretty tropical fish wait to greet you if you dip beneath the tranquil sea for a snorkel.
Whatever your purpose in visiting the Dominican Republic, there are villas in Punta Cana ideally suited to your needs. Large party celebrations, short, intimate vacations, golf or fishing expeditions – you name it, there's a perfect corner of this Resort that will become your ideal home base for a vacation of a lifetime. Here is a flavour of some of the wonderful properties that Exceptional Villas have waiting for you.
A sample of the treasures that await…
It is said that taste can't be bought. Perhaps. But you can certainly rent it. The Tortuga Bay villas for rent in Punta Cana are the only AAA five-diamond properties in the Dominican Republic. With interiors by the celebrated international designer Oscar de la Renta, private pools and views across the ocean, these properties allow guests to unwind within the most exclusive and prestigious corner of the Punta Cana Resort and Club. The interiors are spacious. They are delivered in tones and textures that celebrate their Caribbean heritage but with a timeless aesthetic.
Marina 1, is another of the Dominican Republic villas that is a celebration of all the beauty of this country. Extensive grounds feature lush and mature gardens that create a wonderful sense of self-containment and privacy. Your large private pool is a gorgeous feature that sits between your expansive thatched veranda and the wide blue ocean.
If you are a large party who likes direct access onto the beach, look no further than Corales 28, just one of the Punta Cana villa rentals that's perfectly positioned to capitalize on its access to one of the most idyllic beaches in the Caribbean. The layout of the property works really well for multi-generation family vacationers.
If you are a golf enthusiast, one of the Punta Cana vacation rentals that will capture your imagination is Arrecife 69. This grand property is a masterclass in translating the old-world charm of the Caribbean into a modern and stylish vacation home. The colonial-style architecture blends seamlessly with its natural environment. The terraces and verandas take in the views across your own private pool onto the manicured golf course that surrounds you. It's private and secluded - a golfer's dream location.
A Feast for your Senses
For those who are looking for that more relaxing and rejuvenating vacation, you can enjoy an opportunity to indulge in the exclusive Six Senses Spa. This award-winning, state of the art spa embraces the concept of sustainability while harnessing all the natural beauty of the Punta Cana Resort.
Six Senses offers clients an opportunity to embrace wellness in a bespoke and holistic way. Treatments tailored to your specific needs are performed in private rooms or in the amazing outdoor treatment area. Imagine this; you are drifting away on a cloud of bliss, enjoying your personalized treatment on a beach sheltered from view by mature tropical foliage.

The aroma of the herb garden planted all around, coupled with the sounds of the ocean and a warm, gentle breeze underscore the fact that it really is a full sensory experience.
The master therapists of Six Senses also offer in-room Spa services. Luxuriate in a treatment that allows you to remain in your state of nirvana post-massage. Yet another facet of the care and attention you will enjoy as a visitor to one of these Punta Cana rentals.
Golf
What is the Dominican Republic known for? Golf! It's unquestionably the golfing capital of the Caribbean. The weather certainly helps ensure year-round conditions for players. Punta Cana Resort and Club is home to two incredible golf courses.

Developed within the 15,000 acres that make up the exclusive Resort, probably the best known is La Cana Golf course. This challenging course which draws comparisons with the inimitable Pebble Beach, was designed by PB Dye and Tom Fazio. The views of the dramatic coastline as you make your way around are dazzling.

The second course, Corales, was designed by Tom Fazio and opened in 2010. Again, this is a course that has harnessed the spectacular terrain of this coastline and has delivered a golf course that is up there with some of the top courses in the world. Keen golfers find both courses extremely interesting to play with the Devil's Elbow, where there's a carry over the cliffs of Corales, one of many memorable talking points.
Beach Club and Beach House
Even if you haven't been out golfing, you will have to take in the splendour of the La Cana Golf and Beach Club. One of the Dominican Republic's most beloved sons, the great Oscar de la Renta, worked with the creative team that designed and built the Clubhouse. It's a chic destination for lunch, to swim or a game of backgammon. As you sip a cocktail, you will love the combination of the creamy white stone façade, tiled roofs and the terraces with stylish chairs in natural fibres. The whole concept combines to offer a beautiful setting in which to relax and socialize, in the shade of the coconut tree-dotted garden.
Simply divine.
Beaches
One of the most popular things to do in Punta Cana is to fully experience every facet of the Caribbean ocean. The 3-mile beach that skirts this gorgeous Resort boasts blue flag status, acknowledging its purity. The warm, tranquil waters, protected by offshore reefs, make the beach a wonderful destination for all ages and proficiencies.
Young children in your group or anyone who might not be the most confident swimmer won't feel out of their depth (almost literally!) as they enjoy waters that are quite still and calm.
As an additional bonus, the amazing offshore reef offers the more adventurous water enthusiasts an opportunity to snorkel and dive. The world below the surface is alive with flora and fauna, all of the gentle and curious creatures that live along the reef.
Fish of all colours dazzle in iridescent splendour alongside fantastical sea plants. The Dominican Republic has embraced the importance of protecting the ecology of its beautiful country. Consequently, the reef is protected, and anyone snorkelling or diving is given really valuable instructions about how to enjoy the experience.
Read more about the best beaches in the Dominican Republic.
Activities and Up-Skilling
There are so many wonderful activities available at Punta Cana Resort and Club. For every age and interest, there's something fun to lure you from the comfort of your luxurious villa. You might want to do some hiking, get out in a kayak, earn a PADI diving qualification, improve your backhand or swing. With qualified and personable staff on-site, you will be shepherded through your preferred activity. Here's a little overview of some of the more popular choices.
Tennis
The Punta-Cana Tennis Centre has six private clay tennis courts located within beautiful tropical surroundings. The Punta-Cana's tennis professional, who is certified by the United States Professional registry, will be on hand to help with your game. As well, there are tennis camps and social tournaments for all ages.
Scuba Diving
Punta Cana and the Dominican Republic are a paradise for Scuba divers. There are some strikingly beautiful waters surrounding the coastline, and it is also recognized as a five-star dive resort with Professional PADI instructors. There are some great underwater trips, including tours to some offshore wrecks.

At Exceptional Villas we can organize day trips for you and ensure you are pre-booked on some of these fabulous excursions. Our experienced concierge team can arrange for you to be picked up from your luxury villa for a day of exciting activities and returned safely to your villa after.
Kiteboarding
Punta-Cana is the perfect place to learn how to kiteboard. All the instructors are IKO certified, and the waters on Playa Blanca beach are just waist-deep, so it's one of the safest places to learn. For those of you who like to learn a new skill on holiday and enjoy a thrilling experience, this is highly recommended.
Fishing
There is excellent deep-sea fishing available at Punta-Cana. Wahoo, dolphin fish, tuna, kingfish, sailfish, marlin, and barracuda are all plentiful in the local waters. There is also freshwater fishing available inland on lakes and rivers.
Segway Tours
Riding a Segway is an amazing experience. It gently transports you and keeps you balanced. A Segway is a perfect way to get around Punta-Cana Resort with its several miles of pathways and lanes. You can visit the heavenly private beach, view million-dollar villa rentals, the championship golf courses and stop at the Ecological Reserve with its 12 natural spring water lagoons.
Biking
Alternatively, why not jump on a bike and explore the Resort at a leisurely pace. You can build a delightful lunch into a morning of touring the Resort.
Horseback Riding.
El Rancho at the Punta-Cana Resort and Club has riding opportunities for all levels, from beginners to advanced equestrians. There are some fabulous rides on offer that include a memorable outing along Punta-Cana's pristine, white sandy beaches.
With horses and ponies chosen for their amenable natures, there's a beautiful four-legged friend waiting to escort you through the Resort's lush landscape and along a pathway that crosses La Cana Golf course.

You will be able to choose between one and two-hour beach rides daily or a romantic hour-long weekly sunset adventure. Even if you've never channelled your inner cowboy or cowgirl, the wonderful team of instructors can get you into the saddle and professionally escort you as you ride off into the sunset.
Excursions
The Punta-Cana Resort & Club offers numerous excursions and tours that allow you to make the most of everything the island has to offer. From helicopter tours to deep-sea fishing, fill your vacation with excitement and adventure.
Punta Cana, Dominican Republic points of interest stretch from visiting tropical rainforests, zip-lining, eco-tours, rum tasting, horseback riding along a beach, enjoying an aromatic cigar. There's a great deal of history reaching back to Christopher Columbus to explore. As well you can also visit "The fountain of youth," where guests can unwind in this pristine natural spring located in Punta-Cana Ecological Reserve.
Ecological Credentials
With so much natural beauty within the Resort, 12 natural springs, tropical rainforests and coastal walks, the Resort offers unique ecological tours with Grupo Puntacana Foundation. This can include a catamaran experience too. You and your group can combine a very palatable scientific tour with a walk through unspoiled and beautiful terrain. You return with a deeper understanding of how each element of our natural world works in harmony to survive and thrive.
Read more about Dominican Republican tourist attractions.
Shopping
The nearby Punta-Cana Village is a great place to browse through some lovely shops and stop for a relaxed lunch or dinner. With a well-stocked supermarket, you can find your favourite ingredients or discover some new ones. The wide variety of fruits and vegetables that are grown and harvested a short distance from your door ensure you have the freshest and most delicious food available to you.
In addition, to the supermarket, there is a medical centre and a centre for business services. Just a shuttle ride from the Punta Cana Resort & Club, this lively village is a destination for all ages.
Restaurants and Bars
Punta Cana has a great selection of food and beverage options to choose from throughout the Resort. There are numerous bars and restaurants offering everything from delicious breakfasts to fine dining.
If you fancy a breakfast away from your own poolside terrace, why not visit Bamboo Restaurant within Tortuga Bay. Try the locally sourced fresh fruits, eggs benedict and a healthy smoothie. Or have lunch by the pool, enjoying platters that include organic vegetables grown within the Resort.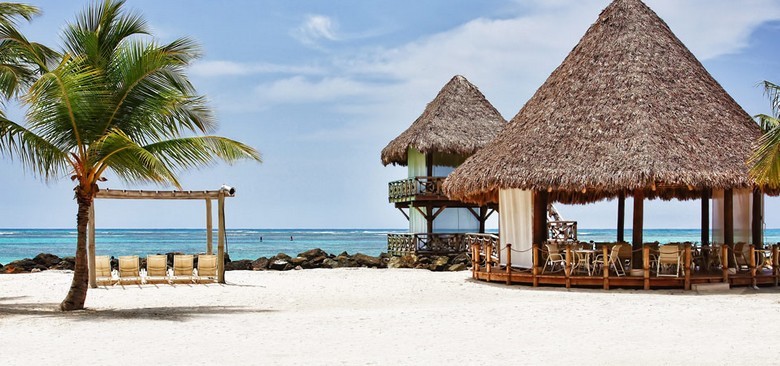 If you've been working up an appetite windsurfing or kite surfing along the beach, then why not grab a gourmet burger or plate of delicious shrimp from the Playa Blanca restaurant. The views at lunch or dinner, as you look across the turquoise waters, are unparalleled. It's utterly romantic—one of the perfect locations within the Resort to host a wedding, perhaps.
There are fabulous bars within the Resort. Pop into La Yola's bar modelled on a boat, and enjoy some delicious Mediterranean inspired food or a fresh rum cocktail to round off the perfect day. The Dominican Republic is famous for its cigars and coffee, so perhaps a relaxing coffee and smoke on the terrace after dinner, overlooking the ocean, might hit the spot.
Brassa Grill and Bar is another beachside restaurant with captivating views of the ocean. Fabulous food from the grill, international-inspired dishes make this a great dinner destination. The Grill located at La Cana Golf Course is a stylish restaurant that offers poolside lunch and dinner again with views of the ocean. The food is heavenly. The setting is absolutely ideal for that post-golf lunch or dinner.
Mare Restaurant located at La Cana Golf and Beach Club has a glorious interior. Bright blue chairs, a wall of painted fish beneath a thatched pitched roof make this a fun destination for a casual lunch. With a wood-fired pizza oven, mouth-watering salads and seafood, it's one of the restaurants in Punta Cana Resort and Club that you will visit more than once.
For that healthy hit, Fresh N Tasty is that casual destination eatery that offers fresh fruit drinks, poke bowls, wraps and salads. The perfect light snack to refuel in between some Olympic standard sunbathing.
The expertly trained chefs who create culinary masterpieces at the various restaurants bring international training and unique flair to what they do. Their combined knowledge allows them to present a varied and eclectic menu each day.
Fish and meats, sourced locally, are a key part of all the menus at Punta Cana Resort and Club. There's a focus on sustainability and organic cuisine that ensures that the ingredients that go into each meal are not just good for you but for the environment too. Vegetarian and vegan options are available throughout. If you have special dietary needs, just let the servers know, and dishes can be tweaked appropriately.
If you are not in one of the Punta Cana all-inclusive villas, you can be sure that your chef or housekeeping staff can provide all the delicious local ingredients for you to enjoy as you dine at home. Shrimp, exotic fruits, steaks, cooked in your own kitchen or BBQ, taste like nothing you've experienced before. A casual at-home dining experience on your veranda beneath a canopy of stars can complete yet another day of perfection in this Dominican Republic jewel.
read more about the best restaurants in Punta Cana.
Carnaval Punta Cana
During the second week of March, Carnaval Punta Cana takes place. It's a celebration of the heritage and culture of the Dominican Republic. A colourful display of traditional costumes, masks, parades culminates in a live concert that features the musical styles of merengue, bachata and reggaeton. Delicious street food and a safe party atmosphere complete this wonderful annual event.
Punta Cana House Rentals
If you're looking to step into a tropical world of sunshine, adventure, romance, and relaxation look no further than The Punta Cana Resort and Club. With gorgeous accommodations, breath-taking scenery, warm and welcoming waters, the exclusive Punta Cana Resort caters for all ages and lifestyles.
At Exceptional Villas, we are just a phone call away, waiting to create your dream vacation in paradise.
With you Every Step of the Way
With numerous villas within the Punta Cana Resort to rent, the Dominican Republic villa specialist can help you narrow your search as we have first-hand knowledge of the Resort's layout and can match the perfect home-from-home to you and your party.
The Punta Cana luxury villas are all beautifully decorated, air-conditioned and furnished with quality fabrics and modern facilities. There are villas that suit children, more secluded properties that allow honeymooners to indulge in palm trees and romance, and multi-generational villas suitable for large families. Whatever your individual needs, we can help design your dream vacation, ensuring everyone in your party finds their own personal Xanadu!