The Caribbean offers some of the finest 5-star resorts in the World. Each of these resorts offers the utmost luxury, top class service and promise to provide memorable moments with friends, family and loved ones which you will cherish for a lifetime.
Having personally been to each of these destinations, I have chosen my Top 6 Luxury Caribbean Resorts with each one just as beautiful as the next.
Top 6 Caribbean Resorts
---
1. Jumby Bay, Antigua
Possibly the most amazing resort I have even been to, Jumby Bay offers guests a spectacular private paradise island retreat surrounded by the sparkling turquoise ocean. Jumby Bay is one of the most exclusive private island resorts in the Caribbean.
Set on 300-acres, Jumby Bay is nestled two miles off the coast of Antigua in Long Island. The Jumby Bay beach is also one of my favorites in the Caribbean; you simply cannot walk along this white powdery beach without stopping at the beach bar to enjoy a refreshing Pina Colada.
Guests thoroughly enjoy every minute in Jumby Bay with its wonderful all-inclusive restaurants, an abundance of activities and top class service from some of the nicest staff you will ever meet. Your memories will last a lifetime! Read more about Jumby Bay resort.
My favourite villa of the lot is Lazy Lizard at Jumby Bay.
---
2. Parrot Cay, Turks and Caicos
On a recent stay at Parrot Cay, I was blown away by the beauty of this natural island with its breath-taking scenery and lush vegetation the resort truly is one of the nicest in the Caribbean. Parrot Cay comprises of 1,000 stunning acres which include pristine white sandy beaches, crystal clear waters and some of the most luxurious villas on the planet.
Many visitors to Parrot Cay come for pure relaxation but for those looking for a more active holiday; the resort offers an abundance of activities for guests to enjoy from tennis and yoga to the world-famous COMO Shambhala Retreat.  Also, in general, there are plenty of things to do in Turks and Caicos and plenty of Turks and Caicos resorts from which to do them.
My choice of which villa to stay in at Parrot Cay is: The Sanctuary
---
Read our Essential Guide to Turks and Caicos.
---
3. Port Ferdinand, Barbados
On a recent trip to Barbados, I was invited to view one of the newest and most luxurious resorts on the island, Port Ferdinand. Located at the northern end of the island the resort offers so much for all the family and it is in a great location right on the stunning beach at Six Men's Bay.
Port Ferdinand offers a rare blend of villas in Barbados with all the amenities of a 5-star hotel on site. It literally offers the best of both worlds with the space and freedom of a home together with the pampering and luxury found in a five-star hotel.
The resort offers luxury marina living in the Barbados Riviera for the whole family to enjoy with so many activities to keep even the small ones entertained. Read more about luxury family Caribbean vacations.
My choice of which villa to stay in at Port Ferdinand is: Waterside Residence
---
4. Caribbean Club, Cayman Islands
There is no better place to be on Grand Cayman than on the stunning Seven Mile Beach with its wonderfully calm azure waters and the pristine white sand between your toes! When I stayed in the Caribbean Club I really felt that the location was simply unbeatable.
The resort is without a doubt Grand Cayman's most exclusive boutique hotel built on the edge of the water and overlooking spectacular Seven Mile Beach and is home to arguably the best Grand Cayman villas.
My choice of which villa to stay at the Caribbean Club is: The 3 Bed Beach Front Villa
---
5. Round Hill, Jamaica
Jamaica has some fabulous resorts but what makes Round Hill Resort so special is its dedicated service for over 60 years as well the wonderful welcome you will receive from the ever so charming Kingsley.
Located just east of Montego Bay on its own private 100 acre peninsula, Round Hill is a very exclusive and stunningly beautiful low key hotel and villa resort with wonderful facilities such as tennis, water sports, spa, excellent kids club and also a variety of wonderful restaurants to enjoy. Round Hill was the first of its kind in the Caribbean and a leader in this type of very exclusive gated villa resort.
My choice of which villa to stay at round Hill is: Villa Sunrise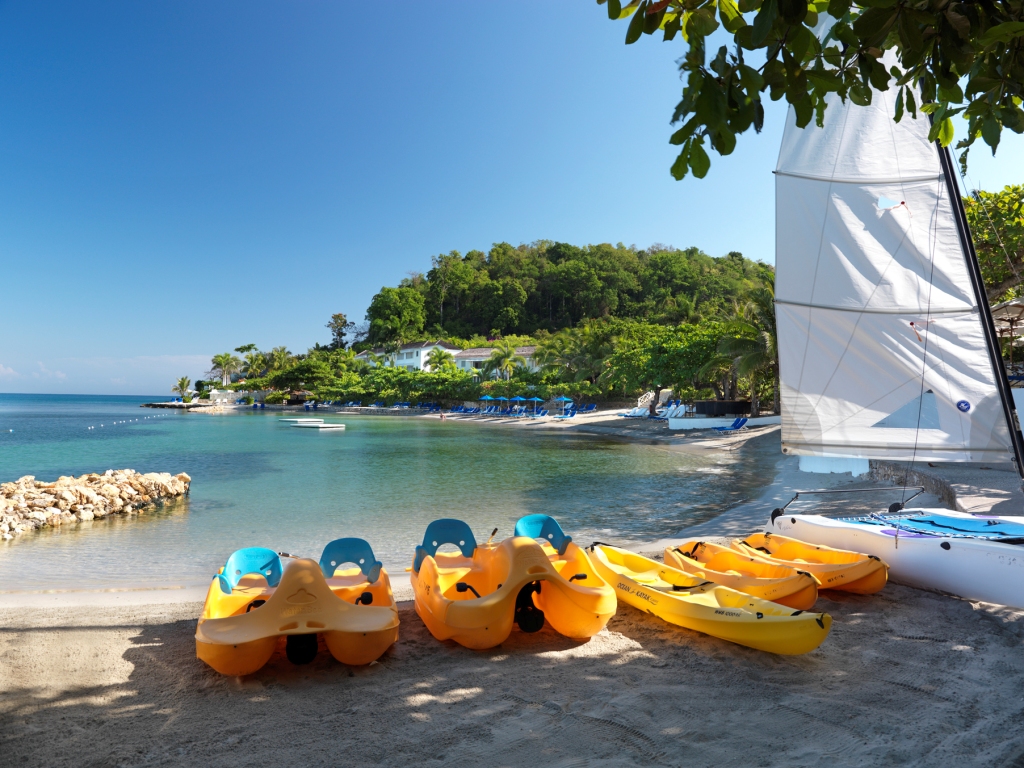 ---
6. Oil Nut Bay, Virgin Gorda, British Virgin Islands
Oil Nut Bay is one of the newest resorts on Virgin Gorda in the beautiful British Virgin Islands. Oil Nut Bay offers something unique for all its guests and is perfect for families or couples alike. Oil Nut Bay is full of top-notch BVI villa rentals. On a recent trip to the resort, I had the pleasure of experiencing the facilities first hand.
There is an abundance of things to do from hill walking and water-sports to playing tennis or hanging out at the beach club. There is also a fantastic kids club. What is so impressive about Oil Nut Bay Resort is the wonderful blend of contemporary design with its natural surroundings.  The Cliff Suites, in particular, demonstrate this as they are seamlessly integrated into the landscape.
My choice of which villa to stay at Oil Nut Bay is: The Cliff Penthouse
If you would like to stay at any of these wonderful resorts please visit Exceptional Villas or email us.
About Linda Browne
Linda is the Marketing and Sales Executive for Exceptional Villas and has an in-depth knowledge of the travel industry. Linda's qualifications are in the area of business, marketing and tourism. Linda travels for much of the year inspecting all of our luxury villas; the majority of her time is spent in the Caribbean and Europe.