The Caribbean is one of the easiest destinations to reach on a round trip from New York. In fact, there are daily flights to almost every popular island there. 
It is especially ideal for New Yorkers who want to escape the winter snow or cold weather and trade it for a Caribbean villa rental on a sun-kissed white-sand beach.
If you are looking for a non-stop flight to get there as soon as possible, here are 17 of the best direct flights from NYC to the Caribbean islands:
---
Barbados
Airlines: JetBlue
NYC to Barbados Flight Time: 4 hours 45 mins | Airport Code: BGI
Barbados offers easy access from New York's JFK and Newark airports. The island is most famous for its celebrity visitors, white sandy beaches, Mount Gay rum, 5-star hotels, and luxury homes. 
Most of the luxury villas in Barbados are located along the west coast—only a 30-minute drive from Grantley Adams International Airport. Read our travel guide to Barbados for more of the island's points of interest.
---
Turks and Caicos
Airlines:  Delta, JetBlue, American Airlines, United
NYC to Turks & Caicos Flight Time: 3 hours 30 mins | Airport Code: PLS
The main destination for visitors to Turks and Caicos is the island of Providenciales. Here, you will find a wide range of high-end luxury villas, restaurants, shops, boutiques, and some of the best beachfront resorts in the Caribbean. Currently, four airlines provide direct Turks and Caicos Flights from New York.
Many of the hotels on the island are located on the famous Grace Bay Beach—voted one of the top beaches in the world on several occasions. Grace Bay offers a long stretch of perfect white sand and is one of the nicest places to swim.
The islands also provide endless activities, from scuba diving to fishing and snorkeling. Discover this paradise in our essential guide to Turks and Caicos.
---
Jamaica
Airlines:  Delta, JetBlue, United, Caribbean Airlines
NYC to Jamaica Flight Time: 3 hours 45 mins approx | Airport Code: MBJ 
(Most flights depart from JFK. However, United flies from Newark Airport EWR in 4 hours and 5 mins. You can also fly with JetBlue and Caribbean Airlines from New York to Kingston (KIN) in Jamaica in 3 hours 45 mins.)
Arriving at Montego Bay airport, you will really feel you have landed in Jamaica with reggae music from the moment you get off the plane. Since it was home to the famous musician Bob Marley, you are guaranteed to hear a lot of it everywhere on the island. 
The Jamaicans are some of the friendliest people in the Caribbean and are happy to share their beautiful paradise with you. Here, you will enjoy some of the best food—from jerk chicken and rice to fried plantain and ackee salt fish. 
While in this tropical destination, why not stay in one of the most luxurious villas in Jamaica? Many of them are fully staffed to give you the opportunity to completely relax.
---
Antigua
Airlines: American Airlines, United, JetBlue
NYC to Antigua Flight Time: 4 hours 14 mins | Airport Code: ANU
(Fly from New York to Antigua with American Airlines and JetBlue from JFK or take United from Newark. Flight time from Newark is 4 hours 30 mins.)
Antigua is a super-friendly Caribbean island offering laid-back, barefoot luxury.
There is nothing pretentious about this island, which offers excellent sailing opportunities for visitors. There are stunning beaches, excellent gourmet cuisine, and fantastic casual eateries. 
If you're looking for an epic villa, Antigua never disappoints with its incredible scenery and endless activities. The airport, V.C. Bird International, is close to many of the villas and hotels on the island.
---
St Lucia
Airlines: JetBlue, United
NYC to St Lucia Flight Time: 4 hours 39 mins | Airport Code: UVF
(Choose to fly from JFK with JetBlue to Hewanorra International Airport in 4 hours 30 minutes or from Newark with United Airlines in 4 hours 40 minutes.)
St Lucia is one of the most romantic honeymoon destinations. This lush island is also consistently ranked as one of the best destinations in the Caribbean by Conde Nast. 
This is undoubtedly because of its wonderfully rich culture and landscape, unmatched sunsets, and stunning beaches. It's most well-known for the famous Pitons (the local Piton Beer is even named after the twin volcanic spires.)
Hewanorra Airport is located in the south of the island. It only takes an hour and a half to head north, where many of the luxury villas are located. Otherwise, you can take a helicopter to save time. Often visitors like to split their stay—half in the south and half in the north for two experiences in one vacation.
---
The Cayman Islands
Airlines: JetBlue, Cayman Airways, United
NYC to Cayman Islands Flight Time: 4 hours  20 mins | Airport Code: GCM
(Fly from JFK with Cayman Airways and JetBlue or from Newark with United Airlines.)
Arriving in the Cayman Islands, you will land on Grand Cayman—where all the international flights arrive. Luckily, the airport is small enough that it rarely sees long queues at customs or immigration. You can also reach the two sister islands of Cayman Brac and Little Cayman by plane from there.
The islands are most well-known for their watersports, including scuba diving through an infrastructure of magical caves and wrecks. Plus, Stingray City, where you can enjoy a swim with these gentle giants in the middle of the Caribbean Sea.
---
Saint Martin/Sint Maarten
Airlines: American Airlines, Delta, JetBlue, United
NYC to St Maarten flight time: 4 hours 10 min | Airport code: SXM
Flight time from Newark with United takes 4 hours 45 minutes to St Maarten.
St. Martin (nicknamed "The Friendly Island") is divided between the French Republic and the Kingdom of the Netherlands. 
Princess Juliana Airport, one of the most famous in the Caribbean, is located on the Dutch side of the island (Sint Maarten) right beside Maho Beach. As the large jumbo jets fly overhead, people stand on the beach to watch them pass directly above. Visitors say it's a 'must-do' while there.
Whether you choose to stay on the French or Dutch side, Saint Martin has something for everyone. From exotic beaches and luxury villas to high-end restaurants, casinos, and nightlife, you'll never be bored. While you're there, why not hop on the twenty-minute ferry over to Anguilla?
---
Dominican Republic
Airlines: Delta, Jet Blue, United
NYC to Dominican Republic flight time: 4 hours 10 mins | Airport code: PUJ
The Dominican Republic is one of the easiest destinations in the Caribbean to reach from New York. South of Turks and Caicos and west of Cuba, you'll find a tropical climate where luscious forests, colorful flowers, and wildlife blossoms.
We would suggest flying into Punta Cana airport as it's next to many of the luxury resorts in the Dominican Republic. You can also fly with JetBlue into Santo Domingo non-stop from New York, which takes 3h 40m. 
The number of 5-star resorts in the area reflects the gorgeous weather. Some of the best to visit while in the Dominican Republic would be Casa de Campo, Punta Cana, and Cap Cana.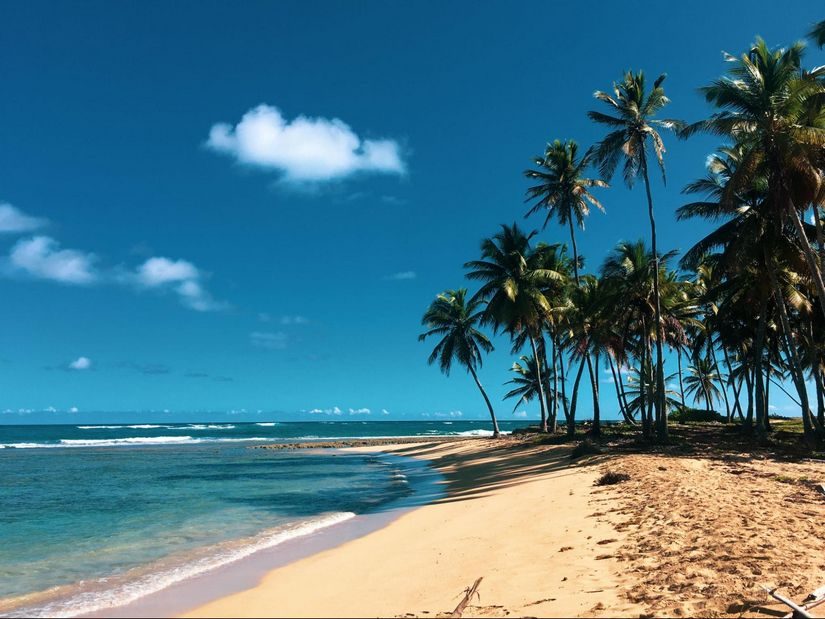 ---
Saint Kitts & Nevis
Airlines:  American Airlines, Delta, United
NYC to St Kitts Flight Time: 4 hours 20 mins | Airport Code: SKB
(The Airport of St. Kitts is located in Basseterre with non-stop flights from New York. You can reach its sister island Nevis by plane or short boat ride from St Kitts.)
St Kitts is the larger and more commercial of the two, with a cruise terminal and the party strip of Frigate Bay.
Nevis, a little less known, is one of the nicest islands in the Caribbean. It's the type of place that offers you laid-back island luxury that's positively understated. On Nevis, you won't find any shopping malls or cruise ships. Instead, you will find a relaxed island with spectacular villas and resorts, such as the Four Seasons.
Nevis is the type of island you can travel to and do nothing. If you fancy an action-packed itinerary, you can venture over to St Kitts for its electric nightlife.
---
The Bahamas
Airlines: Delta, JetBlue, United, American Airlines
NYC to Bahamas flight time: 3 hours 10 mins | Airport code: NAS
Once at the heart of the golden age of pirates, Nassau remains the capital of the Bahamas. The island is filled with tourists visiting each year but still offers the relaxing Caribbean vibe you'd expect. 
Many of the outer islands of the Bahamas have also become more popular to visit. Especially for those looking to get away from the hustle and bustle of Nassau. In this case, you can fly direct to Nassau and take a second charter flight or a scheduled airline such as BahamasAir.
The main outer Bahamian islands people love to visit are Abaco, Andros, Eleuthera, the Exumas, and Harbour Island. With over 700 to choose from, you are sure to find a favorite.
---
Grenada
Airlines:  JetBlue, Delta 
NYC to Grenada Flight Time: 4 hours 50 mins | Airport Code: GND
Grenada is the spice island of the Caribbean with a lush and mountainous landscape. Everywhere you look are valleys, beautiful waterfalls, stunning rainforests, and pristine sandy beaches.
One of the most charming aspects of Grenada is that you will find no high-rise buildings here. The island is naturally beautiful and a great place to vacation with family and friends.
---
St Thomas
Airlines: American Airlines, Delta, United & JetBlue
NYC to St Thomas Flight Time: 4 hours | Airport Code: STT
St Thomas is one of the US Virgin Islands—comprising St Thomas, St John, and St Croix. It is also one of the few places in the Caribbean where you can travel without a US passport.
The US Virgin Islands (previously a colony of the Dutch, Danish, and Norwegian nations) have a fascinating history, with old buildings like Blackbeard's Castle still standing.
The sun-kissed beaches and exotic climate of St Thomas are popular with cruise ship visitors because of its duty-free status. 
If you are looking to escape the crowds, head over to the nearby island of St John. A quick ferry ride, and you will feel worlds away. Here you will not find an airport or cruise ship dock, and the usual Caribbean resorts are few and far between. It's blissfully low-key compared to its neighbor.
---
Puerto Rico
Airlines:  Delta, JetBlue, United
NYC to Puerto Rico Flight Time: 3 hours 50 mins | Airport Code: SJU
Since Puerto Rico is part of the US commonwealth, you don't need a passport coming from the United States, either. This makes the destination one of the most popular with visitors from New York and other states. 
Puerto Rico has a deep Spanish influence and offers excellent shopping and high-end luxury resorts, such as Dorado Beach, Bahia Beach, and El Conquistador resorts. Plus, incredible cuisine.
The old town of San Juan features old-fashioned cobbled-stone streets with wonderful tapas restaurants and boutiques to browse. It's also a great hub for accessing other Caribbean Islands, making it ideal for a twin-center vacation.
---
Curacao
Airline: JetBlue, United Airlines
NYC to Curacao Flight Time: 4 hours 35 mins | Airport Code: CUR
(From Newark to Curaçao with United Airlines takes 5 hours.)
Situated in the southern Caribbean Sea, Curaçao is a Dutch island similar to St Maarten. 
The island is most known for its wonderful beaches, which can be found dotted around and tucked into coves. The water boasts expansive coral reefs with an abundance of marine life and fantastic dive sites such as Blue Bay.  
Willemstad, which is the capital of Curaçao, features some charming pastel-colored colonial houses. You'll certainly feel worlds away from home in this little slice of paradise.
---
Aruba
Airlines: JetBlue, Delta, United
NYC to Aruba Flight Time: 4 hours 30 mins | Airport Code: AUA
Aruba is one of the most popular vacation destinations for New Yorkers. Owned by the Netherlands, you will see its Dutch influence throughout the island. 
Known as "The Happy island," you will find perfectly-white sandy beaches and crystal clear waters. Like much of the Caribbean, Aruba is also known for its watersports—deep-sea diving, fishing, windsurfing, and parasailing.
Dune buggy across the sands and visit Eagle Beach, lined with the iconic divi-divi trees. In the evening, head to casinos and try the island's rum. With chiseled cliffs in place of lush rainforest, you'd be forgiven for thinking you weren't in the Caribbean here.
---
Trinidad & Tobago
Airlines: JetBlue, Caribbean Airlines
NYC to Trinidad Flight Time: 4 hours 50 mins | Airport Code: POS
Situated 130 kilometers south of Grenada, Trinidad and Tobago is a twin-island country that is the southernmost nation in the Caribbean. Here is where Carnival was first established, and the steel pan was invented.
If you are heading to Trinidad and Tobago, you will fly into Port of Spain. Visit the Royal Botanic Gardens, which holds a variety of plants from all over the world. If you fancy a bit of history, go and see the "Magnificent Seven"—a row of extravagant mansions from around 1900.
Queen's Park is the must-see attraction on the list. This public park is the heart of the annual Carnival and a favorite for kite-flying. Visit in the early evening when the air cools, and you'll see games of cricket or football being played by the locals.
---
Cancun, Mexico
Airlines: JetBlue, American Airlines, United Airlines, Delta, Aero Mexico
NYC to Cancun Flight Time: 4 hours 25 mins | Airport Code: CUN
Wondering why Mexico is on the list? Well, did you know the east coast of Mexico is also considered part of the Caribbean?
Cancun started life as a sleepy fishing village until the first resort hotels were built in the early 1970s. Now it's full of all-inclusive luxury resorts and Mexican villa rentals with no shortage of things to do, from water sports to golf. 
The old "Spring Break" reputation has fallen away over the years, and this destination has reinvented itself. Yes, there are still plenty of all-night bars for partygoers, but there are also gorgeous villas, stretches of beautifully-maintained beaches, and a more relaxed vibe.
If you make it over there, Cozumel and Riviera Maya are another couple of popular destinations to check out nearby.
---
Why Vacation In The Caribbean?
The Caribbean is one of the most popular tropical destinations for New Yorkers. With daily flights from NY airports, you can escape the cold and trade it for a sandy beach within a mere 4 hours.
Flights operate daily from JFK and Newark Airports and offer easy access to many of the islands.
If you are short of time and want the quickest non-stop route to reach the vacation spot of dreams, we'd recommend the Bahamas, Puerto Rico, or Turks and Caicos.
---
When To Travel To The Caribbean?
The high season in the Caribbean falls between November and April. At this peak time, the weather will be lovely and sunny, but the islands will be busier. 
The air temperature averages 80 degrees Fahrenheit in the winter—the perfect time of year to escape the cold in New York and head directly to the Caribbean for endless sunshine.
You'll find the cheapest flights in March, and low season runs from April 14th through to the end of October. The late spring and early summer are some of the best times to travel from New York to the Caribbean. Flight prices are lower, and many islands offer accommodation at half the price, with great bargains such as free nights and special offers. 
Another nice reason to visit at this time is that the islands are not as busy. This calmer atmosphere with uncrowded beaches and restaurants makes it easier to get reservations. (Of course, our expert concierges will be able to get you into the best restaurants no matter the time of year!)
At 86 degrees in the summer, the sea is warm and perfect for swimming. No matter which island you fly to, you will find glorious weather with all-day sunshine, but be aware it can be more humid from June onward.
From July to November, the Caribbean experiences the most rainfall. However, you will only ever experience short bursts, and the sunshine is always ready to come out soon after. 
***We don't recommend traveling to the Caribbean during September and October. During hurricane season, flights are at greater risk of cancellation, and many villas, restaurants, and hotels are closed.
---
Conclusion
From NYC to Barbados in no time, it has never been easier to get from New York direct to the Caribbean. No matter which time of the year you choose to travel, you will find a great selection of flights at less than 5 hours journey time (some only 3 or 4!)
It's easy to reach the Caribbean for a short 5-night stay or a long weekend for a last-minute getaway. You may also get cheap flight deals if you book around 2 weeks before departure.
If you would like more information on the best Caribbean destinations with direct flights from New York, please get in touch. We would love to hear from you.
About Linda Browne
Linda is the General Manager for Exceptional Villas and has an in-depth knowledge of the travel industry. Linda's qualifications are in the area of business, marketing and tourism. Linda travels for much of the year inspecting all of our luxury villas; the majority of her time is spent in the Caribbean and Europe.