The idea of Spring Break falls into two distinct categories.  The first group is families with younger kids.  It's that joyful first vacation of the year, when everyone gets to shed those winter layers and have some good old-fashioned fun.
The second group is made up of students and graduates.  It's a rite of passage.  What young adult doesn't dream of a high-octane, action packed, cocktail infused vacation experience where fun is top of the curriculum?
Whether you are the student or the parent group or a hybrid of both, a glorious beach has long been one of the most desirable criteria for choosing the ideal location for your vacation.  And with this in mind, Caribbean spring break destinations will always feature on everyone's favourite list for the ultimate getaway.
Now let's take a look at four very different holiday destinations for vacationers searching for the quintessential Caribbean spring break.
---
Caribbean Spring Break Destinations
---
US Virgin Islands
If you don't want the faff of getting a passport but are keen to get away from Continental USA, then a US Virgin Islands spring break might be just the ticket for you and your family.  With no language or currency barriers, these sublime islands a mere 2.5 hours flying time from Miami are one of the loveliest destinations for the perfect family spring break experience.
The exquisite St Thomas is lively and historic.  It's the largest of the US Virgin Islands and at 32 square miles boasts 40 amazing beaches.  The main urban centre of Charlotte Amalie is home to Blackbeard's Castle, one of those historic sites that young kids are fascinated by.  This is a town to be explored on foot, stopping along the way to enjoy quaint boutiques, duty free shopping and delicious eats.  With a hilly backdrop to the colourful town and blue sea, there are some great vantage points to enjoy the panoramic sweep across the bay, dotted with yachts.
For a memorable Virgin Islands spring break activity, why not try the Sea Trek Helmet Dive at Coral World Ocean Park.  These cleverly designed weighted helmets allow young explorers, after a short induction course, to enjoy the experience of diving.  Walking safely through water, all manner of interesting marine life will swim up and say 'hi' to the intrepid trekkers. Kids simply love it!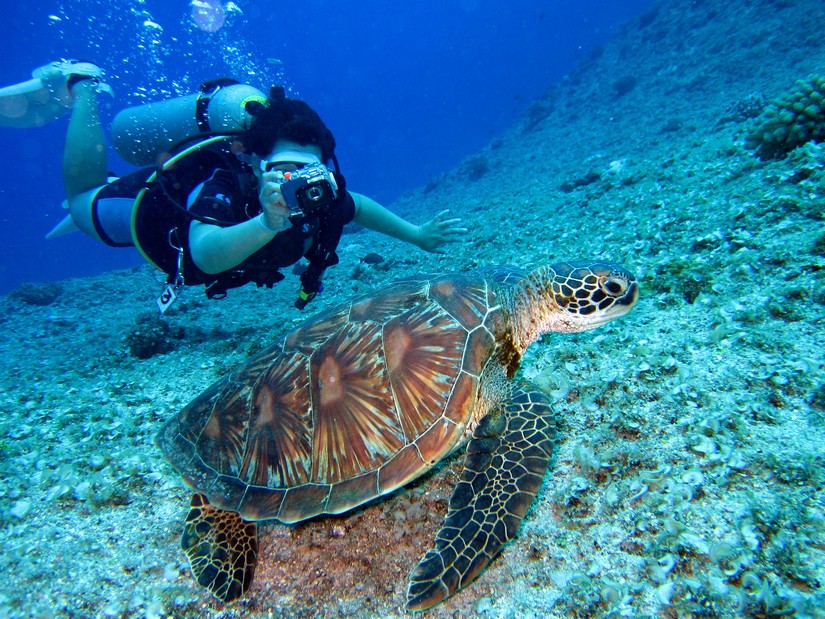 The smaller islands of St John and St Croix, as well as St Thomas, offer some of the most beautiful villas to rent where a self-contained and luxurious Virgin Island spring break can unfold to suit you and your family. Why not engage a chef, if your property doesn't already have one so that all your meals are prepared exactly to your choosing?  What better break for parents than to outsource all of these domestic chores.  It will truly enhance the vacation experience for everyone!
---
Cancun, Mexico
You've seen the photographs and travel vlogs.  The rumours sweep across every US campus that this is one of the Caribbean break vacations that's ideally set up for a classic and wild spring break experience.  As a tourist destination, Cancun has been on the map for decades.  As one of the spring break Caribbean deals, it's made a name for itself.
In about 4 hours (from NYC or LA) or 2 hours (from Miami) you can touch down in Cancun and begin one of the most memorable vacations of your life.  With over 200 clubs and bars, this is a destination that knows how to throw a party.  Super clubs like Coco Bongo and The City entertain thousands of revellers at their events.  The Coco Bongo beach party is an institution in Cancun.  Its night club has flying acrobats, foam and bubble parties, world renowned DJs, live bands and so much more.  Its location right in the heart of the Hotel Zone – puts it at the centre of so much action.  If you are staying at one of the fabulous villas in Cancun, you'll want to check out all of the wonderful beach bars and venues that populate this 14 miles island that's at the epicentre of so much to do on Mexico's Caribbean shore.
The appeal of Mexican food just adds to the overall casual party experience.  Tasty tacos enjoyed on the go, platters of gorgeous spicy snacks seem to combine so well with the variety of beers and cocktails that flow freely at the beach bars.  With an attractive age limit of 18+ for alcohol consumption, Cancun remains at the tip top of lists for anyone looking for the ultimate cheap Caribbean spring break experience.
And it's not all dining and wining.  There is a world of action-packed activities available to burn off all those empty calories.  Water sports, snorkelling, wake boarding and kite surfing are all easily accessed along this heavenly stretch of beach.  For anyone wishing to work out their brains, there's a rich and diverse history to be explored on fun and fabulous day tours from Cancun.  The Riviera Maya is that route all along the Caribbean coastline of Mexico that combines dazzling views, amazing beaches and historic sites.  If you have a rental car or decide to join an organised party tour, life in Mexico is never dull.
---
Jamaica
This island nation in the heart of the West Indies has been throwing a family friendly party for decades.  The home of reggae knows how to kick back, spin some laid back vibes and chill.  It's also earned a worthy reputation as a full-on, action-packed destination for all ages.  And Montego Bay is at the epicentre of the Caribbean spring break all inclusive experience.  Gloucester Avenue known colloquially as the Hip Strip is where the smart revellers go to dive into clubs, bars, shops and cafes.  Strolling along this colourful street during Spring Break is unforgettable.
Stepping away from the Strip, the three beaches of Doctor's Cave, Cornwall and Aqua Sol provide that idyllic Caribbean beach experience – glistening white sands and turquoise waters.  Doctor's Cave Bathing Club, to give the beach its more formal name, is a 5-mile stretch of perfect sand.  The clear waters are calm and warm and ideally suited to everything from swimming to snorkelling and pretty much every other water sport you can think of (including two water trampolines!)  With a daily entrance fee of $6, you can avail of all the amenities like showers, changing rooms and restrooms free of charge.
After a day of glorious lounging, you can walk the short distance to Margaritaville to dine and party.  Classic American fare sits side by side with some seriously spicy jerk dishes.  With wine, beer and cocktails flowing and resident DJ's and live bands setting the tempo, this Caribbean landmark is on the must-do list of any self-respecting spring breaker.
For families with younger children, the perfect antidote to all this hedonistic madness, is to get out and about and see some of the natural wonders of Jamaica.  As the third largest island in the Caribbean, there's a lot of ground to cover.  Some of the most memorable day tours include a waterfall.  Mayfield Falls about an hour from Montego Bay are famous for their beauty.  21 cascades that are safe to swim under are the main attraction.  Dunn's River Falls a little further afield is the most visited waterfall in Jamaica.  If you get there, you'll know why.
If you want to take your group on the road, get to Negril.  Rick's Café is one of those world-famous destinations for visitors who want the perfect sunset (it's fully west facing) or crave a bit of an adrenalin spike – think cliff jumping!  If you're a student reveller, a party bus tour will get you safely to Ricks to either join in the thrill of the jump or to just sit back and watch the drama unfold.  For a fabulous family day out, why not hire a catamaran or yacht and sail to Rick's for a divine lunch with a bird's eye view.
If you're a parent who's not quite ready to release your college age offspring into the mayhem of full-on spring break, Jamaica can be clever choice.  From the comfort of one of the beautiful villas near to Montego Bay, your cherished teenager can dip in and out of the fun activity along the Hip Strip while still under your watchful eye.  Whatever the age profile of your family, the fun and flavour of Jamaica are the ideal backdrop to the best Spring Break experiences ever.  It's just a question of where you will base yourself for the holiday of a lifetime.
---
Bahamas
This is another ideal all-ages family spring break destination.  The many islands of this British Overseas Territory can provide stunning beach vacations for parents with younger children while also meeting the needs of older children (college age) who want the full Bahamas spring break experience. Nassau, the capital city of this island chain, is where the liveliest of vibrant nightlife takes place.
One of the go-to places for the young, hip crowd is Senor Frog's.  This is a bar and live entertainment venue that has outposts all across Mexico as well as Las Vegas and Orlando.  Zombie cocktails and spicy food are the order of the day.  Afternoon lunches attract families of all ages but early evening sees the tempo change as the Frog puts on a more adult face.  The Atlantis Paradise Island's Aura Club is another venue for young adults looking for the ultimate party experience.  Daytime, the Atlantis is a tourist mecca that offers everything from beach activities, water parks, gardens, aquarium, casino.  It's a one-stop shop for all ages looking for something diverting.
Again, parents can limit the exposure of their young adults to nightlife in Nassau while allowing them an opportunity to safely stretch their wings.  Each day can be filled with family fun and tours that help keep sibling bonds strong.  The Swimming Pigs Tour taken by power boat from Nassau is one of those trips that kids of all ages talk about forever.
Walking tours of Nassau that include the 66 steps or Queen's Staircase or a visit to Fort Charlotte – remind tourists that the Bahamas saw some thrilling pirate and naval activity during its history and are all worth experiencing.
Duty free shopping in Nassau is another welcome diversion.  As are guided bike tours, sampling delicious seafood at beach cafes along the way.  There's so much to do. The Bahamas is also offers some of the best diving in the Caribbean.
With no language barrier – English is widely spoken – and a short flying time from Continental USA (1 hour from Miami), this is one of the ideal spring break Caribbean destinations for families of all ages.  The party scene is less frenetic than, say, Cancun, so for the anxious parent this might be a nice gentle introduction to the spring break party scene for your college age child while keeping them under your watchful eye.
---
Conclusion
So, what exactly are the criteria for memorable spring break vacations? Something fun for families of all ages.  A well-established party destination that offers live entertainment, great beach or poolside space to mingle with fellow breakers, great beach bars, water sports, on land activities, exploring, shopping.  Really delicious casual food that can be enjoyed on your beach lounger accompanied by some great beers or fruity cocktails.
Wonderfully exclusive villa properties that allow you to dip in and out of the fun and frolics of spring break but having a haven of tranquillity to return to.  Lots of restaurants, beach bars and (perhaps) nightclubs within a reasonable distance so you can access everything easily.  A safe and well-policed destination that allows a certain amount of high-octane fun but ensures things don't get out of hand. Check out our other Spring Break Destinations.
And moreover, you'll want to simple find a quiet moment or two in the bustle, to watch the waves roll gently onto a picture-perfect white beach and thank the gods for guiding you to the Caribbean to enjoy a Caribbean Spring Break vacation in one of the most beautiful corners of the world.
About Mairead Moriarty
Born and raised in Co Kerry, lived in London, New York, San Francisco, Dublin. Owner of one very battered suitcase, a well-worn passport and a million memories.
It seems very fitting for a travel writer that my surname translates as 'Skilled Navigator'. Apart from an occasion when, aged 3, I got lost in a Supermarket in Tralee, I have managed to live up to my name!
Curiosity is probably the driver that has sent me on magical mystery tours around the world. I want to 'feel' a place. I want all my senses to be engaged: from the history and geography that has influenced a country or city, the arts and achievements of its natives, anything and everything really.
Regardless of whether I am on a local train travelling through Morocco, or poking around in Marconi's study in Bologna or on a canal boat weaving through the heart of the English countryside, the same rules apply - ask questions, talk to locals, eat what they eat, sit quietly with nature and simply be.
Assimilate as much as is possible so as to understand the soul of a place. That is my passion. That is the compass by which I navigate.