Well, who doesn't love islands?  There's just something so contained about them. Add a dash of heavenly sunshine and some lush beaches and the idyllic Caribbean Islands become the standard-bearer for the very best in vacation islands just about anywhere in the world.
As an island dweller (albeit of a more atmospheric and brooding North Atlantic variety) I am naturally drawn to islands. Why you might ask?  Isn't the epitome of holidays to get away from the everyday?
And, of course, the answer is a resounding yes!!  But as every day for me involves a heavy dose of slate grey seas and misty hillsides the direct opposite of all of this dark green Celtic romanticism is the turquoise splendour of the islands in the Caribbean.
I do like to keep one element of some my escapes the same though … and that is choosing a self-contained island destination.
And why islands, you might ask. Well, in my experience, they are generally possessed of a very well-defined personality. There are no land borders where language, culture and cuisine get a little diluted or blurred. There's the additional pleasure of driving around the circumference of some of these brilliant Caribbean destinations constantly having the sea off the port side of your car and never having to retrace your steps – you simply drive in one continuous loop until your luxury vacation rental comes into view again.  Fabulous!
So, my fellow travellers, let's get going and take a meandering and mellow tour through some of the best Caribbean islands.
---
Exactly where does the Caribbean begin and end?
The Caribbean Sea covers an area of over one million square miles.  Yes, it's huge!  It reaches across an area of the Western Hemisphere from Central America, Mexico, Cuba southwards encompassing the many islands of the West Indies, British and US Virgin Islands, Jamaica, Barbados, Antigua, St Lucia ….  Within this magnificent blue expanse lies not only the second largest barrier reef in the world but some of the most stunning islands found anywhere on this planet.
White sandy beaches dotted with coconut palms that stretch for miles along temperate turquoise shorelines is the picture-postcard offering of any Caribbean island and this you'll find everywhere. But the islands are much more than their shorelines, the interior of these dots in the ocean is generally lush and tropical.  The hilly or mountainous regions speak to an ancient volcanic past.  Rivers, waterfalls, trails, rich farmland, plantations, wildlife, sweet fruits and bounteous crops all co-mingle to create islands that are naturally attractive.
Ever since 1492 when Christopher Columbus & Co accidentally arrived onto the warm shores of the Caribbean followed very swiftly by the English, Dutch and French the Europeans have left their imprint across many of the islands.  For better or worse, their legacy is seen in some key cultural sites in the likes of Barbados, Jamaica and Aruba – just to name a few.
As tourist destinations, some of the best islands to visit for that beach perfect holiday can be found in the Caribbean.  Exceptional Villas has been offering lucky clients access to some of the most luxurious beachside villas and opulent resorts for decades.  Caribbean vacations have become the ultimate destinations for anyone looking to top up their natural glow. It's great to know that most of the islands have very wisely seen the value in retaining the beauty of their coastlines. They have ensured that developments are kept low level and are discreetly integrated into the natural beauty of these island paradises.
---
The best place for …
Each of the islands mentioned here can offer the very best in romance, adventure, cuisine .. but I do have some particular favourite destinations for a variety of specific reasons.  So, allow me to introduce you to the best Caribbean islands to visit for ….
---
The Honeymoon
Regardless of whether you are first time newly-weds or have a little matrimonial mileage on your clock, my top picks for a Caribbean honeymoon would have to be Antigua, Barbados, St Lucia or Jamaica.
All of these islands have spectacular villas and resorts that will give romantic couples a bit of space after their whirlwind of wedding fever.  Privacy but with access to lots of fun things to do is probably the epitome of any good honeymoon.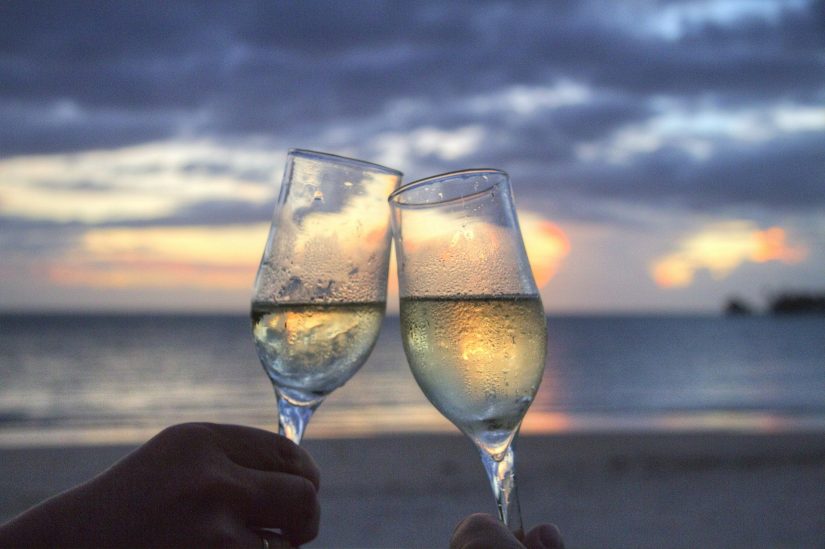 I will pick out one resort that I feel could really tick every box for the happy couple.  Jumby Bay in Antigua.  Set in 300 lush acres, this private all-inclusive resort simply cocoons its guests.  You can enjoy your breakfast on your terrace each morning, dip into the freshwater pool, indulge in any number of activities.  It's a mini paradise of lush trees and tropical flowers for you to explore on foot or by bike.  An island within the glorious island of Antigua.
---
The Getaway for the Gals
The ultimate getaway for a group of gals who just want to shop, sunbathe, have fun has to be St Barts.  It is chic and cool.  Who knows, you just might pick up a lonely millionaire with his own yacht while on this pretty little island.  For beach-chic brunches at Le Plage on St Jean beach to glamorous nights out at Eden Roc, the heavenly St Barts, part of the French West Indies, brings glamour and style to a new level in this beautiful corner of the Caribbean.
---
The Getaway for the Guys
Jamaica is my top pick for boys.  It's all a bit James Bond at times with rafting, hiking, a wild day out in Margaritaville and lots of golf and fishing too.  No surprises, that the creator of James Bond, Mr Ian Fleming, lived a life of taste and leisure in his beautiful home, GoldenEye in Jamaica.  My pick for an intrepid group will have to be the Tryall Club resort.  Choose one of the beach-side villas with private pool, enjoy the services of a butler who will manage your stay to perfection.  You can indulge in golf, fishing, tennis any number of water-based activities.
Throw in an adventurous tour or two and a trip over to Montego Bay for some hustle and bustle.  No matter your age profile, you will enjoy the unparalleled level of pampering that comes with a vacation at Tryall Club.
---
Water, water, water
Anyone contemplating a Caribbean vacation who hasn't mastered the art of swimming need not despair.  Yes, you will see divine stretches of bluey-green waters at every turn but they can as easily be enjoyed from the shore.  Long, languorous walks across white or pink sandy beaches is an experience for any visitor of any age.  No need to plunge under the waves to feel you are getting the most from your trip.  In fact, long hours on a private villa terrace, with the sound of the sea in the distance can form the basis of true relaxation.
For the ultimate in walks, you will have to visit Grace Bay in Turks and Caicos.  Miles and miles of unimpeded coastline allow visitors to really enjoy a truly long, long walk.  Intersperse all of this activity with some stops along the way for a cool cocktail or delicious lunch and you will understand the definition of leisure.
Technically, Turks and Caicos aren't really in the Caribbean but that wonderful Caribbean vibe seems to pull these luxury islands under its umbrella.  So do forgive me stretching the Caribbean Sea's boundaries – just a little! Check out our essential Turks and Caicos travel guide to find out the wonderful things to do here.
---
Natural World
Dolphins, whales, turtles and pigs … yes, pigs, can all be found somewhere in the Caribbean.  The pigs I refer to are the cutest little porkies you've ever seen and they dip in and out of the waves in The Exumas, part of the Bahamas.
Turtles swim around the reef structures and close to shore off any of the beautiful beaches of Grand Cayman.  If you are interested in diving or snorkelling, you will be dazzled by the array of sea life waiting for you beneath the beautiful blue.
---
History
If you are looking for some interesting and old architecture then take a look at Bridgetown in Barbados, Cockburn Town in Grand Turk or Oranjestad in Aruba.  These towns have excellent examples of architecture brought from the Old World and reimagined for life in a tropical climate.
As well, there isn't a harbour bay across the Caribbean that hasn't some old towers or ancient fortifications harking back to a time when the European powers guarded their ownership of these valuable islands.
Sadly, the historic footprint, so to speak, of the ancient Indian tribes who occupied the islands has been washed away.  Colonisation or invasion – however it is described – sadly doesn't ever benefit the indigenous races.  The subsequent slave trade that saw thousands of Africans brought to the islands to work on the tobacco and sugar plantations is a part of history that is important to understand although cruel and inhuman to our 21st Century ears.
Sunbury Plantation House in Barbados runs a really fine tour.  As does, Greenwood Great House in Jamaica.  These living museums give visitors an opportunity to walk back in time and understand what life was like on these remote Caribbean outposts.
---
The Bon Viveur
If the mark of a good holiday centre on the pleasures of the table then the Caribbean is a gourmet experience like no other.
The endless array of seafood, tropical fruits and vegetables that proliferate in the lush farmlands of the island interiors ensure that each plate of food is just about as fresh as you could wish for.
There are lots of amazing restaurants with spectacular wine lists offering the best of Bordeaux and Champagne.
And please do indulge yourself!
But what I would suggest is you sample the flavours of local life on the islands.  Rum punches, jerk chicken, fried conch, local beers, incredible coffee ….  The Caribbean cuisine has evolved over centuries influenced by other cultures, determined by its local ingredients and totally unique.  So, whether you are sampling Green Fig and Salt Fish in St Lucia or Cou-Cou in Barbados, you are tasting history!
---
Conclusion
Anyone who keeps an eye on my rambles and writing for the exceptional Exceptional Villas will see that where possible I include an island somewhere into any trip. I tacked Capri onto my Amalfi excursion.  Ibiza and Majorica when I visited Spain.  Corsica, Sicily and Sardinia when I rambled through Italy.  Those islands just keep calling me back!
"No man is an island", the celebrated poet John Donne so eloquently stated back in 1624.  But I do dispute it – but very gently. I think we are all islands – unique and independent but with meaningful links with other islands. Our identities and place on the planet are strengthened and complemented by being part of an archipelago of other islands.  I truly believe this.  From a distance, we may all look like we are standing alone but once you dip beneath the waves it's easy to see how we are all connected.
Why not sink into a luxurious hammock fastened beneath some billowing palms on an idyllic Caribbean island and contemplate this. Like all such ponderings, no hard and fast conclusions need to be reached. In fact, I expect you'll soon discover the urgent need to get back onto your Caribbean hammock with great regularity to continue the long inner dialogue and the ultimate search for meaning.  Be sure to let me know how you get on!
A word or two on Exceptional Villas.  For decades this award-winning company has been introducing guests to the best island destinations in the Caribbean.  There isn't another company that has the breadth of knowledge about each island.  Added to this, the Sales and Concierge Teams have personally visited each property, experienced life as a guest and so are ably situated to match you and your family to the villa of your dreams.  So, whatever your intention as you search for the best holiday ever, take a look at the wonderful Caribbean islands.  They've been charming guests forever!
About Mairead Moriarty
Born and raised in Co Kerry, lived in London, New York, San Francisco, Dublin. Owner of one very battered suitcase, a well-worn passport and a million memories. It seems very fitting for a travel writer that my surname translates as 'Skilled Navigator'. Apart from an occasion when, aged 3, I got lost in a Supermarket in Tralee, I have managed to live up to my name! Curiosity is probably the driver that has sent me on magical mystery tours around the world. I want to 'feel' a place. I want all my senses to be engaged: from the history and geography that has influenced a country or city, the arts and achievements of its natives, anything and everything really. Regardless of whether I am on a local train travelling through Morocco, or poking around in Marconi's study in Bologna or on a canal boat weaving through the heart of the English countryside, the same rules apply - ask questions, talk to locals, eat what they eat, sit quietly with nature and simply be. Assimilate as much as is possible so as to understand the soul of a place. That is my passion. That is the compass by which I navigate.