Located just east of Montego Bay on its own private 100 acre peninsula, Round Hill is a very exclusive and stunningly beautiful low key hotel and villa resort with wonderful facilities such as tennis, water sports, spa, excellent kids club and also a variety of wonderful restaurants to enjoy.  Round Hill was the first of its kind in the Caribbean and a leader in this type of very exclusive gated villa resort.  We at Exceptional Villas have a variety of wonderful villas to rent many of which were designed by Ralph Lauren from Classic moderate villas, deluxe luxury villas to the top super luxury category.
Round Hill which is steeped in tradition was originally open in 1953 by a Jamaican entrepreneur called John Pringel who built the original hotel and villas.   Over the years many famous people have holidayed in Round Hill including former President JFK, Bing Crosby, Paul Newman, Clark Gable>and Alfred Hitchcock to name but a few. Round Hill's wonderful social bar is literally covered with pictures of famous past guests.  Round Hill was previously owned by Lord Monson who ran it as a sugar plantation and later grew coconuts, pimento, all spice and Pineapples which is where Round Hill got its distinctive Pineapple logo.
Today Round Hill is one of the most beautiful and elegant resorts in the Caribbean.  It is distinctive from other resorts by the natural beauty and also by the extreme friendliness that you experience when you are here from both the staff and fellow guests.
---
The Beach
The beach at Round Hill is a wonderful quiet crescent shaped cove with crystal clear calm waters and pristine white sand.   The beach at Round Hill has the wonderful advantage of having natural shade from the trees that are dotted on the beach.  There is also waiter and bar service on the beach.  There are beautiful views to the mountains and rainforests from the beach.  There is also a lovely walk along the coast where you will find several small coves that are stony but really lovely and the perfect place to relax and sunbath if you want total peace.
---
Watersports
Water sports at Round Hill are a true pleasure.  There is the beautiful golden sand beach and a new double infinity edge pool overlooking the Caribbean which both make Round Hill a magnificent setting for your favourite resort sports. Take advantage of the crystal clear waters and the colourful coral reefs for spectacular snorkelling. Explore the reefs just beyond the beach on your own or arrange for a guided tour from one of the natural marine experts.
Snorkelling, Kayaks and pedal boards, sea trampoline, windsurfing, small sail boats and glass bottom boats are all offered on a complimentary basis.
Newly-expanded private and secluded golden sand beach with full cocktail and lunch service.
Water sports such as water-skiing, scuba and tubing. PADI diving excursions, deep-sea fishing boats, and yachts are available for charter.
Double infinity-edge pool with children's wading pool and waterfall located at the edge of the beautiful Caribbean Sea
Adult-only spa pool with beautiful ocean views and spa butler service.
---
Entertainment (In season)
Mondays - Beach Party! : Enjoy a "welcome" rum punch and a sumptuous buffet on the beach with bonfire, barbecue, and local sounds of Jamaica performed by the much-loved Round Hill Mento Calypso Band. A casual atmosphere, it's nightlife Montego Bay style—go barefoot! Afterwards, enjoy the soothing sounds of our house pianist, Brimsley Ambursley, in the Cocktail Bar from 9 pm.
Tuesday - Favourite Calypso and Piano Tunes : After hearing the soothing sounds of Calypso music during dinner, retreat to the Cocktail Bar and enjoy the sounds of house pianist, Brimsley.
Wednesday - Manager's Cocktail Party : The Manager's Cocktail Party is held every Wednesday from 7 – 8 pm and is a time for Round Hill's Management to meet and greet guests as they enjoy a complimentary open bar and hors d'ouevres. Typically held in the Cocktail Bar, this event is followed by a la carte dining in The Grill.
Thursday - Calypso Music and Favourite Sing-along Tunes! : Begin the evening with the familiar sounds of the Mento band, followed by your favourite sing-along tunes performed by house pianist, Brimsley, along with a special guest singer from the Montego Bay nightlife scene each week.
Friday - Jamaica Night : Held once a week on the Seaside Terrace and featuring a bountiful buffet, Jamaican specialties, steel drums, or a Reggae Band and a captivating Jamaican folklore performance after dinner (Jamaican folklore performance seasonal).
Saturday - Jazz Night : The night begins with live Calypso music followed by a featured band or jazz duo.
Sunday - Calypso and Piano! : After a day of sun, sand, or spa guests revel in calypso and piano tunes and look forward to another day of true relaxation and family fun.
---
Tennis
The tennis centre in Round Hill is really excellent.   There are a total of five immaculate all weather tennis courts in two different parts of the resort.  The two upper courts are flood lit making it possible to play in the slightly cooler early evening.   Tennis is free of charge as well as rackets.  There is a small charge for balls.
The Round Hill Tennis Centre has several excellent pros on hand for lessons or practise as well as ball boys and hitting partners (extra charge).  There is also an opportunity to meet other players, playing mixed doubles or participating in a round robin tournament.
Proper tennis attire is preferred including tennis shoes.
Five all-weather courts, two of which are lit for evening play.
Resident pro can arrange lessons, games, tournaments and/or round robin matches.
Ball boy services.
On-site pro shop.
Golf can be arranged at any of five championship courses, the closest being at the private Tryall Club just a few minutes away from Round Hill with complimentary daily shuttle service.
Located in a beautifully restored 18th century plantation house on 10-acres of beachfront lawn, the spa is known as the oldest beachfront spa in Jamaica
Full-service beauty salon.
Eight treatment rooms.
Therapy lifestyle products by Elemis, along with our all-natural local organic blends.
Wide range of therapeutic and beauty treatments.
Located at the spa with ocean views, equipment includes treadmills, step masters, bicycles and free weights.
Personal instructor available for individualized training and workout sessions.
Jogging and walking paths for both exercise and leisurely nature walks.
Oceanside fitness classes including yoga, cardio/aerobics and body sculpting.
---
Spa
The Spa at Round Hill is located in a stunning resorted plantation house set in 10 acres of its own gardens and lawns.  You access the Plantation House and   spa via a short walk along the stunning coastline putting you in the perfect frame of mind for a luxurious treatment.    Many treatments feature the exclusive Elemis line of products, while others infuse local Jamaican ingredients to provide you with a truly authentic spa experience
---
Fitness Center
The fully equipped state of the art fitness centre is also located in the plantation house.   There are beautiful sea views to enjoy whilst you are working out.   You can work out at your own pace or use one of the professional trainers.  Equipment includes treadmills, elliptical, exercise bikes, step matching, back and tricep station, bench press, leg and thigh press, and free weights.  There are also a number of organised exercise classes including yoga, stretching and body sculpting each day.
---
Dining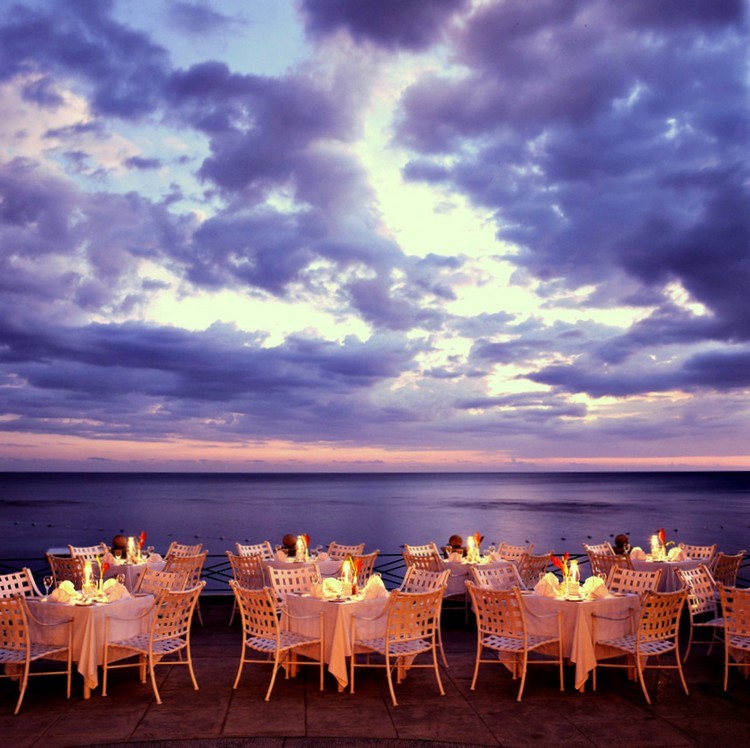 The main Round Hill restaurant is located on the main terrace elevated just above the beach and sea.   The views are absolutely stunning and during the day, there is wonderful natural shade provided by the trees dotted around the terrace.   At night time, the trees have thousands of tiny white lights which make for a truly beautiful and romantic atmosphere.  The food and menus varies from night to night.  There are fish themed evenings, barbecues, curry nights and traditional Jamaican nights.
The second restaurant which is the newly-opened Grill at Round Hill is situated just above the main bar and terrace of Round Hill, offering beautiful ocean views and direct breezes. The décor is in keeping with the classic Round Hill aesthetic of relaxed luxury. The whitewashed, simple décor is accented with local Jamaican art and black and white photos, adding a touch of the local and historic to the new restaurant space.
The Grill features the only indoor wood-fired grill in Jamaica, using local primento wood which is indigenous to Jamaica. The wood imparts a touch of smoky richness and is used in a mixture of torched wood for earthy flavour and sweet wood to round out the finish. The kitchen is open, allowing guests a glimpse of the live-action grill and prep stations.
The focus of the food at the Grill and throughout Round Hill is simple, locally produced (where possible) and sustainable.  Much of the produce is sourced from the area surrounding Round Hill, or from the resorts very own organic garden. Peak growing seasons are November and December, and the menu often features garden-grown Bibb lettuce, arugula, pole beans, cherry tomatoes, herbs including basil, thyme and mint, and other seasonal items.
Menus include Jamaican-inspired dishes with an eclectic/modern twist and incorporate ingredients from the on-property organic garden, as well as from local farmers and growers.
The Grill at Round Hill.
The Seaside Terrace.
Three bars and lounges, including the Cocktail, Beach & Pool Bars.
Spa menu with drink service.
Complimentary afternoon tea daily.
Weekly themed nights such as Monday's casual and barefoot beach BBQ.
Farm-to-table dinner at the Grill on Thursdays.
Friday's Jamaican Night with live entertainment.
In-villa breakfast and specialty villa dining can be arranged.
Room service.
---
Kids Club
Round Hill offers one of the best children's clubs in the Caribbean.  The staff and nannies are really well trained and genuinely love children.   The Pineapple Kid's club and the 7-up Club are both complimentary.
It is conveniently located in a recently upgraded house adjacent to the lobby and beach, and offers hosts of options to ensure an active and imaginative holiday for children. Activities include nature walks, a creative assortment of arts and crafts, water sports, talent shows, reggae lessons and movie and story hour. The Pineapple Kids' Club and 7-Up Club are open daily from 9 am to 5 pm.
The Pineapple Kid's Club is available with supervision for children ages 3 through 6, and includes arts, crafts, and exploration of Round Hill. The 7-Up Club, housed in the same building, includes the following amenities to satisfy the desires of children 7 years and older, including the active teenage guest!
Well trained and wonderfully friendly nannies are also available for hire one on a one to one basis.
Game Room
Foosball Table
Pool Table
Wii Console
X-Box (including Rock Band)
Karaoke
2 Cool Chairs (wired for music and games)
Computer
TV & Reading Room
TV
Board Games
Books
Computer
Bean Bags
Round Hill Pineapple Kid's Club sets us apart as one of the most child friendly resorts in the Caribbean. Activities include nature walks, a creative assortment of arts and crafts, water sports, talent shows, reggae lessons and movie and story hours. It is open daily from 9am to 5pm for children age three and up.
Sample Daily Agendas
Following are some sample daily agendas that our personnel have arranged for our younger guests.
Creative Day
9 - 9:30 am: Registration/Meet & greet
9:30 -11am: Paper Craft - Wool Craft
11 - 12 noon: Basket Weaving
12 - 1 pm: Lunch Break
1 - 2 pm: Organic Garden Tour
2 - 3 pm: Beads Craft
2:30 - 4 pm: Special Event - Art & Craft Display
Outdoors Day
9 - 9:30 am: Registration/Meet & Greet
9:30 - 10:30 am: Baseball
10:30 - 11:30 am: Basketball
11:30 - 12 noon: Hopscotch
12 - 1:00 pm: Lunch Break
1- 2 pm: Tag/Hide & Seek
2 - 5 pm: Special Event - Board Games
Talent Fun Day
9 - 9:30 am: Registration/Meet & Greet
9:30 - 10:30 am: Show Your Talent
10:30 - 11:30 am: Dancing
11:30 - 12:00 noon: Drama (Acting/Miming)
12 - 1:00 pm: Lunch Break
1 - 2:00 pm: Cultural Exchange
2 - 5:pm: Special Event - Tea Time, Story Time
---
Shopping
The boutique in Round Hill which is located just opposite the lobby provides a wonderful selection of beautiful resort wear as well as local crafts and souvenirs and Round Hill merchandise.   In addition there are some beautifully packaged culinary delights including Jamaican hot sauce, Tortuga Rum cakes and Busha Brown sauce.
There is also a mini art gallery in the shop which features prints and original paintings.
Resort Boutique and "Pineapple" logo shop on property
---
Library & Business Center
There is a computer, printer and wired internet available in the library, as well as the use of a fax machine through the Front Desk.
There is complimentary Wi-Fi service available in all the villas
---
Weddings & Celebrations
Complete wedding planning services
Programs include small vow renewals to 200-person weddings
The perfect Jamaican resort location for destination weddings over a three-day or longer weekend