Jamaica is best known for its friendly people, the searing smell of jerk over the fire, the chilled-out reggae music and the amazing landscape. Jamaica is also home to some of the best resorts in the Caribbean.
These luxury resorts include the best beachfront locations and feature the most amazing Jamaica villas, suites and amenities you could wish for during your vacation.
You can choose from all-inclusive resorts in Jamaica to villa orientated resorts and I am going to outline my three favourite resorts in Jamaica, and I hope this will help make picking your next Jamaica vacation a little easier.
---
Top 3 Jamaica Resorts
---
Tryall Club Jamaica Resort
---
The Tryall Resort is one of the most stunning resorts in Jamaica and I personally love it there. It is a large resort located on 2,200 acres of beautiful hills and valleys that make their way to one and a half miles of private beach.
---
Villas at the Tryall Club
The Tryall Club features an incredible selection of Luxury Villas, ranging from 1 bedroom to 10 bedroom villas. Whether you are large group of friends, a multi-generational family or a couple enjoying their honeymoon, you will certainly find a suitable luxury villa at the Tryall Club in Jamaica.
All villas come with a full staff including a chef/cook, butler, laundress and cleaner.
What I love about Tryall is you have villas located right on the ocean and also if you fancy a bit more privacy, you can choose a villa located in the hillside. And if you do decide to go in the hillside, you may be further away from the sea but you still get amazing views and you are just a short ride in your golf cart down to the beach.
---
Karma Bay Villa at Tryall
On my most recent visit to Jamaica with Exceptional Villas, I was lucky enough to stay in Karma Bay. This is a 6-bedroom ocean front private villa and is just a 2 minute walk from the beach.
Once you walk through the front door, you can see straight out to the amazing ocean. I loved having breakfast outside every morning and listening to the sounds of the ocean.
While you are on the water, there is no beach at the villa, so it is best to take the short walk to the main beach for a swim. Karma Bay's design makes it the perfect spot for a celebration or vacation with family and friends.
There are six bedrooms, multiple gazebos and sitting areas, and a beautiful pool to relax in. The staff at Karma Bay were just incredible. Their attention to detail was brilliant and chef George created delicious meals every day for us.
---
Why Tryall is a Popular Jamaica Resort
The great thing about The Tryall Club is that if your preferred villa is not available for your dates, then there is a very strong chance you will find another suitable option as the choice there is extremely vast. This choice makes The Tryall Club one of the most popular resorts in Jamaica.
There are also a number of villas in Montego Bay which are not located within The Tryall Club but guests are allowed to come to the resort and use the facilities.
A note for when you are looking into renting a luxury villa in The Tryall Club – Tryall is not an all-inclusive resort. Food and beverages are at the cost of the guests and your chef and butler will take care of this for you.
---
Temporary Membership Fee at Tryall
The Club requires all guests to become members during their stay via a Temporary Membership Fee of US$130 per week plus 15% service charge for each person age 16 and over or US$26 plus 15% service charge per person per day for stays of less than 7 days. This can be either prepaid or upon arrival at the Club.
---
Amenities at the Tryall Club
Tryall has several wonderful amenities, meaning your stay there will be enjoyable and fun. From a world class golf course to intriguing wildlife, all the family will be kept busy.
---
The Beach at the Tryall Club
The beach at Tryall is glorious. It is a quarter mile crescent shaped stretch of beach with pristine white sand and crystal-clear waters. It is well planned out and is also perfect for parents and children.
At the end of 2019 Tryall extended the depth of the main beach landwards. Now behind and overlooking the beach, there is an infinity edge swimming pool. If several families are staying in different villas, then this is a great area for everyone to meet up and hang out.
---
Golf at Tryall
While staying at Tryall, I was lucky enough to play 18 holes. As a golf fanatic, it is always nice to play courses away from home and I really enjoyed the test.
It is beautiful challenging course with incredible scenery. If I hit a bad shot, which happened a lot, then at least I could just look out to the amazing ocean knowing I would be there in a few hours. The golf course is extremely well kept.
From the minute you enter the club house you are met with a friendly face and the driving range and putting area are perfect for preparing for your round.
The caddies at the course are very knowledgeable and helpful. The course is never overcrowded meaning all players, especially beginners can relax and enjoy the 18 holes that has tested the likes of Ernie Els and Nick Faldo in the past.
The Tryall Golf academy is the place to be if you wish to improve your game during your stay.
---
Tennis at the Tryall Club
The Tennis Courts at The Tryall Club are top of the range and exactly what tennis enthusiasts will want to see when they arrive.
Having played host to numerous Davis Cup matches and Grand Slam events as well as welcoming lots of famous players such as Boris Becker and Ilie Nastase, the tennis in Tryall is truly one of the best in the Caribbean.
The courts are perched on a high hill to take advantage of the gentle Jamaican breezes and stunning views.
There are a total of nine high spec Nova Cushion courts, some of which are flood lit which means you can also play in the early evening when it gets a bit cooler.
There are 24 staff at Tryall including several world-class pros, hitting partners as well as ball boys. In addition, there is a well-stocked pro shop, weekly tournaments and private lessons for all ages.
---
Dining at the Tryall Club
There are many great dining options available at The Tryall Club such as breakfast at the Great House or lunch at the Beach Café in the off season. I personally recommend the burger!
There are also many wonderful themed evenings to enjoy at Tryall such as the Seafood Night or Beach Barbecue Night on the Lawn with live entertainment.
---
Wildlife at the Tryall Club
The southern hinterland of the Tryall estate covers more than 1,000 acres. Comprising of forests, ridgelines, buffs, cliffs and streams, it is an undisturbed natural paradise indicative of the incomparable fauna of the island.
I recommend getting up early in the morning and taking a family hike to explore the spectacular environment.
You can enjoy it at your own pace or you can also be escorted by Tryall's resident Environment and Conservation Manager, Shaku Ramcharan whose knowledge of Jamaica's flora and fauna is beyond compare.
---
Half Moon Resort Jamaica
---
Another of my favourite resorts  in Jamaica is Half Moon Resort. Located 12 kilometres from the centre of Montego Bay,  Half Moon is a stunning resort, featuring luxury Jamaica villas, suites, delicious dining and an array of fun activities.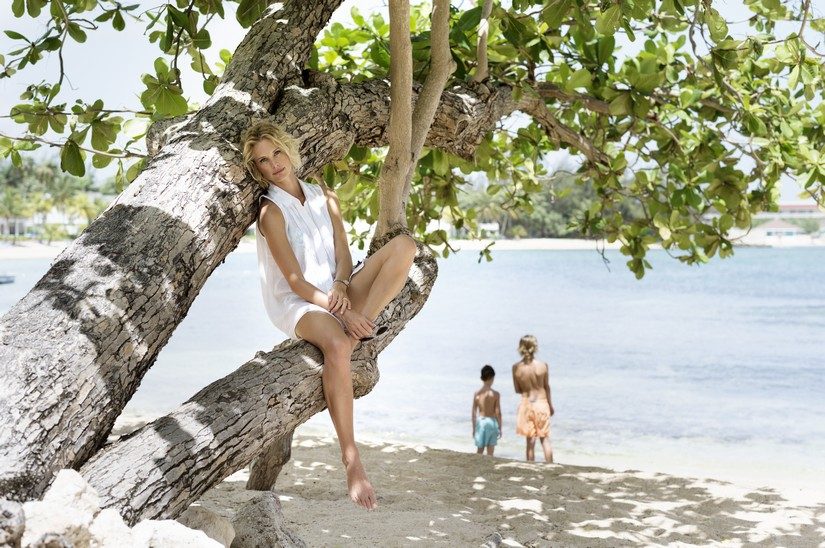 ---
Villas at Half Moon
The villas in Half Moon are known as the Rose Hall Villas and they feature 5, 6 and 7 bedroom options. The 5 and 6 bedroom villas have a garden or ocean view and the 7 bedroom villas all have garden view.
When visiting the resort, I noticed the villas are all very similar in design and decoration. They are perfect for families or a group of friends and especially if you have a large group, you can take a number of villas and the resort will always do their best to have the villas as close to one another as possible.
Each of the villas are staffed with a cook, butler and housekeeper. The staff are really friendly here and will go above and beyond for their guests.
The bonus of staying in the villa is, you have the feeling of your own private home yet you have full access to all of the resort facilities.
A quick spin in your golf cart and you can go to the beach, restaurant, spa or enjoy one of the many activities available.
---
Suites at Half Moon
Half Moon also offer guests the option of a suite. This is a great option for a couple celebrating their honeymoon or any other special occasion.
Guests can choose from staying in Founders Cove or Eclipse.  Founders Cove incorporates the iconic sections of Half Moon that were developed by the original owners of the property.
Guests can stay at a combination of classic cottages centred around Sunset Beach, as well as the popular Hibiscus and Ocean Court accommodations.
Eclipse features luxurious and spacious accommodations, two restaurants, three bars, a market café, Fern Tree – a Salamander Spa, a sweeping infinity-edge swimming pool, and a private beachfront with natural swimming cove.
---
Amenities at Half Moon
One thing is for sure, when you stay at Half Moon, you will enjoy a wide variety of amenities including wonderful dining options. There is lots of things to do in Half Moon Jamaica . You can enjoy fun for all the family.
If you are the type of person who just wants to lay by the pool all day then there is no better place to do so. But if you are the type of person who needs to keep busy, then you can enjoy a number of exciting activities
---
Water Sports at Half Moon
With two miles of beachfront, Half Moon has one of the most extensive water sports programmes in the Caribbean.
You can enjoy snorkelling, water-skiing, tubing, wakeboarding and much more. You can even get certified as a PADI open water diver!
---
The Spa at Half Moon
The Spa at Half Moon is an amazing experience. The staff there are friendly and offer an incredible service in one of the most beautiful settings.
The Spa includes aromatherapy steam and sauna rooms, a pool, an outdoor yoga pavilion, gardens and meditation labyrinth and 12 treatment rooms including the stunning overwater bungalow.
---
Equestrian Centre at Half Moon
I have to say, I have not come across many Jamaica resorts with such an amazing equestrian centre. The staff here are highly skilled and the attention they give to their horses is 5 star.
Whether you are an equine enthusiast or wake up one morning and decide you want to give horseback riding a go for the first time, then you will be looked after.
You can enjoy a variety of equestrian activities, riding, jumping and polo lessons as well as the thrilling beach rides. The Stables provides horses and instruction suitable for beginners and experienced riders.
---
Golf at Half Moon
The golf course at Half Moon is a great course to test your skills. It is a classic layout with multiple sets of tees, so all golfers can be tested.
During your round you will have to deal with constant trade winds blowing off the Caribbean Sea creating up-wind challenges and down-wind opportunities.

I strongly advise listening to the knowledgeable caddies as they possess the key information and are eager to lend an eye to guide a birdie putt or share a story from their years of experience.
Half Moon features many other great activities including tennis, a top of the range fitness gym, world class spa and great dining options. After visiting Half Moon and meeting the amazing staff there, I would highly recommend it for a family vacation.
---
Round Hill Resort Jamaica
---
Round Hill is one of our top luxury Caribbean resorts and is by far one of the most luxurious Jamaica resorts. There are just under 30 vacation rentals in Round Hill and a number of beautiful suites offering guests wonderful amenities in a stunning location.
Situated just 17 kilometres from the airport in Montego Bay, Round Hill Resort has welcomed families for many years and has also hosted the likes of John F. Kennedy and Bing Crosby.
When I visited Round Hill, I found the staff to be especially friendly and extremely welcoming. Once you arrive you will be met by the famous concierge Kingsley, who has been welcoming guests to Round Hill for over 40 years.
---
Villas at Round Hill
The villas at Round Hill are Ralph Lauren designed which give you that beautiful beach feel. Every villa across the property is meticulously maintained with dedicated staff to ensure all guests have the perfect stay.
I was lucky enough to stay in Villa 5 during my visit. This is a 4-bedroom villa and has amazing ocean views. There is a large swimming pool which was perfect after a busy day of viewing all of the villas on site. It is a great villa for a family with kids and the staff there make your stay extra special.
There is a great choice of villas at Round Hill, catering from honeymoon couples to large groups. This Jamaica resort is also a great option for a large family gathering where you can take several villas together.
With many enjoyable activities and delicious dining options on site, Round Hill is well worth considering when you are considering resorts in Jamaica.
---
Amenities at Round Hill
Round Hill features great amenities for all guests ranging from the beautiful spa to fun kid's club. All guests, no matter the age will be kept busy during their stay.
---
Dining at Round Hill
Guests staying in the villas at Round Hill have breakfast at their villa each morning. They can also venture to The Grill for a tasty breakfast if they prefer.
The Restaurant at Round Hill was incredible. I dined here for lunch and dinner and the food was exquisite. The setting at night-time is spectacular with beautiful lighting and the sound of the ocean in the background.
---
Water Sports at Round Hill
Round Hill is a wonderful setting for enjoying your favourite Jamaica water sports. Guests staying at this amazing Jamaica Resort can take a complimentary snorkel in the crystal-clear waters and the colourful coral reefs right from the beach and see some spectacular tropical fish.
I personally recommend taking out a pedal boat or kayak for an invigorating workout in the most beautiful surroundings.
A great one for small kids is to take a Glass Bottom Boat ride with the resort's staff who will point out the various fish, coral and tell you some fun stories of Round Hill.
---
Spa & Fitness Centre at Round Hill
The Spa at Round Hill promotes wellness, relaxation and wholeness and there is no better location than here.
There are 7 spacious treatment rooms including one couple's suite, an outdoor spa gazebo and a luxurious, secluded outdoor treatment area set amongst abundant the tropical gardens. Be sure to visit the Spa during your stay, you will not regret it!
Staying fit in Round Hill couldn't be easier or more enjoyable in the state-of-the-art fitness centre and open-air yoga pavilion.
The fitness centre is located next to the luxurious spa on 10 manicured acres of beautiful oceanfront lawn and features an array of top of the line Cybex Fitness equipment.
---
Conclusion
So, there you have my 3 favorite resorts in Jamaica. I thoroughly enjoyed staying at each one as they offer a unique experience but the one thing they have in common, is the amazing friendly Jamaican people who will continue to bring guests back year after year.
Some people ask is Jamaica Safe? Yes! Jamaica is by far one of the best Caribbean Islands to visit and all of our luxury villas in Jamaica are located within gated communities, located with resorts or have full time security for your added peace of mind.  The majority of our villas are located in Montego Bay which is one of the best places to visit in Jamaica. There are so many things to do in Jamaica.  For those planning their special day check out our blog on the Top 5 Wedding Villas in Jamaica.
So what are you waiting for? Book your Jamaica resort today!
About Sean Walsh
Sean Walsh is one of our Luxury Caribbean Villa Specialists and has an in-depth knowledge of our luxury villa rentals in The British Virgin islands, Puerto Rico and The US Virgin Islands. Seán studied Customer Service and French in College, where he received a student of the year award. Having worked in France, Spain and Norway and travelled in Asia and The United States, Seán has a real passion for exploring new places.