---
Dorado Beach A Ritz Carlton Reserve
Dorado Beach, a Ritz-Carlton Reserve is a stunning and very exclusive gated resort located on an exquisitely beautiful stretch of Caribbean coast.   It was originally developed by Laurance Rockefeller in the 1950's.  He had a vision of creating an exquisite eco friendly sanctuary which is still very much in evidence today.   The design and infrastructure of the secluded resort reflects the resorts remarkable surroundings with a myriad of natural elements incorporated throughout.
Dorado Beach, a Ritz-Carlton Reserve provides true bare foot elegance together with a myriad of incredible facilities such as 3 incredible golf course, a tennis centre, one of the most beautiful spas in the Caribbean as well as  and multiple dining options all set in one of the most naturally beautiful locations on the planet.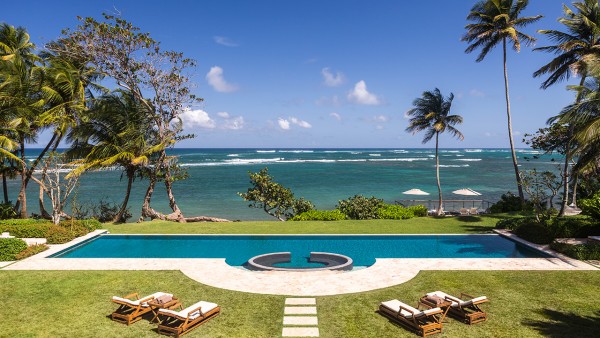 ---
Restaurants
When you stay in one of our vacation rentals in Dorado Beach, a Ritz-Carlton Reserve, you can enjoy the gourmet delights of four different restaurants.
MI CASA
Dorado Beach, a Ritz-Carlton Reserve ushers in a groundbreaking level of culinary excellence. Mi Casa is one of the most heralded Spanish restaurants in Puerto Rico overseen by world-acclaimed chef, José Andrés. Inspired by the luxury resort's legendary location, Mi Casa provides discerning travellers with a new gourmet tapas dining experience.
In addition to impressive views of the Caribbean coastline, guests are treated to an artfully crafted menu of locally-caught seafood and avant-garde dishes. Tapas and featured meals focus on Puerto Rico farm-fresh ingredients, flavourful unions and a novel signature style.
ENCANTO
Encanto beach Club Bar and Grill offers guests a unique open-air experience with a modern vibe with freshly grilled seafood for lunch and dinner right with an incredible location right on the Beach.
POSITIVO
Positivo Sand Bar offers an impressive selection of fresh sushi and ceviches, as well as hand-crafted cocktails and tapas-style dishes. Enjoy small plates and delectable cuisine while enjoying the extraordinary sunset overlooking the Atlantic Ocean.
LA COCINA
La Cocina offers both a gourmet takeaway and in restaurant dining.  You can get everything from the best Puerto Rican coffees, homemade gelatos and gastronomic delights while the culinary center offers an array of cooking classes and demonstrations. La Cocina is a unique and unforgettable approach overseen by Chef Rory Dunaway in a contemporary recreational kitchen fusing the incredible gourmet food in an oceanfront classroom backdrop. La Cocina Gourmet Culinary Center can accommodate up to 10 guests. Reservations are required.
FRESH MARKET
Available every Sunday from 9 a.m. to 3 p.m.
La Cocina presents The Fresh Market, a fresh vegetable market available every Sunday in The Culinary Center kitchen, that offers guests, residents and club members the chance to buy products not available in the stores around the island. These non-organic products are flown in daily from Miami and offer select quality produce, including fresh fruits, vegetables and bread.
---
The Spa
The Spa Botánico is without a doubt one of the most beautiful spas in the Caribbean.  It is tucked away amid lush flora and comprises of a five-acre botanical sanctuary of pampering offering a holistic yet modern approach to beauty and wellness. This relaxing area is spectacular and blends lush surroundings, a soothing natural environment and the finest quality of local botanicals and ingredients to enhance tranquillity and revitalize the senses.
---
Golf
There are three magnificent golf courses within the gates of  the resort and many more in the surrounding area.  Each of the courses were designed by renowned designer Robert Trent Jones, Sr.
EAST HOLE
Probably the most famous of the three courses, the East Hole was restored by Robert Trent Jones Jr.'s.  It comprises of 7,200 yards and is a wonderfully challenging course.   The views to the sea and surrounding scenery are absolutely spectacular.
PINEAPPLE COURSE
Designed to be friendlier to golfers!  This Dorado Beach golf course built in 1972 still provides a challenge for every handicap.
SUGARCANE COURSE
Built in 1972, the course is the more challenging of the Puerto Rico golf resort's two Plantation courses although it boasts larger fairways and greens. This golf course demands you negotiate forced carries and deep bunkers.
---
CHILDRENS CLUB
Dorado Beach, a Ritz-Carlton Reserve offers children a unique club where they are introduced to the environment in a fun and exciting way.  With a diverse collection of vacation activities based on the four pillars of the program – water, land, environmental responsibility and culture – kids are swept away by everything from coral reefs and forests, to recycling and sustainability, storytelling, art and even food.
---
BEACH
Within the resort, there are several areas where you can enjoy the beautiful beach and coast line.
---
POOL
Extend your luxurious vacation rental stay at Dorado Beach, a Ritz-Carlton Reserve,  all the way out to the water's edge with a pool- or beachside cabana that provides not only shelter from the sun but also an alfresco private sanctuary.
---
WATERSPORTS
There are many non-motorized water sports available at the resort, to truly enjoy the magnificent Caribbean Sea.
---
NATURE TRAIL
An open-air sanctuary from land to sea, the historic Rockefeller Trail, reserved for bicycles, pedestrians and golf carts, offers the opportunity for self-guided eco tours to reconnect with nature and explore its natural wonders.
---
TENNIS
Guests of the resort will have access to a tennis center located at the Dorado Beach, a Ritz-Carlton Reserve Fitness & Wellness Center. The tennis center boasts five courts and is a premier sporting facility offering world-class tennis programs year round. Services include private and group lessons as well as clinics for beginner to advanced players.
---
THE WATERMILL
Aquatic playground for children, families and adults
Water slides, lazy river and multiple pools
Refreshments available