---
Punta Cana Resort
The Dominican Republic is home to one of the most lavish resorts in the Caribbean. Gracefully spread across 3 miles of pristine white sands, Punta-Cana Resort and Club is an award winning destination on the tropical shores of the Dominican Republic.
The Dominican Republic has coastlines that embrace the Caribbean Sea and the Atlantic, it's a diverse and beautiful destination that offers visitors an opportunity to embrace the glories of nature, visit historical sites, play golf or get busy on or under the water. So when you ask yourself what are the top things to do in Punta Cana, Dominican Republic you will find it a wonderful challenge to try to narrow down your choices.
For families, the romantic honeymooners, the golf excursion enthusiasts, historians, or anyone who enjoys hiking, in Punta-cana you will find an incredible resort that offers everything close by. At Exceptional Villas we've been offering the most spectacular luxury Punta Cana resort vacations to our valued travellers for many years. Punta Cana is home to some of our favourite Dominican Republic villa rentals
The proximity of The Dominican Republic to mainland USA makes it a wonderful choice. At a mere 2.5 hours direct from Miami or under four hours from NYC, US travellers can touch down in Punta Cana International Airport and make the very short transfer to the paradise that is Punta Cana Resort and Club.
For International travellers, Punta-Cana is also easily accessible direct services from London, Amsterdam or Madrid and get to the Dominican Republic on direct services in under 10 hours.
With temperatures averaging 26 C, all sorts of activities from sun bathing, swimming, golf and so much more are possible all year round.
---
Six Senses Spa – A Spa Experience Like No Other
Punta Cana points of interest for those who are looking for that more relaxing vacation, can enjoy an opportunity to indulge in the exclusive Six Senses Spa. This award-winning, state of the art spa that embraces the concepts of sustainability and harnessing all the natural beauty of the Punta-Cana Resort, offers clients an opportunity to embrace wellness in a bespoke and holistic way.
Treatments, tailored to your specific needs, are performed in private rooms or in the amazing outdoor treatment room, set on a beach surrounded by a herb garden and tropical foliage. While listening to the sound of the ocean, you will experience the deepest sensation of peacefulness.
With numerous villas within the Punta Cana Resort to rent, Dominican Republic villa specialist can help you narrow your search as we have first-hand knowledge of the Resort's layout and can match the perfect home-from-home to you and your party.
The Punta Cana luxury villas are all beautifully decorated, air conditioned and furnished with beautiful fabrics and modern facilities. There are villas that suit children, more secluded properties that allow honeymooners indulge in palm trees and romance, and the multi-generational villas suitable for large families. Whatever your individual needs, we can help design your dream vacation, ensuring everyone in your party finds their own personal Xanadu!
---
Golf
What is the Dominican Republic known for? Golf! There are two incredible golf courses within the Punta-Cana Resort. Probably the best known is the Cana Golf course which was designed by P.B Dye and Tom Fazio. It has been compared to Pebble Beach and is a magnificent course with incredible ocean front vistas.
The second course Corales was designed by Tom Fazio and opened in 2010. It is an exclusive and dramatic 18-hole course with six holes hugging the beautiful coastline each with spectacular views. Corales Golf Course is also rated amongst the world's finest. The culmination of playing this course is without a doubt the Devil's Elbow where there is a carry over the cliffs of Corales.
As one of the Punta Cana, Dominican Republic things to do, golf is always very close to the top of any list.
---
Beach Club and Beach House
One of the most famous individuals to be born in the Dominican Republic is the world-renowned fashion designer, Oscar de la Renta. The creative team who put together the design of the Punta-Cana Resort, called on Mr de la Renta to design their very chic Beach Club. The combination of creamy white stone façade, tiled roofs, and the terraces with stylish chairs in natural fibres all blend seamlessly in a coconut tree dotted garden that is landscaped to perfection.
---
Beaches
One of the most popular things to do in Dominican Republic, Punta Cana is to experience the Caribbean ocean. The beach that skirts this gorgeous Resort is boasts a blue flag. The warm, tranquil waters, and protected by off shore reefs, make the beach a wonderful destination for young children in the group. If you're not the most confident swimmer, you won't feel out of your depth as the waters are so still and calm.
The amazing off-shore reef offers the more able water enthusiasts an opportunity to snorkel and dive and see the fascinating colourful reef life up close. Fish of all colours, dazzle in iridescent splendour. Dominican Republic has embraced the importance of protecting the ecology of its beautiful country. The reef is protected and anyone snorkelling or diving is given really good instructions about how to enjoy the experience without causing any damage or stress to this vital natural wonder.
---
Tennis
Punta-Cana Tennis Centre has 6 private clay tennis courts located within beautiful tropical surroundings. Punta-Cana's tennis professional, who is certified by the United States Professional registry, will be on hand to help with your game.
There are tennis camps and social tournaments for all ages.
One of the highlights of the year at the Punta-Cana Tennis Centre is the annual Oscar de la Renta Social Tournament. It takes place on the 29th December each year and is a social charity event which raises money for the education of the tennis centre ball boys and girls in the Dominican Republic. This is definitely one of the things to do in Punta Cana, Dominican republic that supports community work while participating in a very enjoyable event.
---
Scuba Diving
Punta Cana and the Dominican Republic are a paradise for Scuba divers. There are some strikingly beautiful waters surrounding the coastline and it is also recognised as a five-star Dive resort with Professional PADI instructors. There are some great underwater trips including tours to some offshore wrecks.
At Exceptional Villas we can organise day trips for you and ensure you are pre-booked on some of these fabulous excursions. Our experienced concierge team can arrange for you to be picked up from your luxury villa for a day of exciting activities and returned safely to your villa.
---
---
Kiteboarding
Punta-Cana is the perfect place to learn how to kite board. All the instructors are IKO certified and the waters on Playa Blanca beach are just waist deep so it's one of the safest places to learn. For those of you who like to learn a new skill on holiday and enjoy a thrilling experience, this is highly recommended.
---
Pool
The Punta-Cana pool is open daily for all guests and is equipped with wireless internet access. Refreshments are available nearby at Franco's Trattoria.
---
Fishing
There is excellent deep-sea fishing available at Punta-Cana. Wahoo, dolphin fish, tuna, kingfish, sailfish, marlin, and barracuda are all plentiful in the local waters. There is also fresh water fishing available inland on lakes and rivers.
---
Segway Tours
Riding a Segway is an amazing experience. It gently moves you and keeps you balanced. A Segway is the perfect way to get around Punta-Cana Resort with its several miles of private beach, million-dollar Villa Rentals, championship golf courses and you can even stop at the Ecological Reserve with 12 natural spring water lagoons.
---
Horse Riding
El Rancho at the Punta-Cana Resort and Club has riding for all levels from beginners to advanced. There are some fabulous rides on offer including along Punta-Cana's pristine, white sand beaches and throughout the resort's lush landscape, including a crossing at La Cana Golf course. You will be able to choose between one and two-hour beach rides daily, and a romantic hour-long weekly sunset adventure.
---
Manantial Yuana Excursions
The Punta-Cana Resort & Club offers numerous excursions and tours that allow you to make the most of everything the island has to offer. From helicopter tours to deep sea fishing, fill your vacation with excitement and adventure. Punta Cana, Dominican Republic points of interest stretch from visiting tropical rainforests, zip lining, eco tours, rum tasting, horseback riding along a beach, enjoying an aromatic cigar. You can also visit "The fountain of youth," where guests can unwind in this pristine natural spring located in Punta-Cana Ecological Reserve.
---
Shopping
The nearby Punta-Cana Village is a great place to browse through some lovely shops and stop for a lovely lunch or dinner. With a well-stocked supermarket you can find your favourite ingredients or discover some new ones. The wide variety of fruits and vegetables that are grown and harvested a short distance from your door, ensure you have the freshest and most delicious food available to you.
In addition, to the supermarket there is a medical centre, and a centre for business services. Just a shuttle ride from the Punta-Cana Resort & Club, this lively village is a destination for all ages.
---
Restaurants and Bars
Punta-Cana has a great selection of food and beverage options to choose from throughout the resort. There are 13 bars and restaurants offering everything from delicious breakfasts to fine dining. You can start each day at Bamboo Restaurant with fresh fruits, eggs benedict, a healthful smoothie. After a morning of fun activities, there are many lunch destinations for you within the Resort.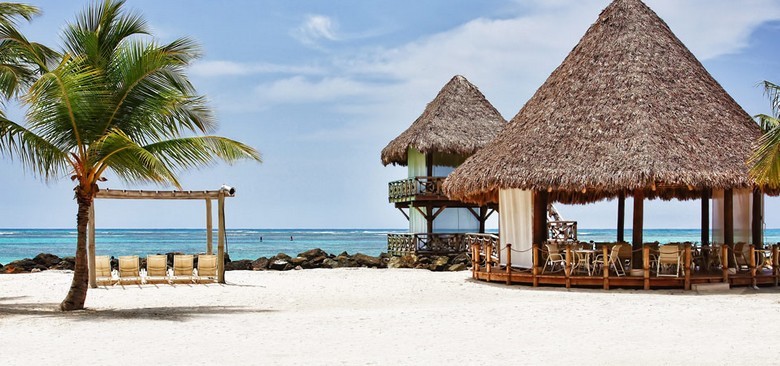 If you're already on the beach, why not grab a gourmet burger or delicious shrimp from the Playa Blanca restaurant. There are fabulous bars within the Resort. Why not pop into La Yola's bar and have a fresh rum cocktail to round off the perfect day. The Dominican Republic is famous for its cigars so perhaps a relaxing smoke on the terrace overlooking the ocean might hit the spot.
The Executive chefs who create culinary masterpieces have creative flair and knowledge that allow them to present a varied and eclectic menu each day including steak, shrimp, chicken and tuna options. They also harness the local delicacies like goat and plantains and you will find more exotic options for the gourmands within your group. If you feel you want to go further afield, you can pop along to Cap Cana Resort, a short 7-mile drive to enjoy this Resorts amazing dining offerings.
---
Conclusion
If you're looking to step into a tropical world of sunshine, adventure, romance and relaxation then look no further than The Punta-Cana Resort and Spa. With gorgeous accommodations, breath-taking scenery, warm and welcoming waters, The Exclusive Punta-Cana resort caters for all ages and lifestyles. At Exceptional Villas, we are just a phone call away, waiting to create your dream vacation in paradise.