---
Sinead Fitzgibbon
Concierge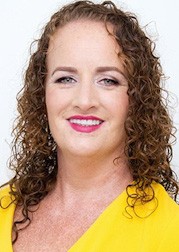 Sinéad has worked in the tourism industry for over 25 years and has a wealth of knowledge and experience in this sector.
Before joining Exceptional Villas, Sinead worked in two 5-star hotels and has held various positions in the industry.
Sinéad's extensive experience in customer service means that she understands the level of service required to look after our clients. Sinéad takes great pride in taking care of guests' needs and making sure they are happy.
Sinéad has travelled throughout Europe and the USA and has a great passion for travelling. She is also excited to travel to new and exotic destinations with Exceptional Villas.
Sinéad joins our concierge team and will be responsible for many destinations including Greece, Italy, St Martin, St Lucia and Turks and Caicos to name a few. As concierge specialist Sinéad will be responsible for all aspects of our client's vacation from the moment they book until well after they return home. Sinéad looks forward to assisting you with any services that you might require and to making your trip a relaxed and enjoyable one