---
Beaches
There are 365 beaches in Antigua – one for every day of the year and many of them among the best beaches in the Caribbean.
Each beach in Antigua features different types of wave action, wind, sand and vegetation depending on its location.  On the west coast, the beaches are exceptionally calm and many of them are protected by their own reef.  On the other hand, the Atlantic side has a much rougher surf and sand.   All beaches in Antigua are open to the public.
---
Jolly Harbour
North of Darkwood Beach and just 2 miles south of St John is the lovely marina complex of Jolly Harbor. It offers a great beach, shopping center, an elegant casino, nightclub, 18 hole golf course, tennis courts as well as a number of really good restaurants and bars. The marina itself is world class and is one of the harbors used for the annual sailing week.
---
Half Moon Bay
Half Moon Bay is one of the most beautiful beaches in Antigua.  It is a crescent shaped strand offering two completely different beach experiences.  It has rough surf n the Atlantic side and calm clear waters at the far eastern end.  The snorkelling along the reef that forms the bay's breakwater is excellent.    There is a small bar at the entrance to the beach, a picnic basket is recommended.
---
Turner's and Darkwoods Beaches
Along Antigua's south western coasts lie two wide golden sand beaches.   Both offer good restaurants, beach bars and sun bed rentals.    The snorkeling off Turner's beach is good.  Cruising yachts often anchor off shore.  Darkwood beach has a lovely stretch of sand and is a great spot for a swim.
---
Blue Waters
Blue Waters is located on the west coast of Antigua and has exceptionally calm waters.
---
Morris Bay
Morris Bay Beach which is located 4.4 miles south east of Jolly Harbour in Antigua comprises of a long stretch of soft velvety white sand lined with palm trees.   Morris Bay is located close to several restaurants.  It is never too crowded.  The beach is perfect for swimming, sunbathing or snorkeling and is a wonderful place to spend a day or visit at sunset.
---
Carlisle Bay
Carlisle Bay is a stunning crescent shaped beach with soft white sand and turquoise sea located on the south coast of Antigua close to English Harbour.  It is west of Falmouth Harbour and is one of the more peaceful and quiet beaches on the Island.
Carlisle Bay Beach is a wonderfully calm stretch of beach that is ideal for swimming and snorkelling.  There are several luxury Antigua villas to rent on Carlisle Bay as well as the beautiful Carlisle Bay Hotel.  If you are not staying on the beach itself, there is public access via a dirt track to Carlisle Bay at the bend in the road where Old Road and Fig Tree Road meet.
---
Curtain Bluff Beach
Curtain Bluff Beach is located on the south coast of Antigua approximately 4 miles east of Jolly Harbour.  It features some of the wonderful pink sand that Antigua beaches are famous for and the waters sometimes have a slight wave to them but nothing that might be considered dangerous.   It is located close to some really good restaurants and to some of our  luxury Antigua vacation rentals.
---
Dickenson Bay
Dickenson Bay which is located on the North Coast is one of the busier beaches on the island of Antigua due to the fact that there are several big resorts here.   This also means that there is plenty to do here including tours and water sports.  It is a wonderfully white sandy beach with calm waters that are perfect for waters sports and swimming.   It is lively with plenty of restaurants, shops and vendors around.
Off the coast of Dickenson Bay, you will find several small uninhabited islands and a one mile long coral reef.   Public access to the beach is just off the Anchorage Road beside the Sandals resort.
---
Frryes Beach
Frryes Beach is located on the west side of Antigua just over a mile south west of Jolly Harbour.  It is one of the quieter beaches on the island and offers clear calm waters.  As there is no reef or rocks here, it is a wonderful spot for swimming.  Frryes Beach is the perfect spot if you want to escape from the busier beaches or parts of Antigua. It is not too far off Valley Road between Coco Beach and Darkwood Beach.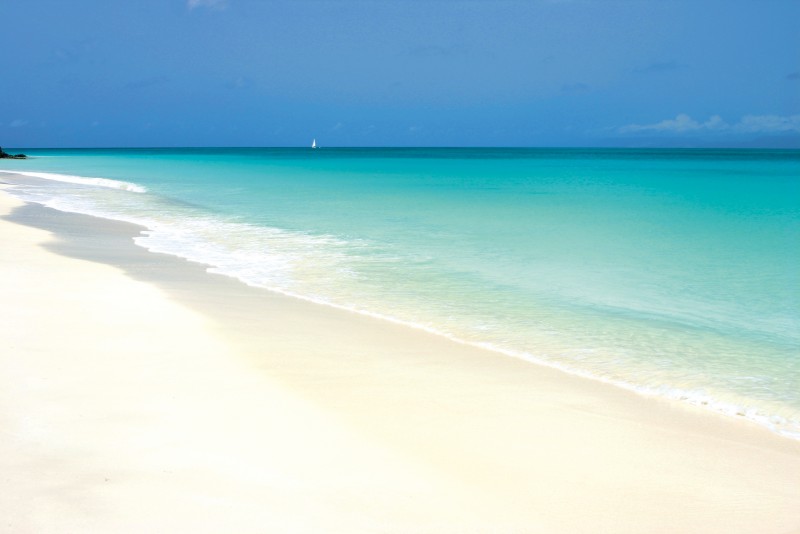 ---
Fort James Beach
Located on the North West of Antigua, Fort James Beach has wonderfully white sands and crystal clear waters.   It has some really wonderful restaurants nearby and is not overly busy.  There are also some really good views towards the rockier tip of the cape.
---
Galleon Beach
Galleon Beach is located on the eastern edge of English Harbour on Deep Bay.  This area is home to many marinas and therefore is very populated with boats.  There are several luxury Antigua vacation rentals close by.  The beach itself has lovely white sand and turquoise water.
---
Nonsuch Bay South
Nonsuch Bay is a perfect three quarters mile long stretch of pristine beach located south east of Wilikies.  Even though the beach itself is located in quite a busy area, it is a very calm and quiet beach surrounded by beautiful scenery and hills.    Nonsuch Bay is located close to English Harbour and is about 45 minutes from the capitol St John's.
---
Nonsuch Bay North
Located on the East coast of Antigua, Nonsuch Bay North has beautiful calm waters and pink sand that is so often present in Antigua.  There are many Antigua Villas to rent lining the beach and there is a wide patch of open sand perfect for soaking up the wonderful Caribbean sun.   Nonsuch Bay North is located on the south eastern outskirts of Wilikies.
---
Pigeon Point
Located on the south coast of Antigua near English Harbour and south west of Falmouth Harbour, Pigeon Point is a popular spot for locals and tourists alike. It's a beautiful beach which curves towards the ocean and has incredible views of the endless blue waters.