Mexico is a vast country – stretching from the Pacific across to the Gulf of Mexico and the Caribbean.  Its many States offer a very different tourist experience and the wonderful state of Quintana Roo is host to some of the most spectacular coastline, and luxurious Mexico villa rentals in the whole of the Americas.  It isn't surprising that this stretch of coastline that starts just south of Cancun and reaches as far as Tulum has truly earned the incredible accolade of Riviera Maya.  The jewel that sits firmly within this sublime Caribbean coastline is the wonderful Playa del Carmen, one of the best places to visit in Mexico.
What was once a sleepy fishing town is now a glamorous and sophisticated destination for tourists who seek warm weather, a myriad of activities both on and off the water, golf, wild nature, shopping, fun and more fun.  On top of all of this, is the incredible history that has no equal anywhere else in North America … or even the world.
Let's focus on some of the fantastic things to do in Playa del Carmen.  It will soon become clear that your question won't be 'Should I go to Playa del Carmen", instead it will be "How soon can I go and how long can I stay!"
---
Let's get Going …..
Quintana Roo, one of the 31 States of Mexico sits at the Eastern-most edge of the Country and borders with Belize and Guatamala. The climate is described as tropical so high temperatures that support jungle conditions and lush terrain is guaranteed. One of the best things to do in Playa del Carmen is to get out and about on one of the brilliant Jungle Maya Tours. These intrepid day trips take small groups in 4×4 vehicles into the surrounding jungle. Rappelling into a 50ft cenote (naturally occurring large, freshwater hole) or swimming through underground caves can be interspersed with getting up close with real jungle life.
Zip lining through the tree tops or lounging in hammocks in some restful clearing. All of this can be experienced as an adventurous day out from the luxurious surroundings of your private Exceptional Villa. The Extreme Jungle Tour run by Playa del Carmen Tours is a lot of fun. You'll make friends as you challenge yourself physically and mentally in the wild and wonderful natural surroundings of Mexico.
---
Beaches
It's impossible to think about Riviera Maya and not consider the vast array of world class beaches that unfurl for the eager tourist. The beaches here are one of the best things to do in Riviera Maya. Pretty white sandy beaches, overlooking the turquoise Caribbean Sea welcome guests of every age who want to potter in the shallows, sail, jump onto a jet ski or get busy with some deep sea fishing.
Here is a very brief look at some of the most memorable beaches to experience in Playa (as regulars refer to Playa del Carmen):
Parque Fundadores
This is probably the most famous beach in Playa del Carmen.  Its distinctive arch that frames the entrance onto this wide beach is widely photographed.  This is a beach where tourists and locals lounge side by side.  With no beach club, this is a truly egalitarian beach experience and one of the fun things to do in Playa del Carmen Mexico.
Restaurants and bars are dotted all along the beach so you won't be short of somewhere really tasty to take a refreshing break from the arduous task of getting that all over beach-bronzed look!
Playacar Beach
This glorious stretch of beach is located in the residential area of Playa.  Palm trees offer pretty shade to those who make their way to this quiet and beautiful beach.  The private council who manage this beach ensure it is seaweed free with its pristine white sands just waiting for your tender bare feet.  If you are lucky enough to be staying at one of the exclusive Exceptional Villas in the area, you can make your way onto this beach each morning to start the day with a salty splash.
Jogging along the sandy ocean's edge, is relaxation personified.  For families, the easy access to such a lovely quiet beach is one of the best things to do in Playa del Carmen Mexico – just a short walk from your private terrace, and you can unleash your active bunnies into the great blue yonder.
Coco Reef
Playa is busy.  There's a lot going on.  This is part of its charm.  That fantastic holiday atmosphere that is fun and diverting.  Sometimes though, we all like to step away from the ubiquitous people watching that we all like to do on holiday.  Coco Reef is that secluded beach that's nestled in the heart of Playa.  It is the veritable castaway experience where you can snorkel, sunbathe and just sit and listen to the sounds of the birds in the jungle or the mesmerising lap of the ocean.  With no beach bars, you will need to bring your own picnic but it's a small price to pay for a break from the action on other beaches.
For romantic couples, it's a terrific place to go for an early or late swim – when you can feel that wonderful sense of seclusion as you float with the Caribbean stretching out to the horizon.  Whether you go for that swim or just to stroll hand in hand, a visit to Coco Reef is definitely one of the romantic things to do in Playa del Carmen Mexico.
---
Park Time
I am not a huge fan of man-made water parks.  There's usually far too much concrete and metal – painted a terrible blue or green – that's a feeble attempt to create the illusion of natural landscaping.  But hold the phone!  How pleased am I to recommend one of the most fun things to do in Playa del Carmen – visit Xel Ha Park.  This natural wonder, located about 35 minutes by car south of Playa is an all-inclusive nature park that provides jungle trails to hike or bike, a lazy river to float along in your rubber rings, cliffs to dive off and opportunity to snorkel with some of the most spectacular marine life to be found along the Caribbean coast.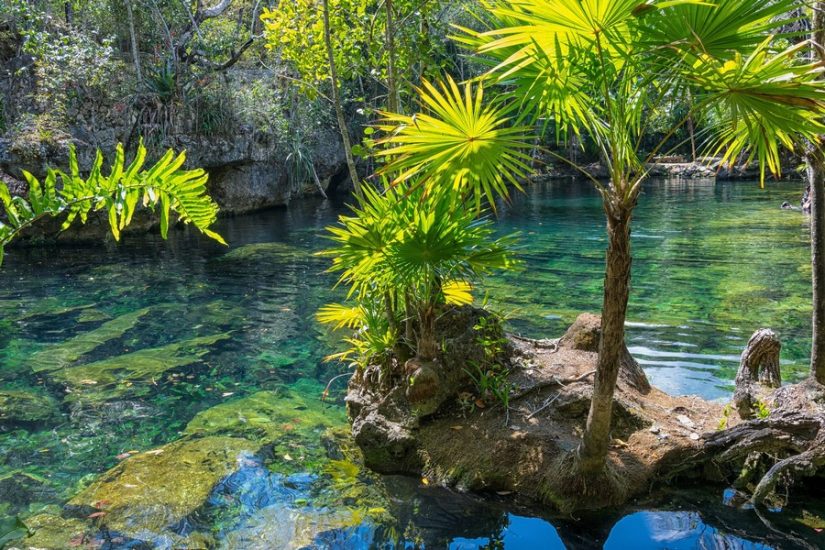 This natural inlet, is named Xel Ha which translates to "where the river is born".  The sea has burrowed its way inland and has created a natural salt water lagoon that is a very safe and happy place for sea creatures and wildlife to proliferate.
The history of the park tells us that it is a sacred place that was much loved by the ancient Mayans.  It provided shelter and a steady food source during inclement weather.  The Mayans believe that the place is protected by the gods who appointed three earthly guardians who protect not only the beauty and perfection of Xel Ha but also guard all those who visit the Park.  The Iguana (Huh) is the Guardian of the Land.  The Pelican (Chuc Kay) is the Guardian of the Air.  The Parrotfish (Kay Op) is the Guardian of the Water.
In addition to all these mystical wonders, guests can partake of some very earthly pleasures too in the way of four restaurants and bars that provide delicious Mexican foods, refreshing fruit juices and some yummy cocktails (for the grown-up visitors).  The range of activities available have something to offer all ages.  To get the full value out of a day pass, you can check out the website before you go to focus your visit on the areas of adventure that will intrigue and charm your group.
---
Beach Clubs
The Best Things To Do in Playa Del Carmen?
If you are in search of a very social atmosphere while you drink up the glorious sunshine, I recommend you take yourself to one of the many beach clubs that occupy prime locations between the town of Playa del Carmen and the turquoise Caribbean.  The beach clubs allow guests to lounge on very comfortable beds or chairs, avail of the outdoor showers and restroom facilities.  Most of the Clubs have restaurants and will serve delicious food and drinks directly to you.  All of this comes at a price but can you really put a price on that heavenly feeling on lazily turning over on your lounger as some kindly member of staff places a cool refreshing beverage into your eager hand?
My top recommendation for a beach club in Playa is Mamitas Beach Club.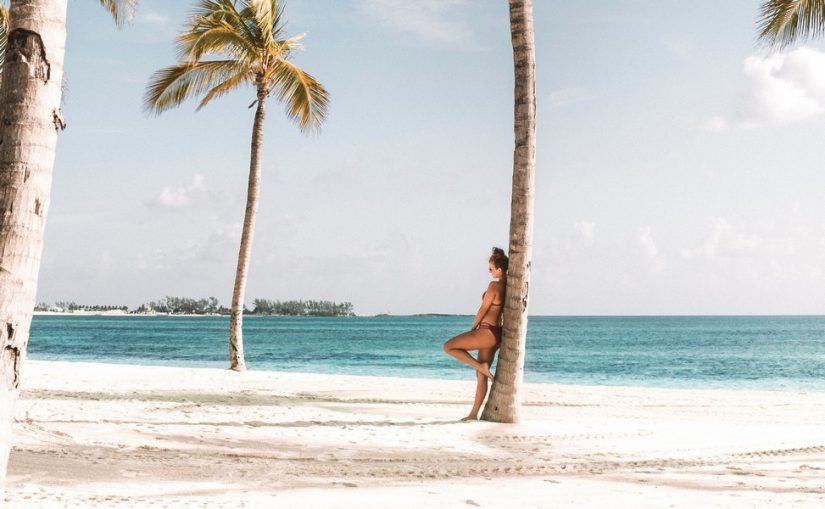 This is one of the most popular beach clubs for the glamorous jet set guests who enjoy the chill vibe of lounging by the pool or on the beach.  The eclectic tunes spun by the resident DJ add a lovely party atmosphere to a day of relaxation.  Located a mere three blocks from the famed 5th Ave of Playa del Carmen, this Club is definitely one of the places where people watching is an art form.
---
The History
Undoubtedly if you are looking for something utterly memorable then a visit to Tulum or even the more impressive Chichen Itza is a must.  These historic sites, probably one of the most unique things to do in Playa del Carmen, offer visitors an opportunity to step a thousand years back in time.  You don't have to be some tweedy professor of antiquities or some bookish nerd to be captivated by these extraordinary sites.  The scale of the pyramids, the level of preservation, the area these incredible buildings occupy provide a day out like no other and a completely different experience from your time cosying up at one of the luxurious villas in Playa del Carmen.
As a refreshing change from the sun, sea and socialising let Exceptional Villas book a road trip to Chichen Itza or to the most attractive town of Tulum where you can learn a great deal about Mexico in a most relaxed and fun way.  The advanced building methods, the intelligence with which the structures were designed and positioned remind us of how advanced the Mayan and Aztec civilisations were.  At a time when the native tribes of Northern Europe or USA were living a very unsophisticated lifestyle, Mexico was at the epicentre of a culturally and socially advanced world.
So much of ancient Mexico is to be found throughout the Riviera Maya and within a short distance of Playa, see our Mexico Overview for more information. 
Mexico simply built around a lot of the ruins so you can easily see the likes of the El Rey ruins in Cancun sitting side by side with some of the large hotel resorts that have sprung up along the sandbar. Visiting the ancient ruins is one of the most popular things to do in Cancun.
I think this is really a lot to do with the charm of Mexico. The way in which it surprises us with old and new meshed together with easy grace.  If you look at any of the Top 10 things to do in Playa del Carmen or in fact Mexico, history features very close to the top.  It's a must-see for anyone and it never fails to amaze.
---
Conclusion
Whether you are trawling the internet looking up the best Things to do in Playa del Carmen Mexico in the hope of being inspired or wooed into booking a vacation here, my advice is to take a quick peek at the incredible private villa properties that Exceptional Villas represent within this terrific destination.
The level of luxury, the exclusivity, the Exceptional Villas signature service all combine to create the idyllic vacation of your dreams.  It's no surprise to read that we've been creating bespoke vacation experiences for our clients for decades all over the Caribbean.  The Riviera Maya villas and especially Playa del Carmen have been a focus of our award-winning service for many years.  It's just such an incredible destination.
Everything you require from a vacation – good weather, beautiful scenery, golf courses, water sports, jungle exploration, history, party nights, shopping, outstanding restaurants …. It's all here and so much more.  Mexico has been charming visitors for a very long time and the warmth of the people and the spirit of the country continue to captivate to this day.
It's a very manageable flight from USA to Playa del Carmen but you will feel as though you've stepped further away from all that is familiar.  The ancient and modern interweave so seamlessly and the spell they cast over visitors lasts an eternity.
About Mairead Moriarty
Born and raised in Co Kerry, lived in London, New York, San Francisco, Dublin. Owner of one very battered suitcase, a well-worn passport and a million memories.
It seems very fitting for a travel writer that my surname translates as 'Skilled Navigator'. Apart from an occasion when, aged 3, I got lost in a Supermarket in Tralee, I have managed to live up to my name!
Curiosity is probably the driver that has sent me on magical mystery tours around the world. I want to 'feel' a place. I want all my senses to be engaged: from the history and geography that has influenced a country or city, the arts and achievements of its natives, anything and everything really.
Regardless of whether I am on a local train travelling through Morocco, or poking around in Marconi's study in Bologna or on a canal boat weaving through the heart of the English countryside, the same rules apply - ask questions, talk to locals, eat what they eat, sit quietly with nature and simply be.
Assimilate as much as is possible so as to understand the soul of a place. That is my passion. That is the compass by which I navigate.