Without casting any major shade on both Canada and the US, it is unequivocally Mexico that scores all the points as a tourist destination in North America. This extraordinary country still celebrates its ancient greatness, mingled with its colonial past, all wrapped up in a modern and vibrant package. It's a vast country that has truly retained its dignity in the face of so much upheaval and change. It's so much more than you could ever imagine it to be. Let's take a glimpse into some of the best places to visit in Mexico. Vamanos!!!
---
Some Background
It's vast! With 31 individual states combining to make up the 750,000 square miles of territory, as a tourist you will be challenged to narrow down your wonderful destination of choice within Mexico. The layout of the country, with coasts that greet the Caribbean, the Pacific, the Gulf of California, and the Gulf of Mexico, is ideally created to offer guests unparalleled beach experiences. Whether Puerto Vallarta, Punta Mita, Riviera Maya, Cabo or Cancun is your destination of choice, it soon becomes clear that there are so many diverse and top places to visit in Mexico. The Mexico villa rentals are exceptional.
---
Climate
The climate varies from temperate to sub-tropical. In essence, you can enjoy lovely weather all year round and especially in winter when you might want to step sideways from the harsh snow storms found in USA and Canada. The central region of Mexico is made up of desert plains, jungle terrain and spectacular mountain ranges. So, with mountains, beaches, numerous islands and notable rivers, the geography and topography of the country is limitless.
To add to the mix, you have thousands of years of history still remarkably well preserved waiting for you to explore.  Considered one of the great cradles of civilization, sitting alongside the likes of Mesopotamia, China and Egypt, Mesoamerica (as the ancient history of Mexico is referred to) gives us a glimpse into an advanced culture and society.  These ancient tribes understood the movement of the planets and stars, worked expertly with the seasons and lived an orderly and structured life at a time when a lot of the world's inhabitants lived in pre-historic simplicity.  When you visit some of the incredible ancient sites like Chichen Itza or Tulum on the Yucatan peninsula, you can see what the Mexican world looked like long before the interlopers from Europe pushed their way into its narrative.
But of course, the interlopers did arrive. The Spanish, in all their pomp and bluster, arrived to the New World (which really should be called the Old World) and put their religious and socio-political views firmly at the top of the agenda. The Spanish conquest of Mexico went so far as to label this incredible country New Spain imposing its language on the people. An interesting fact, is that Mexico is the largest Spanish speaking country in the world.
These colonial Spanish visitors have now melded with the original Maya and other indigenous people of ancient Mexico and have become the new face of Mexico. Old and new mingle together.  Ancient ideals and rituals mixed with Christianity. In any of the incredible Mexican cities, you will find Aztec and Maya ruins sitting cheek by jowl with spectacular cathedrals and colonial buildings.
So that's the stage set and ready for you to take a voyage of discovery around the top places to visit in Mexico.
---
Cabo – Best Places to visit in Mexico
It's no surprise to find that Cabo is always on the Top 10 Places to visit in Mexico list each year.  Essentially, Cabo is the collective name for two large resort towns, Cabo San Lucas and San Jose del Cabo that are linked by the famous 20-mile Tourist Corridor that offers gorgeous Cabo villas, resorts, restaurants and fabulous beaches.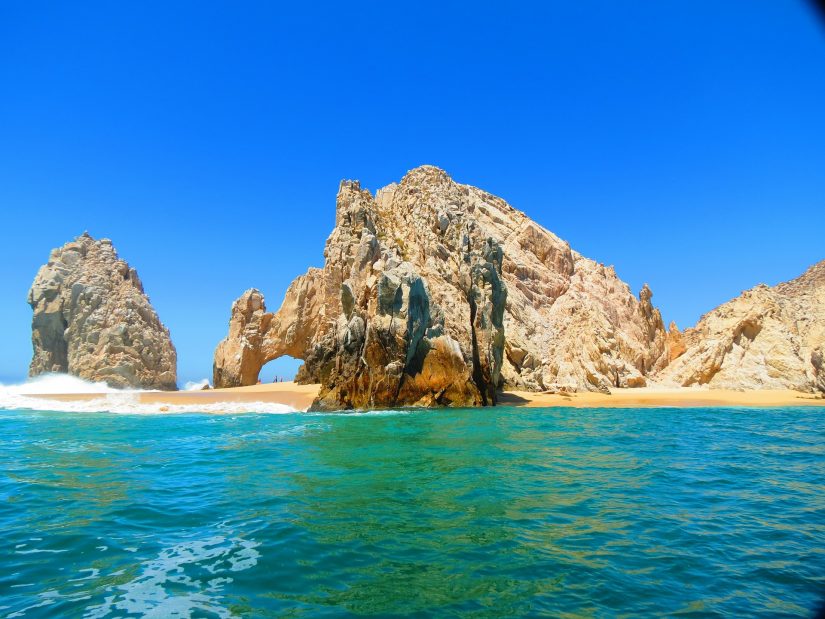 Cabo is found at the tip of the Baja California peninsula, it's backed by desert landscapes and stretches along the Sea of Cortez / Pacific coastlines.  The livelier Cabo San Lucas has a huge marina, buzzing nightlife and myriad activities to enjoy like golf, scuba diving, deep sea fishing, sailing, snorkelling etc.  San Jose del Cabo is a quieter destination offering lots of fabulous restaurants, golf, beautiful beaches and a dash of history with the old 18th Century Mission, Parroquia San Jose.  The famous beaches of Playa del Amor and Playa El Medano capture the beauty of the Pacific and have lots of vibrant restaurants and bars right on the beach.
Take a boat trip northwards to Todos Santos, a gorgeous artists' colony along the coast from Cabo and try your hand at some surfing in between picking up that lovely souvenir of your visit to Mexico.
---
Cancun
One of the most famous destinations within Mexico, Cancun sits on the Caribbean coastline just north of the Riviera Maya and enjoys consistently warm temperatures all year round.  It started life as a sleepy fishing village until the first resort hotels were built in the early 1970s.  It has now become one of the most popular places to visit in Mexico.  Welcoming millions of passengers each year from North and South America and with direct routes from Europe and beyond, Cancun International Airport is the gateway not only to this holiday mecca but to the neighbouring state of Yucatan.
Some of the key places to visit in Cancun, Mexico are Xcaret Park that labels itself an Eco-Archaeological park. As a day out, it's fabulous for all generations.  Ancient ruins sit within tropical forests. An incredible theatrical show featuring over 300 performers at Gran Tlachco Theatre is the highlight of any visit.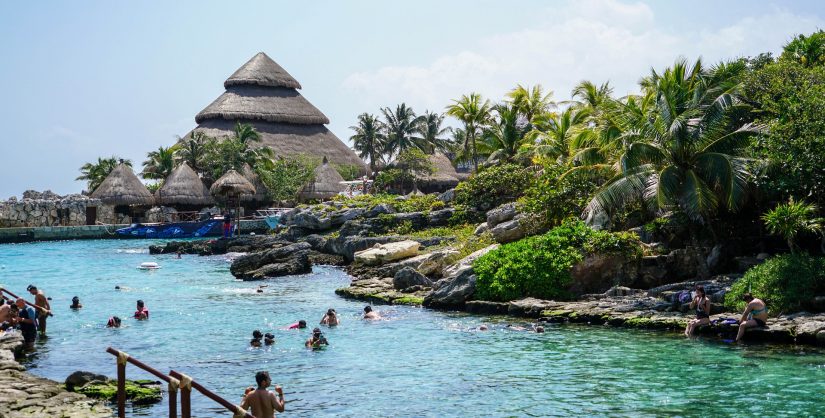 If you are a group of young party orientated people, there are lots of nightclubs and party trips to enjoy in Cancun.
For the more sedate traveller, there is relaxed dining and sailing that can be part of your daily adventures. Nestled at the top of Mexico's Caribbean coastline, Cancun delivers on its reputation as a fun and busy holiday resort; there are plenty of things to do in Cancun.
The old styled 'Spring Break' reputation of Cancun has fallen away and this destination has rebranded itself in recent years. Yes, there are still plenty of all-night bars to enjoy but there are also gorgeous villas, stretches of beautifully maintained beaches and a more hip vibe.
Families can be assured of a safe and relaxed holiday in Mexico's most popular destination.
---
Puerto Vallarta
If you want to know one of the top places to visit in Mexico then Puerto Vallarta hits all the right notes.  A lovely town that rises slowly over some coastal hills, Puerto Vallarta comprises a resort town with small hotels and gorgeous villas – all painted white they gleam in the gorgeous sunshine of this Pacific gem. The terracotta tiled roofs glow orange at sunrise and sunset. It's difficult to imagine a lovelier location for that perfect beach vacation.
Puerto Vallarta offers all of the wonderful water activities you might wish to have.  As well, there are golf courses, restaurants, shops, hiking. If you are based at one of the Puerto Vallarta villas overlooking the Pacific, you can enjoy a carefree vacation knowing that we have arranged your stay exactly to your requirements.
---
Riviera Maya
The Yucatan Peninsula is that south-eastern part of Mexico that captures all of the beauty of the Caribbean.  The long coastal drive that reaches from Cancun southwards towards Tulum links lots of fabulous resort towns that sit on some of the finest beaches in the world.
If it's history you're in search of, then Chichen Itza is one of the cool places to visit in Mexico.  I've likened it to a large-scale Lego project.  One incredible building after another all sitting within this amazing site, will just blow your mind.  The site is one of the biggest tourist attractions in Mexico and situated inland from Riviera Maya.  Regardless of your age or mobility, there is lots to see and do from the Temple of the Warriors, to the Observatory to the famous pyramid.  It is awe-inspiring and one of the best things to do in Riviera Maya. Check out some of our Riviera Maya villas.
If you are not a history enthusiast, don't be dismayed. The entire Riviera Maya is a playground for action-oriented individuals too. Deep sea fishing, water sports of all kinds, sailing, hiking, horse-riding, dining out. At Exceptional Villas we can build the holiday of a lifetime for you and your group.
---
Punta Mita
If it's exclusivity and tranquillity you're searching for then Punta Mita resort, a 1,500 acre private peninsula just north of Puerto Vallarta might be the choice for you. With two Jack Nicklaus Signature golf courses, stunning luxurious villas, beautiful restaurants, spas and a Pacific coastline of breath-taking perfection, it's hard to find anything to complain about a Mexican villa vacation at Punta Mita.
This award-winning destination has been voted not just one of the best places to visit in Mexico but one of the best places to visit in the Americas. This enclave is the destination of choice for celebrities and VIPs. The word tranquil is frequently used to describe the pace of life in Punta Mita and the level of comfort to be enjoyed in the stunning villas we represent in this resort is truly five star.
---
The Cities
If you are lucky enough to have a long sojourn planned in Mexico and are taking some quality rest and relaxation time in one of Exceptional Villas fabulous coastal properties, you might want to switch it up a bit and make a short trip to some of the wonderful cities that Mexico has to offer.
Mexico City
Starting with the most well-known, Mexico City is one of the best places to visit in Mexico if you are looking for history and the sophisticated modern Mexican lifestyle.  The city is beautiful and grand – harking back to its colonial past but with its feet firmly planted in the 21st Century.
Oaxaca City
This brightly coloured destination city is considered the foodie capital of Mexico.  The mole (delicious rich and spicy sauce) in its many different incarnations can be enjoyed at the lovely understated restaurants found in this pretty city.  This is a city best enjoyed on foot.  Lots of lovely streets to explore with the usual charming markets.
Merida
Found three hours inland from Cancun, this wonderful city has interesting shopping as well as the historic 17th Century cathedral.  If you get on the road early, you can enjoy a whole day wandering around this picture-perfect city, following by a late lunch with time to drive back to your beach-fronted haven.
---
A word on Safety
Not surprisingly, the Mexican government has been extremely cheesed off by the proliferation of drug cartel shows that are clogging up prime time viewing in USA and Europe.  These stylised programmes, full of violence and crime, are painting a very one-sided image of what life is like in Mexico. To the uninformed, it seems that one has to simply step over the border into Mexico to be kidnapped or caught up in the middle of some big drug war. Let me assure you, this is NOT the case.
Mexico City with over 21 million inhabitants, for instance, has a crime rate three times less than Washington DC … and quite frankly, a climate and culture a thousand times more interesting.  Absolutely, there are pockets of Mexico that are dangerous to visit – I think that's pretty true of most modern counties. The good news is that Mexico is so vast that it is really impossible to end up in the wrong place 'by accident'.
Any basic research before you travel to this glorious country, will allow you to focus your visit on beaches, cities, rural towns or historic sites that are all considered some of the safest places to visit in Mexico. So cancel that Sicario download and immerse yourself instead in some of the evocative art of Frida Kahlo, Diego Riviera and Leonora Carrington. There is a richly colourful and imaginative life awaiting you in this wonderful country.
---
Final words …..
As you sit on the terrace of your beautiful Exceptional Villa, watching the sun slip beneath the turquoise sea, you will be lulled by the essence of a country that is friendly, vibrant and naturally seductive.  Don't just take my word for it … come see for yourself!
About Mairead Moriarty
Born and raised in Co Kerry, lived in London, New York, San Francisco, Dublin. Owner of one very battered suitcase, a well-worn passport and a million memories. It seems very fitting for a travel writer that my surname translates as 'Skilled Navigator'. Apart from an occasion when, aged 3, I got lost in a Supermarket in Tralee, I have managed to live up to my name! Curiosity is probably the driver that has sent me on magical mystery tours around the world. I want to 'feel' a place. I want all my senses to be engaged: from the history and geography that has influenced a country or city, the arts and achievements of its natives, anything and everything really. Regardless of whether I am on a local train travelling through Morocco, or poking around in Marconi's study in Bologna or on a canal boat weaving through the heart of the English countryside, the same rules apply - ask questions, talk to locals, eat what they eat, sit quietly with nature and simply be. Assimilate as much as is possible so as to understand the soul of a place. That is my passion. That is the compass by which I navigate.