Introduction
In 1974 a sleepy fishing village, sitting prettily on the shores of the Caribbean attracted the interest of property developer visionaries who built the very first hotels to accommodate lucky visitors to this exceptional location. Modern day Cancun has evolved through the years, now including a wide range of Mexican villa rentals. From its first timid steps as a new location for holiday makers, through the excesses of spring breakers, and finally into a vibrant and exclusive destination for the discerning traveller.  Cancun is arguably one of the best places to visit in Mexico.
Cancun comprises a long stretch of shore line, beautiful restaurants, glorious resorts, a hip nightlife experience, history, golf, jungle treks, a downtown retail area and spectacular white sandy beaches. The charm of Mexico is harnessed to perfection for guests to this corner of the world, see our Cancun vacation guide for more information. The ageless world of Aztec and Maya culture sits side by side with a modern country that offers all the first world comforts that one could ask for, wrapped up in a warm, relaxing and welcoming package.
This is Cancun, Mexico. Welcome to a holiday like no other!
---
The Geography of Cancun
Cancun is made up of two very distinct zones known as Zona Hotelera and Cancun Centro. Simply explained, Zona Hotelera is a 13 mile long sandbar attached to the mainland on its southern and northern ends. This sandbar is home to most of the lavish hotels and resorts of Cancun. Cancun Centro refers to the downtown area of Cancun city where you can find a selections of restaurants, nightlife, shopping and all the usual elements of urban life.
The numerous hotels that line the Zona Hotelera all sit on the edge of the beautiful sandy beach that hugs the edge of the turquoise Caribbean. This beach and the inviting and warm waters offer endless fun and pleasure to guests each day. A day at the beach is a must and is considered one of the perfect things to do in Cancun Mexico.
For a bit of shopping within the Zona Hotelera, visit La Isla outdoor shopping mall. A lovely lunch followed by an afternoon dipping in and out of cute stores, can be a lot of fun. Don't forget that Mexico is the place to pick up really high-quality Tequila or perhaps wonderful handmade silver jewellery inlaid with turquoise or onyx. 
In fact, a lot of artisan jewellery and crafts are available throughout Cancun and the Riviera Maya. Spoilt for choice, you will need an extra suitcase to bring home all the lovely pottery and stylish trinkets that will catch your eye.
---
History in Cancun
In the midst of all of this modernity is the surprising El Rey archaeological site.  There is such a profusion of dramatic ancient structures dotted throughout Mexico.  These ancient cities were replaced overtime by their modern equivalents. Consequently, you will find Maya pyramids sitting next to Colonial buildings cosying up to some of the most modern architecture. 
It's quite a surprise to wander along a newly developed thoroughfare lined with five star luxurious properties and find some fascinating ruins dating back over a thousand years.
Sitting a short walk from Dolphin Beach in Cancun is the city ruins of El Rey.  For a very small entrance fee, you can walk around these fallen monuments. 
It's an interesting cultural thing to do in Cancun and if you find you are keen to learn more about the amazing history of Mexico, you could arrange to visit Chichen Itza, considered one of the great modern Seven Wonders of the World.
---
Beaches
The 13 mile stretch of white sandy beach that sits between the Zona Hotelera and the Caribbean is a wonderful playground for water babies. The Cancun coast is located along the great Mesoamerican Reef – one of the largest reef systems in the world.  Diving along this amazing reef is a fantastic adventure where over 200 varieties of fish and more than 100 coral species can be viewed. 
Experienced diving companies will take you out and show you the very best places to slip beneath the blue.  If you want to learn the fundamentals of diving, you could get some lessons and work towards getting that diving qualification.
For a different beach experience, visit Puerto Morelos Beach located 20 minutes south of Cancun.  This lovely resort town still has its traditional fishing village roots firmly on display.  It's an ideal place to step away from the more hectic beach experience on the Cancun sandbar.
The world famous Playa del Carmen is a very sophisticated beach town only an hour south of Cancun.  Beautiful villas sit side by side with cosmopolitan beach clubs and restaurants.  This is the destination for a lovely day out.  Arrange your wardrobe to allow you to effortlessly go from beach casual to apres-swim glam.
All sorts of sailing and water sports are but a few of the things to do in Playa Del Carmen.  In addition, you can visit the incredible Eco-Archaeological park of Xcaret. This jungle park is interspersed with amazing ruins and outdoor activities. One of the most memorable things to do is to swim through the underground river that moves through caves within the Park.
The Rio Secreto (Secret River), a vibrant blue colour weaves its way through rich toffee coloured caves.  It's a pretty unique experience and lots of fun and probably one of the best things to do in Cancun.
The Island of Women – Isla Mujeres – is a pretty island located off the coast of Cancun.  Its famous beach, Playa Norte, is a paradise of white sand, warm blue waters.   It's a romantic day out for any couple or a brilliant day for a family who like a lively day on a spectacular beach.  With lovely beach side restaurants and bars, it is the complete daytrip from Cancun.
The large body of water known as the Nichupte Lagoon which sits between the Zona Hotelera and the Mainland is a calm destination if you are looking to enjoy some snorkelling.
One of the most unusual snorkelling or diving experiences to be had in Cancun is to snorkel or dive through the Cancun Underwater Museum.  Life-sized sculptures and statues have been positioned at 6 to 20 feet below the surface and visitors can join one of the tours that will train you to snorkel or dive through this underwater marvel.
---
Family Day Out
Things to do in Cancun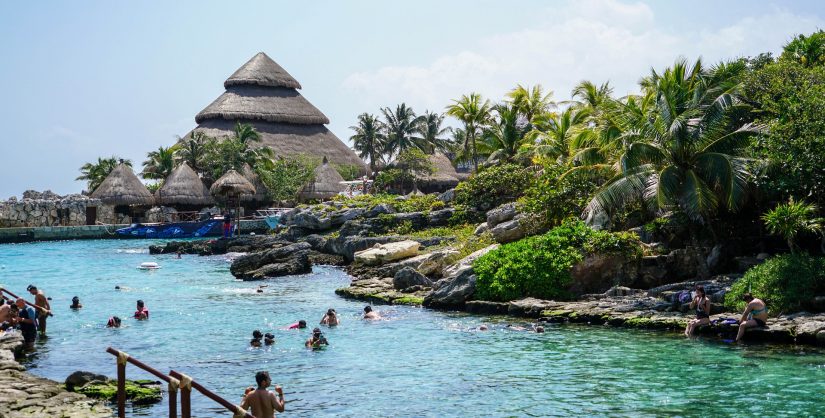 There is a lot of action packed fun awaiting at Xcaret Park but the culmination of the day is the theatrical show featuring up to 200 performers who entertain guests at the outdoor amphitheatre.  Undoubtedly, this is one of the enjoyable things to do in Cancun with kids.  The story of Mexico is told in an interpretive way through music and dance.  It is a colourful event and one of the best things to do in Cancun if you have children or young adults in your group.
---
Chichen Itza
If you look at any of the top ten things to do in Cancun you can be assured that a trip to Chichen Itza or Tulum sits firmly at the top.  It's probably one of the most interesting things to do in Cancun with family or on your own as part of a tour.  Nothing will really prepare you for the Legoland appeal of this most ancient site. 
The pyramids, the Observatory, the Old Ball Court and the Temple of Warriors are simply breath-taking.  The size and scale of this tourist site is vast, the buildings well-preserved and the areas around them easily navigable. Regardless of your age or level of fitness, this is for you.
Taking a quick break from your luxurious Exceptional Villa in Cancun, a bespoke tour organised by our incredible Concierge Service will allow you to travel across the Yucatan Peninsula and get a look at this incredible corner of Mexico.
A road trip along the Riviera Maya, stopping for a pretty lunch on the way and a beach-fronted dinner on your return journey could be that most memorable day of your holiday. 
This is only a fraction of fun things to do in Riviera Maya. Even if you don't think you are the Indiana Jones / Archaeological type, Chichen Itza is truly a once in a lifetime experience.
---
Merida
If you fancy a little road trip / day out while you are staying in Cancun, then I wholeheartedly recommend the 'White City' of Merida that sits inland and is reached in a few hours by road. 
Allow Exceptional Villas to arrange a chauffeured car to whisk you across the flat plains of the Yucatan Peninsula to experience America's City of Culture 2017. 
Merida is the capital city of the Yucatan state and has all of the impressive colonial buildings one expects to see as well as a very modern and vibrant city.
Interesting facts are that Merida is considered the oldest continually inhabited city in the whole of the Americas.  Quite an achievement.  In addition, it is a fabulous foodie city to visit and you can try some of the unusual Pre-Columbian Yucatan delicacies like cochinita pibil – a marinated pork or perhaps traditional papadzules not unlike the enchiladas that we are all so familiar with.
Merida is a safe and pretty city to walk around and for a romantic day out it is certainly one of the best things to do in Cancun for couples.  Drifting through this remarkable city with incredibly well preserved ancient ruins is utterly relaxing. 
Call into Mercado 60 a wonderful food hall where you can try out one of the 18 restaurants offering a diverse range of delicious snacks and dishes from around the world.  With a dash of live music in the evenings, it's a really hip and happening place to hang out,
---
Nightlife
Cancun's reputation as a Spring Break destination is a little wide of the mark. Yes, the eager and enthusiastic party people do still beat a trail to the Cancun shoreline but the madness is well-contained.  The nightlife scene of large-scale, full-on party clubs is centred in a few areas allowing the rest of Cancun to offer sophisticated dining and glamorous and romantic cocktails overlooking the beach to a less frenetic traveller.
Head into Cancun Centro if you are looking for the all-night thrill of Coco Bongo. Or onto the wild Beetlejuice where Spiderman flies over the heads of revellers.
These clubs can host up to a thousand party goers per night and guests can purchase Open Bar Bracelets that allows them to drink the night away. Yes, it's one of the best things to do in Cancun Mexico.
I think the phrase 'What Happens in Coco Bongo, stays in Coco Bongo" should be your mantra if you take the plunge into the party scene in Cancun.
For a less hedonistic experience, the stunning Mandala club in the heart of the Party Zone, offers guests a very VIP experience.  This is one of the loveliest things to do in Cancun at night.  Guests get to enjoy some good music alongside a very hip and cool crowd all wrapped up in beautiful surroundings.
Alternatively, the current wave of fantastic merengue music that's washing over the international charts makes Grand Mambo Café the destination for salsa and bachata.  From Wednesday to Saturday, you will find your feet tapping along to some incredible music.  Embrace the rhythm of Mexico and get onto the floor!
For pure excess, try The City nightclub that can host up to 5,000 revellers.  Apparently it's the biggest nightclub in the Americas.  Do try not to lose your group when you get in there as you may spend the evening wandering in circles trying to catch up again.  It is an experience perhaps only to be had once in a lifetime.
---
And finally, a little bit of Shopping
Is there anything better than a bit of retail therapy to break up all of that wonderful relaxation on the beach?
Downtown Cancun otherwise known as Cancun Centro is home to the famous Market 28 where you can pick up some cigars or perfume.  Haggling is a way of life and all part of the experience. 
If you want to enjoy some rather spicy street food while strolling through the markets, try the Parque Las Palapas where food carts will tantalise you with some delicious offerings. 
Freshly pressed juices, tacos, enchiladas … lots of yummy things to choose from.  The food is fresh and tasty but rather spicy.  Do try something though as it's all part of the real Mexico experience!
If you want to elevate your shopping to another level and tie it into a really brilliant day out, head to 5th Avenue in Playa del Carmen.  Accepting US dollars or local currency, you can ramble along over 22 blocks of boutiques offering international clothing brands, souvenirs, restaurants and bars.  It's an hour from Cancun with lots of transport options to get you there.  For the perfect take-home gift, Playa del Carmen's 5th Avenue is the place to shop.
---
Conclusion
Cancun is that incredible destination that offers a holiday experience for absolutely everyone. It is also one of the places you can travel without a passport!  The families with little children, the romantic honeymooners, the golf buddies, the action bunnies, the historians and the young at heart … whoever you are, there is a world of fun and relaxation waiting on the Caribbean shores of this unique country.
At Exceptional Villas we've represented some of the most stunning villa properties along this coastline for many years. The grandeur and beauty of the coastline, the sophisticated restaurants and nightlife, the raft of exciting adventures to be enjoyed, makes it the obvious destination for our guests who want a diverse and delightful experience.
We have decades of experience building dream vacations for our clients in Cancun. It is the destination that always surprises but never disappoints. Allow us to open a door into this wonderful world for you!  Cancun is waiting to greet you!
About Mairead Moriarty
Born and raised in Co Kerry, lived in London, New York, San Francisco, Dublin. Owner of one very battered suitcase, a well-worn passport and a million memories.
It seems very fitting for a travel writer that my surname translates as 'Skilled Navigator'. Apart from an occasion when, aged 3, I got lost in a Supermarket in Tralee, I have managed to live up to my name!
Curiosity is probably the driver that has sent me on magical mystery tours around the world. I want to 'feel' a place. I want all my senses to be engaged: from the history and geography that has influenced a country or city, the arts and achievements of its natives, anything and everything really.
Regardless of whether I am on a local train travelling through Morocco, or poking around in Marconi's study in Bologna or on a canal boat weaving through the heart of the English countryside, the same rules apply - ask questions, talk to locals, eat what they eat, sit quietly with nature and simply be.
Assimilate as much as is possible so as to understand the soul of a place. That is my passion. That is the compass by which I navigate.