I still remember the first time I heard about all the amazing St Barts Villas. 
I was attending a Young Presidents Organisation meeting in New York.  One of my fellow participants mentioned the words "very chic" and "very beautiful" and my ears pricked up immediately.  A beautiful island with beautiful luxury villas, fabulous food and wine and I haven't been, I thought to myself?
I went back to my hotel that night and without wasting a second, I got straight onto my computer to find out more about what I was missing.
I learnt that it was part of the French West Indies and commonly called various names St Barths, St Barth, St Barts or St Barthelemy.  I also learnt that St Barts Villas were among the best in the world.   That there were amazing beaches, fabulous restaurants and lots of fashionable shops on the island.
---
So Far So Good!
Then I discovered, there are no casinos, no golf courses, no high rise buildings, water parks or man-made attractions.  That St Barts doesn't try to do or be anything other than provide resilient beauty.
Very soon after that, I was winging my way from my villa in Anguilla to St Bart's on a tiny and very old plane with just 6 seats and grass growing from the windows like the cars of old.
To start the engine, the pilot pulled the choke in and out very vigorously and eventually when it did start, the plane shook like crazy.   But we took off and landed safely and being a bit of an adrenaline junkie, I enjoyed every second.
Because the plane was so tiny, it didn't go up very high but of course, the benefit was the views on the way were just breathtaking.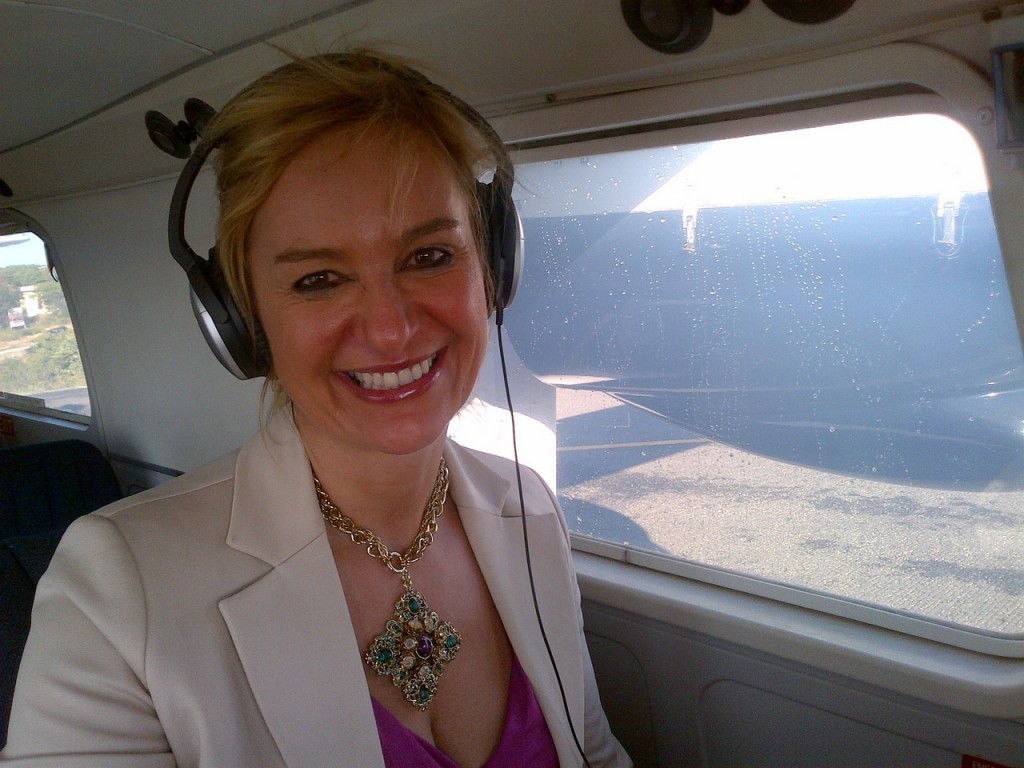 Landing in St Barts was equally thrilling.
We flew over a steep hill behind Gustavia.  The plane felt like it was almost vertical just before it touched the very short runway and stopped a couple of feet before the sunbathers lying on one of the most beautiful beaches I have ever seen.  I fell instantly in love with St Barts and realized that this was going to be the first of very many trips in years to come.
Just in case I have put some cautious flyers completely off the trip, there is plenty of very modern and very safe aircraft flying into St Barts.  Tradewind Aviation has the most wonderful first-class service from San Juan, Antigua, St Thomas and Nevis.   They fly Pilatus aircraft which are among the safest in aviation history.  St Barth Commuter also has a great and very regular service from Antigua and St Martin.  And if you really prefer not to fly, there is always the option of taking a boat from the neighbouring island of St Martin.
---
Read about things to do in St Barts
---
St Barts Is Totally Seductive
It has often been called the St Tropez of the Caribbean. It has all the wonderful food and chic atmosphere that you might find in the South of France and it has some of the most beautiful beaches and scenery in the world.   It is also probably the friendliest and safest places I have ever visited.
Crime is simply unheard of.
One of the appeals is that it is a tropical volcanic island with lots of hills and cliffs rather than a flat coral island like many of the other Caribbean islands.  The roads are narrow and many of them are extremely steep and windy. But the benefit of all of that is the views are simply incredible no matter which St Barts villa you may be staying in.
The ironic thing about St Barts is that it was overlooked by many countries during the time of colonization. It was considered to be barren with barely eight square miles of land most of which was not exactly arable.
It could hardly grow anything except cotton and could not even sustain sugar which was the attraction of many of the neighbouring islands. Everyone who lived on St Barts in the early days was very poor. It was even at one time called the "irritating little pebble".
How things have changed!!
---
Celebrity Hideout
The spotlight first started to shine on St Barts when David Rockefeller bought a villa in St Barts.    He brought many of his famous friends to the island including Kissinger, Onassis and Edmond de Rothshchild.  Suddenly overnight it became a rich guy's island.
Land price rose and local property owners starting selling their properties.   Another early occupier of St Barts Villas was Rudolf Nureyev, the very famous ballet dancer. More recently Roman Abramovich bought a beautiful property on Gouveneur Beach on the West side of the island.
Johnny Hallyday also owns a stunning property called Villa Jade.  It has an Asian theme with the most incredible views.  Patrick Demarchelier the famous photographer calls one of these beautiful St Barts Villas home.  It's no wonder the island attracts so many rich and famous faces.
Celebrity sightings in St Barts are numerous.  Princess Diana famously visited the island in 1995.
Other famous fans of the island are Cindy Crawford, Calvin Klein, Harrison Ford, Liz Claiborne, Beyoncé, Gisele Bundchen, Victoria Secrets models and The Kardashians.
---
St Barts Villas
And of course, my friend in New York was not wrong.
St Barts Villas were way beyond anything I had seen before.  I am lucky enough to see some of the best villas in the world as part of my job, but the St Bart villas I saw on that trip were beyond anything I had ever imagined before.    You can read more about this amazing island in my travel guide to St Bart's.
I got to see the famous Villa Rock Star which has its own recording studio and Villa Nina which are both located right on St Jean Beach.  Then there was La Danses des Etoiles, Villa Imagine, Jade, Terre Indigo, Vitti – which is one of our favourite St Barts rentals for sunsets – and Teman.
Each one is even more stunning and more luxurious.
Since that first trip, there are many newer and very beautiful villas on the islands.
Some of my personal favourites of the brand new villas are listed in my article on the top 9 St Barts rentals.   Each and every one is unique and stunningly gorgeous.
About Alexandra Baradi
Alexandra Baradi is the founder and owner of Exceptional Villas. She started the company 1992. Alex is a hotel manager by background and has travelled around the world in search of the best villas.
Her personal passion for travel and her entrepreneurial flair for making guest feel very special from the moment they enquire to the moment they arrive home, has enabled Exceptional Villas to become the world's leader in luxury villas.
She believes anything is possible when you travel with Exceptional Villas and ensures you will be pampered every step of the way.
Alexandra and her team all have one thing in common; to provide their guests with an unmatched holiday experience and to go beyond expectations.
Each of the team members specialise in just one destination rather than in multiple destinations allowing them to become total experts in their fields.
Both Alexandra and her team spend much of their time travelling to all the destinations inspecting new villas and re-inspecting already featured villas.