The Caribbean is a haven of paradise, beckoning families from around the globe to indulge in its sun-soaked beaches, crystal-clear waters, and vibrant culture. With a plethora of breathtaking islands to choose from, finding the best island to visit in the Caribbean for families can be a delightful challenge.
Our villa experts have carefully curated their top destinations for you and picked their personal favorite Caribbean Villas most suited to families.
From Barbados to the British Virgin Islands, this tropical paradise offers an array of destinations that cater to the desires of every family. Join us on an extraordinary journey as we unveil the top family-friendly Caribbean islands that promise unforgettable moments and create cherished memories.
---
Barbados: Where Luxury Meets Adventure
Nestled in the southern Caribbean, Barbados is the epitome of luxury and excitement. Known for its picturesque coastline, Barbados offers a treasure trove of activities suitable for all ages.
What to do:
Indulge in the vibrant culture of Bridgetown, explore historic plantation houses, and embark on thrilling underwater adventures such as snorkeling with Turtles. With its warm hospitality and captivating charm, Barbados truly is the best island for families in the Caribbean.
Where to stay:
We recommend a stay at Villa Kiko, a fully staffed beachfront villa in Paynes Bay, Barbados. At Kiko, an abundance of entertainment and recreation options await you. Immerse yourself in a world of leisure, as the villa boasts a games room and a home cinema for hours of fun. Other on-site features include a fully equipped gym, a yoga studio, and a decadent spa with a sauna.
With family groups in mind, two of the bedrooms feature three single beds, making it ideal for children, a family-style set-up, side by side, allowing families with youngsters to be close to each other.
The Media Room at Villa Kiko in Barbados
---
Grand Cayman: An Aquatic Paradise
Grand Cayman is the perfect choice for families seeking an island that effortlessly combines relaxation with unforgettable water experiences.
What to do:
Swim with friendly stingrays at Stingray City, snorkel in the vibrant coral gardens of Seven Mile Beach, or visit the captivating Cayman Turtle Centre. Grand Cayman is a true aquatic playground that guarantees endless fun and cherished family moments.
Where to stay:
A stay at any of the resorts in Grand Cayman would be a great choice for a family. Should you wish to enjoy the privacy of your own villa, then we recommend a stay at Rip Kai.
The pool and view from Rip Kai Villa in Grand Cayman
Key features for families include an entertainment/Living Space – Over 8,000 sq. ft., a media room- seating for 12-18. Smart TVs in all bedrooms, guesthouse, games pavilion, BBQ area, and Great House living area & den. Beach volleyball court, a games pavilion (with smart TV) on the pool deck, a ping pong table, a dartboard, and a children's play area with a swing set, slide, and roofed play fort.
---
St. Lucia: Where Adventure Meets Natural Beauty
Nestled between the Caribbean Sea and the Atlantic Ocean, St. Lucia captivates families with its awe-inspiring landscapes and thrilling adventures. Explore the majestic Pitons, bathe in the healing mud baths of Soufriere, or embark on a rainforest zip-line adventure.
St. Lucia seamlessly blends natural beauty with exhilarating experiences, creating a truly unforgettable family vacation.
What to do:
Families can enjoy a visit to a rainforest as you join a knowledgeable guide for a captivating walk through its heart, encountering the diverse flora and fauna up close. Set off on the Rainforest Zip-lining Adventure for an exhilarating experience that the whole family will love. Soar through the treetops, feeling the rush of adrenaline as you marvel at the breathtaking rainforest views.
Explore the vibrant shops and indulge in the delectable cuisine of nearby Rodney Bay Village, a vibrant hub of activity and culture. Splash Island Water Park in Rodney Bay guarantees endless fun for kids, where they can laugh, splash, and play to their heart's content.
Where to stay:
We recommend a stay at The Landings Resort in Rodney Bay, one of the wonderful St Lucia resorts worth visiting.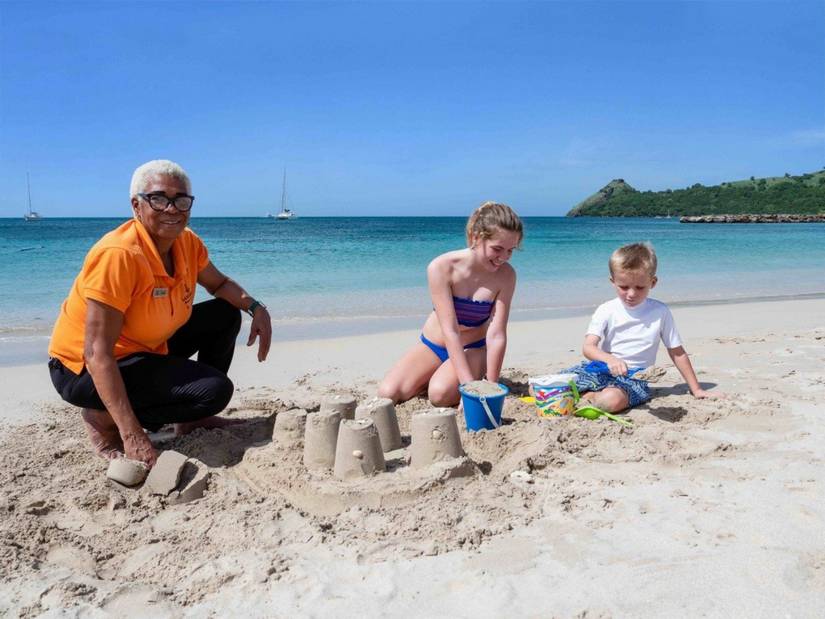 ---
The British Virgin Islands: A Sailing Paradise
For families with a sense of adventure and a love for sailing, the British Virgin Islands offer a dreamy escape.
What to do:
Set sail through a multitude of islands, discover hidden coves, and snorkel in breathtaking reefs. Whether you choose to explore Tortola, Jost Van Dyke, or Virgin Gorda, the British Virgin Islands promise a unique and extraordinary family vacation.
Where to stay:
We recommend a stay at Oil Nut Bay Resort. The property is accessible by boat from Virgin Gorda. The resort offers an exquisite array of amenities and activities tailored to families.
With two tennis courts, a breathtaking beach, communal pools, thrilling water-sports activities, a Nature Center, picturesque hiking trails, and a delightful Kid's Club that offers the perfect blend of education and entertainment for young adventurers, there is something for the whole family to enjoy.
---
The Bahamas: An Oceanic Wonderland
The Bahamas beckons families with its enchanting landscapes and endless opportunities for adventure.
What to do:
From swimming with dolphins in Nassau to exploring the vibrant marine life of the Exumas, this archipelago offers an unrivaled array of family-friendly activities.
Bask in the sun on the breathtaking beaches of Paradise Island and let the warm ocean breezes whisk your family away to a world of wonder.
Where to stay:
We recommend a stay at one of our vacation rentals at the Albany Resort. As you indulge in a blissful afternoon of pampering, The Albany resort ensures that your children are also well taken care of and entertained throughout the day. Many exciting activities await them from dawn till dusk, guaranteeing their enjoyment and engagement.
The resort boasts a fantastic kid's club, dedicated kid's pools, a cinema for their entertainment, exhilarating water sports, a mini water park for endless splashing fun, a games room to unleash their competitive spirit, and even an equestrian center for horse enthusiasts.
With such a comprehensive range of offerings, The Albany caters to all age groups, from the young to the young at heart.
---
Turks and Caicos: A Paradise for Water Enthusiasts
If your family seeks a destination where turquoise waters meet pristine white sands, look no further than Turks and Caicos. Renowned for its world-class snorkeling and diving spots, this archipelago boasts an underwater wonderland that will leave your family in awe.
Picture your loved ones frolicking on Grace Bay Beach, building sandcastles, and discovering vibrant coral reefs. Turks and Caicos offers the best family vacations in the Caribbean, combining relaxation with thrilling water adventures.
Where to stay:
We highly recommend Villa Salaica for a family vacation to Turks and Caicos. Combining spectacular ocean views and easy access to the best of Grace Bay, while retaining the utmost privacy during your stay makes this villa one of the most sought-after properties. Check out our villa specialist's reviews of this villa.
---
Antigua: A Playground of Beaches and History
Prepare to be enchanted by the captivating allure of Antigua, an island brimming with natural beauty and historical wonders. With its 365 breathtaking beaches, Antigua provides an idyllic setting for family fun in the sun.
What to do:
Sail along the coastline, explore colonial-era forts, or immerse yourselves in the vibrant local markets. This Caribbean gem truly embraces the essence of a family-friendly paradise.
Where to stay:
We recommend a stay at any of our luxury villas in Jumby Bay, a private paradise island off the coast of Antigua.
Nestled in a secluded hideaway reachable exclusively by boat, this prestigious luxury resort has gained global recognition for its impeccable service and distinguished array of amenities.
Morning Glory is a great villa for families with amenities such as a 20-meter-long infinity swimming pool, a fully equipped gym, spa treatment suite, a flood-lit tennis court, and outdoor games, including chess, draughts, and croquet. Not to mention the full-time staff included to cater to your ever need.
---
Anguilla: Tranquility in the Caribbean
If your family craves a peaceful retreat, Anguilla offers a serene escape from the bustle of everyday life. Anguilla is an oasis of tranquility with its pristine beaches and luxurious resorts.
What to do:
Spend leisurely days snorkeling in crystal-clear waters, enjoying delicious seafood, or simply relishing the calm ambiance. Anguilla is a hidden gem for families seeking a luxurious and serene Caribbean getaway.
Where to stay:
We recommend a stay at Ani Anguilla, a modern 10-bedroom half-board villa tailor-made for multi-generational families, offering the perfect private resort experience. The ten bedrooms are divided between two separate villas, a four-bedroom villa, and a six-bedroom villa, ensuring privacy and flexibility.
Please note that the villa can only be rented exclusively to one group at a time, guaranteeing an intimate and exclusive experience.
Each villa boasts its own private pool, hot tub, and full interior amenities, allowing you to indulge in a truly luxurious retreat. ÀNI Private Resort stands out as one of the island's most exclusive villas, thanks to its exceptional amenities and remarkable staff-to-guest ratio.
With 20 dedicated team members, you can rest assured that every detail of your stay will be attentively catered to. Similar to a resort or hotel, this exquisite villa offers six daily spa treatments in the wellness center, a tennis court with a basketball hoop, a private fitness center, professional chefs, housekeeping services, and a half-board menu.
However, unlike a resort or hotel, all these amenities are exclusively for your use. The villa becomes your own private sanctuary, ensuring complete privacy and exclusivity.
Furthermore, the property offers a comprehensive menu of kids' activities, guaranteeing a memorable and enjoyable experience for the entire family.
---
Conclusion:
The Caribbean unveils a tapestry of family-friendly islands that combine luxury, adventure, and relaxation into unforgettable experiences. Whether you're seeking a tropical playground for water enthusiasts or a serene retreat for tranquility, the Caribbean islands mentioned above provide the perfect backdrop for the best family vacations in the Caribbean. Embrace the captivating charm, immerse yourselves in vibrant cultures, and create cherished memories that will last a lifetime.
The Caribbean awaits, ready to weave its magic and offer your family a truly extraordinary journey of a lifetime.
About Linda Browne
Linda is the General Manager for Exceptional Villas and has an in-depth knowledge of the travel industry. Linda's qualifications are in the area of business, marketing and tourism. Linda travels for much of the year inspecting all of our luxury villas; the majority of her time is spent in the Caribbean and Europe.