Throughout the world, the Caribbean is synonymous with its powdered white sands, turquoise waters, memorable sunsets, and luxury accommodation. Combine this with friendly locals, creole cuisine and an assortment of adventure and you have the makings of a wonderful vacation in my favourite island of St Lucia.
I have been lucky enough to travel to many of the islands and this is by far one of my personal favourites. I have stayed in some of the most amazing St Lucia Villas and Resorts.
Today I am concentrating on the best resorts in St Lucia. St Lucia all inclusive resorts are plentiful, but some offer just that little be more than others. I have handpicked my personal favourite St Lucia Resorts.
---
Top 5 St Lucia Resorts
So "what are the 5 best resorts on the island?" I hear you ask! Well, I have them listed below for you so please click on them and read my thought!
---
Sugar Beach – A Viceroy Resort
---
When it comes to St Lucia Resorts, it would be safe to say that you will not find a more amazing setting that the Sugar Beach Resort in Soufriere. I won't lie to you, this is a 5 Star Resort and the rates reflect this. We had the privilege of staying here for 2 nights and it will live long in my memory. Here is why…
Short and sweet… location, location, location!
You are staying on the cusp of an amazing white sandy beach with the spectacular volcanic spire of the Petit Piton off to your left. I have never witnessed a setting as beautiful in a very long time. This truly is Heaven on Earth.
---
My accommodation
I was staying in the one-bedroom luxury villa which is a 3-minute buggy drive from the Great House. This comes with a plunge pool, king-size bed, coffee making facilities and ensuite bathroom. You also have a personal phone with a direct line to your assigned butler. If you need food, drinks, phone charger or a buggy spin down to the resort, they will look after it and it's a 24hr service. The resort also offers beachfront luxury suites & bungalows, Residences 3- & 4-bedroom homes or the ultimate Beachfront villas. These all coming with your personalized butler and nightly turndown services. 
---
The Food
Of all the St Lucia Resorts on the island, Sugar Beach is renowned for its excellent cuisine. When we arrived there, we were guided to the outdoor relaxation room (while the staff checked us in) and given the most refreshing coconut cocktail and delicious finger food. Even though we were just staying for 2 nights we lucky enough to enjoy a selection of the eateries that the resort had to offer such as …
The Terrace Restaurant – Here is where we had our breakfast both mornings, it is set on the breezy veranda of the Great House and has stunning views of the glistening Caribbean Ocean. You can order hot food off the menu or take a plate and choose from a wide variety of fruit, cheeses, meats, and cereals in the air-conditioned buffet room.
Bayside Restaurant – Right on the beach under the shadow of Petit Piton is the resorts beachfront Restaurant and bar. Casual dining that serves lunch, dinner and has a great kid's menu also. Choose from Gourmet pizzas, Catch of the Day or traditional Jerked Spice Chicken. The setting is amazing and listening to the waves lapping on the shoreline will send you into a daze after you have eaten your fill.
The Great Room – Fine dining at its best but not with a very strict dress code (which I liked). We really did save the best for our last night here as we were treated to a sublime taste of St Lucia. The restaurant setting, food, service of the staff, and overall atmosphere was near perfect. My recommendation, Rum barrel smoked Tuna and the Coconut Water Poached Mahi Mahi. 
---
The Beach
This is by far the best beaches in St Lucia. White powdered sands, cool tranquil waters, Tiki bar, and the world heritage Petit Piton mountain standing proud beside you… it resembles a film scene from "The Beach". Let me tell you a little secret … the white sand that makes up Sugar Beach is actually transported from Guyana in South America. That is what makes it so amazing and special.
The beach is also a perfect place for renew your vows, the location makes St Lucia one of the best Caribbean Wedding Destinations.
---
Things to Do
The Spa & Wellness area is immersed in the lush rainforest that surrounds the resort. Sit back, relax, rejuvenate in one of there many Balinese styled huts. Treat yourself to relaxing bamboo massages or hot rock therapies, help awaken your senses with a salt scrub, or simply holistic treatment. There is something for all there.
Fitness classes, Yoga and Pilates are available to be enjoyed. Full gym onsite also.
Water sports are very popular such as scuba diving, Deep sea fishing, Whale and dolphin watching. Our concierge service can organize all this for you. 
---
Good to Know
Sugar Beach Resort is located 5 minutes' drive from the world's only Drive-in Volcano and Sulphur Springs. Don't be alarmed, the volcano hasn't erupted in over 200 years. Now I won't lie to you as you will get a strong smell of rotten eggs when you arrive but taking a dip in the warm Sulphur Spring, rubbing the volcanic mud onto your skin and just relaxing will make it all worthwhile. Its an invigorating experience and great for your skin. Bring a towel and a change of clothes.
Who doesn't love to zip line! It is a great morning's adventure with the kids and again is close to the resort. Zip your way through the mango and plum trees while getting a bird's eye view of Soufriere. St Lucia has many wonderful attractions that our concierge team will be happy to let you know about.
Every Sunday night the resort's Bayside Beach Bar has a movie night for you to enjoy. It starts at 9 pm.
---
Cap Maison Resort & Spa
---
In 2018, this little know romantic hideaway was voted one of the "World's Best" by the Travel & Leisure industry. Located on the cliffside on the beautiful Cap Estate area, Cap Maison strives for excellence and it shows.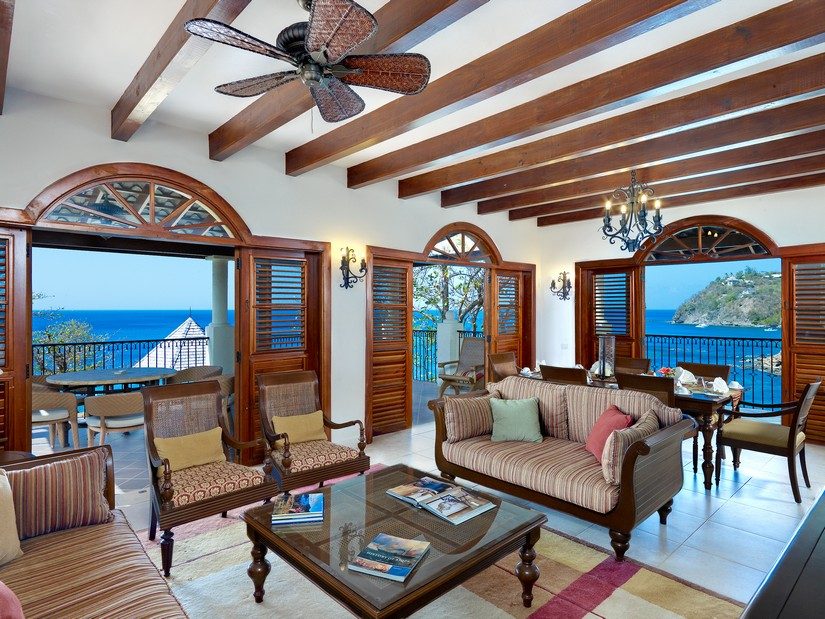 ---
My accommodation
I stayed in a spacious 2-bedroom Ocean View villa with a rooftop terrace and a large plunge pool. Wonderful views from the main floor and terrace area. The villa was spotless with a full kitchen area, large living area, excellent air conditioning, and large king beds. The restaurants were a short walk away and the access to the beach was through a security gate outside the villa door.
---
Why is Cap Maison Resort on my list? 
I spent two nights here and enjoyed every minute of it, the luxury accommodation varies from one-bedroom courtyard villas to the beautiful three-bedroom Ocean view villas with a hot tub or a rooftop swimming pool and terrace. St Lucia is one of the best honeymoon destinations and Cap Maison is the ideal place to enjoy a romantic vacation.
---
The Food
Cap Maison is renowned for its excellent cuisine and romantic settings.
 "The Cliff at Cap" is there Ocean View Restaurant with a menu that is inspired by a fusion of Caribbean and French influences. We dined here on the first night and I would highly recommend the Roast Seabass with seared Scallops… divine!
We visited the beachfront restaurant called "The Naked Fisherman" on the second night and it was a wonderful experience also. The setting is majestic, waves lapping against the shoreline with the distant echo of a steel drum band gives you a truly Caribbean experience. While you are there, ask the staff about the real "Naked Fisherman" … it's an interesting story.!!
Rock Maison is a private outdoor table spectacularly set on the water's edge. With amazing views of Pigeon Island, this is perfect for a romantic dinner for two or private family get-togethers.
---
The Beach
All the beaches on the island of St Lucia are public but some like Cap Maison are cornered off on both sides by cliffs so you get the sense of privacy straight away. It's a wonderful area for swimming and snorkeling or just soaking up the Caribbean sunshine.
Food and beverages are served daily from the beachfront restaurant, just one thing to note is that there are some steep steps down to the beach from the resort. It's very manageable heading to the beach but could be a strain walking back up for some guests. Thankfully the resort is wise to this and has garden seats positioned halfway up. This is very handy for guests to have a rest and take in a different view.
---
Things to Do
Cap Maison has an amazing Spa & Wellness area. They also have Yoga and Pilate classes or "one to one" training workouts.
For those who love the outdoors, they also have a Running/Hiking Club is at your disposal. Qualifies guides will take you on the cliff top and remote beach hikes along the St Lucian coastline.
There is an 18-hole golf course close by and the lively Rodney Bay is just a 10-minute drive from here. Just to note that this area has some of the best things to do in St Lucia.
---
Good to Know
Ask for a tour of the Wine Cellar, this is extremely interesting, and you get to taste some of their finest wines complemented with some cheese nibbles!!
Watch out for your drinks being delivered when having dinner at Rock Maison as they are ziplined down to your table from the restaurant high above you.
Exceptional Villas have many wonderful "Special Offers" throughout the year so please ask us for the latest updates.
---
The Landings Resort and Spa
---
Resorts in St Lucia are plentiful but as mentioned earlier, some have that little bit more than others which makes a great vacation amazing !
So why is The Landings Resort one of my five choices?
I would have to rate the Landings as one of my Top 5 Family Friendly Caribbean Resorts. From its Kids club, choice of swimming pools, beach movie nights to a wide selection of watersports and excursions, there is something for everyone. I really enjoyed my 2 night stay here and can understand why many of my clients come back each year. It is a wonderful family-friendly hotel that offers great value for money with its selection of luxury accommodation.
---
My accommodation
Guest have a choice of one, two or three bedrooms in a Marina View, Ocean View or Beach View villas suites that also comes with butler service. I stayed in a 3-bedroom Beachfront Villa which has awesome views of the ocean. It is perfect for families and comes with a full kitchen, king beds, luxury linen, TV's in all bedrooms and a large balcony.
Just to note that if you are booking a 1-bedroom villa, they are usually located on the ground floor. 
---
The Food
You are spoilt for choice in this department as The Landings Resort offers a fabulous array of dining choices:
The Beach Club – Set on the water's edge, this restaurant offers casual dining through the morning and daytime.
Private Chef – Prefer a night in, happy to organize a Chef to come round (additional cost) and prepare a 3-course meal for you on the balcony. We enjoyed this on the second night of our stay, and it was the ultimate Caribbean experience. Excellent creole food, sunsetting right in front of us, cool refreshing breeze, steel band playing on the beach and wonderful company.
In-room dining – Fancy a night in with the family and prefer not to cook, just phone the restaurant, order what you want, and they will deliver it to your villa.
Beach Bar & Grill – Callaloo Beach Bar & Grill serves local creole dishes throughout the day, goes down well with a nice cold beer!
Many wonderful restaurants in Rodney Bay such as Buzz Seafood & Grill and Ti Bananne. 
---
The Beach
One of the rarities in St Lucia is having a resort or luxury villa that is actually on the beach. I am happy to say that this is one of a handful of St Lucia all inclusive resorts that are located on the cusp of white powdered sands.
Known locally as Reduit Beach, it is nearly 2km long and great for swimming, snorkeling and there are lovely beach bars speckled along it. It is a very laidback and relaxing area, if you or your kids are looking for a bit more adventure then "Splash Island Waterpark" is a 5-minute walk from the resort. 
---
Things to Do
The Landings Resort offers a host of different activities for every walk of life: 
Both casual and upscale restaurant experiences,
Luxury spa & salon
Full assortment of water sports for all ages
Fitness Gym, Yoga, Pilates and more
Kids Fun Club
Your choice of four swimming pools.
Catamaran cruises at sunset.
Island tours
---
Good to Know
Callaloo Beach Bar & Grill is located close to the resort and has traditional Caribbean steel bands on occasions. It makes for a very enjoyable night of entertainment.
I must mention the Gros Islet Street party which takes place every Friday night offering good street food, loud music and dancing late into the night. It gets crowded here but most enjoyable and should be sampled (even for a short while).
18 hole golf course is nearby on Cap Estate.
---
Windjammer Beach Resort
---
Windjammer resort is located on the Northwest end of St. Lucia in Labrelotte Bay. The villa is located just 20 minutes from Castries. You are also just 15 minutes from Rodney Bay where you have some lovely restaurants, and grocery stores and guests are just 30 minutes from Soufriere.
---
So why is Windjammer Resort one of my five choices?
The resort is beautifully situated wrapped around a sandy inlet. There is a selection of great accommodation, wonderful restaurants, and the beach is long and enough space for everyone. 
---
My accommodation
I stayed in the 3 bedroom "Villa Vyner" which is located at the top of the hillside overlooking the resort and Caribbean Ocean. The views are sublime, and the villa was bright and modern. This area of the resort is very private as there are only 5 standalone villas here. Housekeeping comes daily and you can have a cook organized to prepare your meals for you.
The resort also offers two and four-bedroom villas and the Beachfront properties at "North Pointe" are the crème de la crème. 
---
Food
If you are a foodie, this is the resort for you as they have a selection of great eateries.
Upper Deck – Locals come from all over St Lucia to eat prime high-end steak at this restaurant and I can understand why. It is truly mouth-watering and the best on the island. If you are not a steak lover, there is a wide selection of freshly line-caught fish as well as different pasta dishes and salads that will tantalize your pallet.
Papa Don's – A great Italian styled Pizza restaurant for all the family. Conveniently located on the way back to your villa from a long day at the beach. They also deliver to you home if you feel like a night in.
Dragon Fly – This is the place to meet up in the morning for a great breakfast and for a buffet dinner in the evening. It overlooks the beach and catches a great Caribbean sunset in the evenings.
Embers – Well known on the island for its Sunday lunches. Also does tasty Jerk chicken and fish tacos.
Jammer's – I had lunch here and really enjoyed it. The restaurant opens right on the beach and it does amazing cocktails. You must try the sliders and wings here. Finger licking good! 
---
The Beach
Crystal clear waters and a very relaxed atmosphere here, the sun loungers are soft and comfortable which I think is a huge plus for any resort. The scenery at the Windjammer Resort is beautiful and something that you will never get bored of. Evening sunsets are amazing. A selection of water sports is available to all guests also.
---
Things to Do
Non-Motorized Water sports including snorkeling, sailing, kayaking, and windsurfing are available to all guests. If you fancy a game of Tennis, please do. Rackets and balls are available at reception.
The Windjammers Resort also has a 5,000 sq. Ft Spa and Wellness Center which is a new addition and boasts 4 private treatment rooms. I did not have time for treatment but wished I did. I was treated to a healthy infusion of ginger, lemon, and turmeric from their Juice Bar which tasted divine. Well worth booking a massage, facial, or a peaceful soak in a Japanese tub.
Plenty to do outside of the resort also such as a catamaran cruise to Soufriere from Rodney Bay. Again, our free concierge service can look after this for you.
---
Good to Know
The villas at the resort are all hillside and the roads are too narrow for regular cars. The resort has a very effective shuttle service that runs 24 hours a day. Just call and they will collect or start walking the one will pass and collect you soon after.
A trip to the shopping Market in Castries is worth a visit. Lots of interesting local produce on offer. There is something for everyone. Castries is about a 10-minute drive/taxi from the resort.
I went on a Segway tour in Rodney Bay which is close to the resort. It was a brilliant adventure through the hills of St Lucia. Very knowledgeable guides and a few surprises are thrown in. Well worth booking it with us.
---
Marigot Bay Resort & Marina
---
Turquoise waters, lush surroundings, Calypso hospitality, tantalizing cuisine, and good company make for a wonderful stay at this St Lucia resort.
So why is Marigot Bay Resort one of my five choices?
We arrived at the Marigot Bay Resort and Marina by boat on a beautiful sunny day and I was sold on this picturesque haven straight away. Set on a private inlet, it just looked majestic with green hills cushioning around this tastefully designed St Lucia all inclusive resort.
---
My accommodation
Again, one night is never enough but we have to make do. I stayed in the Penthouse 3-bedroom suite. The views were overlooking the marina and beyond to the Caribbean Sea. It's the perfect choice for families, good sized bedrooms 
---
The Food
Again, guests are spoilt for choice at this resort.
The Grill at 1461 – Serves a selection of quality produce from both land and sea. We dined here on the night of our stay and thoroughly enjoyed it. I had the traditional crab cakes to start with and Caribbean King Fish from the barbeque after. It was scrumptious, to say the least. The service was also excellent and very personal.
Hurricane Hole -Relaxed casual dining right on the waterfront. Hearty breakfasts, light lunches, and laid-back dinners are on the menu here. Watch the boats come in or the world passing by while sipping a cold glass of wine or a frosty beer.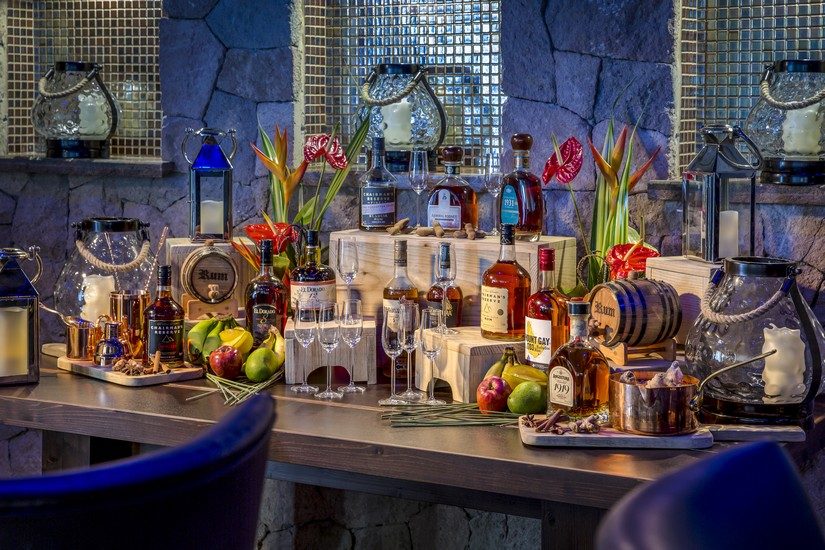 ---
The Beach
What sets Marigot Bay Resort aside from the rest is that its beach juts out into the middle of the bay. It's an ideal area for swimming and sunbathing and total relaxation in guaranteed. You can do a little sailing around the bay from here also.
---
Things to Do
Just relax, the resort has all angles covered from luxury accommodation, superb restaurants, selection of swimming pools, beautiful beach, and night-time entertainment.
Treat yourself to a Spa day and be pampered by the resorts wonderful staff
For the kids, there is a children's program that runs daily. Walks, dancing, storytelling, arts, and crafts are among the different activities
---
Good to Know
You can do a half-day Rum Infusing class at the resort. Best of all is that you have to consume your finished product!
I would advise a mini sunset cruise on one of the evenings. It's a very special moment for couples or a family.
The resort also offers Ti Mange cooking classes where you learn the are of St Lucian cuisine.
---
Conclusion
---
My trip to St Lucia was amazing and I wish that I had more time to spend there. There is a countless number of things to see, do, and discover. The resorts are wonderful and the locals are very friendly. It an island with a high volume of repeat guests and I can understand why !. The island also boasts some of the best St Lucia Villas for honeymoon vacations so bear that in mind if you are thinking about popping the big question. Read more about our Luxury Caribbean Resorts and be inspired for your next vacation.