Believe it or not, our lush, wondrous planet consists of 195 countries and over 900,000 islands begging to be your next dream vacation destination. From the humid tropical paradises of the South Pacific to the majestic plains of South Africa, travellers with a flair for luxury are truly spoiled for choice.
But with this astonishing range of choice comes some incredibly difficult decisions. Should you embark on the ultimate shopping spree in the urban utopia of New York City? Or relax on a Caribbean island resort listening to the waves gently lap at the shore as you leisurely sip a cocktail? 
Our goal at Exceptional Villas is to provide you with the ultimate vacation, which includes helping you find your dream destination. So, sit back and relax as we travel across the world to look at 5 of the best luxury vacation ideas and experiences. 
---
With over 34.5 million tourists flooding the cobblestone streets of Paris in 2022, the much-loved capital of France can seem more tedious and stressful than luxurious. That is why we want to recommend to our loyal customers the true cultural diamond of France, Bordeaux. 
Often referred to as 'La Belle Endormie', which translates to sleeping beauty, Bordeaux sits on the beautiful banks of the Garrone and offers countless opportunities to indulge fully in grandeur. So, let's take a look at a few of our favorite activities.
Taste the finest wine 
Often cited as the world's wine capital, Bordeaux will tantalize your taste buds with the finest alcoholic beverages known to man, from luscious deep red wines to crisp whites. 
For that true taste of extravagance, we highly recommend the exceptional Chateau Haut-Brion. Our dedicated concierge team will happily secure you a bottle and store it at a perfect temperature for that romantic dinner.
Indulge in fine dining 
The French are renowned for their exquisite culinary prowess, and Bordeaux is no exception. With countless Michelin-starred restaurants serving the finest delicacies to be found in France, this bustling city is the ultimate foodie heaven. 
The most exclusive restaurant in Bordeaux is inarguably Fabien Beaufour's Le Cent 33. This Michelin-starred establishment serves the most incredible tasting menus in all of Europe. While Le Cent 33 is often fully booked months in advance, our concierge team will make that elusive reservation a reality.
Visit the Dune du Pilat 
A brisk drive from Bordeaux will whisk you away to Europe's largest sand dune. At an incredible 106.60 km above sea level, this natural marvel is the perfect location to enjoy a glorious sunset or take in the breathtaking ocean views. Our attentive team can even hand-select the best local produce for a romantic picnic amidst the dune.
Experience Bordeaux by bike 
One of the best ways to experience the culture and breathtaking scenery of the local area is by bike. We recommend the Roger Lapébie cycle path that will take you 52 km from Latresne to Sauveterre-de-Guyenne 
This incredible trail will showcase what this wonderful region has to offer, from lush forests to quaint villages. We also advise taking a brief detour to take in the magnificence of the historical Abbaye de La Sauve-Majeure.
---
Nestled on the west coast of Bali, this stunning beach resort is the ideal luxury getaway for the most lavish of explorers. The beautiful white sand beach stretches for more than 3 km and is surrounded by a host of the best fine dining establishments and the finest all-inclusive resorts. This vibrant area is truly the prized gem of Bali, and there are endless opportunities to experience.
Embrace the surf 
Watersport enthusiasts are truly in for the treat of their lives, as Seminyak beach is a renowned hotspot for surfing. The incredible surrounding landscape and variation of waves make this an idealistic surfing spot for both beginners and pros. With countless vendors across the sun-kissed sands providing surfing rentals, you will never need to worry about missing that perfect wave.
Experience ultimate relaxation 
Bali is renowned for being the epicenter of the wellness scene in Indonesia, so make sure to take a few moments to take a deep breath and relax. The truly stunning surroundings make Seminyak one of the best places to practice yoga in solitude or in one of the many classes available in the area.
If your inner being craves a more pampered approach to wellness, then there are countless venues offering the most incredible spa treatments sure to deliver you to a heavenly state of bliss. We insist that you try the Bodywork's Balinese massage; your entire body will thank you for the indulgent experience.
Head to a beach club 
Seminyak has countless beach clubs along its golden coast, but the most iconic and extravagant proves that you cannot judge a book by its cover. The Potato Head Beach Club may not sound like the most exuberant of destinations but believe us, this is pure decadence. 
Designed by acclaimed architect Andra Matin, this beach club includes a pristine 5000 square-foot lawn, two superb on-site restaurants, bars that serve the best cocktails around, a modern fitness center, and an infinity pool. Why would you ever want to leave this luxury resort?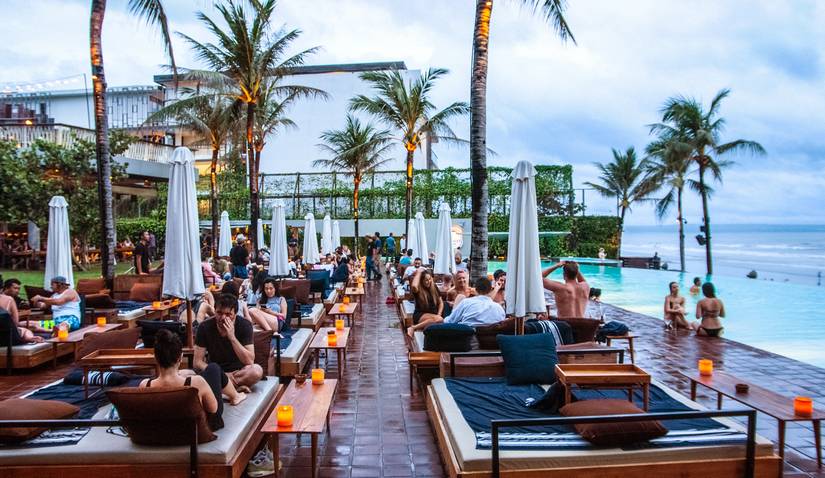 ---
New York City is one of the most iconic and famous cities in the entire world. The hustle and bustle of NYC may not necessarily scream luxury destination, but believe us; the Big Apple is the ultimate playground for the rich. 
Situated on the eastern side of Long Island, The Hamptons is the home for the rich and the famous who take respite from the chaos of life in their luxury villas kitted out with hot tubs, swimming pools, and private tennis courts.
 Some of the celebrity residents of the prestigious area are:
Robert De Niro

Robert Downey Jr

Neil Patrick Harris

Beyonce

Jerry Seinfeld
If you truly want to embrace the celebrity lifestyle, we highly recommend staying at one of our luxury villas situated in the glitz and glam of the Hamptons.
When you're in New York, consider taking part in our favorite American activities. 
Take a carriage ride 
Central Park is arguably one of the most iconic locations in all of New York. It is our honest opinion the only real means to experience what this icon has to offer is by horse and carriage. Sit back, relax, and take in all the breathtaking sights and attractions as you take a gentle, fully narrated tour.
Fancy adding an extra element of decadence for that special occasion? Our concierge team will happily organize a personalized experience that can involve flowers, chocolates, and photography.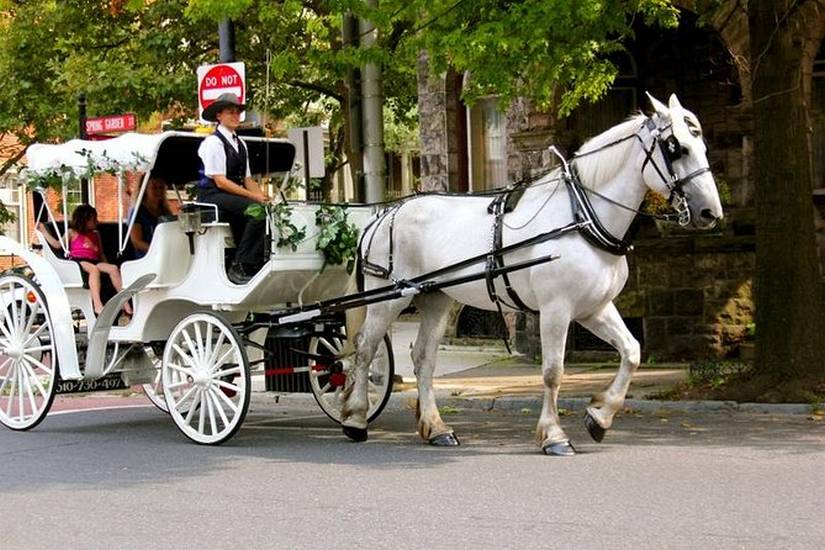 Rent a private yacht 
Nothing screams pure and utter indulgence than gazing in awe at the Statue of Liberty from the comfort of your privately rented yacht. 
Our concierge team will find you the very best vessel to set sail in across the Hudson river.  It will be our mission to ensure that your passengers cruise in style with world-class food, beverages, and entertainment throughout your voyage.
The ultimate shopping spree 
Renowned as the high-end retail therapy capital of the world, we guarantee that you will return from a shopping spree in NYC with more bags than you can possibly carry. 
Here at Exceptional Villas, we would like to recommend our favorite picks for the most luxe shopping destinations around:
Macy's
Louis Vuitton
Prada
Tiffany & Co
Chloe
Chanel
Dolce & Gabbana
Bloomingdale
Enjoy a spot of golfing 
There are countless opportunities to brush off the clubs and head to an exclusive golf club in the Hamptons. And with over 140 public and private golf courses in Long Island, you will never have to play at the same course twice. 
The most exclusive golf clubs are incredibly selective with who they allow to become a member. However, we are confident that our wonderful concierge team can work a miracle and bag you a round of golf at your dream course.
---
For a moment, just take in the glorious image below. Notice the crystal clear blue ocean, the stunning, mountainous backdrop, and the eclectic mix of architecture. This is Positano, the ultimate Italian vacation spot.
This cliffside village is situated on the Amalfi coast and has a rustic charm like no other destination in the world. Chic boutiques and cafes populate the narrow streets, just begging to be explored while the calm, still sea beckons vacationers to unwind in the basking sun. Let's take a look at some of the most luxurious things to do in Positano:
Relax on a private beach
Take a five-minute voyage across to the Da Adolfo restaurant. Make sure to take a moment to look back at the awe-inspiring view of Positano. The boat across to the restaurant has a certain charm but talk to our concierge if you desire to experience true luxury travel. 
Once you disembark, spend the afternoon eating the divine seafood dishes and stay to enjoy the luxurious peace and quiet of the restaurant's privately owned beach. Talk to our concierge about reserving deck chairs from the restaurant to maximize this moment of relaxation and tranquility.
Explore the ocean 
See the Amalfi Coast like never before in a kayak. Numerous tours embark from the Positano beaches, where a guide will help you explore the many caves and coves that form this stunning coastline.
We highly recommend the full-moon tour that is available in the Summer months. This unique experience will allow you to see the incredible spectacle of the reflection of the moon and stars in the majestic ocean. Do not hesitate to contact our concierge team to arrange this magical experience for your vacation.
---
Mae Nam is located on the beautiful island of Koh Samui and is one of the most spectacular beaches you are likely to see in your lifetime. The beautiful 7km stretch of sand is bordered by a crystal clear ocean on one side and looming palm trees on the other, making this a truly idyllic spot to soak in the sun.
Offering a mixture of optimal relaxation and adrenaline-filled activities, this is the perfect getaway guaranteed to suit all tastes. 
We want to provide you with our expert insight about the must-do luxury activitives and experiences. Take a look below for our unforgettable suggestions. 
Zipline across the jungle
For the adrenaline junkies in your group there will be no greater thrill than zooming across the tropical treetops of Koh Samui. 
Samui Canopy Adventure is our go-to choice for a zipline experience, where you will face speeds of 80 km/h as you soar past waterfalls and lush vegetation. Ask our concierge to book your once-in-a-lifetime journey through the jungle skyline now.
Scuba dive in a national park 
Head on a boat towards the Angthong National Marine Park, where you can either snorkel or scuba dive with the incredible sea life found under the waves. Our concierge is dedicated to finding you the best luxury travel to the most sensational diving destinations the region has to offer.
Some of the biodiversity you are likely to encounter under the turquoise sea are: butterflyfish, turtles, angelfish, parrotfish, barracuda, stingrays, black tip sharks, grouper, sea snakes, and much more.
Marvel at the Tan Rua waterfall
We want to share with you an incredible secret, the Tan Rua waterfall is absolutely breathtaking. Encased in tall trees and rugged terrain, this prestigious natural wonder is often referred to as The Secret Falls due to the difficulty of finding it.
However, our team knows the local area incredibly well and can advise the best route to this secretive location. Once there, you can spend time relaxing near the cascading falls or even bathe in the natural pond that is formed underneath.
---
Other dream destinations to consider
While this is our selection of the best luxury vacation ideas, it is undeniable that there are many other dream destinations that could be of interest to our clientele. Below is a list of honorable mentions of our must-visit locales:
If any of these vacation spots sound alluring, check out the villas we offer in each country.
---
Conclusion
We hope we have tantalized you with our selection of the five very best luxury vacation ideas and found your next must-visit locale.
While you may be tempted to stay in a luxury hotel or deluxe bungalow on your dream vacation, we can personally guarantee that no stay will be as memorable as one of our exceptional villas. 
From all of us here at the Exceptional Villa team, we look forward to greeting you on your next luxury vacation.
Do not delay, talk to our incredible sales team today to talk about organizing your next luxury vacation now.