Mexico is a gorgeous country, filled with a rich variety of opportunities. Despite crime rates decreasing in popular tourist areas, there's still a lot of apprehension about vacationing here. However, it's still possible to have a fun and, more importantly, safe time. 
So don't worry. To put your minds at ease, we've compiled a list of some of the safest places across all of Mexico. That way you, too, can enjoy some much deserved time in the sun, and relax in one of our many exotic villa rentals during your stay. 
East of Mexico
2. Riviera Maya – Something for everyone
3. Mérida – A thousand years of history
West of Mexico
4. Los Cabos – Pacific beaches impossible to miss
5. Puerto Vallarta and Punta Mita – Mountains and sunsets
Central Mexico
6. Mexico City – Culture at your fingertips
7. San Miguel de Allende – A home away from home
---
East of Mexico
1. Cancun – A resort paradise
We start in the Northeast of the Yucatán Peninsula. Overlooking the stunning Caribbean coast of Mexico sits Cancun, basking in the sunlight. Beyond that, just out of sight to the naked eye, is Cuba.
In 2022, Cancun saw around 30 million arrivals. Year after year, it remains top of the list of the most visited Mexican cities, and it's easy to see why. 
If you get an opportunity to explore this extraordinary area, you can find miles of five-star luxury accommodation, known as the Hotel Zone, overlooking some of the most perfect beaches in North America. This six mile long strip is home to over a hundred hotels, restaurants, and entertainment attractions, making it a bustling center for tourism. It's not exactly the quietest of spots, but the all-inclusive nature and golden sands more than make up for it.
But, if you're looking for some privacy, you can check out our range of stunning villas in Cancun. This way, you have your own, dedicated hideaway to retreat to whenever you like, and incredible close-up views of the sea. 
There's always something fun to do in Cancun. Whether you wish to brave the city for a shopping spree extravaganza, jetski (or even jet-pack), or step back in time with a visit to the Mayan temple, Las Ruinas del Rey, you're sure to find something that suits everyone in the family. 
Safety and enjoyment
The party reputation that Cancun historically had has become tamer. Gone are the heady days of Spring Breakers washing over Cancun like a giddy tide. The big club scene is contained in a few specific areas, so the lively party goers can still unleash their energy at clubs like Coco Bongo. But this also leaves lots of space to honeymooners and family vacationers who want to enjoy a fun holiday without too much "boom-boom".
In recent years, the Mexican Government has been making more of a certified push to keep the area safe for tourists. Despite the city's previous issue with organized crime, rates have now decreased, making Cancun as safe to travel to as any other major tourist destination. Traveling always comes with risks; it's important to stay vigilant wherever you go. But there's now significantly less reason to worry than there was ten or twenty years ago. 
---
2. Riviera Maya – Something for everyone
This 80-mile stretch of white-sand beaches in the state of Quintana Roo looks like a painting come to life. Starting just south of Cancun at Puerto Morelos and curling down the coastline to Punta Allen, the Riviera Maya is a sight you don't want to miss. 
One of the most popular destinations along this sprawl of beaches is Playa del Carmen. Affectionately known by the locals as Playa, this fishing-village-turned-tourist-paradise is a prime spot for scuba-diving and swimming due to the gorgeous coral reef within the Cozumel Channel. It's also a favorite spot amongst the digital nomads community due to the notoriously fast wifi and plethora of resources. 
Meanwhile, we have many gorgeous locations for you to stay in in this area, making for a romantic getaway, or a quiet spot to spend time with loved ones. 
Then, not even 14 miles down the road, you'll find yourself in the small town of Puerto Aventuras. This gated community is probably as safe as you can get in all of Mexico, due to their controlled access points and 24/7 security. 
From there, you're only moments away from some beautiful beaches, and what is considered one of the best yacht marinas around. Charter a yacht (if you haven't brought your own!) or take a guided tour of the Riviera, with dinner served by a private chef as the sun sinks below the horizon. 
Safety and enjoyment
Given the sheer size of the Riviera, the severity of crime will range from city to city. However, common sense and an awareness of frequent scams will help you stay safe and make the most of what this stunning part of the world has to offer. 
It is certainly worth mentioning that, whilst the risk of violent crime is low, the Riviera sits near the ridge of the Caribbean tectonic plate, which increases the risks of seismic activity. This isn't necessarily something to worry about – Mexico experiences tremors almost every day, most of which go completely unnoticed. Also take into consideration the hurricane season, which occurs from June to November. 
---
3. Mérida – A thousand years of history
But perhaps lounging by the beach every day isn't exactly to your tastes. Perhaps you've come for adventure. Discovery. A trip to the sea would be nice, but that's not the main attraction for you. 
In that case, you'll feel right at home in Mérida. 
Not only is the city home to a colorful range of colonial architecture (making for some fantastic photo-opportunities), it also boasts one of the oldest cathedrals in the Americas, San Ildefonso, built during the sixteenth century.
Still too modern for you? Then step back even further and take a day-trip to explore the ancient Mayan ruins of Chichén-Itzá and Uxmal, both of which are not only UNESCO world heritage sites, but the greatest archaeological sites in all of Mexico. These towering pyramids, both of which are well over one thousand years old, are a must-see for anyone in the area.
Still not enough? Don't worry, we have just the thing. 
Surrounding Merida in every direction is the 66 million year old Ring of Cenotes. If you're looking for historically significant sites, then this one takes the cake. These wonders came about as a result of the asteroid that caused the extinction of the dinosaurs. And now, millions of years later, these natural sinkholes have become tropical, subterranean lagoons that stretch all the way across Yucatan. 
Whilst you're visiting Chichén-Itzá, why not stop in at Valladolid to visit Cenote Suytun? You've almost certainly seen images of this cenote before, due to the iconic circular platform that extends out into the water. It's clear to see why these areas were revered by the Maya people, who believed them to be sacred wells.
Safety and enjoyment
On the whole, Mérida is one of the safest cities in Mexico. Of course, there are always petty crime issues when it comes to crowded areas like marketplaces and bazaars, but incidents of violent crime are rare, especially when it comes to situations involving tourists. 
When exploring, there are, of course, general health and safety recommendations that apply. Some of the cenotes can be quite challenging to visit, and you may find yourself faced with a scam when it comes to gaining access. It's important to do your research before you visit a location, such as normal entry prices, to avoid these incidents.
---
West of Mexico
4. Los Cabos – Pacific beaches impossible to miss
Now let's switch sides, and take a look at the west coast of Mexico.
Some of you may feel committed to the whole Caribbean Mexican experience. We don't blame you. But there are others who believe that the Pacific coast of Mexico is where true perfection exists. 
Our advice? Try both coasts – and then pop into the hinterland to complete the full impression.  Once you've started your voyage of discovery through Mexico, it's one of those relationships that develops and evolves with each trip.
If you have made the decision to visit Los Cabos, then you can expect a stunning destination that comprises the two towns of Cabo San Lucas and San Jose del Cabo with a corridor of 20 magnificent miles of Pacific beachfront. You will see a lot of A-list Hollywood stars mingle with world leaders and just lucky folks like you and me, along this beautiful coast.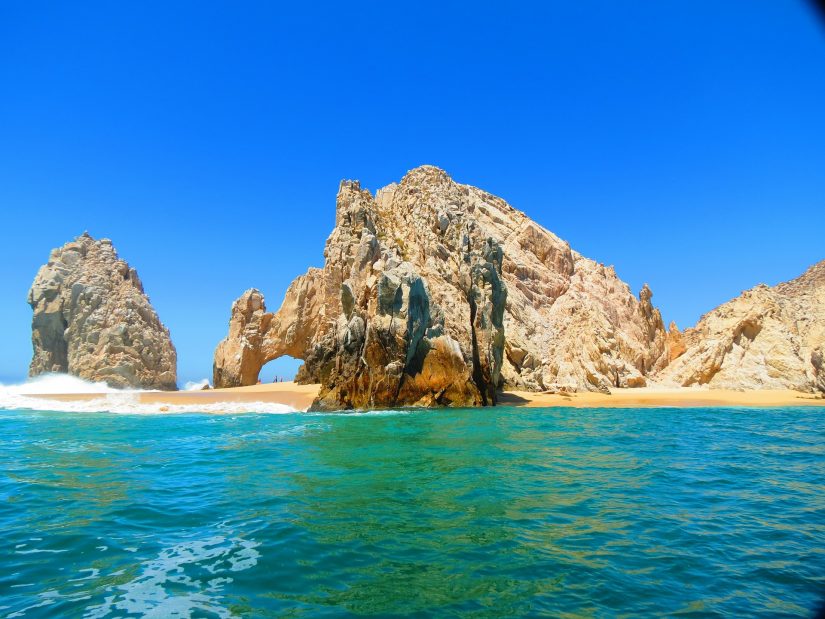 These idyllic beach towns are located at the very tip of the Baja California Sur, the southern half of the large Baja California peninsula which extends down from just under San Diego. 
We recommend taking the time to do some snorkeling, maybe even some diving, and enjoy the rich variety of wildlife. Here's an idea of what you can expect to find swimming around with you.
Manta Rays

– during the summer months, you can expect to see hundreds of thousands of manta rays congregating for their mating season

Seals

– it's possible to find all four types of sea lion around Cabo

Turtles

– turtle nesting season begins in May, so you can expect to see huge numbers of baby turtles kicking their way through the sand to reach the Pacific 

Whale sharks

– don't worry, whale sharks are a famously docile species, and, for just over $100, you can snorkel with them

Whales

– humpbacks, orcas, blues and grays; they all seem to love the Baja California around the late fall to early spring season
With many beautiful fully-serviced villas, like Casa Alcini, as well as gated-resorts, this is the destination of choice for travelers who want luxury, high-end service in a safe and serene setting. It's a place to truly relax with your group or family enjoying an action-packed day of activities followed by a private dinner on your own terrace overlooking the ocean. And you're never far away from the action.
Los Cabos is very much what you make of it. Whether you'd prefer a laid-back stay watching the whales go by, or an energetic night out on the town, rubbing shoulders with celebrities in some of the most exclusive party spots, tequila in hand, the choice is yours.
Safety and enjoyment
Generally, this popular tourist destination is a safe place for all things fun.
When it comes to safety around wild animals, always keep your wits about you. Remember that any wildlife can be temperamental, so don't approach them. If they are feeling inquisitive and decide to come up to you first, remain calm and don't startle them. Always swim in pairs or groups so that you can look out for one another in case something happens.
---
5. Puerto Vallarta and Punta Mita – Mountains and sunsets
Further south from Los Cabos is the very different town of Puerto Vallarta, part of the state of Jalisco. This attractive resort town, set back against a dramatic backdrop of rolling hills and forested mountains, is the perfect place to visit if you enjoy heading off the beaten path.
With sunsets taken directly from a fairy tale, come stay in one of our many exotic villas for a quieter getaway. Puerto Vallarta is an ideal location for a honeymoon or secretive getaway. Lounge on a yacht in the glorious sunshine, or take a guided hike through the leafy jungles that surround this delightful part of Mexico. 
Then, come home to one of our five-star villas, such as Azul Celeste. With the ocean to the front of you, and the jungle behind, you can easily imagine yourself on your own private island, without a care in the world. 
Or how about something a little more exclusive? 
If that's the case, less than an hour north-west of Puerto Vallarta is the heel-shaped peninsula of Punta Mita, Mexico's premier resort community. If you prefer sports such as surfing and golfing, or getting papered in luxury spas with a glass of champagne to one side, Punta Mita is absolutely the place for you. 
From here, you can take a trip up to Sayulita, just 30 minutes north. This artsy, colorful village is home to whales and dolphins alike, and is the perfect spot to get in touch with nature. From yoga classes to hippy market stalls, Sayulita is the place to let your hair down and relax. 
Safety and enjoyment
In all areas listed, safety is virtually no concern. Puerto Vallarta requires the most amount of diligence out of the three, due to the potential for scams because of how many tourist opportunities there are. But double check everything before you set off somewhere, and you'll be fine. 
---
Central Mexico
6. Mexico City – Culture at your fingertips
Now, hear us out. I know this may not be your immediate idea of a safe Mexican destination, but it is possible to have a perfectly pleasant time in the country's capital. 
The historic center of Mexico City, The Zócalo, is the largest plaza in Latin America, and used to be the ceremonial center of the Aztec city of Tenochtitlan. And the history doesn't stop there. Mexico City might be one of the most densely populated cities of Northern America, but its central area is a pedestrian profusion of old Colonial buildings ranging in age from the 1600s to the 1900s.
This is the place to go if you're looking for museums and galleries, and includes some iconic spots, such as Frida Kahlo's studio. Or, perhaps you're in the mood for a bite to eat. Well, there are cafes and restaurants galore, offering a wide variety of authentic foods and experiences; you won't find better tacos anywhere. Our recommendation is Los Cocuyos, one of the most famous taquerías in the downtown area due to their incredible food, 24-hour service, and possibly the fact that there is no seating around. 
Another benefit of visiting a central spot is that you're always in reach of other interesting areas. For example, 2 hours to the south is Puebla city, the fifth largest city in Mexico and famous for their Renaissance-era cathedral and amazing pottery. Then, 3 hours north is Santiago de Querétaro, noted as being one of the prettiest cities in Mexico. 
There are plenty of opportunities for day trips all around central Mexico if this is where you'd like to stay for a while!
Safety and enjoyment
Any capital city is likely to have the most amount of problems in a given area. It's important that, whilst you take in the gorgeous sights of the city, you stick to tourist and residential areas, and don't go wandering off. If you keep close to these spots, then you should be as safe as if you were in the main thoroughfares of any large US city. 
The risk of violence is higher than in other spots on this list, but read our tips for staying safe on vacation below to find out more about how you can protect yourself and your loved ones. 
And, whilst the night life may be appealing, stick to the areas you know and certainly don't explore in the dark. 
---
7. San Miguel de Allende – A home away from home
Named by CEOWorld Magazine in 2021 as the best small city in Mexico, San Miguel de Allende is an immensely popular destination for expats. 
Nestled to the east of Guanajuato state, San Miguel boasts a polite but lively nightlife, filled with rooftop bars and cocktail clubs, making it the perfect scene for people wanting to let-loose for a while. Then, in the daylight, picture yourself roaming the streets in the 16th century, with all the pleasantries of the modern day.
The food in San Miguel is worth the trip all by itself. If you're looking to properly immerse yourself in Mexican cuisine and culture, there are few places better suited for the task than here. If you're looking for a meal with a view, try Zumo. This fine-dining, first-class restaurant provides a perfect view of the city, and we'd thoroughly recommend their pulpo a la Gallega (Galician Octopus with a zingy finish). But everything they offer is divine, perfect for any refined palette. 
Safety and enjoyment
San Miguel is a pretty unproblematic area in terms of safety. A police presence lessens the risk of crime, and the streets are well lit after dark, creating a lovely warm glow even once the sun has set. So, whether you're a solo traveler, a family, or a group of friends on a stroll in the evening, you can be confident that no harm will come to you.  
How to be safe on vacation
The key question really for anyone contemplating a vacation is "How safe will I be?"  Of course, what constitutes a 'safe' holiday can mean different things to different people.  If you are a family group, a single female traveler, an intrepid group of young explorers or seniors on tour, the concept of safety will vary.
Wherever you go, you're likely to run into the same set of problems. Instances of petty crimes such as pickpocketing and scams are a world-wide issue. Main concerns with traveling to Mexico are to do with drug cartel related violence: homicides, terrorism, or drug abuse. But, by keeping to the areas we've listed, you can avoid the vast majority of these concerns.
Here are a few basic tips and tricks to bare in mind:
Always take out travel insurance.

This one almost goes without saying. Wherever you go in the world, always insure your personal belongings, and yourself. Even without the potential risk of violent crime, accidents can happen anywhere in the world. All it takes is one break-in, one moment of forgetting your bag in the back of a car, and you can find yourself without your phone or your wallet. You want to have a safety net just in case. 

Keep valuables hidden, to a minimum, or both.

There's a time and a place for displaying your wealth. Walking around the streets of Mexico City probably isn't it. Don't make yourself a target by showcasing all of the expensive, designer jewelry you have. Save that for personal nights with loved ones, partying on the veranda of your private villa.

Have your most important belongings in the bottom of your bag.

In a similar vein, don't make your belongings easy to snatch. If you need to walk around with your passport, keep it at the bottom of your bag so it can't be pick-pocketed as you walk through a crowded area. You're far more likely to feel someone's hand in your bag if they've got to fight their way under a beach towel.

Stay somewhere with good security.

The best type of security is staying somewhere with very low rates of crime. But that's not always an option. If you're worried about security, look for somewhere like a gated commune with night patrols and CCTV. Our villas come with 24/7 security, and a

dedicated concierge team

who are committed to your happiness and safety. 

Use common sense.

You know the risks of traveling. So don't take unnecessary chances. There's such a thing as gut instinct: listen to it. If you feel something is wrong, turn around and go back. 

Take verified forms of travel.

A lot of issues can arise from flagging down a taxi. A frequent scam involves dispute over the travel fare, whereby the price at the end of the journey is considerably more expensive than the mentioned price at the beginning. If you're forced to take a taxi, always confirm exactly how much something will cost. Better yet, use Uber or Lyft services to take you from A to B, as these are far more reliable. 

Don't dress like a tourist.

This may cause some confusion, but it makes a big difference. Take a look at what the locals (particularly the expats) are wearing to make it easier to blend in. You'll draw less attention to yourselves as a result, and, as an added bonus, it can help you immerse yourself more in Mexican culture. 

Always share your travel plans with the group.

When traveling together, make sure you all know where you're all going if you want to split up. Arrange a rendezvous point, and keep in contact. This will let you know almost immediately if something has gone wrong and you need to find help.
Things to know about Mexico
Mexico is a stunningly diverse country, with a rich, fascinating history to explore. Here are a few key facts to know about Mexico before you go. 
Mexico is the 14th largest country in the world, composed of 31 states

It is the 10th largest country by population size

It covers a territory that reaches from the Pacific Ocean across to the Caribbean and the Gulf of Mexico

It borders the USA, Guatemala, and Belize

Over 90% of the population of Mexico speak Spanish, but only around 12% of the population speaks English

The American Dollar is about 19 times stronger than the Mexican Peso, meaning $1000 UDS will get you $19,000+ pesos
A history of corruption and drug cartel violence have left an undeniable impact across the country. However, there is still an immense amount of beauty to discover, and crime, when it occurs, is often kept to a few select pockets that you can easily avoid. 
Getting to Mexico
Tens of millions of people come to Mexico each year, and this figure is forecast to increase quite dramatically in the future. It remains the most popular destination for American tourists, which is no surprise considering Miami is only two hours away from Cancun. The same can be said about LA to Los Cabos. Even from further afield, you can get direct flights from both New York and Altlanta to Cancun. 
And that's without mentioning the accessibility of exclusive modes of transport, such as a private jet charter. Alternatively, there's always the option to cruise in. It would be a breeze to take a yacht from America across the Gulf of Mexico to Cancun, or down the Riviera Maya. 
Whilst you always have the option to drive down to your destination if you're looking for a road trip, it's certainly not our suggested method of making your way through the Mexican states. 
Conclusion
There are many, many more cities and hidden gems that we've missed from this list, but we hope this has been enough to satiate your appetite for a while, at least. A few honorable mentions include Tulum, Oaxaca city (where you can get some of the finest coffee in the world), and Chiapas, which sits right on the border with Guatemala, a city set against vast jungles, cascading waterfalls, and dotted with Mayan history. 
There will always be a certain amount of crime in any tourist destination, but you can off-set the risk-factors by using the same logic you would use anywhere in the world. The media will always focus on the worst of news. The old saying 'If it bleeds it leads' is a media tenet that endlessly puts the most alarming news onto our screens. It's a pity that all of the fabulous news stories about heavenly Mexico aren't part of the narrative.
So, if we've managed to convince you, what are you waiting for? We promise you won't regret your decision. As you sit on the terrace of a luxurious villa, overlooking a turquoise ocean, dining on authentic Mexican fayre with a chilled margarita to hand, the only question you will have is: "Why didn't I visit Mexico sooner?"
If you're interested in spending a vacation in Mexico that you'll never forget, contact our sales team who will help talk you through all of the options we have available. We hope to see you soon!
About Mairead Moriarty
Born and raised in Co Kerry, lived in London, New York, San Francisco, Dublin. Owner of one very battered suitcase, a well-worn passport and a million memories.
It seems very fitting for a travel writer that my surname translates as 'Skilled Navigator'. Apart from an occasion when, aged 3, I got lost in a Supermarket in Tralee, I have managed to live up to my name!
Curiosity is probably the driver that has sent me on magical mystery tours around the world. I want to 'feel' a place. I want all my senses to be engaged: from the history and geography that has influenced a country or city, the arts and achievements of its natives, anything and everything really.
Regardless of whether I am on a local train travelling through Morocco, or poking around in Marconi's study in Bologna or on a canal boat weaving through the heart of the English countryside, the same rules apply - ask questions, talk to locals, eat what they eat, sit quietly with nature and simply be.
Assimilate as much as is possible so as to understand the soul of a place. That is my passion. That is the compass by which I navigate.