Mexico is vast.  It is a country of 31 states and if you view a map of Mexico beaches you will see they occupy positions on the coastlines that greet the Pacific, the Caribbean, the Gulfs of both Mexico and California.  As you can imagine, trying to identify the best beaches in Mexico is a challenge – there are so many.    So, let's start our tour of this great country, focusing on some of the top Mexico beach destinations.
Everything you require from a vacation – good weather, beautiful scenery, golf courses, water sports, jungle exploration, history, party nights, shopping, outstanding restaurants, luxury Mexican Villas for rent …. It's all here and so much more.  Mexico has been charming visitors for a very long time and the warmth of the people and the spirit of the country continue to captivate to this day.  The back-bone of any great vacation though is the beach.  Even if you don't dive into the great big blue each day, it's lovely having its murmur as a backdrop to every perfect day.
---
Introduction – Best Beaches in Mexico
I must confess to having some guilty pleasures … well, more than some, to be honest.  In addition to my terrible weakness for pizza (only the freshest out of a clay oven on the Amalfi coast, of course) or deep fried 'anything' from some of the fabulous islands of the Caribbean, I spend a lot of time trawling through those celebrity magazines.  What trip to the hair salon would be complete without this?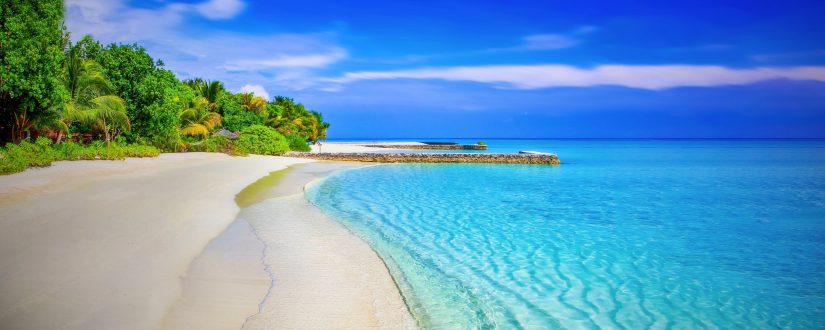 What seems to appear time and time again, as I flick through these glossy magazines, are picture-perfect images of some happy celebrities enjoying a blissful vacation on one of the beautiful beaches in Mexico.
The photographs are probably the work of paparazzi, but the backdrop is always the same:  turquoise waters, white sandy beaches, some impossibly perfect celebrity paddle-boarding against a limitless horizon.  Having been to Mexico, I can truly state that the pictures don't lie … in fact, they perhaps undersell the whole experience because until you are there in person, walking along that heavenly beach, you cannot really appreciate the blissful aroma of the ocean, the feel of the warm breeze against your face and the warmth of the sun that unravels all of those horrible knots that seem to congregate across your shoulders.
Mexico has hundreds of miles of coastline with beautiful beaches at every turn each one unique in its geography.
---
THE CARIBBEAN COAST
Cancun
Let's start with one of the very best Mexican resort towns.  Cancun is a town or small city of two parts.  The Zona Hotelera or the  Down Town area.  The Hotel Zone is an incredible 13 mile stretch of white sandy splendour.  It is a huge sandbar that has become home to some fabulous hotels and resorts.  The great Mesoamerican Reef is just off shore and is home to numerous species of fish and over 100 coral species.  A divers' and snorkellers' paradise!  The beach itself, is a lively destination.  Whether you are staying at one of the hotels overlooking the Caribbean or just visiting for the day, you will find everything you might need to add to your holiday pleasure.
Water sport equipment can be rented, delicious lunches or dinner can be enjoyed on open terraces overlooking the beach, as well as some shopping or just lazing around on a beach lounger watching the world go by – only a few of the things to do in Cancun.
The old school Cancun experience that saw thousands of Spring Breakers descend on this destination has really eased up.  The Cancun Mexico beach blow-out has given way to a more sophisticated and mature holiday.  There are clubs that cater to the fun-young brigades, but these are well-regulated allowing the majority of holiday makers to enjoy the beauty of Cancun and enjoy everything it has to offer.
Playa Norte
This fabulous beach is located on Isla Mujeres a pretty island located off the coast of Cancun.  Its famous for its white sand and warm blue waters.   It's a romantic day out for any couple or a brilliant day for a family who like a lively day on a spectacular beach.  With lovely beach side restaurants and bars, it is a popular daytrip from Cancun.  Isla Mujeres literally translates as Island of Women but I can assure you that all genders are welcome!
Puerto Morelos Beach
Moving further south from Cancun is one of Mexico's prettiest resort towns.  Puerto Morelos has all of the charm of old-world Mexico and the traditional fishing village atmosphere can still be felt here.  This is undoubtedly one of the best beach towns in Mexico if you want a quieter seaside experience.  At only 20 minutes from Cancun, it is easy to get to and might make a lovely day trip for you and your group.
Playa del Carmen
This sophisticated beach town only an hour from Cancun is known colloquially as Playa.  Again, perched on the edge of the beautiful Caribbean, this gorgeous town is within an area of Mexico called the Riviera Maya.  This area is a wide sweep of coastline that starts around Cancun and finishes just north of Mexico's border with Guatemala, holding a plethora of things to do in Riviera Maya.
Playa is one of the best Mexico resort town with some fabulous villas and resorts for those who want to enjoy a glamorous vacation in lovely surroundings.  Exceptional Villas has been representing properties across Mexico and our Playa villas are always incredible popular.
If you love nothing more than checking into a Beach Club for a day of indulgence by the ocean, my favourite destination in Playa is Mamitas Beach Club.  It's glamorous and casual chic.  You can enjoy the cool vibe of the DJ spinning some top tunes as you enjoy cocktails and delicious food brought direct to your shaded lounger.  It's one of the best people-watching places along Playa so an ideal destination if you love to see and be seen! For more information see our Playa del Carmen Blog.
Playacar Beach
Playacar beach is a pristine stretch of beach located in the residential area of Playa.  It has gently swaying palm trees that offer shade to those lucky guests who make their way to this quiet out-of-the-way beach.  The council who manage this beach keep it free of seaweed and stones, so it is a joy for little children who want to crawl around and be at one with nature.
If you are lucky enough to be staying at one of the exclusive playa del carmen villas for rent, you can make your way onto this beach each morning to start or end your day with a refreshing swim or jog.  Most of our villas in Playacar have direct beach access, so it is an ideal location for families who enjoy dividing their time between a private villa pool and the vast Caribbean.
Coco Reef
In Playa you can certainly enjoy one of the most beautiful beaches in mexico.  Its popularity has been helped by the fact it has a number of terrific beaches from which to choose.  I think my personal favourite as to be Coco Reef.  With no restaurants or bars, it gives visitors a quiet and charming beach destination without the drama experienced on some of the other busier beaches.
If you are organised and take water and snacks as well as your swimming and snorkelling gear, you can enjoy a leisurely day along one of the quieter stretches of the Caribbean coastline.  For any of your lucky honeymooners, the tranquillity of Coco Reef beach is blissful.  A quiet day away from the margarita rush of some of the busier beaches might be just what you need to reset your romance meters!
Parque Fundadores
Parque Fundadores is the most famous beach in Playa del Carmen.  It has a very memorable architectural arch that frames the entrance to this public beach.  Locals and tourists enjoy the sea and sunbathe and swim side by side.  It is particularly hectic at weekends but full of the colourful sights and sounds you might expect to see along any stretch of Mexico coast.
For some more upbeat and fun-filled mexico beach destinations, visit Parque Fundadores in Playa Del Carmen
Parque Fundadores is bursting with vibrant colors and lined in palm trees along this tropical sun soaked beach.
---
THE PACIFIC COAST
Cabo
When travellers say they are going to Cabo what they mean is they are visiting the Mexican resort towns of Cabo San Lucas and San Jose del Cabo.  These two large resort towns are linked by a famous 20-mile Tourist Corridor that offers five star villa accommodations, spectacular gated resorts, restaurants and of course some of the most beautiful Mexico beach destinations.
Playa del Amor and Playa El Medano
At the very tip of the Baja California peninsula, stretching along the Sea of Cortez and the Pacific coast is a popular tourist destination for holding some of the best beaches in Mexico.  Cabo San Lucas is the buzzier of the two towns and has a fabulous marina and lively nightlife.  All of this in addition to golf, scuba diving, deep sea fishing, sailing and all the other expected holiday activities.  San Jose del Cabo is much more laid back.
Again, it has some wonderful world-class restaurants and an old 18th Century Mission, Parroquia San Jose but the vibe along the beautiful beaches of Playa del Amor and Playa El Medano is a lot less frenetic than say Cancun.
Pescadero
Take a boat trip northwards from Cabo to Todos Santos, a gorgeous artists' colony along the coast from Cabo and try your hand at some surfing on the beach at Pescadero.
Puerto Vallarta
There's something rather special about Puerto Vallarta – one of the best places in Mexico.  It was the favourite destination of some of Hollywood's elite back in the 1950s.  Elizabeth Taylor, Richard Burton, John Huston were all lured to Mexico to this gorgeous destination.  It has changed in the intervening years.  It is certainly more geared up for visitors who like a certain level of luxury and comfort in their accommodations.
The rolling coastal hills that surround this town, keep it from spreading too much.  The white buildings with the golden orange tiled roofs, make it one of the loveliest towns to view from the water.
With an abundance of Puerto Vallarta villas like Villa Bahia, Mexico can offer all of the wonderful activities to its guests.  All manner of water sports, hiking, picnics, sailing – there's plenty to keep an active group happy.  If you simply want to lie in a hammock and nod off between chapters, we have the perfect terrace with unimpeded Pacific views waiting for your tired old bones.  There's nothing quite like that relaxed feeling of listening to the sound of the ocean as you unwind in your own private and luxurious villa haven.
Punta Mita
If it's exclusivity and tranquillity you're searching for then Punta Mita, a 1,500 acre private peninsula just north of Puerto Vallarta might be the choice for you.  With two Punta Mita golf course by Jack Nicklaus, stunning villas, beautiful restaurants, spas and a Pacific coastline of breath-taking perfection, it's hard to find anything to complain about in this Mexican paradise.
This private enclave is on the same latitude as the Hawaiian islands so enjoys a similar temperate climate.  But with the distinct advantage of being a mere 25 miles from the Puerta Vallarta International Airport.  It's not a long or complicated flight to get to Punta Mita but it feels like you have stepped into a world apart.
The beaches that surround the resort hotels and villa communities that enjoy privacy on this small land promontory are noted for their perfection and cleanliness.  The waters are clear and suited to anyone who wants to indulge in some paddle-boarding, snorkelling or diving.
This award-winning destination has been voted not just one of the best places to visit in Mexico but one of the best places to visit in the Americas.   You can be assured of seeing more than one famous face as you enjoy the amenities at Punta Mita.  For the ultimate in Mexico beach destinations, the fabulous Punta Mita wins, hands down.
---
Conclusion
The level of luxury, the exclusivity, the Exceptional Villas signature service all combine to create the idyllic vacation of your dreams.  It's no surprise to read that we've been creating bespoke vacation experiences for our client for decades all over the world.  We have first-hand knowledge of each region of Mexico and can build the best vacation for you on either the Caribbean or Pacific coastlines.
The best beaches in Mexico have lured visitors for decades.  Long before the beautiful resorts and exclusive villas sprung up, the Caribbean and Pacific coasts of this incredible country have offered unparalleled perfection to anyone lucky enough to visit.  The profusion of hotels, luxury all-inclusive resorts, glamorous gated communities and unique villas offer everyone the ideal nest from which to explore the beauty of this great country – your only struggle will be to decide where is best for you!
About Mairead Moriarty
Born and raised in Co Kerry, lived in London, New York, San Francisco, Dublin. Owner of one very battered suitcase, a well-worn passport and a million memories.
It seems very fitting for a travel writer that my surname translates as 'Skilled Navigator'. Apart from an occasion when, aged 3, I got lost in a Supermarket in Tralee, I have managed to live up to my name!
Curiosity is probably the driver that has sent me on magical mystery tours around the world. I want to 'feel' a place. I want all my senses to be engaged: from the history and geography that has influenced a country or city, the arts and achievements of its natives, anything and everything really.
Regardless of whether I am on a local train travelling through Morocco, or poking around in Marconi's study in Bologna or on a canal boat weaving through the heart of the English countryside, the same rules apply - ask questions, talk to locals, eat what they eat, sit quietly with nature and simply be.
Assimilate as much as is possible so as to understand the soul of a place. That is my passion. That is the compass by which I navigate.