Diverse, delightful, delicious, with an abundance of the freshest ingredients, Turks and Caicos restaurants weave magical dishes to please every taste.
The gorgeous group of islands that makes up Turks and Caicos is sublimely located in the temperate and lush Caribbean Sea.
Here, Exceptional Villas has the most exclusive Turks and Caicos villas that are laced throughout this tropical and captivating land. An abundance of seafood and fresh local ingredients allow the restaurants across the archipelago to create delightful dishes.
It is unusual to find a menu that doesn't have mouth-watering shellfish prepared in delicious yet simple ways or woven into a state of the art dish that is as beautiful to look at as it is to taste.  A wide range of meat dishes and lush vegetables sourced from the islands, guarantee a freshness and, in many cases, organic offerings.
---
Best Restaurants in Turks and Caicos
The islands have made a rather dramatic decision to keep all fast food chain restaurants at bay.
It doesn't mean you can't enjoy some delicious fried chicken or luscious cheese burgers but, let's just say, these dishes are less pedestrian than their mass-produced cousins found a little further north! The dining experience is only one of the reasons it is listed as one of the 17 Caribbean Destinations with Direct Flights from New York.
So, let's sail around this delightful island  and call in at some of the lovely, quirky Turks restaurants that promise a dining experience, par excellence, to you lucky visitors. It is simply one of the many incredible things to do in Turks and Caicos.
---
Providenciales
The largest of the Turks and Caicos islands and easily accessed from Parrot Cay.
---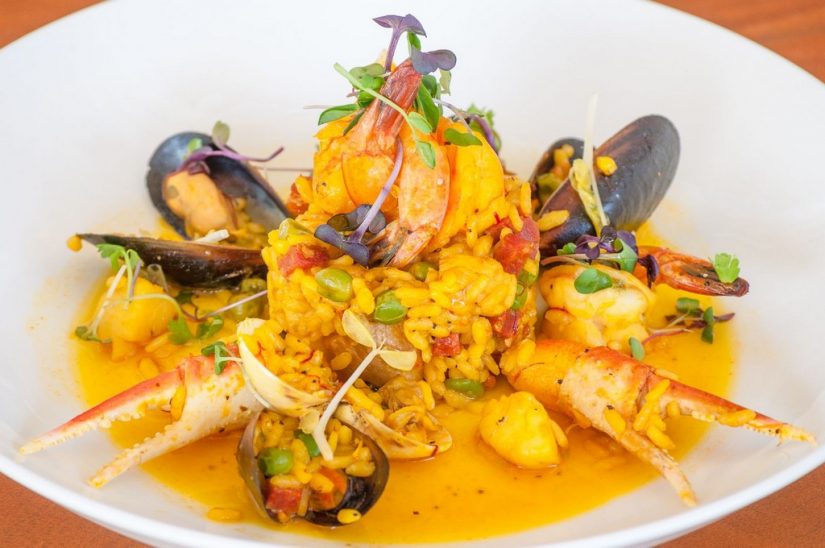 Provence
While staying in your private villa, why not venture out for some tantalizingly tasty treats.  This restaurant has an open kitchen, so you can watch as your delicious spicy Turks and Caicos cuisine is prepared with loving care by the wonderful kitchen team.  There are excellent Date Night menus for Friday and Saturday nights where, for a set price, a three-course meal of the most delicious fare is available with a house red or white.
Location:  Grace Bay Road, Providenciales
Serves:  Breakfast, Lunch, Dinner (except Monday evening) – Moderately Priced.
Cuisine:  French / Caribbean
Vibe:  Casual-Chic
Reservation essential – +1 649 339 2233
---
Read more about Turks and Caicos Resorts.
---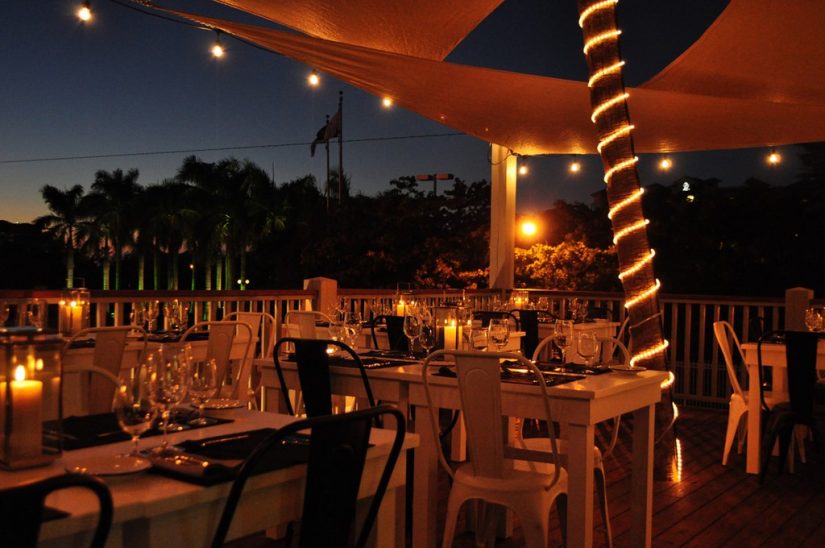 Chinson's Grill Shack
If you decided to visit Turks restaurants you simply must embrace the whole Caribbean food experience.  To be honest, most of the dishes are borrowed from other of its Caribbean neighbours.
For example, jerk from Jamaica, BBQ from Hispaniola and the conch fritters from The Bahamas.  Yet, for all this borrowed cuisine, the locals have captured the very best of these various styles of cuisine and you will be glad you took the plunge.
In most cases, the best versions of these dishes are found at street stalls or shacks.  The very best Turks and Caicos food shack is Chinson's Grill Shack.  Nothing fancy here but the food is yummy.  Goat Curry, Jerk Chicken with Rice and Peas …. it's all waiting for you.  Go early in your holiday as I bet you'll want to go again before you leave!
Location:  Leeward Highway, Providenciales
Serves: Open 7 Days – Low to Moderately Priced
Cuisine:  Authentic Caribbean
Vibe: Casual, picnic benches
No reservations required – +1 649 941 3533
---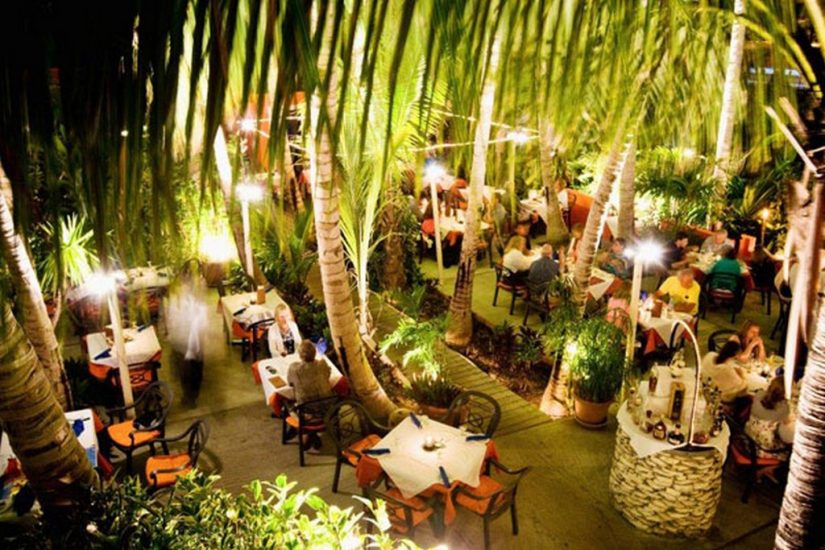 Fish Fry
Although not technically a restaurant, this is a dining experience not to be missed when you are on Turks and Caicos.
Essentially, it's the best street party you've ever attended.  With numerous food vendors selling hot and spicy Caribbean dishes or the utterly memorable Lobster Mac and Cheese (yum!), you and your family can drift around this busy market.
In addition to food, there are stalls selling handmade jewellery and scarves.  The backdrop to all this activity is the vibrant sounds of the Ripshaw musicians who set the tempo for a truly laid-back Caribbean experience.
Visitors fly and sail in from all of the other Turks and Caicos Islands for this weekly event.  As the evening winds down at 9.30pm, younger guests can join in.  Kids love the atmosphere.
Location:  Bight Park, Providenciales
Time:  5.30 to 9.30pm / Thursday ONLY
Vibe:  Party, Lively, Entertainment
---
---
Grand Turks Restaurants
The administrative capital of Turks and Caicos that wears its Colonial past on its sleeve.
---
Guanahani Restaurant and Bar
The unimpeded view over the turquoise waters of the Caribbean makes this one of the most special Turks restaurant that you can visit.  The delicious plates of food produced by the able chef are supplemented by daily specials that are well worth checking out.  Mouth-watering Coconut Shrimp or rich steaks are staples.  There are delicious brunches at the weekend and a glorious English High Tea.  The setting right on the beach is divine.
Location:  Bohio Dive Resort, Cockburn Town, Grand Turk
Serves: Brunch, Lunch, English High Tea, Dinner, Bar (with After Hours) – Low to Moderately Priced
Cuisine:  Caribbean / American
Vibe: Casual, Friendly – Beach and Sea view
No reservations required
---
South Caicos
The destination for those who want space and nature.  Bliss.
---
Triple Js Grill
The ultimate Turks and Caicos dining event if you want an authentic experience.  The BBQ ribs and hot sauce are simply the best you will find in the whole of Turks and Caicos.  This is a family run BBQ and Jerk shack.  You will feel like you've dropped into someone's backyard for some amazing home cooked treats.  This is such a popular drop-in spot on South Caicos.  Don't miss out.
Location:  Hill Grove Street, South Caicos
Serves: Dinner (Friday and Saturday only) – Low Priced
Cuisine:  BBQ / Caribbean
Vibe: Very Casual, Fun, Friendly
No reservations required – +1 649 343 7844
---
Conclusion
The restaurant scene in Turks and Caicos have grown out of a rich and diverse history.
Its nearest neighbour The Bahamas has given it the Conch that gets frittered to perfection.  Hispaniola is the origin of the smoky BBQ flavours you will find on those juicy ribs.  Jamaica has gifted the Jerk to the islands.
You might be wondering what exactly traditional Turks and Caicos food is.
Well, it's all of the above!  The wonderful and friendly people of Turks and Caicos are as diverse and colourful as the food you will enjoy.
Does it really matter where the food influences come from?  I don't think so.  What matters is freshness and taste.  The restaurants in Turks and Caicos only have to cast their nets a short distance to harvest the abundance of sea and land.
The distance between the sea and the plate is as short as you would wish to find anywhere.  Without too much pomp or ceremony, you can sit in restaurants with some of the best views in the world and feed your body and soul with the brilliance of Turks and Caicos.
If you want to learn more about this tropical haven then why not take a look at our Turks and Caicos travel guide.
About Mairead Moriarty
Born and raised in Co Kerry, lived in London, New York, San Francisco, Dublin. Owner of one very battered suitcase, a well-worn passport and a million memories. It seems very fitting for a travel writer that my surname translates as 'Skilled Navigator'. Apart from an occasion when, aged 3, I got lost in a Supermarket in Tralee, I have managed to live up to my name! Curiosity is probably the driver that has sent me on magical mystery tours around the world. I want to 'feel' a place. I want all my senses to be engaged: from the history and geography that has influenced a country or city, the arts and achievements of its natives, anything and everything really. Regardless of whether I am on a local train travelling through Morocco, or poking around in Marconi's study in Bologna or on a canal boat weaving through the heart of the English countryside, the same rules apply - ask questions, talk to locals, eat what they eat, sit quietly with nature and simply be. Assimilate as much as is possible so as to understand the soul of a place. That is my passion. That is the compass by which I navigate.