We here at Exceptional Villas like to see ourselves as the epitome of absolute and utter luxury. Whether it be a breathtaking villa nestled on the sunkissed shores of the Cayman islands or a magical castle getaway in the glorious Irish countryside, our vacations scream pure decadence.
However, it is true that no one has ever said the flight to their dream destination was the best part of a holiday. Often cramped, loud, and unnecessarily frustrating, airlines are regarded as a place of contempt for many passengers desiring sophistication and luxury. 
But here at Exceptional Villas, we wholeheartedly believe that your entire experience, from start to finish, should be filled to the brim with grandeur and glamor. With this in mind, we have created a comprehensive list of the very best long-haul business classes provided by airlines across the globe. 
| | | | |
| --- | --- | --- | --- |
| Airline | Entertainment | Food | Seating |
| British Airways | A varied catalog of entertainment that features must-watch blockbusters and binge-worthy television.  | The very best of British cuisine, including cooked breakfast and afternoon tea | Heavenly seating that prioritizes comfort, guaranteeing passengers the most luxurious flight |
| Qatar Airways | First-class entertainment delivered on the most incredible screen | Beautiful meals delivered when you want with the on-demand service | Incredibly intuitive seating that converts into a social space for up to four people |
| Air Canada | As well as standard entertainment fare, this airline provides access to live TV and newspapers | A fine-dining experience that was created by world-renowned celebrated chefs   | The comfiest seating known to man with massage functions and lumbar support |
| Virgin Atlantic | A hand-curated library of the very best entertainment with incredible additional features | High-quality food that is sure to satisfy even the pickiest of eaters | Multiple seating arrangements designed for every occasion |
| Singapore Airlines | A personalized entertainment system that saves your custom playlist for your next flight. | World-class food designed by the International Culinary Panel | Luxurious leather seat created by Poltrona Frau that converts into a deluxe bed. |
---
1. British Airways
Club World is British Airways' extravagant business class for long-haul flights.
Checking your bags at the airport can be a frustrating and unsatisfying start to your dream vacation. British Airways offers a luggage door-step pickup where your bags are collected from your home and carefully transported to the airport for check-in. This allows you to travel to the airport luggage-free and focus on the incredible memories you will make in our wonderful villas. 
The elegance truly starts upon your arrival at the airport. No more waiting in busy and loud airport gates; wait for your flight in style with British Airways lounges. These lounges provide delicious food and drink in a relaxing environment designed to make your wait a pleasure not a laborious chore.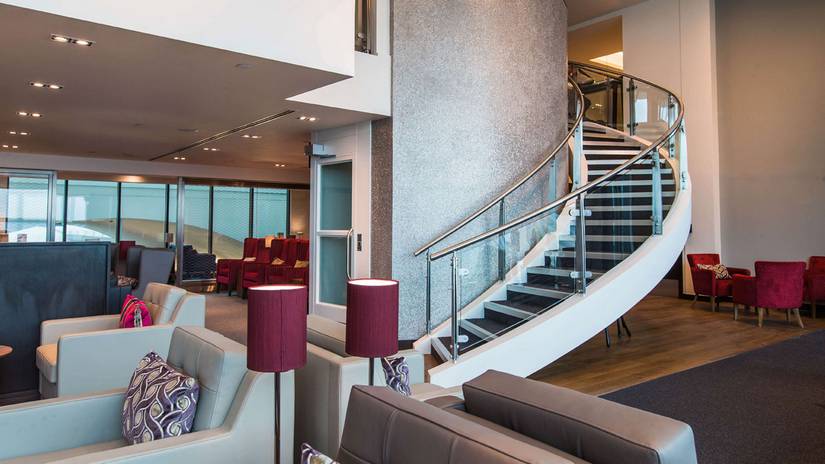 The most important aspect of any flight is the comfort of your seat, and Club World delivers this with flair. Contoured leather seats equipped with fully adjustable headrests embrace you as you soar towards your destination. When it is time to slip into a blissful sleep, convert your seat into a 183cm (6ft) bed decked out in the finest bedding, including an ultra-soft mattress topper, exquisite duvet and warm blanket. 
Each seat comes equipped with a 12" flat screen and complimentary noise-canceling headphones to maximize the enjoyment of the many types of inflight entertainment. This includes the newest films, the greatest TV series, addictive games, and must-read ebooks.
Delve into some delicious delicacies 30,000 meters in the clouds with Club World's exquisite food and drink options. Expect mouth-watering British cuisine to be served throughout your flight, including a traditional cooked breakfast that consists of heavenly eggs, crispy bacon, and sizzling sausages.
Fancy a more delicate taste of sophistication? Try the quintessentially British tradition of afternoon tea that comes with delectable finger sandwiches, scones slathered in luxurious cream and fruity jam. This truly is a meal fit for royalty.
---
2. Qatar Airways
Qatar Airways Qsuite was voted the World's Best Business Class by the Skytrax World Airline Awards. And we can certainly see why. 
Qatar Airways New Business Class: https://youtu.be/PAqBd5elC6Y
One of the key features of Qsuite that makes it the most exceptional choice of business class for families or groups is the Quad. 
This remarkable and unique design allows passengers to raise dividers to convert their individual seats into a shared social space. This means long-haul flights no longer have to be spent in solitude and isolation; your entire group can converse and enjoy each other's company.
Quad Suite: Source
From the latest cinematic masterpieces to the most binge-worthy television series, Qsuite offers a wondrous world of first-class entertainment at your very fingertips. The extensive entertainment library includes many interactive games ranging from traditional to modern classics, such as Pacman and Angry Birds. All this extraordinary entertainment is displayed on enormous 21.5 high-quality touch screens for that added splash of indulgence. 
With the most exceptional content guaranteed to keep all ages and tastes entertained, the word 'boredom' simply does not exist on a Qatar Airways flight.
What is more, Qatar Airways lovingly provides its passengers with a luxurious gift sure to be the envy of any traveler. Created by extravagant French perfumer Diptyque, guests are presented with an amenity kit that features the highest quality body and face products encased in elegantly bespoke packaging.
Experience world-class food sure to ignite your taste buds as you fly above the clouds. The airline's flexible dine-on-demand service grants passengers the freedom of choice. Choose the food you want to be delivered to you when you want it; no more waiting for set times to eat.
An example of the delectable food one can expect on a Qatar Airways flight is:
Starter: Salmon with celeriac remoulade 
Main: Braised beef cheeks with roast kipfler potatoes 
Dinner: Warmed orange semolina pudding
Once you are full from your delicious meal, it is time to pull down your dividers and convert your Quad into the ultimate mobile sleeping quarters. Slip into your complimentary sleepwear and slippers designed and manufactured by the luxurious clothing and homeware brand The White Company. And then tuck into a freshly turned-down bed with a thick quilted mattress, quality pillows, and a warm duvet for the most wonderful sleep you can have in the sky. 
---
3. Air Canada
Arriving at the airport, you will swiftly realize that Air Canada wants to make boarding a breeze for their business class passengers. 
Take a leisurely stroll to the dedicated priority check-in counters designed to fast-track the process. Here you will be greeted by Air Canada's warm and welcoming Premium Agents, who are on hand to answer any queries and make this process as personalized as possible.
The VIP treatment doesn't end there, as there are countless features exclusive to business class:
Make use of designated access lanes for security checks to bypass hectic queues

Beat the rush and board the plane first with Zone 1 boarding

Priority baggage handling guarantees your bag will be first on the luggage carousel when you touch down at your destination
Before your flight, spend some time in the luxurious and relaxing Maple Leaf Lounge's available at countless international airports. These dedicated lounges feature all the amenities to make your pre-flight experience a slice of heaven, including delicious food, complimentary WI-Fi access, and a relaxation area.
Once boarded, nestle into your spacious seat with ample legroom. Each seat comes equipped with a relaxing massage function and lumber support that will ensure you travel in maximum comfort.
When it is time to get some well-earned shut-eye, convert your seat into a luxuriously large and comfortable 203.2 cm bed. Your bed will be adorned with fresh linen, including wonderfully comfortable pillows, a warm duvet, and a soft mattress. 
Throughout the duration of the flight, the incredibly attentive crew will cater to your every whim and need. This will include a delicious meal designed by well-renowned chefs that will consist of a mouth-watering main meal served with a fresh salad followed by a rich dessert.
There will not be a single moment of boredom throughout your journey due to the incredible range of in-flight entertainment. Air Canada flights come with the standard entertainment expected with business class, including:
370+ modern blockbusters and classic movies

650+ must-watch television series

Addictive podcasts about a multitude of topics

Incredible audiobooks to cater for every interest. 

An extensive library of music featuring 150+ music albums
Each business class booking with Air Canada also includes access to over 7000 magazines and newspapers straight to your own personal device via the PressReader app. This airline is also the only Canadian airline to provide Live TV, meaning you can watch live sports events, keep up to date on the news, and watch your favorite shows. 
---
4. Virgin Atlantic
As soon as you walk onto Virgin Atlantic's Upper Class, you are handed a perfectly chilled glass of Champagne or English sparkling wine to kickstart your holiday in glorious style. This level of sophistication and elegance continues throughout the entirety of your flight. 
Settle into your very own personal pod fitted with extremely spacious seating designed to be the definition of comfort. Your pod is equipped with plenty of storage for your belongings and has the ability to charge any of your devices. When you are ready to fall into a blissful sleep, your seat will transform into a bed topped with the best-quality pillows and duvet.
If you want true luxury, then make sure to check out the newly launched Retreat Suite. Located at the front of the cabin, these are the most spacious seats Virgin Atlantic offers. These incredibly comfortable seats transform into a colossal 6ft 7" bed that is guaranteed to provide the perfect night's sleep. 
Other features included in the suite are: 
A humongous 27"  touchscreen for all your entertainment needs

State-of-the-art Bluetooth 

Wireless charging for all your devices

An ottoman that can be used as extra seating 
To ensure you secure these exclusive seats, log into the Virgin Atlantic website 14 days before your flight is scheduled.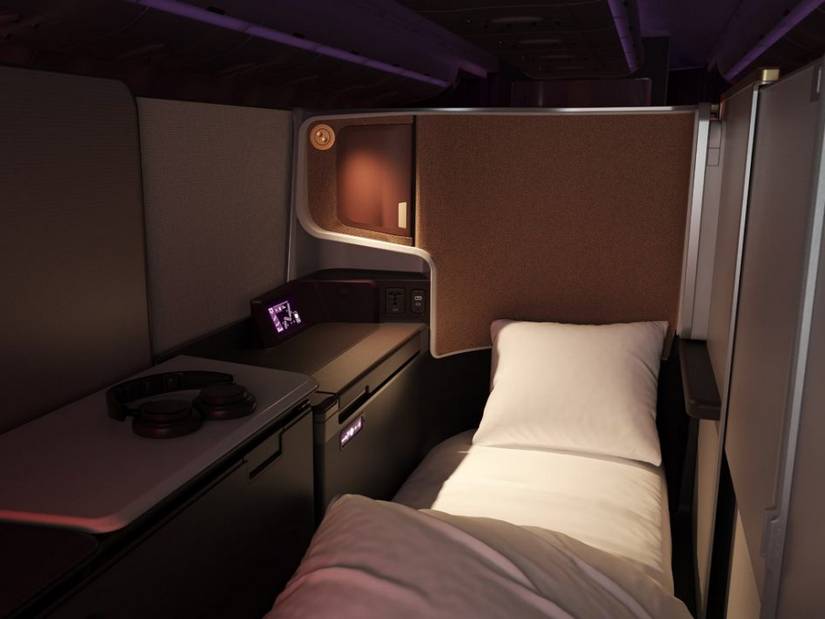 Virgin Atlantic puts a clear emphasis on socializing in their business class. Take a trip to The Bar and indulge in a world-class selection of complimentary beverages. For the gin lovers in your group, make sure to try the English Garden Gin cocktail for a refreshing taste of heaven. Take a glance at the full bar service menu below.
Want to socialize with your friends or family in style? Then look no further than your own private space, The Loft. You and three other people can live the high life in these beautifully decorated rooms.
Fitted with USB ports, wireless charging stations, and seatbelts means, you will never have to leave this sanctuary, even during turbulence. 
Beautiful dual panoramic 27″ screens that allow you to connect up to eight Bluetooth devices make this the perfect opportunity for a private film screening. Tuck into a minibar and freezer overflowing with delicious snacks that are the ideal accompaniment while watching the latest blockbuster. 
Fancy something a little more intimate? Talk to the attentive flight attendants about booking a slot at The Booth. This cozy room designed for two is decked with Scottish leather seats, a pressed wool effect table, and two 27″ screens. 
This ideal couple retreat is perfect for a: 
Romantic dinner 

Nightcap 

Wine tasting experience 

Intimate cinema experience
Are you curious about what kind of delicious delicacies you will encounter on board a Virgin Atlantic flight? Expect the incredible, with a four-course meal guaranteed to ignite your taste buds. Check out the sample meal plan below.
Do you have fussy kids in tow who may not be as susceptible to this level of culinary sophistication? You can easily pre-order a child's meal online that is more palatable for younger appetites yet still absolutely delicious.
Likewise, if anyone in your party has specific dietary requirements, then Virgin Atlantic is happy to cater to their needs. Simply book a meal online at least 24 hours in advance to enjoy on your flight. 
Vera is an in-flight entertainment system with a difference. Virgin Atlantic knows that the hundreds of hours of entertainment that numerous airlines claim to provide often consist of mediocre content. Vera handpicks only the best movies, television, and music for your enjoyment. 
Vera's other unique key features are:
Create a custom playlist from the vast entertainment library with a mere tap of a button 

Filter what younger passengers can view with parental controls 

Vera does not edit or cut movies or shows. Content can be viewed how it was meant to be seen 

Feeling stressed? Don't worry; make yourself comfortable and listen to a wide range of audio designed to help you relax
5. Singapore Airlines
Are you looking to be wooed and wowed? Then book your flight with Singapore Airlines now. 
It is important to note that the business class experience slightly varies depending on the aircraft used on your flight. We will be looking at the business-class features available on the A380. However, do not fret, as all aircraft in the Singapore Airlines fleet offer an incredible business-class experience that screams luxury. 
Sit back and relax in your hand-stitched leather seat designed by Italian-based luxury furniture maker Poltrona Frau. This heavenly seat fully reclines into a bed to provide the most wonderful sleep imaginable.  We guarantee you will find their seats so comfortable you will be ordering your furniture from their extensive catalog for your own home.
For those in the middle row, seats come fitted with adjustable personal dividers. This provides passengers with the freedom to be able to converse and socialize when they decide. Need some alone time? Simply raise the partition to create private space away from fellow travelers. 
Singapore Airlines prides itself on providing its passengers with the very best storage solutions. Hand luggage is easily tucked under the seat in front of you, while there is also ample space to store all of your appliances. While this may not sound like the most luxurious feature, it is incredibly practical and efficient. This innovative layout means that everything you need can be easily found within your cabin.
Singapore Airlines wants to create the ultimate personalized entertainment for its passengers. Their system features thousands of hours of content displayed on a gorgeous 18" touch screen.  So sit back and tune in with your complimentary noise-canceling headphones, and let the hours disappear. 
The airline is so confident you will want to fly with them again that they offer KrisFlyer as an incredible extra. This innovative system allows you to save playlists and preferences for your next flight with Singapore Airlines. To access this feature, simply create a KrisFlyer account and sign in when boarded. 
Have you ever experienced world-class dining above the clouds? If the answer is no, then Singapore Airlines is the perfect opportunity. Their 'Book The Cook' option allows travelers to preorder the most divine meals on the face of the planet. These dishes are created by an esteemed International Culinary Panel composed of several celebrated chefs who pride themselves on designing dishes that reflect their experiences and culture.
Singapore Airlines believes that a first-class dining experience involves not just spectacular food. All their meals are served on the finest porcelain from well-established Bone China supplier Narumi. While each meal is also expertly paired with champagne and wine from the most prestigious vineyards across the globe. 
Conclusion
That concludes our choices of the best business classes that airlines worldwide have to offer.
However, it is important to remember that most airlines provide exceptional business-class experiences with unique features. For further guidance, do not hesitate to contact us so our attentive concierge can help arrange the perfect flight to kickstart your dream vacation in style. Talk to our sales teams today to start planning.
From all of us here at Exceptional Villas, have a fantastic flight, and we cannot wait to see you on the other side.
About Aileen O'Shea
Aileen is a Marketing Assistant at Exceptional Villas and is passionate about travel. At Exceptional Villas, Aileen is responsible for creating content on our website and social media. Aileen is currently studying a bachelor's degree in Journalism and New Media at the University of Limerick and loves creative writing and also the practical side of her degree, such as photography, film making and editing. She is also travelling to Barcelona next year for six months where she will further her studies in Pompeu Fabra University. Aileen also has a love of photography and is lucky that her university degree incorporates this. She never goes anywhere without her camera. She loves creating content and experiencing life through a lens. Aileen has had a passion for travel since a young age and loves to jet off any chance she gets. Her personal favourite places to travel include Italy, Israel, Dubai and Spain.