A family vacation should be the time for reconnecting with your loved ones, moving away from the mundane, and experiencing things you've always wanted to. But with so many incredible destinations all over the world, it can be hard to choose what's right for you. 
Fortunately, we've compiled a list of some of the best family-friendly resorts and villas from across the world, so you can be certain that you'll find something for everyone to enjoy. 
5 things to consider 
Vacations can take you anywhere, and offer an unlimited number of opportunities. So, before going all-in, you need to know what type of experience you're looking for. 
Here are 5 factors to consider to make the most out of your holiday.
---
1. What type of climate do I want to go to?
When you already live in a warm climate, it can be nice to get away from it and go somewhere cooler, and vice versa. You need to consider the time of year in both the country you're leaving and the one you're going to, especially when crossing the equator line. 
Always be certain to check the weather and seasonal changes before committing to a booking. If you're traveling to somewhere like the Caribbean, make sure you're considerate of when hurricane season is. You don't want your luxury time away to be ruined by horrendous weather.
---
2. What sort of accommodation do I want to stay in?
When looking at luxury accommodation, you are presented with more choices than you may have anticipated. 
Villas

are perfect for larger groups of people. Villas have a lot more privacy, and are significantly more spacious. Some resorts will have rental villas built-in to their property, but you also have the option to rent a privately owned one that is outside of the main complex. Also, a concierge service means that you won't have to stress about any of the organization throughout your stay.

Hotels

will ensure that all of your needs are catered for, whilst putting you right at the heart of the action. They are designed with ultimate comfort in mind, and a range of room sizes means you can find the perfect space for everyone in your family.

Yachts or cruises

let you take your vacation to the seas in style, visiting multiple countries rather than just one. 
---
3. What kind of activities are available?
With enough time and money, you can participate in any activity you want to, without going on vacation. But it's nice to have a dedicated space where the options are immediately available.
Have a look at what activities are included with the resort or residence, such as evening performances, a kids club to keep children occupied, or a water park. Alternatively, check if there are additional opportunities which you need to pay for, such as more extreme or intensive water sports, and activities which operate outside of your resort. 
---
4. What is the service like?
On the whole, a luxury vacation requires luxury service. But this will depend on your accommodation.
Staying in somewhere like a hotel means you can expect a general, high-quality standard of service. For instance, you would dine in a restaurant with other guests and be served by first class chefs. But you may be restricted by the menu available. It's different when you have a private chef, who can accommodate your needs more acutely. 
Whilst staff members in luxury hotels like the Four Seasons Resort pride themselves on their human interactions, it can be tricky to get that directly personal note when catering for so many guests. If you're after some dedicated one-on-one service, a private residence may be better for you. 
---
5. How easy is the transportation to get there, and get around?
If you are traveling with small children or elderly family members who may have mobility issues, you need to think about how easy it will be for you to get to your location. Rather than take a commercial flight, it may be worth charting a private jet, which allows you more freedom and comfort. It also alleviates some of the concerns of traveling with a young child who may cry if it is their first time flying. 
Alternatively, if you are vacationing on an island not too far away from your original home, you could charter a yacht instead. This will also give you the opportunity to use it to travel to other islands – for example, the Caribbean archipelago – and stretch out the possibilities of your holiday.
---
10 best luxury family vacation destinations
Now you've got a sense of what to look for and what to expect from a luxury vacation, so let's take a look at some of the most incredible spots around the world. 
Barbados is home to some breath-taking sights, and St. Peter's Bay Resort will give you and your family full access to them any time you want. This beachfront condominium development is the perfect spot for everyone to simultaneously enjoy their own peace and privacy, whilst having full access to the resort's range of activities and amenities. 
It's perfect for a more relaxed vacation with your loved ones, especially if you have a fondness for white-sand getaways. Not only is the sea almost always perfect for swimming in, but you can dive in further and explore the reef on a scuba-diving or snorkeling trip. 
Alternatively, stay above the waves as you and your family go kayaking to explore other, nearby islands, before returning to enjoy some good comfort food everyone will enjoy. And, if you decide you want to cook one night, a concierge will be available to deliver groceries right to your doorstep.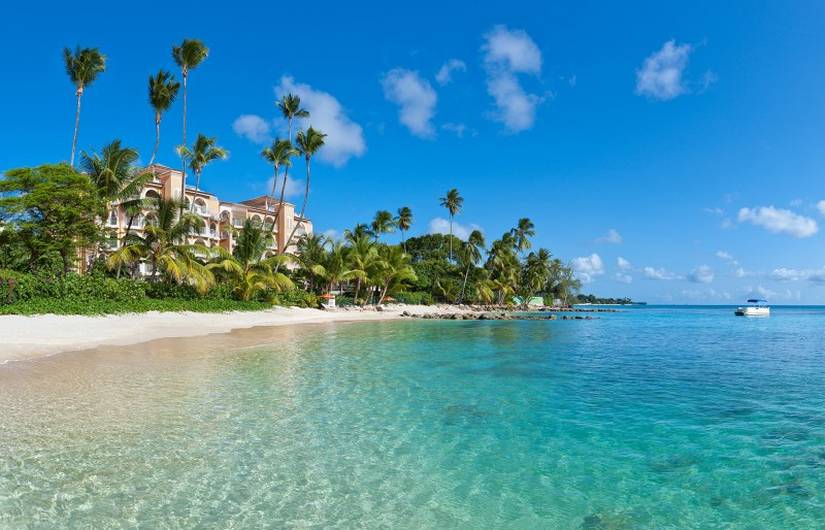 ---
Reunion Resort is located right in the heart of Florida, close enough to the action that you're never left out of the loop, but private enough that you can settle down and enjoy some quality time with family whenever you like. 
Endless Summer villa is perfect for large or multiple families to come together, especially if there is a shared love for Disney. In fact, you're only five miles from the Disney World theme parks, with both tickets and transportation available at Reunion Resort for Disney, Sea World, and Universal Studios. 
Spread yourselves across 7 rooms, with enough space to house 21 people thanks to the multiple bunk-bed rooms, perfect for groups of children. Young guests can choose between a Harry Potter themed room (accommodates 4), or a Snow White themed room (accommodates 5). Disney memorabilia can be found all over the house, such as a subtle Mickey Mouse silhouette mirror in an en-suite bathroom. 
There is also an enormous theater room, a games room decorated like the Tatooine desert from Star Wars, and a karaoke machine, as well as an outdoor pool, wet bar and wine cooler, and a fully equipped kitchen.
Finally, on the days you wish to stay within Reunion Resort, you will have access to:
7 swimming pools

5 acres of water park

A variety of sports facilities including tennis, golf, bocce ball, and football-golf for kids

7 incredible restaurants
---
The Seven Mile Beach is one of the most famous beaches in the world, and with good reason. The Ritz-Carlton on the Grand Cayman islands gives you front-and-center access to this exquisite view, along with a host of amazing activities to take part in during your stay.
For kids:

Starfish Cay water park, and an eco-adventure program

For teens:

The Wave Game Room, kitted out with an Xbox, PlayStation 4, Table Tennis, Air Hockey, computers, and a selection of board games

For adults:

Five-star spa area, and "Blue" by Eric Ripert, the only AAA Five Diamond Restaurant in the Caribbean 

For everyone:

Fantastic sports facilities such as 4 tennis courts, several golf courses, and basketball courts
---
The Bahamas are a top contender for family and kid-friendly vacations, and the island of Nassau has some top-tier spots for you to visit. One such location is the Albany Resort, located on the south-west coast. The area combines the elegance of the Caribbean sea with stunning hyper-modern, almost futuristic-looking luxury accommodations. 
The Albany Club Villa is less than five minutes away from the sea, and gives you all of the sights and luxuries of a high-end hotel, but with much more privacy. 5 en-suite bedrooms are spread across the main villa and a guest cabana, making it an ideal location for multi-generational families. Its clean, open plan interior is not dissimilar to any modern house, which helps add to its home-away-from-home sensation.
Not only can you explore everything that the Albany Resort has to offer, but it's less than an hour away from the incredible Atlantis Resort on Paradise Island. Book a day pass and spend some time whizzing down water slides, interacting with marine life, and wandering around the Marina Village. 
---
The entirety of Hawaii is a gorgeous place to visit, but the Kilauea area on Kauaʻi county's northern shore is particularly lustrous. Make yourself at home in the Secret Cove villa, a 4-bedroom property only moments away from the incredible Kauapea Beach, also known as Secret Beach.
The villa's layout allows for equal amounts of togetherness and alone time, meaning families won't feel cramped together. Even when lounging by the poolside, there's more than enough space for everyone to breathe and enjoy their own private moment – whether that be whilst sipping on a cocktail, reading a book, or playing games.
Kilauea is perfect for exploring and has a rich history to investigate, such as its 17th century roots as a sugar plantation. The Kilauea Point Lighthouse is a must-see for any adventurous family, and it will give you an excellent look at the abundance of seabird life that call this place home. 
Finally, if you're interested in visiting other islands in Hawaii, you can charter a helicopter, or private jet. Even with the extensive amount of national parks and nature reserves, it takes less than two and a half hours to drive around all available routes on Kauai, so jetting off to explore Maui or Honolulu would be the perfect addition to your family travels. 
---
6. Turks and Caicos,
Amanyara
resort
The time you spend at the Amanyara resort is designed to bring you closer to nature, and to your loved ones. Come over to Turks and Caicos, one of the most stunning locations in the Caribbean, and stay in a luxury villa where you can float around all day in your private infinity pool and take in the incredible sights on offer. 
You'll be situated within an 18,000-acre nature reserve, so you can be certain to get pristine ocean views, white-sand beaches, as well as an abundance of activities at the Nature Discovery Center that will help you appreciate the beauty of the island.
 For example, why not try out horseback riding, and experience the beach in style? Or head further out into the waters and go paddle boarding? Then, come home to your wonderful villa and dine on a meal made by your own personal chef, and watch the sun go down together.   
The villa contains 6 en-suite bedrooms, and can comfortably accommodate up to 12 people. So you can be sure no one in your family gets left out from this amazing experience. 
---
You'll feel spoiled for choice in the best possible way at this luxury family resort. With over 20 enormous villas to choose from, as well as a range of smaller rooms and suites, this is definitely somewhere for the bucket list. 
Half Moon is the best rated resort in all of Jamaica, and it's clear to see why. Not only is it the perfect getaway location for couples, or groups of friends, there are also dozens of family friendly activities to take part in, such as:
Splashing around through several miles of stunning coastline

Luxury spa treatments everyone can enjoy

An abundance of sporting opportunities such as tennis and pickleball

Barbeques on the private beach
But when the parents want a little time away to themselves, Half Moon's nanny service will keep the kids entertained and safe whilst you dash off and enjoy all of the perks the resort has to offer for yourselves.
---
Of course, not everyone wants a relaxing time away together. Sometimes, you're after high-stakes adventure, and activities that get your blood pumping. In that case, Park Hyatt in Colorado will suit your tastes perfectly. 
This colder family destination will have you whizzing down ski slopes, bouncing your way through rocky mountain bike trails, and rafting down whitewater rapids. Even though it is primarily a ski resort, there's still something for everyone to enjoy all year round. 
And, once the adventure is done, you can come back to a magnificent dining experience in one of several restaurants which will leave you full up and energized for the next day. Fall asleep in one of 23 enormous suites, fully stocked with everything you could possibly need to make it a true home away from home. 
---
Los Sueños is more of an independent home-away-from-home rather than an all-inclusive resort destination. It's somewhere to go if you're looking for a little extra freedom, both on the land and in the water. 
Located on the west coast of Costa Rica, Casa Puesta Del Sol, your villa at Los Sueños offers uninterrupted oceanfront views of the Pacific. This luxury 5 bedroom accommodation features a stunning, infinity-edged private pool with a jacuzzi, a fully equipped kitchen, enclosed garden, and on-site space for parking of both your cars, and four-seater golf carts. 
Alternatively, if you are after catered for accommodation and the amenities that come with it, you can stay at the Marriott Hotel, where you can choose from a variety of rooms that overlook the world-class golf courses, and the plethora of swimming pools available. 
When you decide to head down into the main community village, you can enjoy experiences such as fly fishing, volleyball at the private beach club, yoga, and live events from the annual Signature Triple Crown Billfishing tournament. 
---
If you're in the mood for an exciting, vibrant escape to the city, look no further than the Orson Welles Historical Estate – a stunning home on the top of Sunset Boulevard, looking out across the city of Los Angeles. 
It's the perfect spot to make yourself at home to have the best range of options for everything across LA. For example, you will be:
30 minutes

from Santa Monica Pier

25 minutes

from Elysian Park and the Dodger Stadium

20 minutes from Griffith Observatory (and the Hollywood sign)
20

minutes from The Broad and the Walt Disney Concert Hall

10 minutes

from Universal Studios Hollywood
Walk the halls where the likes of David Bowie and Frank Sinatra used to live, and experience all that this 15,000 square foot private hillock has to offer. Whether you're in the mood for alfresco dining as you're waited upon by a butler and private chef, or lazing about in your private pool, watching the California clouds roll by, everyone in your family will be able to find their own slice of paradise here.  
---
Some final thoughts
When it comes to booking a destination the whole family will enjoy, there are a lot of things to keep in mind. However, we hope we've been able to shed some light on the kind of quality you should expect from a truly luxurious location, and provide some destinations that are sure to please everyone. 
And the great thing is, most, if not all, of these resorts provide child-care which means you can take advantage of the adults-only options such as clubs, casinos, or more extreme sports without fear. 
We hope you've enjoyed our list. If you'd like to find out more about how you can book your own amazing getaway, keep in touch with us here.