If you're trying to decide where in the Mediterranean or in fact the world to visit for the ultimate vacation, look no further than the fabulously shaped country that is Italy.  With so many things to do in Italy, it is that unique destination that pulls the best elements of adventure, glamour, history and gourmet delights under one divine umbrella.
Here are my top 7 things to see in Italy (in no particular order of importance!)
---
1. Beaches
Beach life in Italy is always varied but fabulous.  The northern beach of Levanto is ideally situated if you are visiting the beautiful Cinque Terre.  On the Adriatic coastline is the Playa del Sol that is perfect for young visitors who want a vibrant and party nightlife.  The Italian Riviera that extends from the French Riviera sees the beaches of Calendre and Balzi Rossi as two lovely options near to the town of Ventimiglia.
The southern beaches around Amalfi feature that unusual volcanic sand that glitters like dark sugar at the foot of some of the most picturesque villages like Positano, Amalfi, Sorrento.  Spiaggia del Fornillo in Positano is an ideal place to soak up some sun while watching the beau monde yacht across your perfect horizon.
Heading further south is Puglia, fast becoming one of the most fashionable beach destinations in Europe.  It's a combination of being less developed than some of the regions further north added to which the very unique nature of its topography and you have views that are wild and rocky.  The meandering roads that connect tiny coastal villages all ensure that you move at a much more relaxed and gentler pace.  Any trip to this region reinforces why it is considered one of the places to visit in Italy.  My top beach recommendation in for Puglia will have to be Torre Guaceto.  It's a nature reserve with a stunning beach ideal for swimming and diving.
---
Islands
Mazarro in Sicily is one of those perfect beaches that's less hectic than some of the other resorts on the island.  The Aeolian islands offer a very laid-back beach vacation with Rinella's volcanic sand beach one of the prettiest places to go to completely unwind.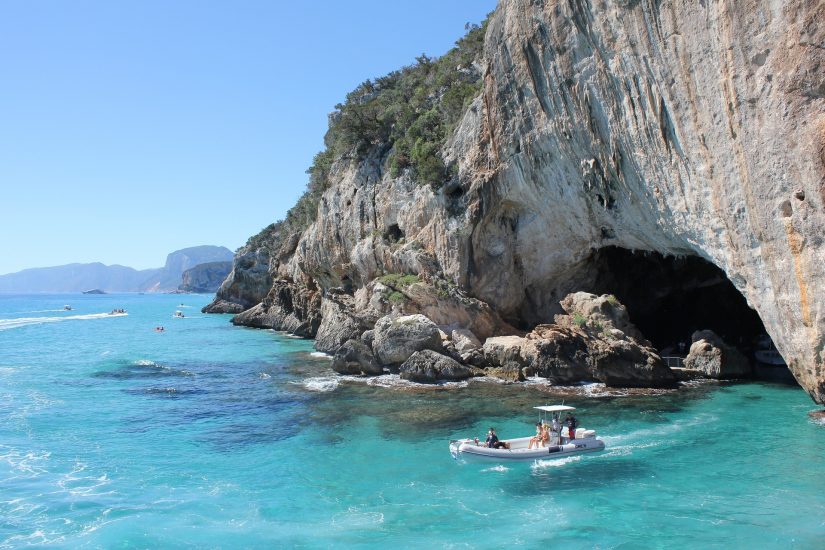 Of course, Sardinia is one of those uber-stylish island destinations that retains its magic year on year.  I really love the north of the island especially Spiaggia Rosa.  A lovely sandy beach not easily accessed makes it worth the effort to enjoy the crystal clear perfection of the water.
---
Beaches … but not as we know them
The northern lakes offer Lidos so although they are not technically beaches in the traditional sense, you can sunbathe and swim in style.  Lido di Cadenabbia on Lake Como has a beach club atmosphere where you can be pampered with delicious food and drinks while you relax lake-side.  Sometimes the freshwater swimming experience can be a lovely change of pace.
---
2. Food
I was once told that French food is about 'how it looks' whereas Italian food is about 'how it tastes'.  Well, that is a rather outmoded concept nowadays as Italy has reached the pinnacle of gourmet excellence across many of its provinces.  There are 133 three Michelin-starred restaurants in the world with nine of these in Italy.  That's pretty impressive.  With over 350 single starred restaurants alone, it's easy to see why Italy has taken its place at the top table of dining experiences.
Traditionally, the food of Italy comprised a lot of localised dishes that stemmed from the family kitchen whereas now those simple dishes have been transformed into high-dining experiences.  So many of the new wave of talented Michelin chefs working in Italy reference their grandmother's table as the point of discovery for them with regard to their love of cooking
---
Italy's Food Capital
Bologna has long been considered the foodie capital of Italy.  As a vibrant student city, it has an energy that is infectious add to this the numerous causal eateries around the city and it becomes one of those amazing weekend destinations.  Timber boards, loaded with cured meats and cheeses served with Italian bread becomes a meal of the gods.  Pared with great yet affordable local red wine and this is the recipe for the perfect evening.  My lasting memory of Bologna was of narrow streets filled with outdoor covered tables.  It was hard to say where one restaurant ended and another began.  The harmony of dining along these streets, with people drifting by, fellow diners with their dogs curled up patiently by their feet, completed an evening of harmony and felicity rarely experienced in cities anywhere.
Of course, it's easy to see why food is such a big deal in Italy when you consider what ingredients are grown in its own backyard.  The vast wheat fields deliver the many pastas and pizzas, the pearl-like Arborio rice is the foundation of so many gorgeous risottos, think of any vegetable and you can be sure it flourishes under the Mediterranean sun.  Citrus fruits hang tantalisingly and casually in public squares and across the citrus groves of the south.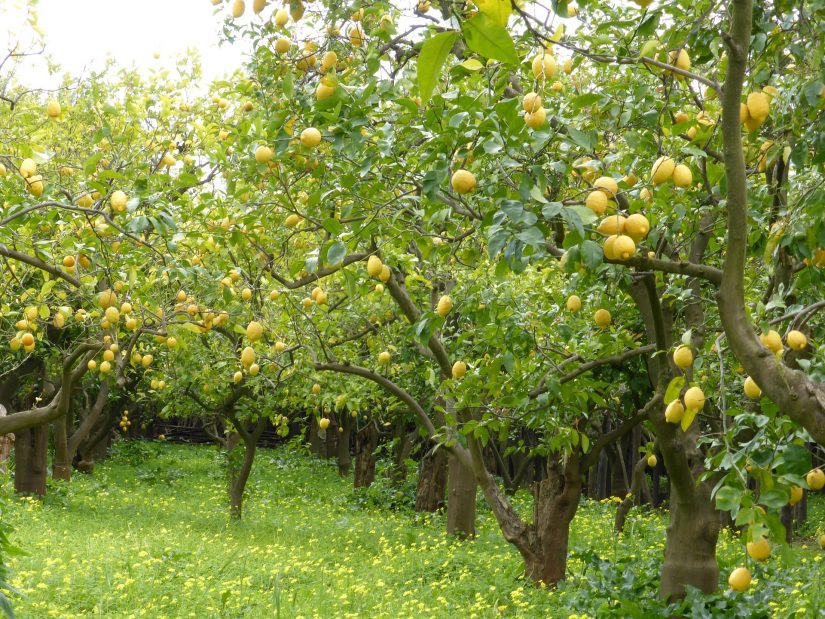 Order any cheese platter in Italy to be seduced by the variety of products available – all varying from region to region.  The mozzarella that I always mention from the Campagna region is in a league of its own.  There's nothing produced elsewhere to match it.
Meat in Italy is flavourful and of high quality.  In addition to the lamb, beef and chicken options, there is a large game offering on traditional menus.  Wild boar in Tuscany to rabbit and venison in the Northern provinces.
Fish and seafood form a huge part of the Italian cooking repertoire.  With lakes, rivers and a vast coastline, there is a lot to choose from.  The Amalfi Coast along with the Island of Capri has some of the finest dinings with an emphasis on seafood.  Throw in the views from the restaurant terraces of Ravello or Sorrento and you have a match made in heaven.
---
Vegetarian or Vegan – No Problemo!
If you prefer your diet to be plant-based, nothing quite matches the Italian menu for the best in balanced eating.  Being a vegetarian or vegan in Italy is not just possible it is joyful!
---
3. History
As a country, Italy has managed to weave its historic greatness into the modern 21st-century experience.  There's nowhere quite like Rome for allowing you to enjoy a vibrant city with such easy access to architectural treasures like the Colosseum or the Pantheon.  If you are keen to see some of the great Italy tourist attractions, do start in Rome but don't just limit your visit to this wonderful capital.
Further south and within striking distance of the Amalfi Coast is Mt Vesuvius at the foot of which are the impressive Pompeii and Herculaneum.  These two ancient cities, encased in ash and lava in 79 AD, were simply frozen in time.  The layer of each subsequent century is being carefully rolled back to reveal a lost civilisation.
What is always most surprising about Italy is the solidity and enduring qualities of its structures.  Buildings, monuments and roads have lasted for centuries.  To enjoy part of this, you will find that many beautiful villas, quietly modernised, still retain that traditional look and feel of Italy.  Warm yellow stone buildings, woven into a beautiful hillside say everything about the value the Italians place on keeping and maintaining these lovely places.  In the luxurious surroundings of one of Exceptional Villas beautiful Italian homes, you can enjoy the comfort and graceful living of an emperor!
---
4. Mountains and Lakes
Northern Italy is home to some of the grandest scenery of the Mediterranean.  The lakes of Como, Garda and Lugano nestled under the Alps / Dolomites are picture post-card places in Italy like no other.  Lake Como particularly gets my vote.  The centre-lake area featuring the idyllic towns of Bellagio, Varenna and Menaggio is full of pretty restaurants that afford the wide-open views across the lake at lunchtime, transforming magically into a twinkling romantic view with the lights of the lake-side towns decorating the dark night horizons.
---
From Romeo and Juliet to Venice
Lake Garda is ideally situated for visitors who want to wander the streets of ancient Verona and delve into the Shakespearian world of Romeo and Juliet.  Opera season in Verona is conducted in the amphitheatre in the heart of the city.  In this mini Colosseum, you can sit under the stars while some of the world's greatest opera is staged in monumental fashion.  Tip:  rent the cushions on the way in and you will be sitting pretty – literally – for the event!
Venice is another of those must-see places in Italy that defy description.  Easily accessed from Lake Garda and sometimes worth booking as part of a two-site vacation – Garda and Venice – you can enjoy a day getting lost along those twisting streets.  Dining in Venice is sublime.  Everything from the casual bite watching the world goes by in St Mark's Square at Caffe Florian to some of the intimate restaurants hidden in quiet dark streets to the glamour of the Hotel Danieli's Terrazza where Michelin cuisine is the order of the day.  Whatever floats your boat (or gondola) it is all truly romantic.
---
Where to go for the great outdoors – Hiking to Skiing
For those who enjoy hiking, the areas surrounding the lakes feature alpine meadows and trails that vary in scale and altitude for hikers of all ages.  The mountains that fringe the lakes and form a natural border between Italy and its near neighbours of France, Switzerland, Austria and Slovenia provide skiing in the winter months.  The Dolomite mountain range is where to go in Italy for wonderful skiing.  It is particularly favoured by families as the ski resorts and easily accessed ski slopes make it perfect for the younger traveller.
---
5. Vineyards
Wine is woven into the fabric of everyday life in Italy.  There is rarely a lunch table that isn't graced with a glass or two of a wine grown within the borders of this fine nation.  Chianti, Montepulciano, Sangiovese, Barbera, Dolcetta is the poetry of Italian reds.  Pinot Grigio, Vernaccia di San Gimignano, Frascati are some of the best whites.  Don't forget the ubiquitous Prosecco that can launch any party or announce a divine dinner.
Regardless of whether you are a grape expert with a nose for great wines, a trip into the heartland of Italy's wine region – think Tuscany – rewards visitors with sublime views and relaxing vacation experience.  The rolling hills, covered in the neat rows of cultivated vines, is one of those wonders of the world.  A sunrise with mist swirling across the terrain or a languorous sunset from your private villa terrace is the stuff of holiday magic.  Day trips to some of the most celebrated vineyards in Tuscany is one of the Italy attractions not to be missed.
---
… not forgetting cocktails
Sometimes in the midst of all this wine magic, a delightful cocktail will strike the very right note for you.  The Negroni with its burnt orange flavours or the lightness of an Aperol Spritz might be the perfect aperitif and so wonderfully Italian too!
---
6. Art
Not surprisingly, the renaissance started in Italy.  If anyone has a desire to be creative or to allow the muses to romp freely through your psyche, it will most certainly happen in Italy.  It's easy to see why Da Vinci, Michelangelo, Botticelli and Titian were moved to their greatest achievements when you see all of the natural beauty that proliferates throughout the country.
Some of the most important art of the centuries is still to be viewed around this country.  The obvious starting points might be the Sistine Chapel in Rome where Michelangelo's ceiling fresco defies all explanation for its magnificence.
Another one of the places to go in Italy has to be Da Vinci's Last Supper that is painted onto the wall of a rather modest church in Milan.  This is definitely one of those 'bucket list' must-see things in Italy.  Booking ahead is essential as access is limited and carefully managed.
Florence is one city that is bursting at the seams with art and is one of the best places in Italy to visit.  The Uffizi Gallery contains some of the greatest works of art in the world – in both the medium or painting and sculpture.  A walking tour through Florence will dazzle you as you take in the Ponte Vecchio over the golden-hued river Arno, or the medieval streets simply littered with amazing architecture and art.  It is such a fabulously romantic city.
One of my favourite art destinations is the Pinocoteca di Brera Gallery in Milan.  This historic building is now home to some great paintings by Renaissance masters like Bellini and Tintoretto.  Do seek out the Caravaggio on site.  If there's one artist in Italy who struck a cord for realism it is the talented and troubled Caravaggio.  A genius of his time!
---
7. Fashion
Italian fashion falls into two distinct camps for me.  The first is what I call 'stop and stare' where you do some rather lustrous window shopping in the high-end shopping districts of Milan, Rome or Capri.  The fabulous stores of Dolce and Gabanna, Versace, Prada, Valentino, Miu Miu showcase their collections in ways that are both beautiful and artistic.  There's something so unique about the fashion produced in Italy.  It takes stylish glamour to a whole new level.  Ask any informed woman or man and they will say there is a seductiveness to Italian fashion.
My second take on Italian fashion is what I call the 'Coffee Catwalk'.  What this means is that you should position yourself at some gorgeous street-side restaurant or café on a square in any urban setting and simply watch the Italians (both men and women) float by in their sartorial splendidness.  Imbibing a divine coffee or delicious cocktail, you can revel in the level of personal grooming, the dazzling use of accessories, the panache of the so-not average Italian individuals as they waft by. If you are wondering what to do in Italy on a lazy sunny afternoon, then I wholeheartedly recommend a little bit of people watching.  Italians have elevated this to an art form!
---
Conclusion
There you have it.  The briefest slice of what makes Italy such a wonderful destination.  Not surprisingly, so many Italians never leave their own country to vacation.  Well, why would you?  If you want to ski, swim, shop, dine, hike it's all waiting for you … just down the road!
---
8. The People!
Oh, and I think I might have just overlooked the very best part of Italy … its people.  They are exuberant.  From the charm and courtesy of the older generation in their interactions with us giddy tourists to the younger cooler generations who are effortless in their communications.  I have so many wonderful stories to underscore my belief Italians are one of the loveliest races in the world.  From a lovely man racing down a platform to return my stamped train ticket to me in Milan to a young waiter donating his hoodie to a shivering young girl in a café in Pisa to a Maitre D keeping a fractious baby quiet on his shoulder as he greeted clients to his restaurant in Menaggio while the young parents dined in peace.  So many memorable stories, all special …. only in Italy!
About Mairead Moriarty
Born and raised in Co Kerry, lived in London, New York, San Francisco, Dublin. Owner of one very battered suitcase, a well-worn passport and a million memories.
It seems very fitting for a travel writer that my surname translates as 'Skilled Navigator'. Apart from an occasion when, aged 3, I got lost in a Supermarket in Tralee, I have managed to live up to my name!
Curiosity is probably the driver that has sent me on magical mystery tours around the world. I want to 'feel' a place. I want all my senses to be engaged: from the history and geography that has influenced a country or city, the arts and achievements of its natives, anything and everything really.
Regardless of whether I am on a local train travelling through Morocco, or poking around in Marconi's study in Bologna or on a canal boat weaving through the heart of the English countryside, the same rules apply - ask questions, talk to locals, eat what they eat, sit quietly with nature and simply be.
Assimilate as much as is possible so as to understand the soul of a place. That is my passion. That is the compass by which I navigate.