Anguilla is one of the lesser-known islands in the Caribbean. Located just a small step off the beaten track, which helps to protect Anguilla's character and exclusivity while offering travellers convenience in getting there by air or by sea. The island is by far one of the most beautiful and is home to the best beaches, excellent cuisine and wonderfully rich culture.
---
How to Spend a Week in Anguilla
---
On a recent trip to Anguilla hosted by the Anguilla Tourist Board, I had the pleasure of staying a week in this tropical paradise, meeting locals and experiencing some of the best things to see and do on the island. Some may think Anguilla doesn't have much to offer regarding activities, but this is so far from the truth. The island has an incredible selection of things to see and do; you just have to explore the island and find them. Until you have been to this breath-taking island and seen just how stunningly beautiful it is, you will wonder why you didn't know about it before. Here are some of my best recommendations on how to spend a week in Anguilla:
---
1. Visit the Beach Bars
---
The Dune Preserve
A trip to Anguilla wouldn't be the same without a few days and nights spent mingling with locals and visitors alike at the numerous rum shacks and beach bars dotted along the island. A firm favourite is Bankie Banx Dune Preserve.
The Dune Preserve looks like just a shack on the beach that sells rum, but it is so much more than that. The Dune Preserve is all about "turning lemons into lemonade".
As soon as you arrive, you will see the shipwrecked boats, driftwood and the battered coconut trees that all combine to create this ultra-cool chill-out beach bar.
It offers a laid-back island vibe with reggae music daily. The bar is home to the Caribbean music legend Bankie Banx, and you will often hear him play alongside his son Omari Banx.
We had so much fun enjoying the beach, music and bar area; it is the ideal place to enjoy a casual lunch, drinks or even a private event. Check out my video.
---
Elvis's Beach Bar
Located in Sandy Ground, Elvis's Beach Bar is one of the most traditional beach bars in Anguilla. It is a barefoot shabby chic beach shack and is the perfect place to go either before or after you take a boat trip from Sandy Ground. If you ask them when they are open, they will say they are open most days but that "They are closed on Mondays to fix stuff and sleep."  It is a must-see beach bar.
---
The Pump House
The Pump House is a funky, laid-back action-packed bar with live music. The Pumphouse is the place to go at night to have some fun, drink rum and dance the night away. Our visit to The Pump House was truly memorable from the amazing singers and friendly locals; we just wanted to stay all night. Other favourite bars would be Blanchard's Beach Shack and Johnno's on the beach and for a casual lunch try the Place at Rendezvous Bay.
---
 2. A Visit to Sandy Island
---
Paradise was never this easy to get to! We enjoyed a "Sunday Funday" on this tiny little island atoll called Sandy Island off the coast of Anguilla.
It was so nice to get in a boat and take the short ride on the water. The sea was extremely calm, and it only took 10 minutes to reach the island.
Once our boat docked, we jumped into the water to reach the crescent-shaped shoreline….We had reached paradise!! The island is tiny and just has one beach bar/restaurant. It's the perfect place to enjoy a relaxing day on the beach followed by lazy lunch; you have to try the lobster its to die for.
Afternoons can be spent snorkelling or swimming in the Caribbean waters that surround the island. Regular boat taxis will bring you there and back for just $10.
---
3. Explore the 33 Beaches Of Anguilla
---
The island of Anguilla, which is just 91 km2 has at least 33 beaches for you to explore. Approximately 16 miles East End to West End and 3 miles at its widest point, Anguilla is flat and low-lying and has by far the BEST beaches of all the Caribbean Islands.
Each beach is unique and has powdery white sand and beautiful swimming conditions. The best thing about the beaches in Anguilla is that they are never crowded, and you will never have to fight over sun loungers.
On our trip, we visited so many stunning beaches including Barnes Bay, Rendezvous Bay and Long Bay but my personal favourite beaches were Meads Bay Beach and Shoal Bay East.
---
Meads Bay Beach
Meads Bay Beach is one of the nicest beaches in Anguilla. It is known for its powdery white sands and tranquil azure waters where you can swim, snorkel or just sunbathe. This calm stretch of beach leads you all the way to the Four Season's Hotel. I would highly recommend a visit to the resort for an evening cocktail. A visit to Blanchard's Beach Shack on Meads Bay is a must. Here you will find a local beach bar and restaurant with some great local food.
Meads is the perfect place to go to spend the entire day at the beach. I had the pleasure of staying in the incredible luxurious Beach House Villa located directly on the beach. Just Paradise!
---
Shoal Bay East
Shoal Bay East is one of the best beaches on the island. The beach is a 2-mile stretch of perfect white sand and is often named the world's best beach! Here you will find the best spots for snorkelling.
The sand is so powdery and stretches for one mile that reaches a point with some fantastic reefs for snorkelling, and then the beach continues for another mile. The beach is also home to some excellent beach bars and casual beach side restaurants. Madeariman Bar & Restaurant is a top choice.
---
Water Activities
Many of the beaches in Anguilla cater for water sports enthusiasts. No matter where your villa is located on the island you can enjoy a wide range of water activities including snorkelling, wake boarding, water skiing, tubing, jet skiing or take a luxury catamaran trip around the island. You can also enjoy diving and fishing. The possibilities are endless.
---
4. A Sunset Sail on Tradition
---
On one of the evenings during our week-long stay inspecting luxury villas in Anguilla, we decide to take a sunset sail. We headed off to Sandy Ground for a Sunset sail on beautiful 'Tradition' – a historic sailing sloop.
We boarded the boat at Sandy Ground and were welcomed on board with a glass of champagne by our wonderful hosts Laurie Gumbs and Deborah.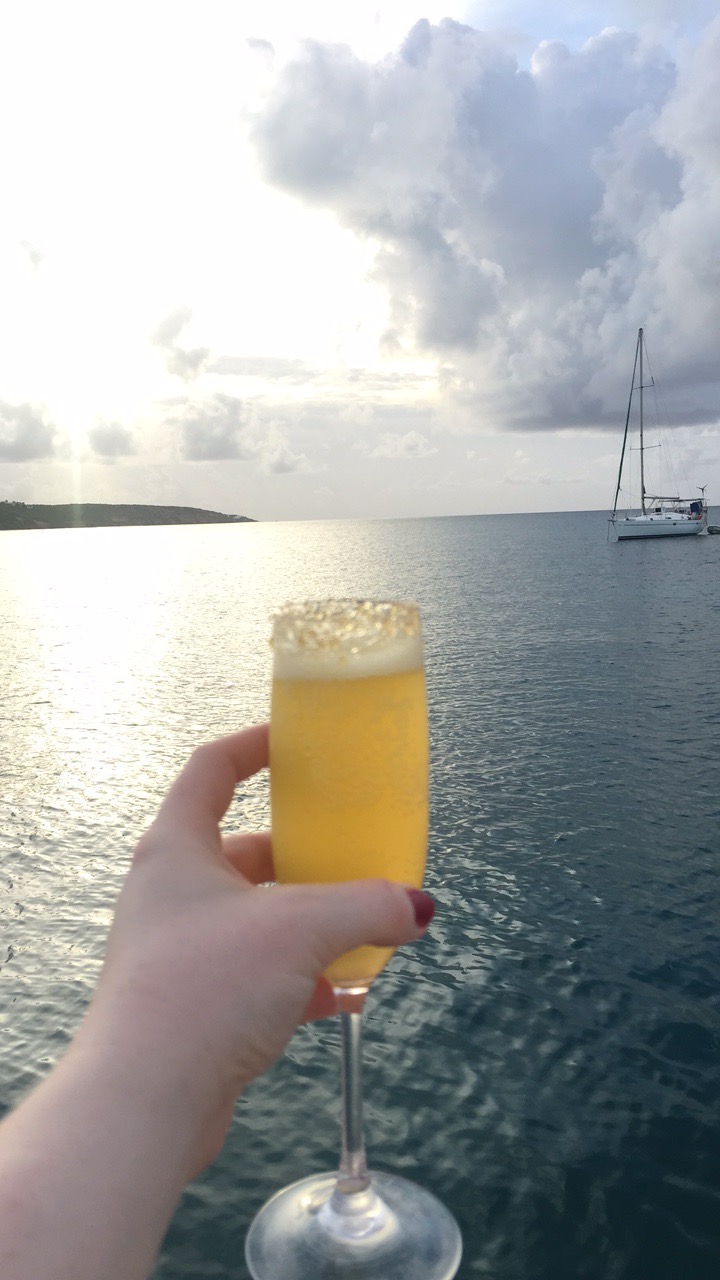 They were two of the nicest people we met on the island, and that is saying a lot since the Anguillan people are some of the most friendly of all the Caribbean islands. The boat is stunningly beautiful and is a unique piece of craftsmanship. Once on board, we were spoiled with a delicious selection of sunset tapas as we sailed into the sun. It was simply magical.
If you prefer a day-sail on the tradition, you can enjoy a trip to prickly pear and have a lobster lunch where you can sail to the best snorkelling sites and breath-taking reefs where you will find dolphins and sea turtles. No matter what you choose, Tradition is one of the must-do things in Anguilla.
When we returned from the sail and docked in Sandy Ground again, we felt like we needed to get on our dancing shoes and so we headed to Lauri's other venture 'The Pump House' bar where we were entertained until the early hours with live music and dancing.
---
Conclusion
---
Anguilla is often compared to its nearby rival island St Barths, but there are no comparisons in my opinion. St. Barths is a high-end, celebrity favourite, "see and be seen" Caribbean destination. Whereas neighbouring Anguilla is a low-key luxury island that is rich in culture with a laid-back vibe.
Although frequented by many celebrities, the island and its inhabitants afford them the privacy which they are looking for. Here you will find no paparazzi or celebrity hunters. Anguilla is a very safe island.
It has lovely quaint villages, beautiful beach bars, stunning beaches and turquoise waters to swim in.
First-time visitors to the island think that Anguilla is just famous for its stunning beaches.  Our Exceptional Villa clients soon realise that the island does have some of the world's best beaches but that it also has so much more to do and see.
Above all of this, it is the people of Anguilla that make the island so great. They are so warm and welcoming and are sure to leave a lasting impression long after you return home.
To arrange any of these activities for your next trip to Anguilla, please contact our concierge Elaine on [email protected] who would be more than happy to assist.
We love to hear from you so please either leave a comment or send our villa expert for Anguilla; Cori an email with any questions you may have.  She may be contacted anytime on [email protected].  For Telephone Contact Details Click Here
About Linda Browne
Linda is the Marketing and Sales Executive for Exceptional Villas and has an in-depth knowledge of the travel industry. Linda's qualifications are in the area of business, marketing and tourism. Linda travels for much of the year inspecting all of our luxury villas; the majority of her time is spent in the Caribbean and Europe.