---
Beaches In Anguilla
Anguilla is known for having the best beaches in the Caribbean they are uncrowded and covered in powder-soft white sand that sparkles at night. All of Anguilla's beaches are public, and unspoiled.  Every cove, bay and stretch of sand is marked by unique characteristics, such as rock and coral formations and picturesque tropical plants. In Anguilla, there is a beach to suit all tastes. Whether you want to relax in a hammock soaking up the sun, swim with dolphins, or go water skiing, Anguilla's beaches have it all.
---
Barnes Bay
To the west of Meads Bay and Meads Point is Barnes Bay. Barnes Bay offers magnificent sea views and magical sunsets. We have some fabulous luxury villas looking onto this beach. Barnes Bay Beach has some rocks but is a little gem for visitors.
Click here to view our luxury villas near Barnes Bay Beach.
---
Black Garden Bay
Blackgarden Bay is one of the least-visited beaches in Anguilla and is therefore relaxing, quiet and calm; the perfect location for a secluded luxury vacation rental. Blackgarden Bay is a small inlet with a pretty sandy beach along the rugged north shore, between Limestone Bay and Shoal Bay. Blackgarden is not easy to find. One way is to go to Limestone Bay, then follow the dirt roads east keeping to the coast.
Click here to view secluded luxury vacation rentals near Black Garden Bay
---
Blowing Point
Blowing Point is where the Ferry to St. Martin is located. The beach at blowing point is to the east of the ferry is a working harbour. You will see numerous small ferry boats and fishing boats anchored in the bay, plus fisherman and a 200 yard stretch of sand.Blowing Point beach provides some shade under the sea grape trees and you can stroll over to the ferry terminal bar or to Big Jim's Snack Bar.
Click here to view Anguilla villa rentals near Blowing Point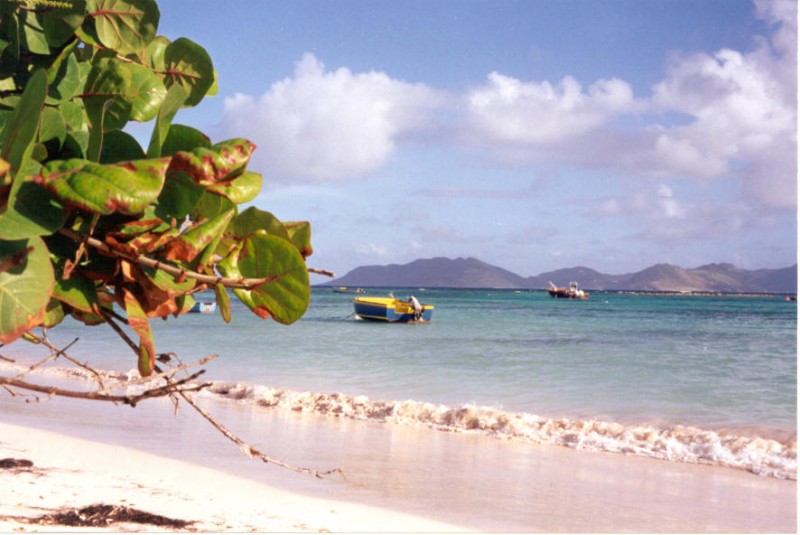 ---
Junk's Hole
One of the highlights of a luxury vacation to Anguilla is its beaches. Junk's Hole is at the far East of Anguilla and is home the bright fishing boats in the Island Harbour that give visitors the opportunity to witness the fishermen and the sailors of Anguilla at work.
---
Long Bay Beach
To the east of Meads Bay and Meads Point lies Long Bay Beach. Although the beach can be difficult to locate it is truly worth it when you do. It's so easily bypassed from the road. Even if you are looking for it, it's difficult to find. But just follow the map. The road does not take you right to the beachfront - you'll need to walk down a pathway to the beach. Long Bay is truly a spectacular beach!  The wide stretch of scintillating white sand, the blowing palm trees, and beautiful turquoise waters makes this beach unforgettably unique.
Click here to view our luxury villas near Long Bay Beach
---
Meads Bay
Meads Bay to the West of the island is truly a stunning beach. The deep plush sands of Meads Bay are home to some of the most elegant dining and hotel resorts. Sunbathing on this beach is truly paradise. The soft sand is perfect for relaxing while soaking up the sun, and also the sparkling turquoise sea has perfect swimming conditions.
The sun sets out over the water at Meads Bay toward the west, and it is a soul-soothing sight to see. Don't miss it! Meads Bay is truly one of the most visually impressive, wide and expansive beaches. With so many dining options, it is no wonder it's one of the island's most widely loved, big beaches in Anguilla.
Click here to view our villas near Meads Bay
---
Rendezvous Bay
Rendezvous Bay is unsurprisingly another fantastic beach on Anguilla. The area is long, wide, sandy and has plenty of shade. There are several restaurants to choose from and always beautiful yachts and sailboats moored nearby. Rendezvous Bay beach is perhaps the best of all Anguilla beaches to walk. The bay is a perfect sweep of soft white sand. On the Caribbean sea side of Anguilla, Rendezvous Bay gives you a breath taking view of St. Martin. No matter where you look, though, while you walk, the eye always seems to be pleased. The Eastern side of the beach is truly breathtaking, a perfect relaxing walk. And it also provides some of the best bit of history on any of the Anguilla beaches.
---
Sandy Ground
Sandy Ground Beach (Road Bay) is one of the best beaches in Anguilla. A long, curved beach lined with cliffs, great restaurants, water activities and a rum factory, what more could you want! This beautiful beach has pristine white sand to lie on while soaking up the sun and a beautiful turquoise sea to swim in. With gorgeous beaches and great snorkelling you are guaranteed to find something to suit all tastes.
Sandy Ground beach is a great place to find some really good restaurants with sea views, outdoor dining, great food and local characters. The beach is home to the famous Anguilla Carnival each year. Sandy Ground Beach is one of the busiest beaches for island boat traffic. These boats coming and going, bobbing out in the sea on their moorings is a beautiful sight. Not to mention the clear-blue, calm waters and hillsides framing the spacious sky!
Sandy Ground is "the entertainment capital of Anguilla."  A sleepy village by day, at night the imaginative beach bars, and fun and casual restaurants come alive with music, dancing, parties, boat racing and lively conversation. Sandy Ground is a great spot to go windsurfing, jet skiing and scuba diving, or just hit one of the local bars along the strip, or find a hammock on the beach to relax in!
---
Sandy Hill
Sandy Hill Beach is located Between The Valley and Junks Hole at East End. Sandy Hill is a wonderful small beach with no restaurants, no hotels, and therefore no signs: Sandy Hill Bay. The protected anchorage provides safety for fish boats and the sandy beach provides gentle swimming for a few nearby residents. The beach is great for snorkelling. The rocky shore to the east towards Sea Feathers also offers good snorkeling. Sandy Hill, overlooking the bay, has several private residences and offer good views of St Martin and St Barths.
Click here to view our luxury villas near Sandy hill
---
Sandy Island
Sandy Island is a small island just off Anguilla's Coast and can be seen from Sandy Ground Beach. You can take a boat ride to the little island from the beach. Sandy Island has as the name describes a beautiful pristine white sandy beach with panoramic views of Anguilla. The Island is visible from the north coast of Anguilla as a glimmer of sand in the distance, and as the boat draws closer you can see palm trees and a green peaked roof come into focus.  The water is a perfect Caribbean turquoise and clear as glass.
---
Shoal Bay
Shoal Bay to the east of the island is one of the most beautiful stretches of beaches in Anguilla. It is also the most popular beach in Anguilla and is the liveliest on Sunday. The water here is crystal clear and perfectly safe for swimming. Shoal Bay is a great spot for scuba diving. The Bay is home to some of Anguilla's best restaurants and beach bars, they vary from classic West Indian shacks to sophisticated bards on the sands. A BBQ at Uncle Ernie's restaurant and some dancing in local bars are amongst the most popular in Shoal Bay. The sunsets are the main attraction here every night.
By Linda Browne