Rum Point Cayman Islands is located on the peaceful north coast of Grand Cayman. According to folklore, a galleon laden with kegs of rum ran aground at Rum Point, hence the name.  It's a super place to spend a day exploring and relaxing, particularly if you're staying in one of the busier areas of the island such as Seven Mile Beach.  Rum Point is off the beaten track and here, life becomes slower. You will also find a wonderful selection of Cayman Island Villas in Rum Point.
---
Rum Point Cayman Islands
---
---
There are also lots of things to do in Rum Point and indeed many things to do in Grand Cayman in general.
Rum Point Cayman Islands is approximately 45 minutes' drive from the Seven Mile Beach area, along the coast road or, you could take a Catamaran Ferry across the North Sound from Safehaven Dock.  We also have many wonderful villas in the  Rum Point Area, our favourites are featured in this article.
---
Things to do in Rum Point
---
Family-Friendly Beach
The white, soft sands of Rum Point Beach make it a popular spot for all ages.  Plus, the crystal-clear water here is very shallow, not getting deep until about a mile out, therefore ideal for children.  The water is always very calm due to shelter from the barrier reef and the coast.
Sun-worshippers can relax on a lounge chair or in a hammock and watch the world go by.  Beach Chairs and Picnic Tables are in abundance on the beach.  It's also a great place to catch a game of Volleyball.  The beach is neither too quiet nor too busy, it's the perfect mix of both.
Legend has it that the world-famous Mudslide cocktail was created right here at The Wreck Bar in the 1970's and improved to perfection in the 1980's.  Served on the rocks, Mudslide is a deliciously rich and creamy blend of Vodka, Kahlua and cream. The only problem with it is the ease with which it goes down.  Not only can you enjoy cocktails by the seashore, you can also enjoy a leisurely Caribbean style lunch from The Grill.
The food is typically authentic which is ideal for a light snack or a more substantial meal.  Locally caught fish dishes are very popular.  Along with the Mudslide, I also highly recommend the Pina Colada here.  Children love their smoothies.
There are many wonderful Grand Cayman restaurants located in Rum Point. Monday evenings are Beach BBQ evenings at The Wreck.  From 6pm til 9pm, you can enjoy the unique experience of dining under the stars with your toes in the sand.
On a recent trip to Grand Cayman, my colleague and I hopped on the Red Sail Catamaran Ferry Service from Safehaven Dock for the sail across North Sound to Rum Point.  Food was bountiful and with lots of choice to suit all diets.  There really is something very special about eating BBQ & Caribbean style dishes on a beach under swaying palm trees.  It's the stuff that Caribbean dreams are made of.  Live entertainment accompanied dinner and we spent some time after dinner strolling along the beach.
Our return sail back to Seven Mile Beach was under the stars and an electrical storm lit up the skies that night.  It truly was a night to remember, for all the right reasons.
---
Water Sports, Snorkelling & Stingrays
For the more adventurous, Rum Point Grand Cayman Islands is perfect for a fun-filled day where you can rent a multitude of water toys.  Wave runners, single or double kayaks, sailing hobie cats and paddleboards are all on offer.  If you are 5 or more, you can partake in a Waverunner Snorkel Safari, skimming across the water from snorkel site to snorkel site.
You might also like to try your hand at water-skiing. For diving enthusiasts, there are daily dive trips to the North Wall and East End from Rum Point.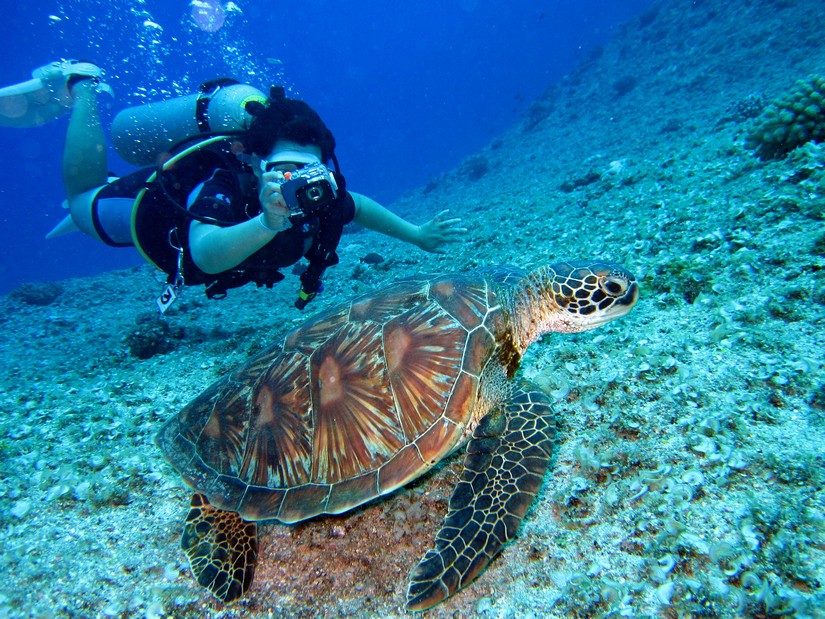 The clear water here also makes it a very popular spot for snorkelling and Grand Cayman diving. For those who prefer not to venture too far from the shore, you can easily and safely snorkel right there at Rum Point.  Snorkel equipment and lessons are available.
The barrier reef is home to lots of vibrant sea life and boats are not allowed to cruise within the barriers.  You will encounter several different species of colourful fish including Starfish, Jacks and Snappers.  Rum Point is an ideal area, particularly for children, to snorkel as there is no strong current and very easily accessible from the shore.
You may even catch sight of graceful and docile Southern Stingrays.  You will see many pretty shells while snorkelling at Rum Point and due to the calmness of the water, they are mostly unbroken.
The world-famous Stingray City Sandbar is just a 15-minute boat ride from Rum Point.  It's an ideal departure point from where to travel to spend time interacting with these beautiful gentle creatures.  Scheduled tours depart regularly from Rum Point, either by Glass bottom Boat or Catamaran.
The clear waters at Stingray City are between 3 and 6 feet deep, providing perfect conditions for viewing, touching, feeding, and swimming amongst the gentle and very friendly Stingrays.  You will also get the chance to snorkel at the spectacular Coral Gardens reef.
---
Swim with the Stars
Starfish Point is a remote and very beautiful beach located just seven minutes' drive from Rum Point.  The beach gets its' name from the colourful starfish that thrive in the calm, clear and shallow waters.  You don't need to be a child to enjoy the thrill of being up close to these fascinating five-legged creatures and to marvel at their beauty.
You can even gently hold the Starfish in your hands but please remember never to take them outside of the water or they will suffer from tissue damage within seconds.  Starfish Point is a breathtakingly stunning location with a constant cool breeze and ideal for sunbathing, swimming, and beach picnics.
---
Glow in The Dark
If you've never experienced the magic of Bioluminescence under a starry night sky, you may do so at Bioluminescent Bay just 3 minutes' drive from Rum Point. This amazing phenomenon occurs when light is produced and emitted by a living organism.  In Grand Cayman, the glow you see is a result of extremely high concentrations of bioluminescent phytoplankton. These little creatures require very specific environmental conditions to flourish and are found in only a few locations around the world.
You can explore Bio Bay on your own or on a private guided tour.  The best time to do so is usually the week before and the week after the New Moon.  It's hard to describe the visual experience in words. You really do need to see it for yourself to understand the wonder and awe created by something so naturally magical.
---
Rum Point Cayman Island Rentals
---
Because of the surrounding area, all our villas situated at or near Rum Point offer more privacy and tranquillity than is available at our villas located in the busier parts of the island such as Seven Mile Beach and Georgetown.
Cayman Islands Rum Point is a place where guests come to completely unwind and to really get away from the hustle and bustle of their everyday lives.  Yet, there are also lots of great activities available for the more adventurous members of your family or group of friends. In other words, Rum Point offers the perfect balance of recreation and relaxation.
---
Villas in Rum Point
Here are some of our favourite villas in Rum Point
---
Sun Salutations
One of the nicest villas in Grand Cayman is Sun Salutations , a truly amazing 6-bedroom direct oceanfront villa, just 3 minutes' drive from Rum Point.  Facing westward, the location guarantees amazing daily sunsets.  The child-friendly beach is wide and sandy with great snorkelling nearby.
This villa is the epitome of luxurious living with large open-plan interiors and minimalist style. Two of the bedrooms are luxurious oceanfront master suites. A third king suite shares a bathroom with the bunkroom which can sleep up to six children or four adults.  Sun Salutations is perfect for large families or couples.  You can take a leisurely 20-minute barefoot stroll to Rum Point for a cocktail, or create one yourself in the amazing Chef's kitchen which is fully equipped with ultra-modern amenities.  The villa also provides various board games and X-Box One together with 2 kayaks, 2 stand-up paddle boards and other various pool and beach toys. There's always plenty to do to keep everybody amused at Sun Salutations.
---
Kaia Kamina
Another firm favorite is Kaia Kamina which is a stunning property, also located directly on the beach overlooking North Sound with panoramic views of the ocean. The beach is wide and sandy with loungers, umbrellas and palm trees.
This 7-bedroomed luxurious property is modelled on colourful West Indies style with lavish spacious interiors.  The villa features an infinity edge pool and ceiling to floor windows providing light and airy spaces everywhere.  Living, dining and kitchen areas within the house contain top quality amenities and furnishings.  A media room is the perfect spot to unwind after the sun goes down and the villa also provides kayaks and stand up paddle boards.  The dining terrace outside provides a perfect area for Al Fresco dining.
All bedrooms at Kaia Kamina have private en suite bathrooms.  Three are master bedrooms with sunken bathtubs and walk-in showers.  Two detached king-size carriage houses offer additional living areas with more privacy and space for relaxation.  There is a splendid kitchen with all mod cons and dining areas both inside and out.  Kaia Kamina is just a 5-minute drive from Rum Point.
---
Treasure Cove
Treasure Cove Villa is another fabulous beach front property, perched directly on Rum Point Beach.  This is a perfect six-bedroomed house for families and/or friends looking for a secluded and relaxing location.  There are no high-rise hotels nearby, nor will you hear any commercial traffic.
If you'd like to socialize and perhaps meet the locals, Rum point Club is just a short 15 minute walk away, where you can sip cocktails, set off on water sport adventures or eat great food with your toes in the sand.
The interior of the villa is naturally bright and airy with contemporary furniture and fixtures, designed for comfort and relaxation.  A spacious gourmet kitchen with all modern amenities, allows several cooks to work together in comfort. Treasure Cove can sleep up to 15 guests comfortably with six bedrooms and a Sofa Bed in the TV area.  Four bedrooms have en suite bathrooms, and each is decorated in calming white tones.
---
Villa Emmanuel
Emmanuel is a truly beautiful villa located on the peaceful shores of Cayman Kai, just 15 minutes walk from Rum Point.  Featuring a private pool and a cabana at edge of the sea, the setting is idyllic for relaxation and enjoyment.
The property is set on 2 levels and features a private pool and beautiful landscaped gardens.  Loungers are available on the beach in front of the house, just steps away from the crystal-clear water.  The area of water in front of the villa is idea for kayaking or paddle boarding.
10 guests can sleep very comfortably at Emmanuel, with 2 king sized bedrooms, 1 queen and 2 bedrooms with 2 twin beds in each.
The villa has a wonderful kitchen with stainless steel appliances and an ample spacious island in the centre.  It's the perfect place for gathering together over great food.  You might like to consider having the services of a private chef to cook for you for some or all of your stay.
---
Bellagio
Villa Bellagio is another very welcoming beach house in the popular Cayman Kai neighbourhood. Featuring 5 bedrooms which can sleep 12 comfortably, Bellagio is an ideal retreat for family or friends wishing to get together for a relaxing vacation.
The outside areas are very spacious with a private pool, BBQ, tranquil beach, private boat dock and hammocks to laze about on.  Your villa rental also includes the use of bicycles and kayaks.
Inside, the living spaces are bright and airy with pastel colours splashed here and there.  The very well-equipped kitchen is perfect for the cooks in your group.
---
Flip Flop Kai
Flip Flop Kai is a delightful 3-bedroom villa nestled on a secluded sandy beach, overlooking Bio Bay in Cayman Kai.  It's a beautiful house with amazing views from every room.
As with most properties on this side of the island, it's ideal for a "getaway from it all" relaxation holiday.  Here, you can listen to the gentle lapping of the water while relaxing in the beachside veranda and gazebo.  From the secluded beach, you can swim, snorkel and kayak.
If you are lucky enough to be staying at the property during the correct moon cycle, you can paddle out to the cove at night and see the amazing natural lightshow provided by bioluminescence.  The villa also features a BBQ for Al Fresco dining as well as a fresh-water pool.
Inside, the villa has an open concept kitchen, fully equipped.  Splashes of white and different shades of blue make up the colour scheme of the interior.  Flip Flop Kai is the ideal place to unwind and relax while still having the opportunity to be as active as you like.
---
Villa Del Mare
Villa Del Mare is an ultra-luxurious oceanfront property featuring 8 bedrooms and within a mile of Rum Point.  The villa has been recently renovated and completely refurbished, with no expense spared.
This secluded and private property occupies an impressive 10,000 square feet and is ideal for larger groups of families or friends, sleeping up to 24 guests (18 adults maximum). Villa Del Mare has many unique features which have ensured its high-ranking position in the top 5 of Cayman's most luxurious villa rentals.
The pool area boasts a swim-up full-service cabana bar with seating and also a splash pool with 4 semi-sunken tilled chaise loungers. You can even watch an oversize TV screen while taking a dip. Luxurious seating and a formal dining area enhance the huge patio area around the pool and an impressive BBQ grill with grilling station provides outdoor cooking and dining in style.
Entertainment plays a big part at this villa, with an indoor media/games room. 2 tandem kayaks are included with your villa rental which you can launch from your own private beach, literally at your doorstep.
---
Rum Point In a nutshell
Rum Point Grand Cayman is definitely a place you should consider for a villa rental.  Or, if you prefer to stay on a busier more built-up part of the island such as Seven Mile Beach where you will find a lovely selection of Resorts in Grand Cayman, be sure to take a day trip to Rum Point to experience the fabulous laid-back island atmosphere, beach hammocks, shady trees and delicious food.
Overall, Rum Point is a perfect location for a vacation. The island is easily reached by the USA and Canada with daily flights from most US cities. Grand Cayman is one of the 17 Direct flights from Atlanta to the Caribbean.