I am very often asked, what's the best thing to do in Costa Rica.  I then take a deep breath and start on the endless list of things to do and places to visit in Costa Rica that just goes on and on … and on.  This unique country is so many things …. It's a surfers' paradise with a rodeo thrown in for good measure.  It's amazing mountain trails and coffee plantations with a dash of whale watching.  It's peering into the vast majesty of a volcano or two and then diving into the depths of a mesmerising ocean.  It is historic buildings.  The zen of yoga tied in with the thrill of ziplining.
It's the spice of the Caribbean and the mellow sweetness of the tropics.  There isn't a pigeon-hole available that would capture the splendour of Costa Rica. Allow me to introduce you to a mere flavour of this wonderful destination and give you a glimpse into the best places to visit in Costa Rica.
I love to cook up new ways to classify my blogs.  For Costa Rica I'm going to use altitude as my measure of choice.  We're going on a trip that starts at below sea level and ends in the heady heights of the green and luscious mountains of Costa Rica.
Before we set sail, here's just a little bit of geography.  Costa Rica is located north of Panama, South of Nicaragua with a coastline on both the Pacific Ocean and Caribbean Sea.  It has a mountainous hinterland and tropical jungles that sweep down to the Pacific coasts.
The Costa Ricans have wisely understood the value of the natural beauty of their country and have preserved over 25% of its landmass as protected nature reserves. Architecture is all very thoughtfully blended into areas of outstanding scenic beauty. The country disbanded its army in the mid-20th Century and has focussed its energies on building a progressive country that has become one of the go-to places for informed travellers who want to be part of a positive story about eco-tourism. These Eco Sites provides some of the best things to do in Costa Rica.  Costa Rica has a plan to be carbon-neutral by 2021.  Something it is on target to achieve.
So without further preamble, let's dive into Costa Rica and start our voyage of discovery.
---
Sub-Sea Level – Under-Water Magic
One of the very best places to visit in Costa Rica if you are an avid dive enthusiast is any of the incredible beach towns dotted along South Central Costa Rica.  Dominical or Uvita, in the heart of the Marino Ballena National Park, are two wonderful beach resorts from which to explore the magic of the Pacific Ocean.
Some experienced and knowledgeable dive companies run fantastic expeditions out to Isla de Cano – a small uninhabited eco-dive site located about an hour from the mainland.  The Cano island Scuba diving experience has been described like diving in an aquarium when you slip beneath the Pacific waters.  Huge schools of fish waft by.  The clarity of the waters will astound you as you admire with wide-eyed wonder an array of colourful and dazzling silver fish.  The diving is some of the best you will ever experience in the world.  In addition to the fishy inhabitants of these waters, turtles potter by and you can get close to some substantial and pretty coral reefs.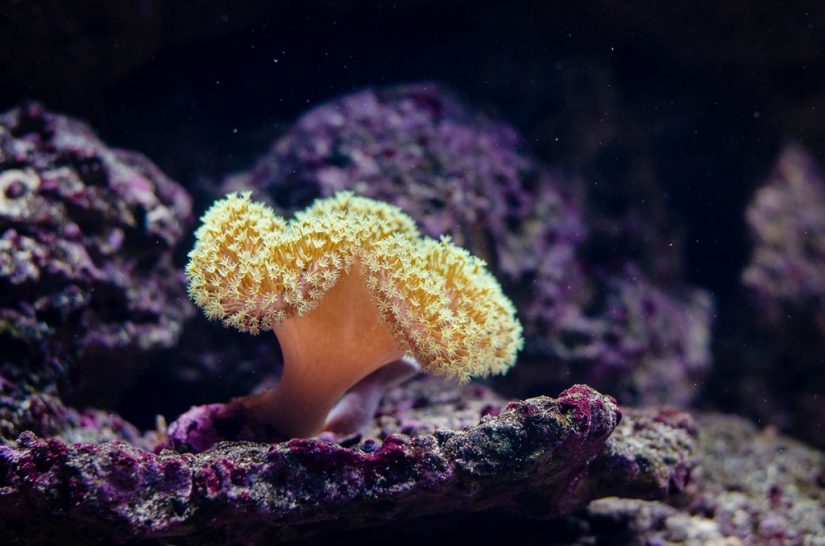 The tour operators like Costa Rica Dive and Surf will give you equipment and instructions to ensure you have a happy dive or snorkel.  If you are a first-timer to the world of reef exploration, please do some useful research.  For example, there is a reef etiquette and asks that we don't touch the coral.  Also, choose a sunblock cream that won't damage the reef and its quirky inhabitants.  And finally, the only thing you ever take from a dive is your happy memories – we simply pass through these wonderful universes as lucky spectators.  Our presence must never leave an imprint.
---
View from the Boat
Snorkelling and diving isn't for everyone.  For whatever reason you aren't able or comfortable swimming fin to fin with some Parrot fish, there are some wonderful ocean tours to join.  Ballena Aventura offers a wonderful day out where you can enjoy spotting pods of dolphins and whales from the comfort of one of its boats.  If you look at an aerial view of the amazing sandbar that extends out of Marino Ballena National Park, you will see that it is shaped like a whale's tail.  This seems such a propitious symbol as many species of whales make their annual pilgrimages along the Pacific shoreline of Costa Rica.
There is hardly a month of the year, when whales and dolphins aren't passing along the coastline.  Again, the incredible tours that operate out of Uvita, take great care not to distress or encroach on the whales and their young as they pass by.  It is an experience like no other to see these huge mammals.
So whether you are diving, watching from a boat or riding a wave, Dominical, Uvita and the lovely Marino Ballena National Reserve are some of the best vacation spots in Costa Rica.
---
Sea Level – Coastal Urban
The Nicoya Peninsula to the north of Costa Rica is one of the dream destinations in the country for hip and zen travellers.  The pretty town of Nosara has established itself as one of the most desirable yoga and surfing destinations in the world.  With a population of well-under 10,000, this lovely town sits within easy access of the world-class beaches of Playa Guiones and Playa Pelada as well as the incredible Ostional Wildlife Refuge that welcomes turtles who nest each year.
Nosara is a casual and laid-back town that offers visitors an opportunity to mingle and unwind.  Why not start your morning with the freshest coffee imaginable at Beach Blend Coffee in Nosara.  This cute company is 'fanatical' about coffee – to use their own language.  When you consider that the amazing coffee beans are grown, harvested and roasted right on their doorstep, when they say fresh they mean FRESH! 
There are some lovely restaurants in Costa Rica to drop into for a tasty lunch or gourmet dinner to polish off a perfect day.
---
Above Sea Level – Urban Destinations
The ancient capital of Cartago, 16 miles east of the modern-day capital, San Jose, is one of the best places to visit in Costa Rica if you are in search of history and culture.  Founded by the Spanish conquistadores during the Costa Rica colonization, it was the governing capital of Costa Rica from 1574 up to 1824, when San Jose became the governmental seat for the country.
One of the most impressive sites to visit in Cartago is the Basilica de Nuestra Senora de Los Angeles (The Cathedral of our Lady and the Angels).  Built in 1639, this cathedral is representative of the grandeur and ornate style of architecture used across many Catholic countries.  Regardless of your religious leanings, the Basilica is worth exploring.  As a famous place of pilgrimage in Latin America, citizens with health worries visit La Negrita – a small statue of the Blessed Virgin carved in a black stone.  This statue and the rock on which it was found by a native girl, are believed to have the powers to grant miracle cures to the inflicted.
A day wandering around Cartago is well spent.  It's a captivating destination and as you wander on a warm and blue-skied day around the pretty streets, you will feel as though you have stepped back in time.
The modern-day capital of San Jose is a busy and bustling alternative to the relaxed vibe that surrounds Cartago.  The history of Costa Rica as a tobacco growing country that then evolved into a successful international coffee supplier, means there is a wealth of architectural reminders of the economic prosperity that is tied in with its agriculture.  San Jose reminds us of its Golden Age of coffee especially when you visit the Teatro Nacional – a symbol of the once great wealth of this city.
Considered the safest of Latin American cities to visit, San Jose is emerging as one of the best places to visit in Costa Rica for a long weekend or tied in with a dual centre holiday that takes in one of the fabulous Costa Rican beach resorts.  A trip through Barrio Escalante, the downtown area of San Jose, offers relaxed dining at street level.  You can enjoy bocas the Costa Rican version of tapas.  Small bites that can accompany some world-class craft beers.  The scene is lively and yet suited to all age profiles.
It is also an excellent location from which to explore the rest of Costa Rica – read more about the best day trips from San Jose.
Further out of town, you will find high-end Costa Rican dining.  El Monastere in the suburb of Escazu is destination dining par-excellence for the views alone.  This old private chapel, sitting on a hill commanding a sparkling vista over the night-time city of San Jose, is the most romantic and breath-taking place to enjoy dinner.
---
High Altitude – With Drama
As we move on to heady heights, our next stop on the best places to visit in Costa Rica are some of the impressive volcanoes that create dramatic silhouettes against the perfect Costa Rican skies.  I don't know about you, but I live on a small and verdant island in the North Atlantic.  We are rather short on spectacular geological phenomena – other than the Cliffs of Moher – which, are certainly dramatic.  So, what a novelty to be able to take a trip to peer into the might and drama that is a volcano.
Of course, Costa Rica loves to over-deliver in everything.  Not only does it have a wider variety of bird species than the whole of North American combined, but it has a large number of pretty dramatic volcanoes, clothed in green foliage, waiting to be hiked.
The ever-noteworthy Arenal Volcano located in the district of La Fortuna about 50 miles northwest of San Jose is one of the most popular Costa Rica places to visit.  The Arenal National Park that surrounds the volcanic mountain, has many natural attractions for visiting families.  With geothermally heated springs, you can end a day of hiking and adventure with a long soak in one of these incredible hot pools.  Arenal is identified as an active volcano, but don't fret, she hasn't blown her top in quite some time and there is usually quite of bit of seismic activity to give advance warning, if she's starting to get a bit peevish!
Another famous volcano that has become one of the Costa Rica destinations of choice for visitors is Irazu.  Located in the National Park of the same name within an easy distance of Catago, the crater can be visited along a very basic track by jeep or by a rather strenuous hike.  As you make your way to the top of the volcanic mountain, the temperatures dip quite considerably.  Always wear suitable clothing and bring plenty of water.  The emerald green lake that is hidden in the depths of the crater is a dramatic reward for the effort to get there.
Undoubtedly, volcanoes are Costa Rica destinations that are memorable and unusual.  Check out any map of the country and you will find plenty to choose from.  Keep up to date with the latest information as sometimes ash and smoke emissions make it impossible to get right to the pinnacle of these geological wonders but do try to get to see one.  They are amazing!
---
Conclusion
So, there you have it, a rather different view of where to go in Costa Rica.  Do check out my earlier Costa Rican blogs that give you some further suggestions for this breath-taking country.  With some of the very best beaches in the world and jungles teeming with wildlife, there is something on offer for everyone.  At Exceptional Villas we have curated the very best list of desirable properties that capture everything special about this amazing destination.  Sometimes, you simply need to choose the perfect villa and let that determine where to go in Costa Rica to experience a fun and fabulous vacation.
We have decades of experience in helping our wonderful travellers extract the very best from the destination of their choice.  Let us guide you through the perfection that is Costa Rica.
About Mairead Moriarty
Born and raised in Co Kerry, lived in London, New York, San Francisco, Dublin. Owner of one very battered suitcase, a well-worn passport and a million memories.
It seems very fitting for a travel writer that my surname translates as 'Skilled Navigator'. Apart from an occasion when, aged 3, I got lost in a Supermarket in Tralee, I have managed to live up to my name!
Curiosity is probably the driver that has sent me on magical mystery tours around the world. I want to 'feel' a place. I want all my senses to be engaged: from the history and geography that has influenced a country or city, the arts and achievements of its natives, anything and everything really.
Regardless of whether I am on a local train travelling through Morocco, or poking around in Marconi's study in Bologna or on a canal boat weaving through the heart of the English countryside, the same rules apply - ask questions, talk to locals, eat what they eat, sit quietly with nature and simply be.
Assimilate as much as is possible so as to understand the soul of a place. That is my passion. That is the compass by which I navigate.