Within the top ten list of any spectacular holiday destination lies the enigmatic country whose name literally translates as 'Rich Coast'.  In addition to its many natural charms, Costa Rica's beaches – limitless and untainted – are an all-year-round lure for eager travellers to its ambient shores.
Any map of Costa Rica beaches will highlight numerous sandy options that capture the wide expanse of both the gorgeous Caribbean Sea as well as the stunning Pacific Ocean.  This Central American gem is a mere 300 miles, north/south and 175 east/west.  Nicaragua and Panama have land borders north and south, respectively.  Yet for all of its closeness to other Central American nations, Costa Rica has for decades marched to its own unique tune.
It has a flavour of South America with cowboys herding cattle along vast prairie ranches.  Palm tree lined beaches reminiscent of the USA West Coast and luxury Costa Rica villa rentals.  Spicy food in some of the best Restaurants in Costa Rica that links with the Caribbean epicurean experience.  Oh yes and coffee.  Some of the best coffee beans are grown, harvested, roasted and ready for your perfect morning brew.  It's one tasty package, however you view Costa Rica.
---
Exciting Eco Adventures
Some of the best Costa Rica beaches compare favourably with beaches in Hawaii and throughout the Caribbean.  In addition to the wonderful beach experience, Costa Rica has more bird species than the whole of USA and Canada combined.  You will see wild monkeys that manoeuvre through the tall and lush green canopies of the tropical forests.  You may catch a very fleeting glimpse of the rare and endangered jaguar.  There are dazzling arrays of butterflies that compete colourfully with the prodigious bird life.  Various dolphin species frolic and gambol off-shore eager to view their tourist visitors.
Sea turtles who spend most of their lives under the watery mantle of the world's oceans, come ashore to nest in Costa Rica.  Wild volcanoes, waterfalls, flowering plants, fruit plantations, coffee farms, ranches …. It goes on and on.  Each of these wonderful natural and cultivated features are easily accessed from any of the Costa Rica beach towns.
It's not unusual to take a tour or hike inland through the lush tropical forests that fringe along the splendid Pacific coastline.  Adventure and eco holidays have become a key feature of trips to Costa Rica.  It doesn't mean your ecologically sound decisions have to result in rather a pared back experience.  Actually, the depth of luxury to be enjoyed in the fabulous villas and resorts represented by Exceptional Villas, have all the 5 star luxuries one would wish for but with an intelligent relationship with their surroundings.
The whole of Costa Rica is fired up to become carbon neutral by 2020.  An impressive target for such a young nation.  As a tourist you can be part of this incredible story.
---
Now, let's talk about the Beaches
With an 800-mile coastline, divided between the Caribbean and Pacific, there are over 300 beaches to choose from.  The Costa Rica west coast seems to attract the largest numbers of visitors but there's still ample room to enjoy the Pacific Ocean with some relatively deserted beaches that still retain that magical beachcomber appeal.
Starting at the northwest corner, the provinces of Guanacaste and the Nicoya Peninsula offer the incredible beaches of Playa Hermosa, Playa Flamingo, Tamarindo, Nosara, Santa Teresa and Montezuma.  These fabulous beaches enjoy the beauty of the Golfo de Papagayo, the Pacific and Golfo de Nicoya.  Vast turquoise horizons that offer lively breakers and more calm waters for swimming and pottering in the shallows. Soe of our luxury Villas based near the beach include: Maravilla (Playa Hermosa), The Palms 28 (Playa Flamingo) and Casa Alang Alang (Tamarindo).
Read more about our Tamarindo Villas.
---
Flamingo Beach
There's a clue in the title.  It's pink.  Yes this, the one of the best beaches in Costa Rica for its soft pink sand and how it captures all the majesty of the Pacific.  It has a lovely secluded feel to it due to the sheer cliffs that offer a dramatic backdrop to such a pretty and romantic beach.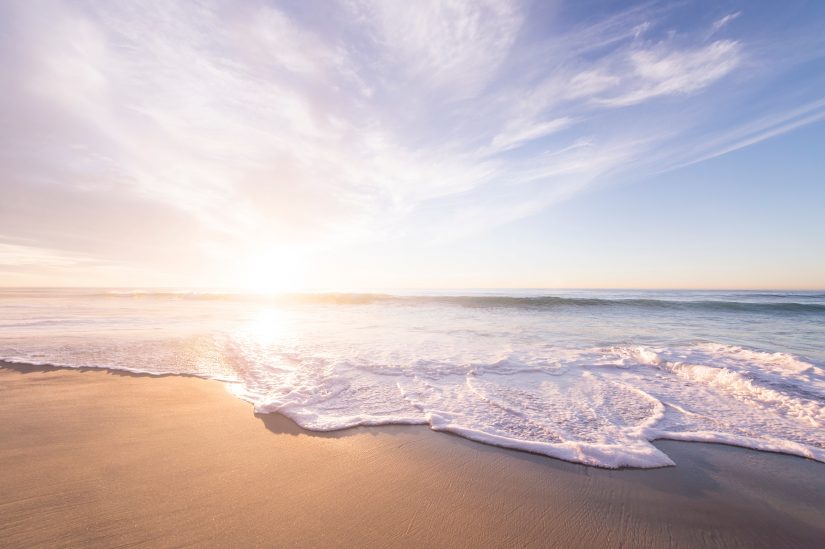 ---
Conchal Beach
If you are keen on snorkelling, there is extensive coral and underwater marine life to entertain just off shore.  Enjoying the colorful marine life is one of the top 10 things to do in Costa Rica. This is the beach from which to explore the world that sits beneath the calm surface of the Pacific.
---
Nosara
This beach town is the destination for the cool travellers who like world-class yoga, surfing and an all-round laid-back vibe.  There are lovely beaches that offer good breakers that would compete with any Hawaiian beach.  Whatever your water sport of choice, Nosara is a great place to not just practice but learn.  There's a fun and casual nightlife too.
---
Ostional Beach
In sharp contrast to the prettiness of Flamingo Beach is the dramatic glittering black sand of the Ostional Beach. With a multitude of volcanoes – active and otherwise – dotted throughout this country it's inevitable that there will be at least one beach displaying the fine dark volcanic sand.   If you want to experience a black sand beach Costa Rica Ostional Beach is the ultimate one as it is the destination for the gentle female Olive Ridley sea turtles who come ashore only once a year and at night-time between July and October.
These captivating creatures amble up the beach in great numbers to clumsily but capably dig their nests and lay their eggs.  Located within the heart of the Ostional Wildlife Refuge, you can join an informed tour that will help you to witness this inspiring event without causing any stress to the turtles.  With up to 10 mass nestings each year, hopefully your trip to the Nicoya Peninsula will co-incide with one of these unforgettable occasions.
---
Santa Teresa
Further south, the white stretch of sandy beach interspersed with rocky tide pools, is the equally relaxed Santa Teresa.  It attracts a youthful crowd who again want to explore the beauty of the beaches, enjoy a lively nightlife and dip in and out of the forested hinterland.  With other amazing beaches both to the north and south, a holiday based around Santa Teresa is never uneventful or dull.
---
Central Pacific Coastline – Costa Rica Beaches
Travelling due south along the Pacific Coastline following the map of Costa Rica beaches and leaving the Nicoya Peninsula behind, the next series of beaches worth considering are Jaco, Manuel Antonio, Dominical and Uvita ending up at the Osa Peninsula.
---
Manuel Antonio Beach, Manuel Antonio National Park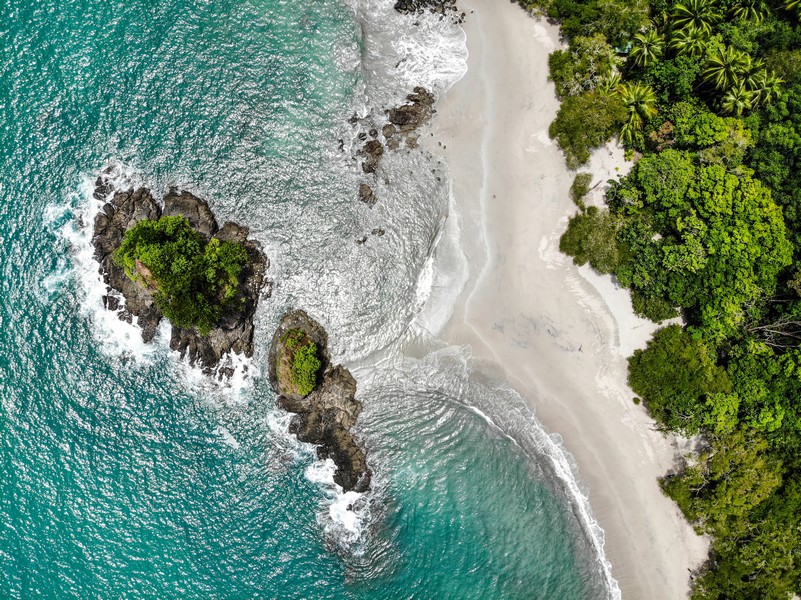 This, for me, is one of the greenest beach destinations ever, based near the incredible Manuel Antonio Natural Park.  Not just because it is a clean and unspoiled sandy paradise but because you get to hike through the most lush tropical rain forests to get to this beautiful beach. Defined pathways, teeming with wildlife and fragrant shrubs offer an exciting element to your day at the beach.  The sound of birdsong is the only sound to accompany your quiet footsteps as you travel beneath this green canopy.  Active families simply love the day out.
---
Dominical Beach
Costa Rica as a surfers' paradise has been a well-guarded secret for many years.  The true surfing enthusiast has already figured out that the quality of breakers, the understated and fun atmosphere that is found in Costa Rica is pretty special.  Nosara captures a lot of the surfing community but Dominical Beach is equally as popular.  If, like me, you enjoy learning a new skill on holiday then book yourself in with one of the surf schools and embrace the adrenalin rush that awaits.
---
Costa Ballena
As one would expect, if you same a place Whale Coast it's fairly likely that you are going to enjoy seeing more than a glimpse of our rather gargantuan mammal cousins.  The Ballena National Park, with an uncanny whale's tail shaped sandspit, is one of the perfect places to view whales or enjoy life along one of the lovely beaches.  Californian and Antarctic Humpbacked whales migrate in and out of these warm waters to give birth and raise their young.
It is, in essence, a nursery for the baby whales.  If you check out any of the whale watching calendars for Costa Rica, you will see there is rarely a time over the course of the year when the whales aren't off shore.  Numerous tours operate out of some of the Costa Rica beach towns dotted around the Ballena National Park, eg. Uvita and Dominichal.  These tours are well-run and understand how to get visitors close to the pods but without creating any stress for the whale mothers and babies.
Even if you are unlucky enough to be in Costa Rica on the rare occasions when the whales haven't yet swum into view, there are numerous species of dolphin that seem as intent on watching us as we are on watching them.  Once you see Spinner Dolphins in full display you will understand how they have earned their names.  The traditional bottlenose that we are more familiar with move freely within these waters as do the Common and Spotted Dolphins.  They are capricious creatures and truly love to play.
---
Uvita
Whether you get on any of the reputable sea tours out of lovely beach resort of Uvita, I recommend you try some kayaking through the vast marine park.  With over a quarter of the landmass of Costa Rica dedicated to national parks and protected reserves, there is a veritable playground for the active and not so active to explore and enjoy.  I can promise you the photographs you bring back from Costa Rica will rival anything you may have captured on any previous vacation.
---
Corcovado National Park
Corcovado National Park is home to some of the greatest biodiversity in the world.  In addition to the trails, hiking and beach, you can jump on a charter boat to go and explore Cano Island that lies about 10 miles off shore.  The diving and snorkeling around Corcovado National Park has been described as swimming in an aquarium.  A wild display of colourful fish and underwater plant life, are utterly captivating.  As always, consider your environment and use a coral-friendly sunscreen.  Be sure to have your waterproof cameras at the ready too.
---
And not forgetting the Caribbean Coast.
Manzanillo Beach
There is a very different style to life on the Caribbean side of Costa Rica.  It is perhaps less touristy and the food is a lot more spicier too.  It offers coral reefs, tropical rainforests, lots of nature and outdoor life.  It is still emerging as a popular destination in Costa Rica and for that very reason it's well worth getting there before it becomes too well-known.  The lovely Manzanillo beach sits at the south-eastern end of the Caribbean coastline and is probably the loveliest of the beaches to be found along this stretch.
---
San Jose for Culture … and a trip to the beach too!
Whether you are heading for some of the incredible history in the capital city of San Jose, Costa Rica beaches should be an add-on to any urban vacation.  Playa Jaco is about 2 hours from San Jose – and is its closest beach.  Consequently, it does get a bit crowded.  For a little extra journey time, why not try Playa Manuel Antonio.  It is about three hours by car and well worth the journey to enjoy the best nature and beach have to offer.
---
Conclusion
With a climate that varies throughout its many regions, it is truly difficult to highlight any one beach as the very best beaches in Costa Rica.  My recommendation would be to simply choose one of the fabulous properties available through Exceptional Villas, enjoy the comfort and incredible views then get out and about and explore everything within easy reach.
Be assured, your never simply go to Costa Rica once.  It is a country that offers so much.  Whether you travel with young children or active teenagers.  If you are perhaps honeymooners or retired – there is a Costa Rica that will offer you a vacation like no other for each stage of your life. read more about a Costa Rica Honeymoon.
This country is a phenomenon of natural wonder so jump right in.  And don't feel you have to be leaping about doing something hectic at all times.  There's always a hammock somewhere under a shaded tree simply waiting for you to take on the characteristics of one of Costa Rica's most famous natives … the sloth!  I feel some zzzz's coming on!
About Mairead Moriarty
Born and raised in Co Kerry, lived in London, New York, San Francisco, Dublin. Owner of one very battered suitcase, a well-worn passport and a million memories.
It seems very fitting for a travel writer that my surname translates as 'Skilled Navigator'. Apart from an occasion when, aged 3, I got lost in a Supermarket in Tralee, I have managed to live up to my name!
Curiosity is probably the driver that has sent me on magical mystery tours around the world. I want to 'feel' a place. I want all my senses to be engaged: from the history and geography that has influenced a country or city, the arts and achievements of its natives, anything and everything really.
Regardless of whether I am on a local train travelling through Morocco, or poking around in Marconi's study in Bologna or on a canal boat weaving through the heart of the English countryside, the same rules apply - ask questions, talk to locals, eat what they eat, sit quietly with nature and simply be.
Assimilate as much as is possible so as to understand the soul of a place. That is my passion. That is the compass by which I navigate.