The aptly named White Isle of Ibiza Spain has rightly earned a reputation as one of the coolest destinations on the globe.  It has lured the beautiful people to its shores for decades because regardless of the amazing arty and party vibe on the island, at its heart there is a picturesque and unspoiled Mediterranean island.  So regardless of your purpose in vacationing on Ibiza, prepare yourself to be wowed by some of the lovelies stretches of white sand, dreamy quiet coves and full-on party beaches.
Here's my list of some of top beaches in Ibiza Spain.  With over 80 to choose from, I can promise that there's at least one ideally suited to you!
---
Family friendly
If you are holidaying with little children, then the best beach in Ibiza that offers child-centric amenities has to be Calla Llonga.  The waters off the sandy beach are shallow without any tricky currents so you can relax and let your little ones explore the shallows.  There is a small playground and arcade that kids might enjoy too.
The beach is blessed with some nice restaurants and bars so you can graze for the day without having to step away for a formal lunch.  Although, if you are keen to enjoy a first-rate lunch or dinner, visit Amante restaurant on a cliff overlooking the bay.  Organic local ingredients are woven into sublime dishes all enjoyed with one of the best views in Ibiza.
It's an absolute must-visit in Ibiza Spain!
Another amazing beach option to the west of the island is Calla Bassa Beach.  This sweeping cove has very smooth swimming conditions with the added charm of lots of rock pools – ideal for splashing about in and exploring.
With a very attractive beach club, you can tuck yourself away in the VIP area and enjoy being pampered with delicious food and drinks brought directly to your lounger.
---
Romantic Idyll
In the midst of the whirl that can be Ibiza in high season, it's nice to know that you can step away from it all and find some true quiet time.  One of the best beaches in Ibiza for the visitor who wants to find some inner peace has to be Cala Llentrisca.  A tiny cove reached on foot that's hidden under the cliffs of Es Cubells.  It's a pebbly beach with an old wooden jetty and a few fisherman huts.  There are no glossy amenities which really adds to its charm.
If you get there early in the day, you can be assured of having the beach to yourself.  Lovely waters for swimming.  Take a picnic and enjoy some quality time with your beloved or simply yourself!
If you are a bit intrepid and are keen on a challenge, you can visit either the tiny beaches of Ses Balandres or Cap des Jueu.
The first option of Ses Balandres involves you climbing down an old ladder and scaling a cliff face using an old rope system.  Clearly something for the able bodied only!  It is worth the challenge as you can hide out with a book and your thoughts in splendid isolation.
The second option of Cap des Jueu entails a swim of about a mile across open sea to get into this secluded cove.  If it's adventure you want, these are two incredible options.  Be sure that the sea conditions are right before you embark on these outings.  Always have lots of water, a hat and really appropriate clothing and footwear if you decide to take on these expeditions.
If all of this toil seems like so much hard work to find that perfect hidden and romantic beach gem, why not take all the stress out of it and simply hire a boat.  At Exceptional Villas our wonderful concierge team can arrange some of the best things to do in Ibiza including, getting a crewed boat to take you on an amazing tour of Ibiza by sea.
You will be introduced to so many fabulous hidden beaches and coves.  There's nothing quite like local knowledge to find those secret gems that make your holiday feel exceptionally unique.  Imagine your day striking out across the turquoise sea.  Finding the ideal place to spend a lazy morning or afternoon.
What more romantic way to spend your day then checking out the white isle from the leisurely comfort of your own boat.  Include a picnic and you have the recipe for a magical day of sun, sea, adventure and romance!
---
Beach Clubs
In addition to the youthful party vibe, Ibiza has become one of those hot spots where the fabulously wealthy sail into during the summer season.
Following a trail around the Mediterranean that takes in destinations like Cannes, Puerto Banus, Corfu and Palma, the beaches of Ibiza welcome yachts of all sizes.  To cater for this flotilla of glamour quite a few exclusive beach clubs have popped up.  If you are looking for that uber chic day of luxury, then one of the best beaches in Ibiza to visit is Santa Eulalia's Nikki Beach.
Divine food, cocktails, a very civilised yet eclectic experience awaits.  If you are yachting around Ibiza, the Nikki Beach Club will arrange to have you transferred from your boat direct to the club.  The global brand, Nikki Beach, attracts the beautiful and famous.  It's always a great place to see and be seen.
For a more family friendly vibe, the Beachouse Ibiza, beach club on Playa d'En Bossa offers a haven of tranquillity in the midst of this big busy beach.  With a supervised safe area for kids to play, it's a perfect destination for parents who want to unwind with delicious food in this paradise among the dunes.
With a complimentary morning yoga class for the health conscious or a delicious breakfast to enjoy after a long night of clubbing, it's one of those places where all the themes of a holiday in Ibiza seem to intersect effortlessly.
If you are in the San Antonia area, you will have to visit the gorgeous beach bar that is Kumharas. It faces full west so has a magical ring-side seat at sunset.  Enjoy a divine pre-dinner drink on the terrace as the oranges, pinks and yellows of the best Ibizan sunset spreads across the sea and sky.  It's one of the best loved bars in San Antonia sitting right on the beach.
---
Party Central
You just have to visit Playa d'En Bossa on Ibiza if you want to embrace the whole party scene.  At over a mile long, this is the home of Ibiza beach parties.  Beach bars like Boro Bora, Nassau, Tanit and Bali Beach vibrate to the sounds of house music.
There's a very fun party scene where you can lounge under a parasol and enjoy some delicious cocktails and snacks while you revive and recharge in time to hit the dance floor later on.  It's fun, it's loud.
If you are staying on Ibiza as part of a group, you will find Playa d'En Bossa the ideal destination for fun group activities.  Everything from jet ski rental, banana boats, morning yoga, to dancing on tables at Bora Bora or having a more chilled club experience at Nassau.  There's something in Playa d'En Bossa for everyone.
After a leisurely day at the beach, you can refresh at one of the fabulous beach clubs and enjoy the pre-dinner party scene in any of the lively bars along this the largest beach on Ibiza.
---
Beach View Dining
If you enjoy finding that perfect place for a romantic yet casual lunch, look no further than Cala Bonita Restaurant.  It sits overlooking an Ibiza beach that is relatively close to Ibiza town but nicely tucked away.  With a DJ spinning some ambient Ibiza tracks, you can enjoy eclectic dishes of scrumptious food created from the freshest and best of local ingredients.  This heavenly restaurant is open for lunches and sits on the S'Estanyol Beach that's at the end of a dusty trail from the village of Jesus.
The beach itself is small with the most crystalline waters gently bushing the sandy shore.  Definitely a destination beach for a fabulous lunch.  If you arrive early, why not enjoy a swim or snorkel (do bring your own gear).  Just one of the memorable experiences Ibiza has to offer.
Santa Eulalia's Chiringuito Blue is one of those popular restaurants for a lunch with a view.  Overlooking the beach, with a nice buzz, it's a great place for a menu that straddles the Middle East and Spanish repertoire delivered on sharing plates.  With low seating, designed to encourage a long and languid liquid lunch, it's a great place to hang out with friends.
For something rather swish, make your way over to Cala Tarida.  One of Ibiza's chicest beach clubs awaits.  The Cotton Club is a dream in white.  Pristine and modern, it all feels so very Ibiza.  Rather cleverly there are showers available so you can refresh your look before settling in for an indulgent lunch.  The weekend Champagne brunches are the stuff of legends.  Booking essential.
For a candlelit dinner extraordinaire overlooking the ocean, why not book one of Exceptional Villas stunning Ibiza villas.  A number of our properties have direct beach access and unparalleled views.  What  better way to guarantee that bespoke and private dining experience.
Whether it's a casual barbecue or a long leisurely dinner that invokes the true Balearic spirit, enjoy the pleasure of a spacious and private beach view terrace.  Let our amazing concierge team book a chef to cater your special occasion and relax and enjoy the evening.
---
Water Sports
If you like the adrenalin rush of some kite surfing then one of the very best Ibiza beaches to visit is Cala Martina.  Very near to the resort of Es Cana, this beach caters for all a myriad of water-based activities.  There are windsurfing and diving schools, kayaks to be rented, paddle boards and pedalos.
The bay is sheltered enough for beginners but slightly off-shore there's enough wind to make windsurfing or catamaran sailing a pleasant adventure.
The beach has a very laid-back hippie vibe and appeals to all generations.  With two restaurants, showers and parasols, there are enough amenities to support an action-packed day.  For those who like a mini-hike, there's a very cute trail that leads around the coast to Santa Eulalia.
---
Conclusion
Ibiza is far more than a collection of clubs and young beautiful things.
Yes, indeed, these do exist to an admirable extent in Ibiza but there is a whole lot more to this amazing island.  For decades it's been the place where creative people have congregated.  It's easy to see why.  Once you step away from the bustle of Ibiza Town, you will find there are over 80 beaches evenly distributed around this island.  Some of these little coves are truly hidden.  It is possible to find some beautiful, quiet beach at the end of a dusty roadway or camino.  Get a good local map, get advice from a local and go out and explore.
As a family destination, Ibiza ticks so many boxes.  Like all Spanish vacation destinations, they welcome children. Restaurants are always child friendly and the shallow waters that lap gently against the Ibiza shorelines are safe for young explorers.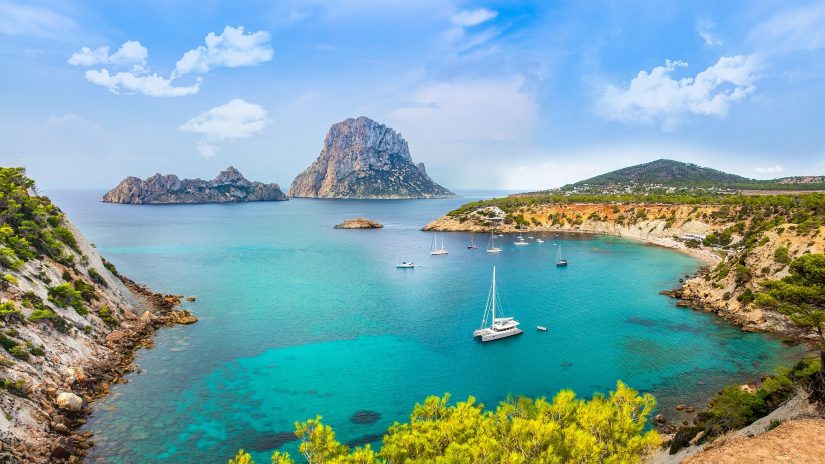 For teenagers, there are lots of lively activities to keep bodies busy with enough people watching and fun to enjoy in some of the beach bars before it gets too late and raucous.  It's a gentle taster of some of the island life without teens being exposed to the full-on club scene.
Visitors are always surprised at the variety of experiences to be enjoyed on this lovely island.
Go find out why Ibiza is on the hot list of global destinations each year.  It never goes out of fashion.  It's incredibly easy to get to with numerous flights from virtually every European city.  You are never too old or too young for this magical island.  It has a way of being just what you want with more than just a little bit of added sparkle!
About Mairead Moriarty
Born and raised in Co Kerry, lived in London, New York, San Francisco, Dublin. Owner of one very battered suitcase, a well-worn passport and a million memories.
It seems very fitting for a travel writer that my surname translates as 'Skilled Navigator'. Apart from an occasion when, aged 3, I got lost in a Supermarket in Tralee, I have managed to live up to my name!
Curiosity is probably the driver that has sent me on magical mystery tours around the world. I want to 'feel' a place. I want all my senses to be engaged: from the history and geography that has influenced a country or city, the arts and achievements of its natives, anything and everything really.
Regardless of whether I am on a local train travelling through Morocco, or poking around in Marconi's study in Bologna or on a canal boat weaving through the heart of the English countryside, the same rules apply - ask questions, talk to locals, eat what they eat, sit quietly with nature and simply be.
Assimilate as much as is possible so as to understand the soul of a place. That is my passion. That is the compass by which I navigate.