The majority of our St Martin villa rentals are located on the hillside and being on the hill means spectacular views of the ocean.  However, we all want to be on the beach right?  There is something special about being able to stay right on the beach.
You can't beat waking up in the morning and being able to walk outside your villa, sink your feet in the sand, and then swim in the turquoise sea.  It is the best feeling without having to pack the car and prepare for the day ahead.  There is no need for any of this stress when your villa has the beach right outside.
In St Martin there are a limited number of beach front villas.   Beachfront buildings are expensive and need permanent maintenance all year around so lot of owners prefer to build on the hillsides. We have lots of different ranges in our beachfront collection of St Martin Villa rentals.
You can get a beachfront beach house at a great price.
We also have mid range along with a range of super luxurious rentals; so there is a villa for everyone's budget.  Some of my clients are not aware of this.  Just because beachfront is limited it doesn't mean they are all crazy expensive.
I do advise to book well in advance as the beachfront villas always book up quickly.  I always find thanksgiving week to be booked up by February/March for the beachfront villas so that is a tip if you are looking to book one for next year.
Check out my personal top picks below for each range.
Value Range
Baie Longue Beach House has to be the best value beachfront we have- it really is the perfect beach house. We have had all types of clients stay here; families, honeymooners, groups of couples – it is a good one for everyone. The villa is located on Baie Longue beach so is named very appropriately.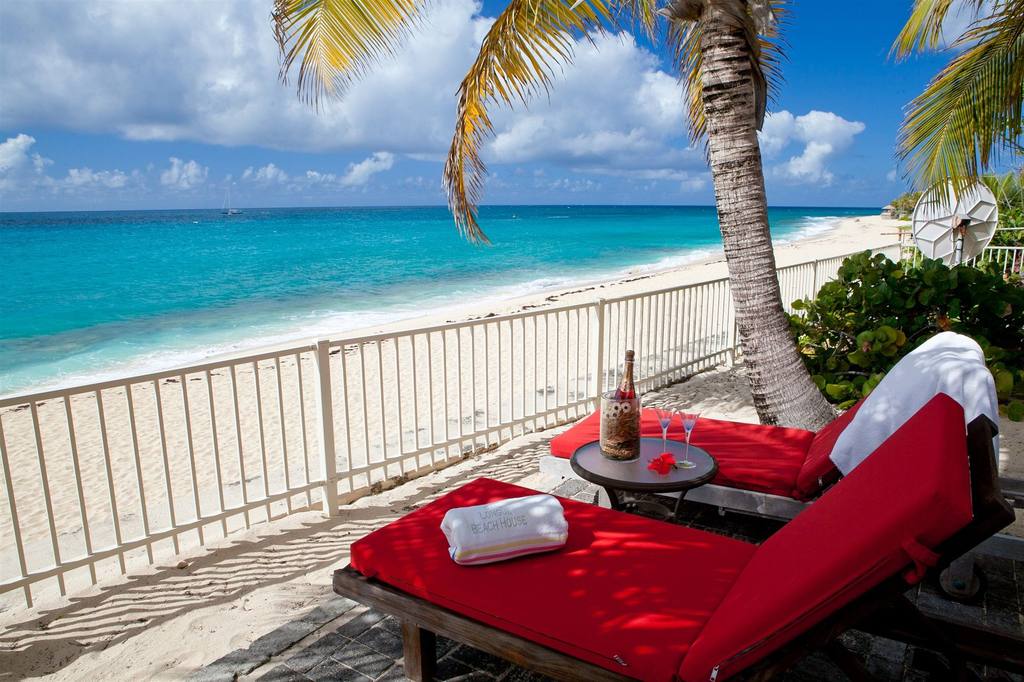 Although the villa is on the beach it is very private and has a private stairway and gate to the beach so you also feel very secure.  The beach in front is rocky however you can walk to the left or right for great swimming spots. This is a great and very affordable villa.
Mid Range
Out of all our St Martin villa rentals, Turtle Nest is definitely at the top of my list. It is absolutely beautiful and so luxurious. It has a great contemporary decor and has a great size pool.  The only thing I would say is that the villa is probably better suited for families with older children as three of the bedrooms are only accessible from the exterior.
The views are spectacular.
Turtle Nest is also on Long Baie Beach which is also home to La Samanna Hotel. Our guests love nothing better than lying out on the over-sized day beds and taking in the views.  This villa is perfect for 4 couples travelling together as all the bedrooms are equal in size.
Luxurious Range
C'est la Vie is one our most exclusive St Martin villa rentals. It is located right on Plum Bay Beach and features 6 bedrooms.  I spent a full hour here on my last visit just enjoying the villa. It's so gorgeous and luxurious. It was raining all that day as I visited during rainy season, however, the view still wowed me so I can only imagine it on a good day.
The terrace has a gorgeous heated pool,  Jacuzzi and pool bar, and is the ideal venue for any celebration.  The rate includes a chef service too so you don't have to worry about who's cooking.
Ultra Luxurious
Le Chateau des Palmiers is the most exclusive villa out of all our St Martin villa rentals. It has 9 bedrooms and is owed by President Elect Donald Trump who bought it in 2013.
It has its own tennis court, a fitness centre and a huge garden. There are 5 bedrooms on the ocean front and you have 4 bedrooms across the road on the garden view. It is a huge property that is very spread out so everyone has their own space.
I think it is ideal for large groups celebrating a big occasion. It is directly on Plum Bay beach and you have everything you need so you really don't need to leave this paradise home.
The service includes three housekeepers, gardeners, chef and butler service, surveillance cameras with electronic gates so extremely secure and perfect for VIPs who want complete privacy.
If you are looking for a beach front villa in St Martin and require some advice please contact me directly and I will be happy to send you the best options based on your requirements.
We have many more St Martin villa rentals to choose from. You can reach me directly on my cell at +353874501619 or email me at Niamh@exceptionalvillas.com
About Niamh McCarthy