The best time to travel to St Martin?
A lot of people would say from December to late March but personally, I think St Martin is an all-year-round destination and a lot of perks come with travelling in the off-season which is from mid-April until mid-December.
There are so many reasons why St Martin should be the island to visit this season. It has fantastic weather, fewer crowds and great offers.
---
---
1. Best of St Martin
---
Saint Martin is still as beautiful and picturesque as ever and continues to be one of the most popular Caribbean vacation destinations from both new and returning tourists. This beautiful and friendly island is attracting and welcoming their past and future visitors with key new offerings.
As you might already know the island comprises of two separate countries, divided between its northern French side, called Saint-Martin, and it's southern Dutch side, Sint Maarten. The island is previously known to be home to busy resort beaches and secluded coves. It's also very well known for its award-winning cuisine, vibrant nightlife and duty-free shops.
Following Hurricane Irma, 3 years ago, I can now say our beloved island is back with the hotels, St Martin villas and restaurants open for business. It is time for me to help all of you to plan your trip of a lifetime to St Martin.
---
2. Weather in St Martin?
---
What I love about the Sint Maarten climate is that it is consistent all year round as the temperatures in Sint Maarten don't vary that much only by approximately 5-10 degrees so the summer (the rainy season) may be a little warmer than the winter which is also called the dry season.
It is said that the best time to visit St Martin is from December to May for the best weather but I have been to the island in the middle of hurricane season and out of hurricane season and it really isn't that different. The island may get a full day of rain during the rainy season if there is a tropical storm or hurricane nearby but thankfully this is very rare.
The tropical showers that the island experience during the rainy season never last that long, usually a brief 5-10 minutes and the sun comes out again as soon as the rain shower stops so you really don't take much notice of it.
The average temperature in St Martin is 80.6°F and it would peak at around 89.6°F. The temperature in St Martin would rarely go below 68°F so it really is nice all year round therefore I believe the best time to visit St Martin is any time of the year.  St Martin's weather in February and March would have the less than average rainfall.
However, it is a little bit cooler in the evenings. The best thing about the rainy season in St Martin (June – December) is that daylight is a few hours longer so you can do more on the island before the beautiful sunset arrives.
---
Average temperatures and precipitation on St. Martin
| | | | | | | | | | | | | |
| --- | --- | --- | --- | --- | --- | --- | --- | --- | --- | --- | --- | --- |
|   | Jan | Feb | Mar | Apr | May | June | Jul | Aug | Sept | Oct | Nov | Dec |
| Rainfall in inches | 2.6 | 1.8 | 1.6 | 2.4 | 3.9 | 2.9 | 3.1 | 4.1 | 5.3 | 4.9 | 4.9 | 3.3 |
| Temp. in °F | 82 | 83 | 84 | 84 | 86 | 87 | 89 | 88 | 88 | 87 | 85 | 83 |
| Water Temp. in °F | 80 | 79 | 80 | 81 | 82 | 83 | 83 | 84 | 84 | 85 | 83 | 82 |
---
3. How busy does St Maarten/St Martin get?
---
The island can be busy during peak tourist months. The best time to visit St. Martin and St. Maarten is from April to October because this is the off season. The island has fewer visitors and therefore the roads have less traffic, beaches are less crowded, and it's easier to get reservations at the top restaurants on the island.
There is nothing more frustrating than being stuck in traffic while you are on vacation. Nobody needs a vacation to be stressful so if you are like me and feel you deal with enough traffic back home – travel in the off-season so you ensure you get from A to B in a jiffy.
I am not saying the traffic is really bad on the island in high season, but it can get congested at times especially during Thanksgiving and the festive season.
I know when I travel during busy times, I do stress about getting reservations at the best restaurants, so it definitely provides ease of mind to know that if you travel in the low season, once you book in advance you are sure to get a reservation along with a great table.
---
4. Wonderful Beaches
---
As the island will be that bit quieter between April and October, it means the beaches will also be less crowded and you will feel like you have some of the beaches to yourself.
I must say I love when the beaches are less crowded and you can just sit back and relax and listen to the sounds of waves swooshing back and forth against the sand. When the beaches are busy, you can easily get distracted by the people around you.
If you would like a detailed rundown on the beaches in St Martin/Maarten please read my previous blog on Best Beaches in St Martin  It might help you in finding the type of beach you would like to visit during your trip.
---
5. Offers and Discounts in St Martin/St Maarten?
---
As I previously mentioned, the 15th April to 14th December is the low season in St Maarten so the rates are much lower at this time of year, and some owners offer amazing discounts during these few months to welcome you to visit their beautiful villas.
Do get in touch with us to find out more on our amazing offers on the island.
---
6. Is St Martin/Maarten suitable for my Honeymoon?
---
Absolutely, St Martin is still an excellent choice for your honeymoon and a lot of our honeymoon clients come back every year for their anniversary to revisit the memories.
St Martin/Maarten can be as wild or laid back as you like. The island has a mix of both so it suits a lot of couples. As the island is split by two countries – the french side would be the more relaxed and romantic version with beach side gourmet restaurants while the Dutch side has the fun nightlife.
On the Dutch of St Maarten, a visit to Simpson Bay invites you to explore the nightlife while on the island. From casinos to Sopranos Piano Bar, where you can make a night of it with dinner in Sopranos followed by dancing in the Piano Bar.
When you are on honeymoon, you just want to switch off, unwind and relax after a stressful few months of planning one of the biggest events of your life, and what better place to do this then on the beach in St Martin. If you are interested in a honeymoon in St Martin or a very special couples vacation please view my previous blog post on Honeymoon villas in St Martin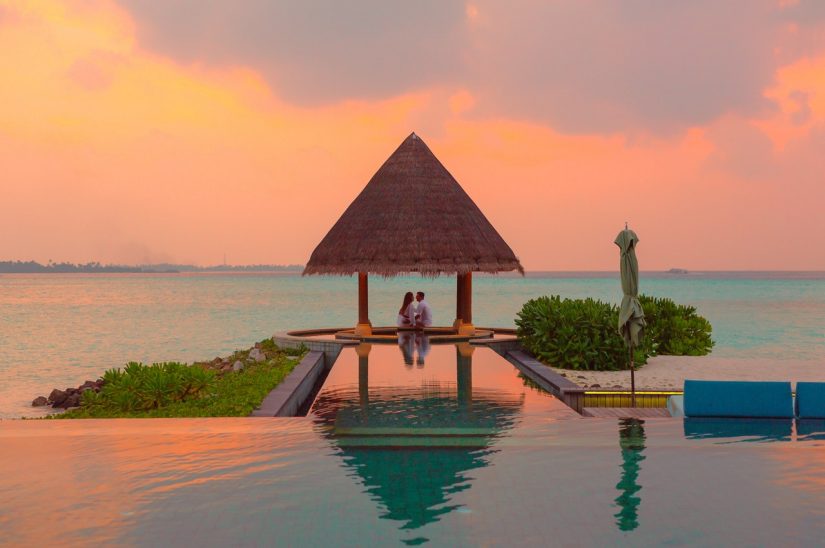 ---
7. Dining and Activities?
---
There are many restaurants, bars, cafes and beach shacks offering everything from fine dining to casual beach snacks. The famous Sunset Beach Bar overlooking Maho Beach, has always been a popular activity spot for watching the planes flying low down over the beach and it is usually on the top of the guests' bucket list.
One of St Maarten's attractions, the Rainforest Adventures Rockland Estate Ecopark offers one of the most exciting activities on the island. It offers the Flying Dutchman which is the world's steepest zipline, the soualiga sky explorer which is a four-person chairlift to view the amazing views of the island and the schooner SXM ride where you'll surf down the mountain in an inner tube twisting and turning on the specially designed track. It all sounds very cool and I can't wait to try it out on my trip this Summer.
About Niamh McCarthy
Niamh is our Caribbean Travel Specialist and has an in-depth knowledge of all of the islands in the Caribbean. Niamh's qualifications are in the area of Business Management and Marketing with a Bachelor degree in Business Management and a Masters degree in Public Relations. Niamh has worked for over 10 years in the travel industry and has also spent time working in the United States.