Give a man a fish and he will eat for a day. Teach a man to fish and he will eat for life. Regardless of whether you want to dine on your catch or learn the art of luring the fish, the Bahamas fishing experience is the pinnacle of any intrepid holiday!
Never has a country been so well created to offer the ultimate paradise for those in search of fabulous fishing.  The key ingredient, water, is just everywhere. No small wonder, as you are looking at 700 islands that are spread generously over some of the richest fishing waters of the world.  Warm waters, circulating around reefs and island chains make it a virtual playground for Marlin, Wahoo, Sailfish, Tuna and Dorado. These are the big boys of fishing for the avid angler.
If you have more modest goals, you can enjoy perching on the end of the dock of your private Bahamas Villa and try to capture some Grouper, Jacks or Bonefish.  The thrill of the catch is everything, I'm told by fishermen, regardless of the end result.  That unexpected tug on the end of a line will give you a frisson of excitement as you wait to see what the vast ocean has gifted you!
---
Fishing in Nassau
Nassau is actually the capital city of The Bahamas and is situated on New Providence island in The Bahamas.  Through common usage, visitors simply say "I'm going to Nassau", when they can really be going to anywhere on New Providence not literally within the boundary of Nassau town.
The Ferry port of Nassau is a bustling location with a lot of marine activity with boats and vessels of all sizes coming and going. It also as one of the best Bahamas beaches.  It's probably one of the better places to book your charter to get out and about fishing.
Nassau, Bahamas fishing excursions have been run by Hunter Charters for many years and they operate a very professional service with friendly and expert crews.  Heading out early in the day, the captain and his mate can generally work out where best to locate shoals of fish.  Apparently, circling seagulls can be a clue but mostly it's the brilliant knowledge these salty seadogs have about the movement of fish around the waters offshore that guarantee you will be landing something impressive before your trip concludes.
An hour of sailing out of Nassau with the fresh, warm breeze on your face is a spectacular start to your day.  The views of the receding island and the vast open horizons set the tone for a day that can be both exciting and extremely relaxing.  In between fishing, there is world class snorkeling that allows you to get up close with diverse sea life that moves through the currents. Snorkeling in these colorful, reef lined waters is regarded as one of the best things to do in the Bahamas.
Even if you're a fishing virgin, the Hunter Charter guys in Nassau can rig up a rod and have you reeling in some pretty substantial barracuda in no time at all.
---
The Abacos, The Exumas, Eluthera
The 700 islands of The Bahamas contain about 30 islands that are inhabited.  These vary in size from the bustling Grand Bahama, New Providence (Nassau) to some of the smaller islands that make up the Abacos or The Exumas. If you are lucky enough to be staying at one of the extremely pretty beach cottages or villas that Exceptional Villas represent in these islands, you can indulge your desire for fishing each day. Read more about how to get to the Abacos.
With private docks or beaches, some of these beautiful properties allow you to stroll barefoot down to the water's edge and cast a line.  Is there anything better than bringing home some fresh fish to cook on your own barbecue? Fishing isn't always a Hemmingway novel (Old Man and the Sea) sometimes it is that peaceful meditation where man and sea are connected by a simple line – the intention being to find peace and harmony and not necessarily to bring home supper. You get to choose!
---
Freeport – Bahamas Fishing
Grand Bahama's main centre of Freeport is the place to check out some of the top fishing charters.  Fish On's 30' Pursuit vessel provides a comfortable day's cruising the Atlantic looking for some big game fishing.  Captain Kyle is an experienced sailor and fishing guide who can facilitate a top class Freeport, Bahamas fishing experience.  If you want the ultimate vacation photograph of you wearing an idiotic grim and holding up a mammoth fish, then look no further. Wahoo, Grouper and Tuna migrate through the waters of the Atlantic just off-shore from Freeport and Captain Kyle knows where to find them.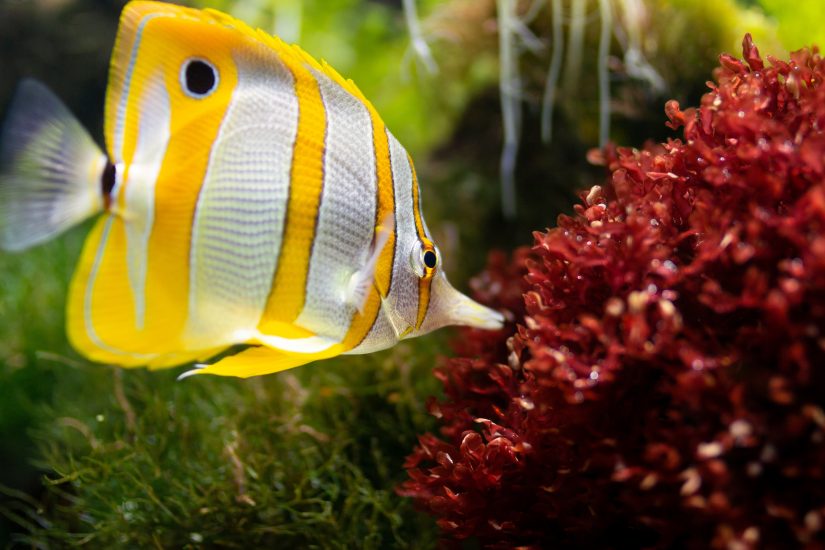 If you want to experience a different offshore fishing adventure, why not try Folley and Sons who operate out of the western side of Grand Bahamas.  The West End, Bahamas fishing reports a great deal of success with small charters who want to get out and explore the flats located off shore. You cannot truly say you have had a proper Bahamas fishing trip without catching yourself a bonefish or two. These dazzling silver fish are tricky customers and unlike the mackerel of the North Atlantic who almost hurl themselves into your boat with little inducement, these clever fellas need to be wooed.
Captain Folley and his fellow crew know all the secrets to capture the bonefish.  You will enjoy the fishing challenge as well as a fun day out exploring the coastal waters around Grand Bahamas.
---
Rules and Regulations
If you want to understand the new Bahamas fishing regulations and laws you might need to pull up a chair and get comfortable.  The Bahamas fishing regulations have been drawn up with a great deal of thought as to how to maintain the excellent fishing experience for visitors, allow locals to earn a living as fishermen, to help sea creatures that might be struggling with dwindling numbers to flourish and to protect local fishing guides from being overshadowed by bigger charter companies from outside The Bahamas.
As you can imagine, when a country takes on the challenge of trying to please so many diverse groups it is a challenge.  The fishing legislation is a bit top heavy and you might feel like you need a law degree from Havard to drill down into the detail.
---
To simplify the situation, I will hit a few of the key Bahamas fishing points below:
If you plan to do some pretty basic fishing off a canoe or a paddleboard or standing in the surf, you don't need to get a Bahamas fishing license.
If you plan on heading out on a charter with some experienced local guides then they must have a permit to take you fishing.  They are bound by very strict rules about what fish or sea creatures (size or variety) they are permitted to have on their boats.  For instance, at no time is a turtle permitted to be brought onto a boat.  These beautiful and gentle creatures are protected all across the Bahamian waters.  Certain quantities of fish cannot be lifted either.  All of this is fully understood by the licensed charters so you can rely on them to guide you.
If, though, you sail into Bahamian waters and think that a spot of fishing might be a pleasant diversion, you are bound under the Bahamas fishing license rules, and are required to have a local Bahamian fishing guide on board.  This rule was created to ensure the economic prosperity of local licensed guides who have had difficulty competing with some of the larger fishing expeditions from the US.
If you want to host your own angling competition somewhere in The Bahamas you will need a formal permit from the Government to set up your event.  It really makes sense to do your homework before you plan a large scale or complex fishing trip to The Bahamas.
Of course, if you're just a regular angler who wants to leave the dust of corporate life behind and unwind a reel off a sunny deck, then booking your fishing through some of the specialist fishing lodges within The Bahamas chain of islands can be a really smart idea.
Yellow Dog Fly Fishing Adventures
is a global fishing organisation that arranges the very best vacation packages (salt and freshwater) in some of the world's most beautiful destinations.  They have well established connections throughout The Bahamas.  Two of the best established Bahamas fishing lodges are
Blackfly Lodge
or
Delphi Club
in the Abacos.   They offer a lovely vacation experience for families or individual sportsmen/women.
The cost of a Bahamas fishing license varies depending on what permits you need.  Day fishing permits start at around $15 and move up to $60 if you need an annual license. Fishing lodges can apply for your license in advance of your arrival so you can start fishing the moment you arrive. My advice is to get advice from any local fishing expert, your hotel or Exceptional Villas to ensure you stay on the right side of the rule book.
---
When to go Fishing
The fishing calendar of the Bahamas varies.  You can be guaranteed though that all year round there is an unending supply of Barracuda and the famous Bonefish.  Wahoo seems to favour the winter months, ideal for vacationers who like to get away and avoid those Baltic winters across Canada and the Northern States.
Amberjack
flourishes from March to September and Bluefin Tuna and Blackfin tuna also seem to enjoy May, June and July in the Atlantic Ocean around The Bahamas.  It certainly pays to do your research if you are looking for a particular species.  As The Bahamas is an all-year round destination, you can be sure that the gorgeous sunny and mild weather will make it a terrific place to vacation and enjoy all of the other wonderful water activities that are available across these pretty islands. Deep sea diving is another
Bahamas point of interest
you can enjoy during your holiday.
---
Conclusion
If you are a seasoned angler, it's very likely you'll be travelling with your own rod and bait box.  I'm told that a good bait box is compiled over a lifetime with all varieties of flies, lures and hooks filed into neat compartments.  It just doesn't seem like a proper day out unless you are travelling with your own trusty equipment and the ubiquitous 'lucky' fishing hat.
Don't forget when you are flying to The Bahamas that you will need to check your bait box in as checked luggage.  The various hooks and fishing tools are not permitted in the airplane cabin.  As well, get a study rod carrier to protect your rod while in transit.
Once you touch down in Nassau, Freeport or any of the other airports within The Bahamas, Exceptional Villas can arrange for you to be met and whisked over to your perfect villa home for the duration of your visit.
Guided fishing tours into the well-stocked waters around The Bahamas can be booked in advance.  If you are a solitary fisherman, a family or a group of sports enthusiasts, we have the very best connections for Bahamas fishing charters across the islands to ensure you have a five star fishing experience.
Sometimes, it's a Bahamas fishing trip for the boys, while the girls visit nearby coves for snorkelling, sunbathing or exploring.  Everyone can then get together for the perfect lunch on board your charter boat or picnic on a deserted beach.  It really is as idyllic as it sounds.  A Bahamas fishing trip can be fun for everyone.  It's amazing how addictive the sport becomes when you make that first catch.
So, do you think you're ready to take the bait and book that deep sea angling holiday of a life time?  We guarantee your time spent in one of our Exceptional Villas will be the ultimate catch of your entire vacation!
About Mairead Moriarty
Born and raised in Co Kerry, lived in London, New York, San Francisco, Dublin. Owner of one very battered suitcase, a well-worn passport and a million memories. It seems very fitting for a travel writer that my surname translates as 'Skilled Navigator'. Apart from an occasion when, aged 3, I got lost in a Supermarket in Tralee, I have managed to live up to my name! Curiosity is probably the driver that has sent me on magical mystery tours around the world. I want to 'feel' a place. I want all my senses to be engaged: from the history and geography that has influenced a country or city, the arts and achievements of its natives, anything and everything really. Regardless of whether I am on a local train travelling through Morocco, or poking around in Marconi's study in Bologna or on a canal boat weaving through the heart of the English countryside, the same rules apply - ask questions, talk to locals, eat what they eat, sit quietly with nature and simply be. Assimilate as much as is possible so as to understand the soul of a place. That is my passion. That is the compass by which I navigate.