We are super excited to have Orlando as part of our villa rental programme as it is one of the most popular family destinations in the World. It is every child's dream, big and small to go to Disney World, and we can now book our clients into some of the most exclusive Orlando Vacation Rentals, villas and resorts the area has to offer with wonderful amenities for a family vacation of a lifetime.
---
Purpose of our Trip
My colleague, Linda, and I set off on our trip just two weeks ago to check Orlando and all it has to offer out. We went to view the fantastic Orlando resorts and villas close to the theme parks. In a word, the trip was AMAZING!  We had the best time getting to know the area and the villas. It is a fabulous vacation spot and can highly recommend it for families, friends, couples and corporate retreats.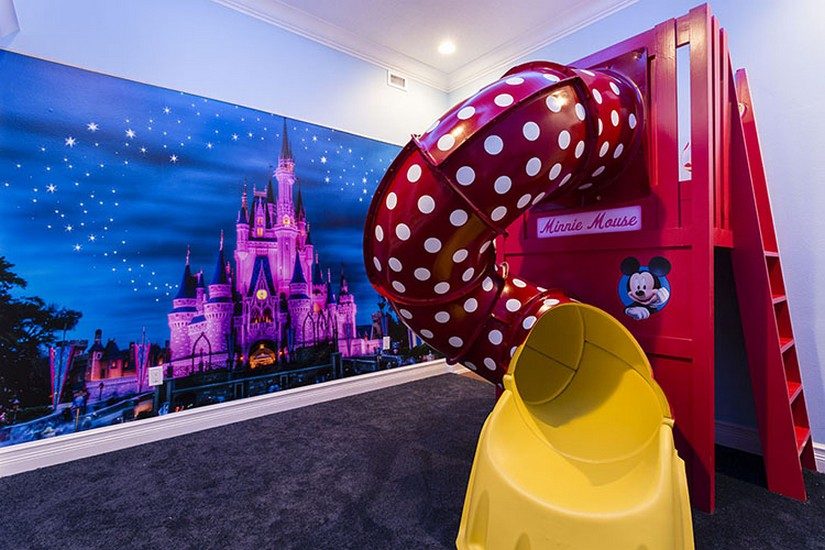 At Exceptional Villas, before we promote a destination, we spend quite a bit of time getting to know the area and all the villas we plan on including in our luxury villa portfolio.  Each specialist becomes an expert in the area and all the beautiful things to do and see.   We are delighted to be able to  tell you all about it, including what to see and do and, of course, where to stay in Orlando.
---
Our Favourite Orlando Resorts
Of course, the purpose of our trip was to inspect the fantastic properties Orlando has to offer and choose the best Orlando Vacation Rentals for our customers. I would say the most popular and impressive resorts we got to see were Reunion Resort and Encore Resort. They offer incredible amenities and stunning homes with beautiful décor and furnishings while all being close to the theme parks.
---
Reunion Resort
Reunion Resort has excellent amenities. Many of the Orlando Vacation Rentals in Reunion have access to 6 swimming pools, bike hire, a boutique spa, three on-site restaurants and bars. It is important to note that not all villas have access to specific additional amenities within the resort, so check with your villa expert who will be able to advise you in detail. Each home requires resort membership including access to reunion's water park, tennis or golf. Some of the luxury villas in Reunion Resort come membership.  One of our guest favourite properties for big groups and multi-generational families in Reunion is Villa Isole Orlando
---
Reunion Resort Membership
If a home at Reunion Resort includes membership, you can use all the facilities at the resort at an additional cost. The water park is approximately $18 per person and $12 per child.  Villas that include membership offer access to golf, tennis and the water park for one day per week and up to eight people. If you need more than eight passes- there is an additional fee of US$5 plus tax for each guest and children under three are complementary and do not require a pass.
We do ask that you arrange your membership pass at least five working days before the first day of use. Once registered, the membership date cannot be changed or reissued.
---
The Villas at Reunion Resort Orlando
The homes at Reunion Resort are all owned by individual owners, and the decor and layout of each villa are very different from each other as the owner has put their unique stamp on it which is nice and some of the villas have some cool features.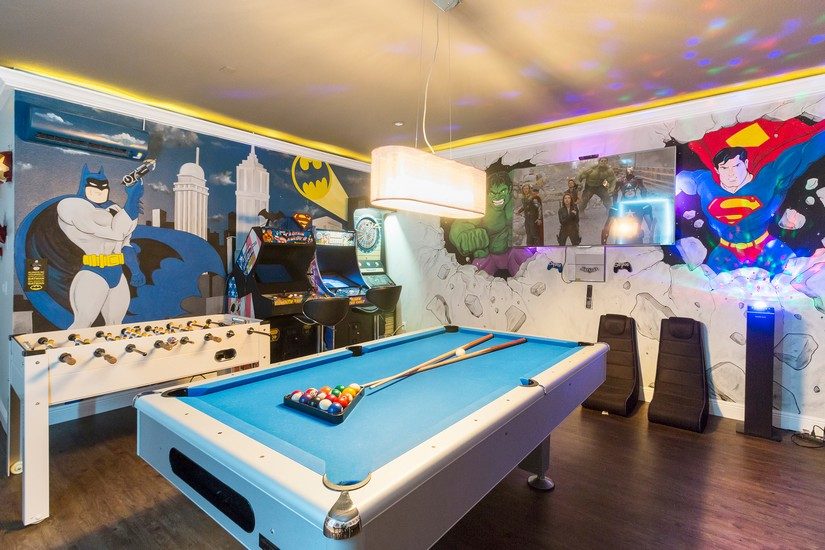 A lot of the homes have themed rooms in the villas such as Mickey and Minnie Mouse, Frozen and Harry Potter, etc. In our villa, for instance, there was a frozen themed room, and I am sure the little ones would love it. There was also a theatre room which had a cool Harry Potter theme.
I found that the homes vary greatly in style as each homeowner has provided something different which is wonderful as guests have a choice when looking at options rather than seeing villas with all the same decor and layout. Many of the villas are really luxurious and very large featuring basketball courts, tennis courts, large private pools, cinema rooms and one even has a bowling alley.
---
Restaurants at Reunion Resort Orlando
Reunion Resort offers an excellent selection of restaurants on-site to suit all tastes.
The cove at Sea Eagles and The Grill at the waterpark are good options for lunch and during the day while Grande Lobby Sushi bar, Forte, and Eleven only serve dinner during the evening time.
---
Forte
Forte is a nice Italian restaurant with a lot of choices on the menu. It is open for dinner from 5:30 -9 pm. We made a reservation here on our second night, and we had a fantastic experience. We shared the bruschetta for an appetizer, and I got the delicious chicken parmesan which came with gnocchi on the side. It was a huge portion as you can see from my photo and my colleague Linda got the Penne Carbonara which she also said was delicious. It was one of the best meals I had in the week although I do have a passion for for Italian food.  Our server was excellent and was so friendly, which was a bonus.
---
Eleven
Eleven is another excellent choice for dinner. If you like steak, then you will love Eleven. This upscale Steak house restaurant is located on the 11th floor and offers indoor/outdoor dining and a rooftop patio where you can have a cocktail while watching the fireworks in the distance. We went up here for a drink before dinner to watch the fireworks and sat out on the beautiful rooftop terrace. It is a top choice, and I would highly recommend checking it out if you stay on-site.
---
Encore Resort Orlando
We also checked out some beautiful homes at Encore Resort in Orlando, which is another luxury resort within a short drive to all the theme parks and only 5 miles from Disney World. It is one of the best vacation spots in Orlando. It is a very short ten-minute drive from Reunion Resort. The Encore Resort at Reunion is home to a host of first-rate facilities including a fantastic water park, a private clubhouse, community pools and a fitness centre. There are tennis courts, basketball courts and a sand volleyball area, plus an exciting gaming arcade.
The best thing about Encore is that everything is complimentary so there are no membership homes vs non-membership, and guests have access to everything on-site. The resort offers an on-site restaurant, as well as a shop for stocking up on everyday essentials, and lawns for picnics, BBQs and playing.
All Encore patrons benefit from the use of guest services such as in-villa dining and complimentary transfers to local theme parks which is fantastic. The on-site waterpark is also complimentary here. I think the waterpark here is excellent for teenagers as it had some great slides etc.
---
Encore Resort Villas
The homes at Encore are nearly identical in layout and décor. There may be slight differences, but all the villas are very similar. They have a beautiful modern décor and the option of a heated pool, the same as Reunion Resort.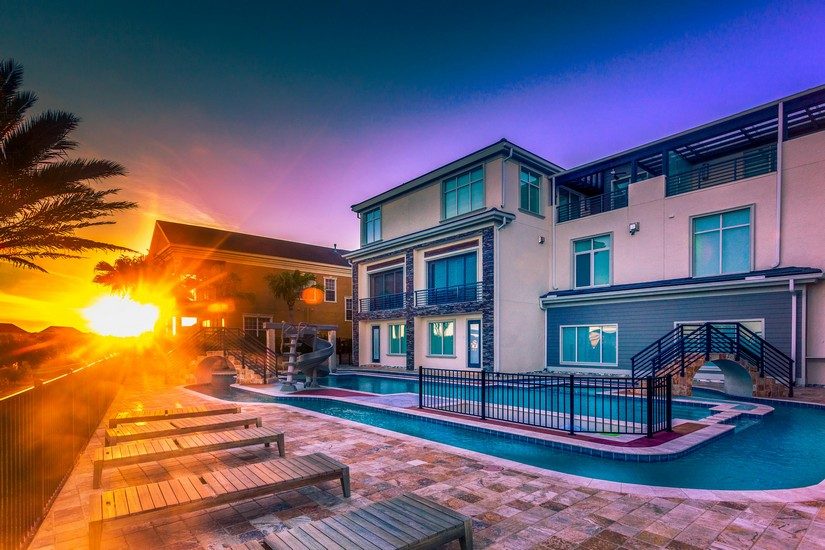 ---
Transport
We hired a car during our trip, and we are so glad we did.  We needed it to get everywhere we went and used it so much throughout the week.  However, if you prefer not to drive, you can get the complimentary transfer at Encore Resort to the outlets and the local theme parks.  So, it is possible to get around, but we recommend the conveniences of having your car outside your villa. It enables you to have the freedom to come and go as you wish. The parking at the theme parks ranges from 20-25$ per day, which is very reasonable when you stay the entire day.
I would recommend hiring a car and have it delivered to your villa.
---
Dining at Encore Resort
We had lunch at Finn's on one of the days during our stay, and it was excellent. I had a delicious Caesar salad that I thoroughly enjoyed while taking a break from viewing the luxurious properties on-site. The restaurant has its location on the second floor of the main clubhouse building. It has a very casual vibe with a variety of options on the menu to suit all ages, including burgers, sandwiches, salads and much more. The service was outstanding, and our server was very accommodating. Right beside Finns is another excellent option called the Shark Lounge that serves great cocktails and hot appetizers.
You can also dine at the poolside Bis Grill that serves light snacks, and you also have the Grab n Go market to stock up on drinks and snacks for your villa, or it's the perfect stop-off if you need to pick up some refreshments for a day of sightseeing. Encore has everything you need, and it is also very close to other entertainment spots such as International drive that offers plenty of entertainment, dinner shows, countless restaurants, nightlife and shopping.
---
Arrival at the Airport and Concierge Service
When we arrived at Orlando International airport, we were met by our local representative who greeted us at arrivals where we picked up our bags and took us to our villa at Reunion Resort where we stayed for the entire duration of our trip.  Reunion is one of the nicest Resorts in Florida to choose from especially for those looking to be close to Disney and Universal Studios.
One of the reasons, our guests love to book with Exceptional Villas is because we can arrange transfers for all our clients as well as a full complimentary concierge service with all our villas. It is an excellent service for assisting with park tickets and other information that will make your trip go like clockwork. Reunion Resort is approximately 35-40 minutes from Orlando International airport depending on traffic.
---
Things to do in Orlando
There is so much to do in Orlando. During our week, we visited Universal Studios and Islands of Adventure. They were amazing to experience.  I could have stayed another full day– one day was not enough.  When it comes to buying passes for the various theme parks, I recommend you take at least one day for each park.
Orlando is one of the best shopping destinations in the US.  The choice of shopping centres is incredible. It is particularly famous for its Shopping Outlets with some incredible bargains, and I highly recommend you take some time to enjoy a bit of retail therapy.
The availability of theme parks and shopping is incredible in the area. There are endless attractions, for all ages, including adults, so there is absolutely no way you or the kids would struggle to find things to do.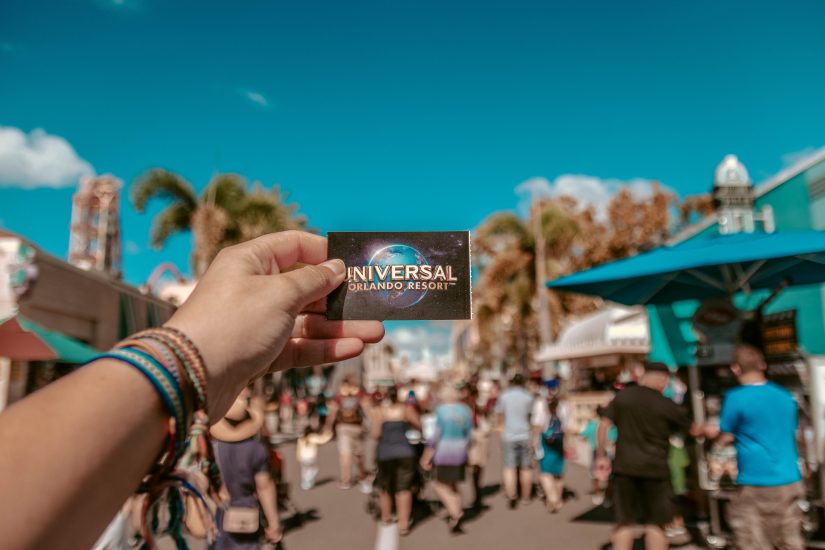 ---
Conclusion
Orlando is one of the best places to travel with children of all ages; there is so much to see and do. All of our Orlando Resorts are a short drive from Disney World and Universal. If you are interested in booking a vacation in Orlando, please feel free to contact me, and I would be more than happy to find you and your family the perfect options. You can reach me at Niamh@exceptionalvillas.com or directly on my cell at +353 87 7965903
About Niamh McCarthy
Niamh is our Caribbean Travel Specialist and has an in-depth knowledge of all of the islands in the Caribbean. Niamh's qualifications are in the area of Business Management and Marketing with a Bachelor degree in Business Management and a Masters degree in Public Relations. Niamh has worked for over 10 years in the travel industry and has also spent time working in the United States.