---
Things To Do In Turks And Caicos
Turks and Caicos villas are great; but you do need to get out from time to time. Luckily, you will never be short of things to do in Turks and Caicos. Here we list some of the many activities available on these islands.
Golf
The Provo Golf and Country Club is rated one of the Caribbean's Top 10 by Golf Magazine, and was awarded four stars by Golf Digest Magazine. It is an 18-hole, par 72, championship course designed by Karl Litten that first opened in 1992. The course is conveniently located just past Leeward dock on Providenciales. The Club's pro-shop can supply visitors with everything they need for a round of golf, including tailor-made Burner clubs for rental.
Horse Riding
Horse riding on the Turks and Caicos beaches is a popular sport. Provo Ponies offer guided rides around quiet dirt roads, canals and secluded beaches. More experienced riders will have the opportunity to canter along the beach and take horses into the shallow ocean waters.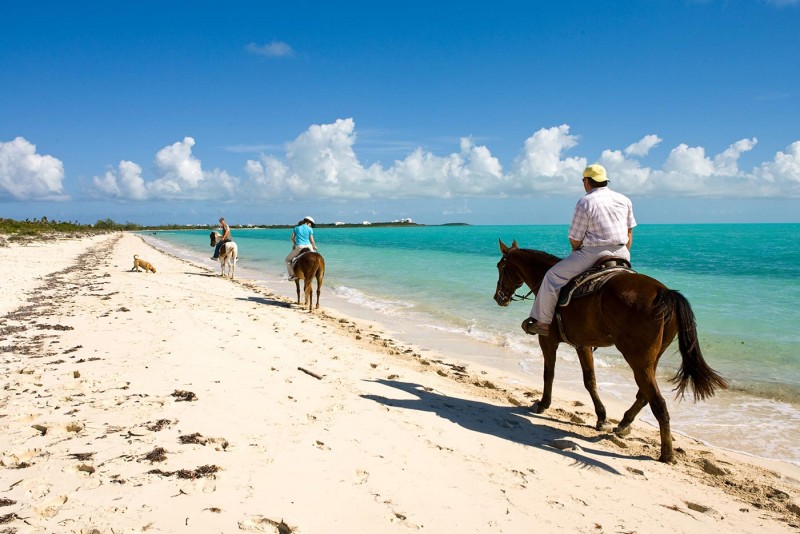 Fishing
The shallow waters of the Caicos Banks form a 2000 sq mile habitat for the elusive, hard-fighting bonefish, the ultimate test of angler's patience and skill. Tarpon can also be caught in the mangrove lagoons and are known as "Silver Rockets" for a good reason. Visitors can also wade off the beach into fish full flats on most of the islands.
Hiking
There are many trails that wind through mangroves and wetland ecosystems. Middle Caicos has the best hiking thanks to the 10 mile (16 km) long Reserve and Trail system that runs along the scenic north shore and passes colonial plantations and lagoons with flamingos.
Water Sports
The Turks and Caicos Islands offer very good water-based activities. The waters surrounding the islands are clear, calm and exceptionally beautiful. The white sand and shallow waters mean sunshine reflects off the seabed, creating water that is lit from beneath to give it the startling turquoise colour for which the islands are famous.
Wildlife
Turks and Caicos host many species of birds, butterflies and other wildlife. Around 100 species of birds live here and another 100 are migratory. The diverse natural habitats of the islands support this prolific range, with many choosing to make their home on Parrot Cay's wetlands to the island's north side. These mangroves can be enjoyed on private excursions by boat and kayak.
The Island of North Caicos is home to a large flock of Pink Flamingos. There are families of ospreys that nest off the beaches at Three Mary Cays, and a wide variety of other birds (including hummingbirds, Cuban Crow, Brown Pelican, West Indian Whistling Duck, Mangrove Cuckoos and Sooty Terns) within the islands' extensive nature reserves and sanctuaries.
There are about 35 species of butterflies including the Leafwing, Caribbean Buckeye and Gulf Fritillary. There are Curly-Tailed Lizards here and, after a rainfall,Anole (a small, ecologically important lizard) will make itself known. Iguanas are also relatively common.
Marine Life
The islands are famous for conch, a creature on the world's endangered species list, but which is in plentiful supply here. Indeed conch is considered a local delicacy, served in a myriad of ways, from conch curry to conch salad (note there are restrictions on when and where they can be collected in order to shield them from over harvesting).
Sea turtles also breed here and are heavily protected. They are a common sight for divers around the islands, with the hawksbill turtle the most usually seen. Grouper and Parrot Fish are also common along with lobster (this seasonable crustacean can only be eaten between August and May). Caribbean Reef Sharks are often seen (and considered reasonably safe), whilst Hammerheads, Black Tips and Tiger Sharks make regular guest appearances. Friendly Bottlenose Dolphins often follow boats.
Nature
Shopping
Turks and Caicos have no sales tax so many items such as watches, jewellery, sunglasses, perfumes etc are all duty free. The Grace Bay area in Providenciales has the best assortment of boutiques and duty free shops. All major hotels will have their own shops, selling a range of goods, including Parrot Cay's onsite boutique for well-curate daily essentials, gifts and beachwear.