---
Hiking
St Lucia has over 600 acres of Jungle and stunning mountainous rain forest rising almost 1800 ft (548 m) set against the back drop of the beautiful Pitons. Hiking is one of the best ways to explore this quieter side of St Lucia and there are 29 miles (47km) of trails. En route, you will see rare birds and exotic plants.
Walks include the Union Trail which is an easy loop walk through lush vegetation rich in wild life and that ends in a mini zoo. Here you will see the local St Lucia Parrot and the St Lucia Iguana.
Between Castries and Dennery, there is a lovely walk called the Barre de L'Isle Trail and goes through a forest reserve. From here you can climb up the Mount La Combe ridge where you will get some really stunning panoramic views.
A harder walk is the Edmund Forest Reserve walk which takes approximately 4 hours. This also leads to Morne Gimie which at 3,118 feet (950M) is the highest point on the island.
If you would like a guide, Heritage Tours and Gros Piton Tours are good.
---
Horse Riding
The International Riding Stables and Trims National Riding Academy offer an assortment of trail rides to suit all levels of experience. Choose between riding through the Forest and galloping along the water's edge.
---
Golf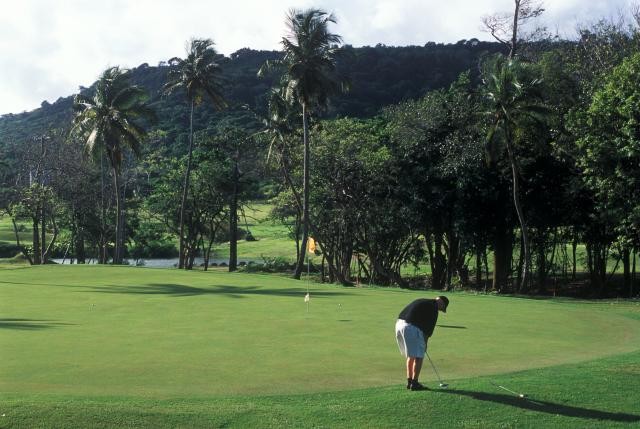 There are several really excellent golf courses on St Lucia. You can enjoy a round of golf in the most stunning of settings. There are 9 and 18 hole courses all with breathtaking views. The Sandals Regency Golf Resort and Spa and St Lucia Golf and Country Club both have 18 holes whilst the course at the Jalousie Plantation has 9 holes.
---
Snorkelling and Deep Sea Diving
The clear warm waters off St Lucia are ideal for Scuba divers of all levels and the reefs teem with an amazing variety of plant and marine life. Diving in the water in St Lucia it is common to swim with turtles, nurse sharks, and shoals of tropical fish.
Some of the most spectacular dive sites include Key Hole Pinnacles and Superman's flight. If you go off the coast of Gros Piton, there is a spectacular Coral Garden which rises from a depth of 15 to 50 feet where you can scuba dive in coral reefs. There are several good local operators and we are happy to make recommendations for you.
---
Sailing and Yachting in St Lucia
St Lucia is a major yachting centre and home to many charter companies so it is very easy to charter a yacht for a day and sail or tour other islands. Companies include Destination St Lucia and Moorings St Lucia.
---
Sailing Tours
Touring the waters around St Lucia, is the ideal way to explore this beautiful island. Visit waterfalls, the drive-in volcano, try snorkelling, or just be entertained on board. With Sea Spray Cruises, you choose how to you wish to sail, Speedboats for the faster paced, Catamarans for a smoother passage and Galleons for those who hanker after the 'Pirates of The Caribbean' experience.
---
&nbsp
Deep Sea Fishing
World class charter and deep sea fishing boats are available for a whole or half day excursion. There are several tour operators, through which this can be done, including Mako Watersports in Rodney Bay, MISS T Charters at Vigie Marina, and Trivial Pursuit Charters in Castries.
---
The Food and Rum Festival
The St Lucia Rum and Food Festival takes place in October each year and is a gastronomic event which attracts some of the best chefs, rum connoisseurs, food critiques and gourmands from not only the Caribbean, but around the world. It has a wonderful atmosphere and features a combination of visiting chefs and local chefs. If you are a rum lover you will be able to taste over 40 different types of rum as well as enjoy live entertainment on the Saturday and Sunday of the Festival. http://www.foodandrumfestival.com/
Jazz and Arts Festival
One of the most exciting times to visit St Lucia is during the Jazz and Arts Festival. It takes place each year in May and is a world class celebration of music from both well known artists and up and coming ones
---
Whale Watching Tours
Mystic Man Tours do excellent Whale Watching excursions and there are over 20 whale species to be seem such as sperm, humpback and pilot whales which can be spotted year around. http://www.mysticmantours.com/
---
Calendar of Events
January – New Year's Day
February – Independence Day, International Food Fair
March – St Lucia Kite surfing Fiesta
April – Easter
May – Labour Day, St. Lucia Jazz Festival, Whitsuntide
June – Corpus Christi
July – Carnival
August – Emancipation Day, La Rose Flower Festival
September – St Lucia Bill fishing Tournament
October – La Marguerite Flower Festival, Thanksgiving, (Jounen Kweyol) Creole Day
November – All Souls Day, The Food and Rum Festival, Sandals 10K
December – Heineken Kalalu World Music Festival, Atlantic Rally for Crusiers (ARC) National Day, The Festival of Lights, Christmas & Boxing Day celebrations
---
Shopping
A short walk north of Castries, you will find Pointe Seraphine which offers world class duty-free shopping. It is next to the cruise ship terminal. The main tourist information center is also located here as well as some excellent restaurants and bars.
Rodney Bay Mall is all worth a visit for the avid shopper. It is St Lucia's premier shopping center located in the North of the island boasting over fifty of the finest quality shops and services in air-conditioned comfort. There is also a modern supermarket, bank, post office and delicatessen located here.