---
Restaurants In Ibiza
What a fabulous task to write about Restaurants in Ibiza.
It involves two of my most favourite passions:  Food (obviously) and Ibiza.
Ibiza's location, climate and history all mix perfectly together and produce a gastronomic experience that is delicious, fresh, occasionally uncomplicated but always spectacular.  Grab your appetites and let's get on our way around Ibiza – the dazzling White Isle of the Mediterranean.
This may seem a pretty obvious statement.
But, of course, what I mean is the quality of the ingredient determines the quality of the dish.
Access to world class ingredients, all year round, ensure that the chefs and cooks of Ibiza have nature's finest bounty at their finger trips. Very little needs to be imported from beyond the island and certainly not from beyond mainland Spain.
The types of ingredients that will grace your plate, in virtually every restaurant, are fruits and vegetables that proliferate in the warm Mediterranean climate.
The heat of summer guarantees the sweetest fruits and the market gardeners of the island have little struggle to produce luscious and plentiful ingredients for the holiday makers' plates.
Clearly one of the best things to do in Ibiza is eat!
---
Ibiza Dining Experiences
I will pick a few restaurants and areas that I think offer the widest choice of dining experiences for the lucky traveller to this beautiful island.
Blue Marlin
One of the best restaurants and beach clubs in Ibiza, if you are looking for a glamorous dining experience, is the Blue Marlin on the south of the island in Cala Jondal.
This restaurant offers diners an on-beach daytime dining experience where European modern staples like beef and tuna carpaccios, gourmet burgers with French fries are reliable offerings.
There is the freshest sushi available too – a very welcome light bite. The restaurant terrace in the evening offers Wagyu beef and delicious Spanish staples like grilled squid served with pepper emulsion.
The music, the bar, the beach-side location, make this a very cool and stylish place to dine and hang out. A definite Ibiza recommendation for a fun night out.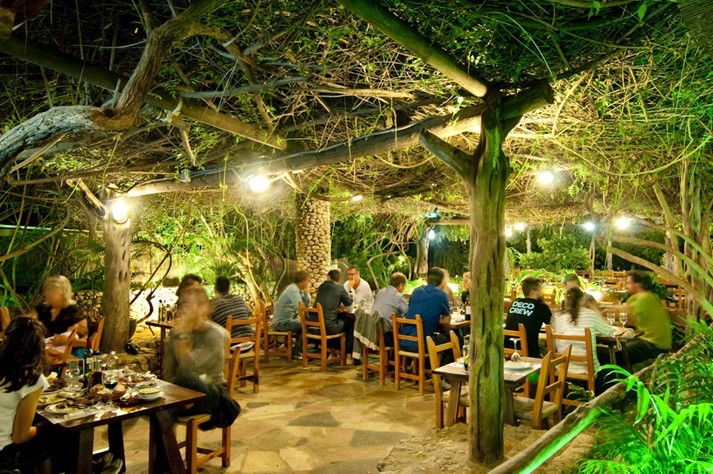 For a more relaxed family vibe, the beautiful resort town of Santa Eulalia is the ideal place to base yourself.
At Exceptional Villas we have beautiful villas in Ibiza that can become a luxurious home from home for you while you explore the island.  With over 20 years' experience guiding our loyal customers through the process of choosing the perfect villa for their getaway, we feel both supremely able and privileged to share our knowledge to create unique and memorable holidays for you.
The tree-lined promenade of Santa Eulalia, the art galleries and restaurants with a very low-key party atmosphere, make this resort an ideal place for families with young children or honeymoon couples who want to decompress after their big celebration.
Ca Na Ribes
Ca Na Ribes is a family run establishment and one of the best known Santa Eulalia restaurants that's been tantalising guests for 80 years with its traditional Spanish cuisine with a sophisticated twist.
Grilled fish and succulent meats all form the basis of the menu but with lots of vegetarian options too.  Dinner time is busy and buzzy but very welcoming.  The courtyard is a pretty place to dine out and enjoy delicious dishes like sole with prawns in a champagne sauce.
Definitely worth a visit.
---
Chiringuitos
One of my favourite experiences when it comes to Ibiza food is to sample the offerings at many of the Chiringuitos dotted around the island.
Essentially, a chiringuito is a beach bar / shack serving drinks and food.  The quality of the food can vary from beach to beach but it usually includes grilled fresh fish served with rice, chips or bread.  Ideal snacks to accompany a restful day at the beach.
Some of these cute and unfussy chiringuitos offer dinner menus and are very romantic yet casual places to enjoy delicious food right on the beach.
Two of my absolute favourite are:
Ses Boques
Ses Boques (open 7 days 1pm to 10pm) which is located in the south of the island at the foot of the dramatic cliffs of Es Cubells.
The paella is sumptuous and made to an authentic family recipe dating back 40 years.  A lovely stop over for a swim and lunch.
El Bigotes
El Bigotes, in Cala Mastella (open 7 days 12 Noon to 4pm) is a legendary venue and rumour has it that the King of Spain was turned away as he hadn't booked a table.
The traditional Ibizian dish of bullet de peix – a fish and potato stew, is a sturdy classic that is the main attraction on this menu for me.  Sitting on the water, this is a popular yet unfussy destination.  Do book ahead, Your Majesty!
---
Ibiza Old Town Restaurants
The very best Ibiza old town restaurants' offerings vary from sushi to Italian to traditional Spanish.  Pretty views over the marina or little cafes tucked away in the narrow streets of the old town, make exploring this part of the island really enjoyable.
Passion
Sometimes, the rich dishes and somewhat late party nights need a bit of a healthful antidote and I find that Passion, located in Passeig de Joan Carles I in Ibiza Town (open 7 days 10am to 11pm) is a great place to start the day.
Breakfast conveniently runs from early morning to 2pm.  Green juices, raw, organic vegetarian and vegan offerings can restore you inner Zen.  Some meat dishes are on offer too so it can suit everyone.
La Gaia
La Gaia also on Passeig de Joan Carles I (open 7 days 8pm to 1am), offers discerning diners some very high-end cuisine.  From the gifted kitchen of Oscar Molina the innovative Japeruvian fusion of Japanese and Peruvian cuisine, comes some exceptional dishes.
A wasabi cocktail can be the tingling taste sensation to launch an evening of culinary splendours.
---
San Antonio
A gorgeous resort town on the western shore of the white isle, this is a wonderful destination for the party people.  With a buzzing night life and lots of interesting venues, San Antonio's restaurants offer great places to kick back and enjoy the Ibiza beach life during the day, take in the glorious sunsets followed by a diverse night life each evening.
Tapas Ibiza
If, like me, you struggle to narrow down your favourite choice of dish on most menus, then the Spanish treat of having tapas is a welcome experience.  These little small dishes can provide so many variations of meats, fish, vegetables and cheeses to always be interesting.
San Antonio's Tapas Ibiza Restaurant (open 7 days 5pm to 11.30pm) is a casual venue that offers the most delicious morsels of perfection.
Paired with lovely local wines or beers, the cold meats, spicy potatoes, skewered meats and grilled vegetables combine to create a very pick-n-mix yet satisfying meal for you and your group to share.
---
Conclusion
The beauty of the island's agricultural hinterland, sees olive and almond groves spread over the rocky hills.  The ancient groves of these fruit trees with dark green leaves floating above the aged brown/grey bark of the gnarled branches creates a tableau as old as time.
One of the most spectacular times to visit Ibiza can be January and February when the almond trees are in full bloom.
The valley of Santa Ines looks as though hundreds of giant white cotton balls have been thrown across its rich green and brown hills as the white blooms of these fruit trees burst into life.
The traditional farming techniques still employed by local farmers allow fields to lay fallow for a few years to replenish their mineral content before being put under the plough again.
These resting fields, interwoven with planted fields, team with colourful wildflowers through spring and summer.  Bring your camera or easel as nature inspires artists at every turn across this magical island.
At Exceptional Villas we enjoy building the bespoke and made-to-measure holiday experiences that has built our reputation as the best villa rental company in the world.
Our friendly and capable Ibiza booking team can match you with the perfect villa and draw up an itinerary of activities that ensure you and your party enjoy the best that Ibiza has to offer.
We know all the amazing Ibiza restaurants – the big splashy glamour ones to the tucked away romantic ones – where you can embrace the rich food of the white isle.
Fun, food and frolics await – we are simply a call away.