---
Emma O'Shea
Caribbean Villa Specialist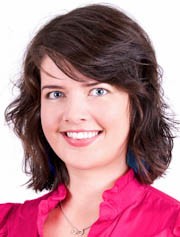 Emma is one of our Luxury Caribbean Villa Specialists and has a detailed knowledge of our luxury villas located in the stunning Caribbean islands.
Emma has always been truly passionate about travel which instilled a desire to see and experience all of the world's different cultures.
Emma completed a Bachelors Degree in International Studies (French & Spanish), where she lived, studied and worked abroad for over 2 years.
Through this Emma has gained language fluency in 3 languages as well as cultural knowledge and life experiences. Emma has worked for over 6 years in the tourism industry in a variety of roles and now spends each year travelling to the Caribbean inspecting our most luxurious villas. Emma has a wealth of knowledge of the spectacular cultures from each Caribbean Island.
"We are proud to admit that we have extensive knowledge of each of the luxury locations and villas we feature here at Exceptional Villas. This is absolutely essential to find the dream villa for our most deserving clients."
---
Emma's Favourite Destinations
My favourites so far are Jamaica, Cayman Islands, Mexico and Barbados. I love the laid back luxury and friendly nature of all of these islands. I would love to tell you all about my experiences in each and my favourite places to stay.
---
Here are some recent blogs I have written on some of the must- do activities on some of the islands:
Jamaica
Would you like to go somewhere for some relaxation mixed in with a little adventure? Yah Mon! Then Jamaica is the place for you. From rum and river rafting to haunted houses and Johnny Cash…there is surely to something to suit all tastes in Jamaica- the land of "Allright".
---
What Our Guests Have To Say About Emma
Emma and Noreen as a team, went above and beyond for us. We were group of ten girls. Some of us wanted different reservations which we thought would not happen. But Noreen was able to accommodate all our requests and we had a great time in Ocho Rios. Their suggestion for the driver and chef really helped on the trip. Thank you exceptional villas! We will surely be booking again with your team.
(Adjei Party, Emerald Seas, Jamaica)
We had an awesome experience in renting a villa in Grand Caymans through Exceptional Villas. The Carribean Club is amazing. Everything was perfect. I would high recommend and would definitely use Exceptional Villas to book my next vacation.
(Lynch Party, Caribbean Club, Cayman Islands)
Hi Emma, thanks for all your work and help setting this up. You may have gained a client for life with this one.
(Saunders Party, Caribbean Club, Grand Cayman)
Emma…From you, to the house, to the staff, everything was top notch and gets our highest marks. Thank you so much for making our trip so easy. I will definitely keep you in mind for future trips.
(Baker Party, Fairway Manor, Jamaica)
Hi Emma…We will go back and we will be using Exceptional Villas again!
(Woodmore Party, Fortlands Point, Jamaica)
Thanks so much Emma for your help in finding this wonderful villa.
(Barrett Party, Amanoka, Jamaica)
The Exceptional Villas staff has been terrific as usual. Noreen answered my emails with lightning speed and your search for a villa was so thorough and accommodating. We'll be back! Thanks again for everything Emma.
(Cortny Jackson, Seafore at Tryall, Jamaica)
We had a wonderful time and will keep you in mind for another villa vacation... Thank you Emma!
(Roer Party, Drambuie Estate, Jamaica)
Hi Emma…We had another great trip, great service and and we have told all of our friends about you and the house.
(Graham Party, Serenity, Jamaica)