---
Things to do in Costa Rica
Whale watching
Humpback whales spend more time in the waters off Costa Rica than in any other location on the globe.  And here's why!
Californian humpback whales depart their US west coast homes when winter sets in and head due south.  In the warm Pacific waters around the Osa Peninsula and Marino Ballena National Park they have their babies and generally splash around enjoying their Central American vacation before returning northwards once Spring starts in California.
At just about this time, their Southern cousins, the Antarctic humpback whales, start their migration from the Antarctic just as Winter is setting in.
They, in turn, spend a number of months having their babies and enjoying the warm waters off Costa Rica before leaving in December to travel back to Antarctica for Spring.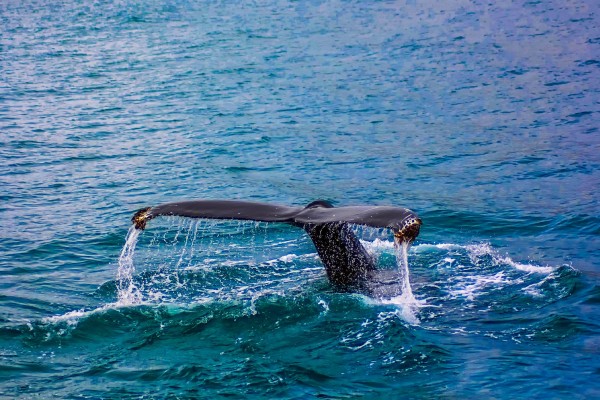 Consequently, there is only a very small window in May and June when the waters off Costa Rica are whale free.  To offset any disappointment though, there are numerous pods of dolphin that live year round off the coast of Costa Rica.
These playful and curious mammals will accompanying most of the boats that make trips offshore.  Bottlenose, Spinner, Spotted and Common are all variety of dolphins that are waiting to dazzle you with their aqua acrobatics!
The majority of whale watching tours operate off the Pacific Coastline.  There are strict guidelines about interacting with the whales and dolphins and the tour guides are very respectful about ensuring the interests of these wonderful mammals are always a priority.
---
Wildlife Watching
If you are interesting in seeing monkeys or sloths in their natural habitat then an early hike through some forested areas in the Manuel Antonio area will reward you.  The best tips for any of these hikes is to take a local guide.
At Exceptional Villas we can get you a wonderfully informed local guide who can unlock the magic and mystery of the forests of Costa Rica. Seeing and hearing animals in their natural habitat is really exciting and younger family members are so excited to catch a glimpse of the Macaws or Toucans as they pass through the canopy of green.
The sleepy and slow moving sloth is exactly as one imagines – a gentle and unexcitable chap.
With more bird species in Costa Rica than in USA and Canada combined, it is a veritable bird watchers paradise. But don't worry if you don't know your Fiery-throated Hummingbird from a Golden Browed Chlorophonia, it's the spectacular colours and calls they make that will mesmerise you.
The concept of 'Tweeting' will take on a whole new meaning.
---
River Adventures
The hinterland of Costa Rica is a paradise of rivers, mountains, forests, volcanos and pastureland plains.  If you want to have an exciting and active day, then kayaking or the more bracing white water rafting is truly recommended.
The well established H2O company can arrange a professionally conducted day of fun activities on the waterways of Costa Rica.  With expertise in running hikes and nature tours, you and your family will return to your gorgeous villa stimulated and relaxed after a day of exploration.
---
Coffee Plantations
Sitting on the volcanic highlands both north and south of San Jose are the coffee plantations that produce the aromatic arabica coffee beans.
Taking a tour of one of these fabulous plantations is the equivalent of going on a wine tour through the Bordeaux region of France.
As you walk through the plantations and learn how the beans are grown, harvested and turned into the rich beverage we seem to take for granted, you will be informed and entertained.
The tours are designed to appeal to everyone with fun facts, plenty of wildlife to watch while you wander around. Each tour completed with a lovely coffee tasting experience.
The drive through the countryside around the Central Valley is really breath-taking with volcanic mountains and lush green hills at every turn.  You can end your tour with a fabulous dinner in San Jose before making the trip back to your villa refuge!
---
Food, Glorious Food
It's very easy to wax lyrical about restaurants in Costa Rica as the abundance of delicious food ingredients the country has to offer helps create fresh, organic, delicious cuisine.
A few important points to consider is that some of the foods have a look and feel of dishes we might be familiar with from Mexico.
Except, Costa Rica offers the palate a flavourful but less spicy experience. For instances, the Costa Rican Tamal is very similar to the Tamale but much milder and wrapped and served in banana leaves.
The national dish of the country is Gallo Pinto (rice and beans) and is usually served at breakfast with eggs and sour cream.  Be prepared for beans and rice to appear as an addition to most of the lovely meat and fish offerings around the country.
Desserts too use rice and the creamy dreamy rice pudding, Arroz con Leche is a delicious conclusion to any dinner.
The number of international visitors to Costa Rica has seen a very cosmopolitan restaurant culture develop and the local cuisines are now infused with very modern twists and flavours.
Read more about our Top 10 things to do in Costa Rica
---
Go on your honeymoon!
Costa Rica romantic vacations are popular with honeymoon couples. Celebrate your wedding with a magical vacation to this tropical paradise