Fall in Love With Zermatt
I first fell in love with Zermatt when I was working as a trainee Hotel Manager in Zurich. Skiing has always been my ultimate passion. I spent the year saving every penny I earned so that on my day off I would be able to travel to a different ski resort to sample the slopes and après ski!
That was until I arrived in Zermatt and decided I had landed in heaven. I felt immediately at home. Like the old Proverb "Home is Where the Heart is" Zermatt stole my heart the moment I arrived. Sometime during that trip, I decided that someday I would buy one of the Zermatt Chalets.
20 years on, I eventually realised my dream and bought my home there called Shangri-La.
---
The Matterhorn
Everyone who is lucky enough to come to the amazing town of Zermatt always remembers their first glimpse of the Matterhorn. It is jaw-droppingly beautiful, and there is simply no mountain on earth quite as majestic. I also decided on that trip, that one day I would stand on the top of the Matterhorn. I am still working on that particular dream and starting to think, for obvious reasons; I had better get a move on!
But the Matterhorn was not the only thing that made me fall in love with this charming town.
The skiing of course is brilliant with six interconnecting ski areas which include three on the Swiss side of the mountain and three of the Italian side of the mountain.
How cool is it to be able to say you had breakfast in one of the gorgeous bakeries, lunch in an Italian Trattoria and dinner in one of the stunning Chalets in Zermatt cooked by your private chef all in the one day?
The town of Zermatt is picture postcard perfect. It is one of the only two resorts in Switzerland that is entirely car-free. The other is in Sass-Fee which is on the other side of the valley. The only way to get around Zermatt is either on foot, by one of the electric taxis that are made especially for the resort or by horse-drawn carriage.
---
Shopping in Zermatt
The town centre is full of gorgeous shops and lovely restaurants. If you like casual sportswear, this is the place to come. Quality comes above everything in Zermatt so whatever you buy will be the very best. The main street called Bahnhofstrasse is lined with gorgeous jewellery and watch shops. It is like the Old Bond Street, Rodeo Drive or Madison Avenue of the Alps!
But my favourite shop on Bahnhofstrasse is without a doubt the Läderach Chocolate Shop.
For a chocaholic like me, it is heaven. The smell of chocolate, as you walk in the door, is enough to keep me going for a while. The windows are piled high with huge slabs of chocolate of all different flavours and types.
If you are a first-time visitor to Läderach, I recommend you buy the assortment pack. You will get to taste all the different flavours.
But be warned, it is very difficult to leave the shop without having spent a small fortune!
---
Restaurants in Zermatt
The skiing, the shopping, the town itself are all amazing, but without a doubt, the crème de la crème of any visit to Zermatt is the luxury chalets and the mountain restaurants. I am lucky enough to travel the world with my job, and I can honestly say no mountain resort in the world has better restaurants than Zermatt. Some of my firm favourites are Findlerhof, Zum Zee and Chez Vrony but there are much more that are equally wonderful for both food and wine.
The food in all of them is unbelievably delicious.
There is nothing quite like visiting Zum See in the summer, ordering a salad and watching as the chef picks it out of the garden.!! Zum See is farm-to-table at a whole new level. To find out about all of the best Restaurants in Zermatt read our guide to the Gourmet Capital of the Alps.
The Swiss Alps are often considered to be just a winter destination, but it is good to know just how amazing it is in the summer. The mountains transform from snow-capped peaks to green mountains and meadows full of vibrant wildflowers, waterfalls, lakes and shimmering rivers. The summer is the time when you will get to see all the wildlife in their natural habitats such as marmots, chamois, wild goats and deer.
Hiking
The hiking is unreal if you are a fitness enthusiast. It's essential for me to go hiking while in Zermatt so I can work off all that chocolate! But there is just so much to do in the summer from climbing, fishing, swimming, golf, zip-lining, gorge adventuring and glacier tours to name just a few. You can even go water-skiing. If you need a break from all the outdoor activities, there is plenty to do and see in Zermatt. The town is at its most beautiful in the summer with every window box full of colourful flowers.
I have heard many people say they don't feel The Alps is a good destination for them because they are not skiers or into extreme sports. I am happy to say that Zermatt is suitable for everyone and all visitors will be enthralled with it and find plenty to see and do. Zermatt is full of history, beauty and culture.
Zermatt is a truly magical place year round, and it is especially magical during the festive season. There is a huge Christmas tree to welcome you when you first arrive at the station. The centre of the town lights up with thousands of twinkly lights. Carol singers abound, and you will regularly come across random glue wine parties on the street.
The New Year party in Zermatt tops it all. Thousands of people gather in the streets to watch an incredible display of fireworks. The fireworks are simply magical here. There is live music everywhere with people dancing and having the time of their lives.
Now onto the most important bit. Where to stay?
---
Zermatt Chalets
There is a great choice of Swiss luxury apartments for rent. At Exceptional Villas we consider ourselves to be experts in renting Ski Chalets in Zermatt. We have stayed in them all and are delighted to give the insiders scoop on the best and most luxurious options.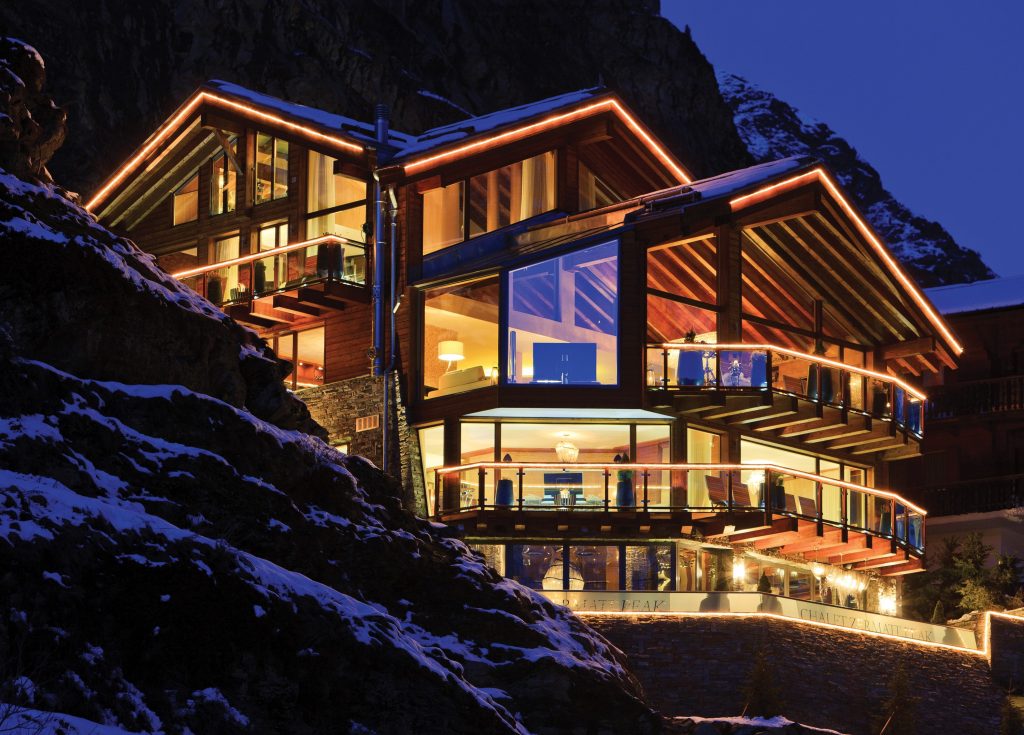 ---
Chalet Les Anges
Chalet Les Anges is without a doubt our firm favourite. Les Anges is the place that feels like home when you walk in the door. The team at the chalet are unbelievably professional. Before you take your shoes off (everyone does in Zermatt!), you will have a glass of champagne in your hand to welcome you.
The open plan living room and dining area are huge and full of warmth and unique pieces of art. There is a grand piano, a cinema room and a lovely spa area with massage room, sauna and steam room.
One of our favourite things to do after a long days skiing or hiking is to spend time in the outdoor Jacuzzi, a glass of champagne in hand while enjoying the spectacular view of the town, surrounding mountains and the majestic Matterhorn.
---
Chalet Maurice
Another one of our favourite Chalets in Zermatt is Chalet Maurice. It has a great location in the Petit Village area of Zermatt. The Petit Village area is the sunniest part of the town and also the place where you will get the best views. The chalet has an elevated position above the town and access is via a super cool James Bond'esque type vernacular lift.
There is no need to huff and puff up the hill! The lift whisks you straight from the valley floor to the front door where that ever-important glass of champagne will be ready and waiting for you.
Chalet Maurice, despite having six bedrooms has a lovely intimate atmosphere.
---
Chalet Grace
If you prefer a more traditional look and feel, then Chalet Grace is the one for you. Like Les Anges and Maurice, it has the advantage of being in the sunny Petit Village area of Zermatt. Chalet Grace is super comfortable while still being extraordinarily luxurious. It has five bedrooms and comes with a spa, cinema room and outdoor jacuzzi.
---
Backstage Loft
Another firm favourite Zermatt Chalet of mine is The Backstage Loft. It is owned and designed by local artist Heinz Julen (brother of Vrony from Chez Vrony). The Backstage Loft is without a doubt the coolest, most artistic and most contemporary of the Zermatt Chalets. It has a fabulous location just 2 minutes' walk from the centre of the town and close to the main Matterhorn lift.
---
Backstage Chalet
The Zermatt chalet with a unique feature is Heinz's sister chalet called the Backstage Chalet. We love it because it has an indoor Jacuzzi at the top of the chalet. At the press of a button, the Jacuzzi rises, the roof miraculously opens, and you are above the town looking at the Matterhorn and stars. It sounds a bit surreal, and it is!
---
Chalet Peak
If you like glitz and glamour, then Chalet Peak is for you. It has a very central location above the centre of the town. Access is via an elevator in the middle of the mountain in the rock. Chalet Peak is gorgeous and chic from top to toe. It is also one of the few chalets in Zermatt that has a swimming pool.
A question that is often asked of me is:
---
Which is better to stay in: a chalet or hotel?
When it comes to a mountain holiday, it is important to remember that you won't be spending all your time outdoors! We believe that when you go for the chalet option, you get the best of all worlds. 5-Star standard hotel amenities, amazing food, wine and attentive service are all included in the winter prices of the fully catered chalets.
But probably the greatest benefit is having so much more living space to spend enjoying your time with friends and family. There is nothing quite like sitting around a huge open fireplace telling stories of your mountain adventures.
---
Chalets in Zermatt
Zermatt is, in our opinion, the jewel of the Alps. It is unbeatable for its charm, beauty, atmospheric town, mountain restaurants and a fabulous choice of chalets in Zermatt. We love to hear your comments, so please let us know of your personal experiences of this incredible town. You can also contact me personally anytime at [email protected] or our Zermatt chalet expert Linda Browne by email at [email protected]
About Alexandra Baradi
Alexandra Baradi is founder and owner of Exceptional Villas. She set the company up in 1992. Alexandra is a hotel manager by background and is absolutely passionate about travel.