When it comes to choosing a honeymoon destination, Providenciales in Turks & Caicos should be top of your list. Ideal for romance and relaxation, our Turks and Caicos Villas are in top spots overlooking the ocean and come equipped with luxury amenities throughout.
Whether you choose from one of our high-end luxury private villas or Turks and Caicos all-inclusive honeymoon resorts, Exceptional Villas have you covered.
---
The countless secluded beaches, incredible restaurants and water activities as well as the stunning sunsets, turquoise ocean, beautiful Private Villas & boundless Turks & Caicos honeymoon resorts makes Provo a dream destination for anyone looking for that perfect Turks and Caicos Honeymoon getaway.
Dive straight into our accommodation suggestions to make your Turks and Caicos Honeymoon stay complete.
---
Private Villas for a Turks and Caicos Honeymoon
Our Private Villa collection is a great way to enjoy a private & luxurious honeymoon on the island. Here are 3 of our top choices for a Honeymoon villa in Turks and Caicos:
---
Beach Shack
The Beach Shack is a 5-star luxury Grace Bay villa located on that famous beach & is the perfect romantic getaway for honeymooners.
I love the cool bohemian décor of this villa & not to mention its beachfront location. The villa offers meet & greet at the airport, daily housekeeping & 24/7 concierge service. Each bedroom with en-suite bathroom offers a stunning view of the turquoise waters.
Your very own private pool provides a place to relax, listen to the music and take in the incredible sunsets every day.  You can experience one of the best snorkelling on the island at Smiths Reef just a few short steps from the villa, where you can view a variety of colourful Caribbean reef fish.
This villa offers you a once in a lifetime experience and its truly the perfect beach getaway for your Turks and Caicos Honeymoon.
---
Customer Review
 "We brought the New Year here it was the best New Year's we could ask for. Beautiful place with amazing hospitality! "
By Sandra 
Check out more of Exceptional Villas 5* reviews here on  Trust Pilot.
---
Beach Kandi
Beach Kandi is a beautiful villa located on the famous Grace Bay Beach.  It is a luxury villa with two bedrooms & it's close to perfect snorkelling reefs & the dining of Turtle Cove Marina.
A fold away glass turns the open plan great room of Beach Kandi into a breezy indoor – outdoor living space.  I love the spacious terrace at Beach Kandi as its close enough to the beach that the villas pair of day beds are right on the sand. There is an inviting sitting area, lounge chairs and an infinity pool.
After a day of snorkelling or sunbathing you can rinse off in the outdoor shower and relax in the evenings with the sound system and take in the amazing sunset views.
Honeymooners will thoroughly enjoy the beachfront location, stunning views, villa facilities, and have a splendid time soaking it all up.
---
Customer Review
"This property had everything you can imagine. The location, luxury, and staff were all amazing. We honestly couldn't have been happier. One word of warning, Turks, and Caicos is not cheap, but I personally feel it is worth the extra cost as it is just so beautiful"
By James Mullins 
---
Hawksbill Beach House
Hawksbill Beach House is a perfect choice for a couples retreat or a tropical honeymoon. This oceanfront villa sits right on the bright sands of Grace Bay Beach. View Hawksbill Beach House.
Grace Bay Beach was awarded by Trip Advisor "Travelers Choice" award for top quality for its soft sand and clear water. It has plenty of sun loungers and a lovely alfresco dining area that has you covered for fun & relaxation in the sun.
Private quiet and intimate, this two-bedroom villa is perfect for your Turks and Caicos Honeymoon or romantic celebration.
---
Customer Review
 "We returned home last night from Turks and Caicos. We loved it. The people were friendly. It was easy to get around. The food was excellent, and the beaches were stunning! We would definitely go again. The villa was fabulous. In fact, the whole area where the villa was located was top notch (and only a 10 minute drive to everything). Thanks for putting this together for me on short notice! "
By Tara Murray
---
Turks and Caicos Honeymoon Resorts
Do you want to put your feet up even further and have an abundance of amenities and staff on hand? Then look no further than our wide range of Turks and Caicos Honeymoon Resorts
---
Parrot Cay by Como
Parrot Cay is one of the most exclusive Turks and Caicos resorts. The property is a secluded private island in the Turks and Caicos, an island chain in the relatively undeveloped Northern Caribbean. The island's 1,000 acres include pristine white beaches and the opportunity to experience first-hand the rhythms of the natural world with no cars, pollution or streetlights.
This private Caicos island boutique hotel has an effortless atmosphere with an award-winning spa and miles of unspoiled uninhabited and unforgettable beach. Arriving into the main international airport in Turks & Caicos, a private transfer to Parrot Cay takes approx. 50 minutes in total with a scenic boat transfer.
Once you arrive on the island you are greeted with a personalised service with exceptionally high standards from the expert staff at Parrot Cay. The Resort has a range of rooms, suites & villas to choose from with many having direct access to the beach as well as 24 hours service.
This is the resort to pick if you are looking to be completely spoilt and want nothing but the best service amenities and location.
---
Customer Review
"Our experiences with PUTU YULIANI – our "Butler" was exceptional!
with Parrott Cay. Truly a special person! We truly experienced our visit to Parrot Cay.
We will return as soon as we can in the future. "
By Bill E
---
The Palms Resort
If you are looking for a top-notch resort for your Turks & Caicos honeymoon, The Palms Resort offered by Exceptional Villas is an excellent choice.
Located in the heart of Grace Bay one of the best Caribbean beaches, this resort ensures peace & tranquillity with access to a world class spa & state of the art infinity pool promise relaxation and rejuvenation.
Tranquil turquoise seas, vibrant corals and sea life, and startlingly white sand beaches are yours to enjoy when you celebrate your honeymoon at The Palms.
The Palms Resort is a prefect choice if you are looking for full – service beachfront luxury and the royal treatment for your Turks & Caicos Honeymoon.
---
Customer Review
"Having visited the Palms 15 times over 12 years, I must admit that I am a bit biased. To my defence, if the Palms was not the most incredible resort in the Turks & Caicos, there likely would not have been a second visit. The single biggest reason why we have returned over the years is quite simple…..the people! The folks are absolutely amazing. I have never seen such a friendly, caring and hardworking bunch of people concentrated in one place in all my travels. The Palms itself is a beautiful place with impeccably clean rooms, great food and the most pristine beach in the world. "
By John A
---
The Beach House Adults only – All-inclusive Resort
Beach House is a luxury, adult only Turks and Caicos Honeymoon resort located on the world-famous Grace Bay Beach.
Beach House offers a relaxed atmosphere, all inclusive resort providing a unique environment for you to unwind, unplug and renew. Here you get to completely sit back and let your butler reserve your beach chair, gourmet dining & premium drinks all included in your stay.
Choose Beach House for your Turks & Caicos honeymoon for a convenient location, spacious suites and terrific value.
---
Customer Review
"My husband and I just returned from our 25 yr anniversary trip to Turks and are convinced we selected the number one resort! Everything was awesome! The resort was beautiful, rooms also beautiful and spacious. The food was amazing and the staff very friendly and they go out of their way to pamper you. The beach house had the best location on the beach. It too was spacious and not as crowded as the other resorts. We will be back for sure!"
By Karen S
---
Romantic Things to do on Honeymoon in Turks and Caicos
With breath-taking beauty, incredible weather, and none of that touristy overcrowding, the Turks and Caicos Islands provide couples a dreamy and exotic getaway destination.
From the moment you book, our amazing concierge team will assist you with all your pre-planning needs and remove the stress out of planning.
Here are some of the best things to do in Turks and Caicos to enjoy when there!
---
Horse Back Riding on the Beach
There is nothing like seeing the breath-taking beauty of Providenciales from the back of a horse, where you can explore the white sand and turquoise waters.
We work with a small reputable eco-friendly horseback riding company in Turks & Caicos. While on tour with them you will feel at peace and at one with nature.
It's a unique experience that you won't want to miss!
---
Kayak/SUP Tour
Experience the beautiful calm waters of Turks and Caicos by stand-up-paddle board or kayak and get up-close and personal with the surrounding nature. Explore the quiet and tranquil mangroves and witness the natural wildlife such as juvenile lemon sharks, turtles, stingrays and more.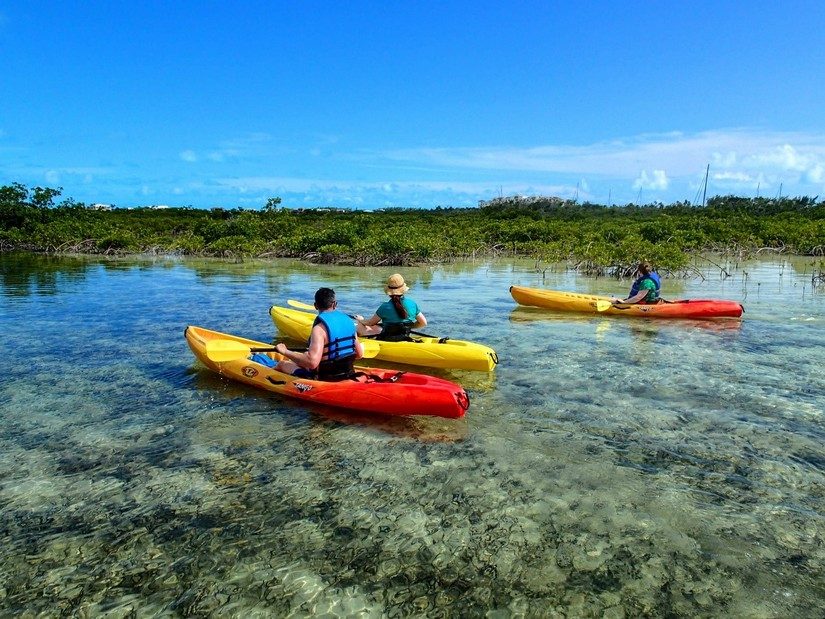 Join a tour during the most magical time of day. You explore the mangroves and then head out towards the setting sun.
Not only do the team at Exceptional Villas personally inspect all of our villas, we also make time to explore the island every time we are there which ensures that we match the perfect property to our clients based on their budget & requirements. Check out our team bios here.
We really loved our kayaking trip on our most recent trip to Turks & Caicos as you can you see in the photo above exploring mangroves and nearby islands!
---
Romantic Meals
 You and your partner can sit down to candlelight dinner either on a private beach or in some of Provo's amazing fine dining restaurants. Here are some of Exceptional Villas top dining picks.
---
Coco Bistro
Coco Bistro is located in the heart of Grace Bay. Set amidst the largest palm grove on the island of Providenciales, Coco Bistro is a food lovers fantasy in a one-of-a-kind setting. Serving fresh, flavourful Caribbean cuisine under a starlit sky and swaying coconut palms.
---
Infiniti
Infiniti is located at The Grace Bay Club and offers a superb waterfront open-air restaurant with mesmerizing ocean views. The restaurant offers a memorable dining experience with bountiful seafood and fresh produce crafted into superb dishes.
---
Via Veneto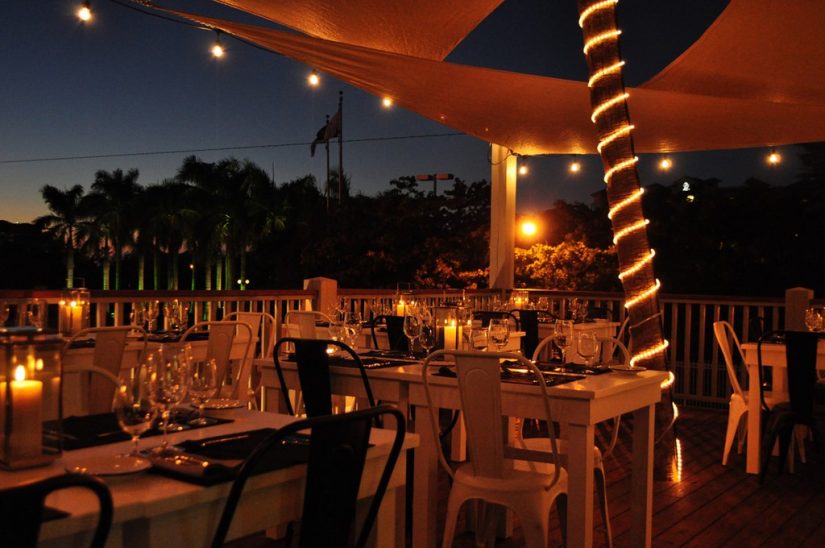 Via Veneto is located in the Port of Call Resort, Grace Bay. From the sleek Carrara marble bar to the massive clay oven, the extensive wine list to the sparkling water, every surface, taste & details was directly sourced from Italy. It doesn't get much more authentic than this and the food is simply wonderful.
You can also check out our more in depth guide on The Best Turks & Caicos Restaurants
---
Concierge Service
Our amazing concierge team can also arrange, a luxury catamaran day sail trip or sunset cruise, a private chef who will prepare a delicious meal for two, VIP meet and greet on arrival, fast track luxury airport transfers, car rental, restaurant reservations, spa treatments and many more. Turks and Caicos is by far one of the best vacation spots in the Caribbean.
---
Conclusion
I hope you enjoyed our guide on Turks & Caicos Honeymoon, if you are feeling a little more inspired our would like to speak to one of our experts on your vacation to Turks and Caicos please get in touch with us here.
Our team have also written an  Essential Turks and Caicos Travel Guide offer tips and advice while visiting the islands. The team at Exceptional Villas are passionate about customer service and will go that extra mile to ensure that you have the best possible honeymoon vacation from the moment you first Inquire to well after you return!
About Elaine Dillon