Sun, Sea and Sand
If you are looking for the perfect Caribbean Destination then look no further than Antigua. Antigua has some of the nicest villas in the Caribbean.  The island itself offers some of the best beaches, superb cuisine, unmatched sunsets and crystal clear Caribbean waters to swim in. For the ultimate vacation, Antigua should be top of your list.
Each of our personally inspected luxury villas in Antigua comes with a complimentary concierge service. Whether you would like to dine in the best restaurants, enjoy a private tour of the island, have a romantic sunset cruise or spend a day sailing on a catamaran, our concierge service can arrange all of this and so much more.  Noreen, our personal concierge for Antigua will be delighted to assist in planning an unforgettable vacation just for you.
Each luxury villa in Antigua includes housekeeping and many of our luxury homes include a full complement of staff from personal butlers and private chefs to gardeners and house managers.
Our Top 5 Luxury Villas in Antigua
1. Lazy Lizard
Set on the exclusive private island of Jumby Bay off the coast of Antigua; Lazy Lizard is without a doubt one of the most splendid luxury villas in Antigua. I have been to visit this villa 3 times and each time it gets better and better. The villa is set on 5 acres of manicured tropical gardens and offers complete privacy to its discerning guests.
Lazy Lizard has an exceptional design, it features eight Thai style pavilions clustered around a spectacular free form swimming pool.
The pool is certainly the nicest I've ever seen and  is actually one of the largest private pools in the world. Lazy Lizard sits on a stunning stretch of private beach with the most incredible sea views. The villa features six luxury bedroom suites each located in a separate pavilion around the main house which includes two master suites boasting outstanding sea views.
The villa also features a private tennis court, fitness centre, and media room. If all this wasn't enough, the home is also fully staffed with a Private chef, housekeeper and butler. The rate includes gourmet meals prepared by your own personal chef. You can also dine in the wonderful restaurants at Jumby Bay resort.
Favourite Feature of Lazy Lizard
There are too many to choose from but my favourite feature is the sunken dining pavilion in the pool. It's the perfect place to enjoy your breakfast or lunch.
2. Kairos Villa
Kairos Villa is another incredible villa located in Jumby Bay Resort. The resort is part of the Rosewood collection and is home to some of the most luxurious villas on the planet. Kairos is a luxury 7 bedroom home and is one of my personal favourites on the island.
The name Kairos, Greek for "idle time," is truly fitting for this 8,703-square-foot mansion. The villa is beautifully designed and sits on its own stretch of private beach. The large pool and terrace area is the ideal place to relax while taking in the breath-taking views.
The house is perfect for a family. The villa features an incredible beach front location, private 46′ infinity-edge pool, upstairs deck with ocean and courtyard views. The villa has a friendly team of staff on hand at the property, including your own private housekeeper and a personal chef, always ready to cater for your every need.
Favourite Feature of Kairos Villa
My favourite feature is the large pool and stunning day beds where you can sit and relax while reading a book. Your personal butler will also bring you some delicious cocktails while you relax.
3. Villa Champagne
Villa Champagne, as the name suggest, is the perfect villa to enjoy a party or celebration.  I personally stayed at this home and I would highly recommend it. The villa is located within the gated community of Galley Bay Heights in Antigua. This prestigious location is just 10 minutes from St John and 20 minutes from the airport. Villa Champagne has the most stunning pool offering incredible views and the best sunsets. The home features 5 luxury bedrooms and is luxurious in every way. Designed with high ceilings, open beams, large white walls and a fresh palate, the villa is luxuriously modern.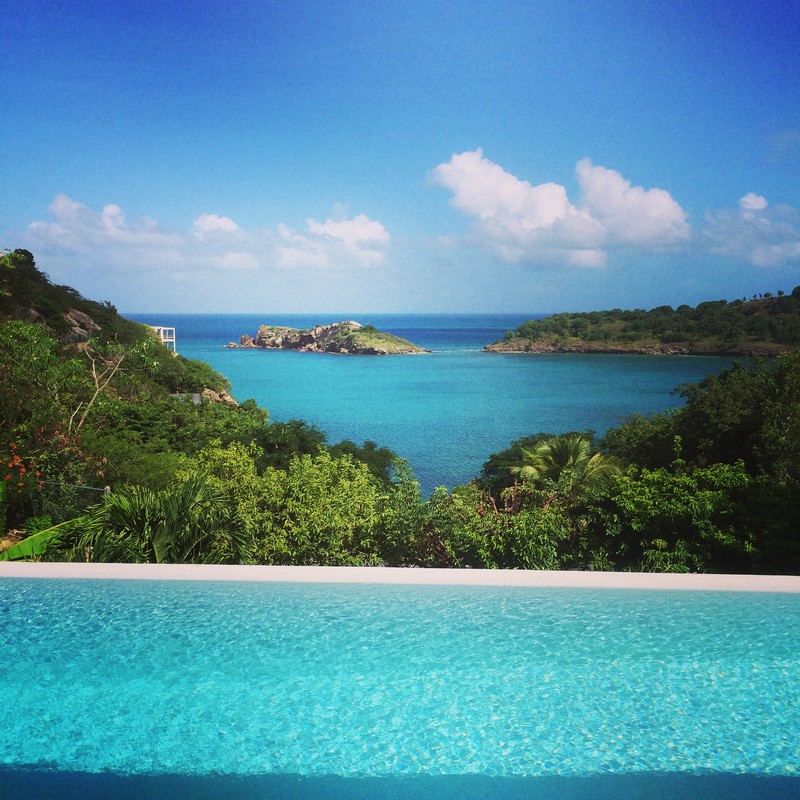 Favourite Feature of Villa Champagne
Relaxing in the pool while watching the sunset with a glass of champagne!
4. Palmiers Cove
Palmiers Cove is one of the most exceptional 7-bedroom luxury villas in Antigua. The villa is located right on the beach in Jolly Harbour. On a recent visit, I had the pleasure of viewing this luxury villa. It is in a superb location within Jolly Harbor marina with many amenities and water sports nearby.  Palmiers Cove boasts spectacular ocean views and is a completely private villa nestled by lush tropical gardens.
Favourite Feature of Palmiers Cove
My favourite feature is the incredible beach front location.
5. Tamarind Hills
Tamarind Hills is one of the first properties I ever visited in Antigua. The development is fast becoming one of the most sought after locations in Antigua. Although the resort is not entirely completed, many of our guests have already stayed and have been extremely happy here. The villas are brand new and offer complete luxury with one of the best views imaginable. Tamarind Villa number 8 is one of our personal favourites at Exceptional Villas.
We love the outdoor pool area which offers an incredible view as does the outdoor dining pavilion which sits overlooking the turquoise waters below. The beach is just steps from the property while Jolly Harbour is less than a 5-minute drive away. The villa is a wonderful choice for those looking for luxury but at affordable prices. Housekeeping is included and we can arrange a gourmet chef or butler on request. Here are some excellent reviews for Tamarind Hills from our guests.
Favourite Feature of Tamarind Hills
The spectacular views and easy access to Ffryes and Darkwood beaches.
About Linda Browne
Linda is the Marketing and Sales Executive for Exceptional Villas and has an in-depth knowledge of the travel industry. Linda's qualifications are in the area of business, marketing and tourism. Linda travels for much of the year inspecting all of our luxury villas; the majority of her time is spent in the Caribbean and Europe.