In under four hours, you can fly from the USA to an exotic world. With magical things to do in Barbados – what are you waiting for? Search though our wide range of luxurious and exceptional villas in Barbados and book now!
---
Okay, so where exactly is Barbados.
Open your map app, read up on our essential Barbados travel guide or drag out an old-school atlas to get your bearings.
Unless you are a top-flight geography student or a seasoned Caribbean tourist, you might struggle to pinpoint exactly where the fantastic island of Barbados is actually located.
At a cosy 167 square miles, it isn't going to stand out like some of its larger neighbours.  More importantly, it isn't really in the Caribbean at all.  It is, in fact, the easternmost island of the Lesser Antilles and is located in the Atlantic Ocean.
Due to the widely accepted ideas of what constitutes a Caribbean destination,  "white sandy beaches, glorious weather, spicy food, a laid-back vibe etc", Barbados has settled into the collective mind-set as being part of the rich and diverse cultural melting pot that charms visitors to this part of the world.
This island ticks each and every box of what travellers might wish to find with some additional Barbados attractions thrown in to create a treasure chest of experiences to captivate and woo everyone.
---
Good to Know!
One of the key considerations when planning your island get-away is the infamous North Atlantic Hurricane Belt. When searching for the best time to visit Barbados, keep in mind that the arbitrary weather system, notorious for disrupting life in the Caribbean doesn't really impact life in Barbados.
Sitting outside of the 'alley' in which the hurricanes move through the Caribbean, any Barbados activities that you plan on enjoying during your vacation won't be adversely affected by detrimental winds and rain.
So, now you've located the island on your map, you've checked the weather and it's 'sublime' it's time to crack open YouTube and let's get a song to set the scene as you pack your gorgeous swimsuits and casual-chic apparel for a flight into paradise.
I recommend the wonderful 1970's hit by Typically Tropical, "Barbados".  Frequently copied but never surpassed, this cheesy fabulous song will have you singing along and counting down the days until you are drifting in that aimless yet mindful way through the surf from Mullins Beach around to Gibbes Beach.  All together now "Whoa, I'm going to Barbados ….."!
---
Concorde – A Glimpse into the Golden Era of Travel
A member of the British Commonwealth and an independent island state since 1966, Barbados is an English speaking outpost that's been welcoming tourists for decades.  Back in the 1970's, the 'pocket rocket', so-called by the jet set, or Concorde to the rest of us mere mortals, used to shuttle British visitors in a speedy 4 hours direct from Heathrow to Grantley Adams International Airport.
One of the most interesting Barbados attractions that's really worth a visit is a trip to tour a decommissioned Concorde that is sitting in a museum adjacent to the main airport on Barbados.  You will enjoy getting to walk through the very slim cabin of this iconic aircraft and learn some of the interesting facts about this unique time in aviation history.
A couple of points that were fun to note is that outside of daylight saving hours, pilots could seemingly arrive in Barbados even before they had taken off in London.
Also, as Concorde was essentially an airline that catered for the wealthier traveller, there was always quite a confusion at baggage claim as one identical Louis Vuitton suitcase after another would circulate tantalisingly around the carousel.  Ah, the problems of the rich!
---
A Whole Lot of History – The best things to Do in Barbados
Amerindians were enjoying this lush island long before the European settlers arrived.  First the Spanish, then Portuguese came to Barbados but it wasn't until the English claimed the island for the Crown in the 1600s, did it become a colony in the established sense of the word.
A Barbados must-see is St Nicholas Abbey one of only three genuine Jacobean mansions in the western hemisphere.  It is a spectacularly well-preserved museum mansion that is a joy to stroll through.  BTW: 'Jacobean' references a style of architecture that dates from the reign of James I of England (early 1600's – so we're talking oooooold!).
It's important to note that Barbados was a well-established colony long before Continental USA had settled, so the UNESCO protected city of Bridgetown is a treasure trove of great historical interest and one of Barbados's points of interest.
Peeling back the layers of history and examining the influences of these colonial forefathers is never a truly happy experience.  They say in life you cannot go forward without looking back and I believe this is absolutely true when we look at the lessons to be learned from the history of Barbados island.
Tobacco farming was the first economic endeavour by the English colonists and to clear and plant the land there was a need for manpower.  The first servants and labourers who worked the land of Barbados were English, Irish and Scottish indentured servants.
These were men, women and children who, for the price of passage and food and shelter, contracted themselves to work for the tobacco plantation owners for a period of around 5 years.  After which time, these servants and labourers would be given some small tracts of land or goods and permitted to live independently on the island.
These indentured servants were joined by transported prisoners who, for reasons ranging from being vagrants, political prisoners or common criminals, were sent to Barbados and other Caribbean colonies to work out their sentences.
Stepping into the unknown whether by choice or otherwise, these individuals found themselves on the other side of the world, living in a climate utterly alien to the Northwestern European countries from which they originated.  I wonder how many regretted their choices and longed for the cool and rainy shores of their native lands?
---

---
Tobacco to Sugar
Economic progress and the quest for wealth by the few, has always played a significant role in shaping the physical and social landscape of fledgling nations.  For Barbados, this was indeed the case.  Once the mainland USA colonies had established far superior tobacco plantations, Barbados diversified into farming sugarcane.
This booming industry called for even more labourers, and out of this need, the African slave trade grew.  At one time, there were more slaves of African origin on the island than white settlers.  One of the top things to do in Barbados is to visit the Barbados Museum and Historical Society.
This wonderful Museum founded in 1933 is an evolving resource that tells the full story of Barbados and its multi-cultural past.  It presents facts in a socially relevant way.  The people of Barbados celebrate all aspects of their past, acknowledging the human suffering and diversity that has melded together to create this modern island culture, proud of its heritage.
---
Cheers
I don't know about you, but I think it might be time for a refreshing beverage.  Barbados knows a thing or two about the art of distillation … for its rum and the art of brewing … for its beer.  So whether you are a connoisseur of the heady flavours of world-class rum or are more of an Ale Head, one of the best things to do in Barbados is to go on the interesting tours through Banks Brewery or Mount Gay, a company making the finest rum for over 300 years.
Of course, you don't need to go on the official tour to enjoy these Bajan drinks.  Every bar and rum shack on the island will have any number of beers or ales from the Banks Brewery.  There is even a delicious Tiger Malt that is a non-alcoholic beverage for any designated drivers in your group.
For the rum fanciers amount you, Mount Gay is such a refined rum that it can be enjoyed with little adornment.  But if you'd like to transform it into an interesting cocktail, then the Funky Monkey with the additions of Crème de Cacao, banana and coconut milk is a creamy, delicious taste sensation.  To enhance the experience further, I recommend you take your beverage and recline in a hammock in one of our villas that are located in the most picturesque locations around Barbados.
---
In and On the Water …. Or simply Beached
I always have to remember to point out what I call the 'obvious' when I put together my travel blogs.  In this case, the 'obvious' for Barbados is the magnificent selection of spectacular beaches to be found all along its coastline.  I can sometimes assume that anyone considering this island as the destination of choice for a memorable vacation, honeymoon or romantic couples  getting married in Barbados, know that the perfection of the beaches, the purity of the temperate turquoise waters equals and surpasses virtually all of the other destinations in this corner of the world.
Once stepping outside the perimeter of these luxury homes in Barbados onto a white sandy, uncrowded beach for an early morning swim, or organise a wonderful day of snorkelling and swimming with turtles, you will merge with the infinite spirit of this natural paradise. One of our favourite luxury villas in Barbados has to be Alaya Villa.  Its location on the Platinum Coast of Barbados is just one of the unique and wonderful things about this property.
The government of Barbados has invested a great deal of resources and planning to ensure the standards and quality of its beaches – so you might be in danger of sprouting gills as you splash in and out of the warm waters each day.
There is so much to choose from whether you want to follow the crowds or travel barbados off the beaten path, there is something to suit everyone here. It is simply what do to in Barbados!
---
Lunch, anyone?
The one 'obvious' thing I never miss out on is food!  Show me a menu and I can give you the history of a nation.  Barbados is no exception and interspersed with all the modern Caribbean dishes, spliced with modern twists to satisfy the sophisticated tourist palette; you can still find the food of the people that make visiting Barbados a spicy and scrumptious experience.
Cou Cou with Flying Fish and Gravy is the National Dish of Barbados.  It is ranked No.3 of National Dishes by National Geographic.  Don't be put off by the fact that Hamburger is named No.1, as Cou Cou is such an exciting and totally unique taste sensation it is a world away from the rather unexciting burger.
The Cou Cou, in this dish, is cornmeal and okra melange, served hot, with some crispy fried flying fish and a spicy gravy.  Find someone's beloved grandmother to show you how to make it.  Eat it in a small family run restaurant, it is one of the top things to do in Barbados, and you will love it.
The other traditional fare to be tried is Pudding and Souse.  Pickled pork makes up the Souse element, and a steamed sweet potato dish makes up the Pudding part.  Don't get too technical in asking about what cuts of meat are used in this very tasty dish as, like the French, the Bajan people use all of the animal from snout to tail in their dishes!  It's a typical Barbadian dish – packed with spicy flavours and textures.  Don't miss it!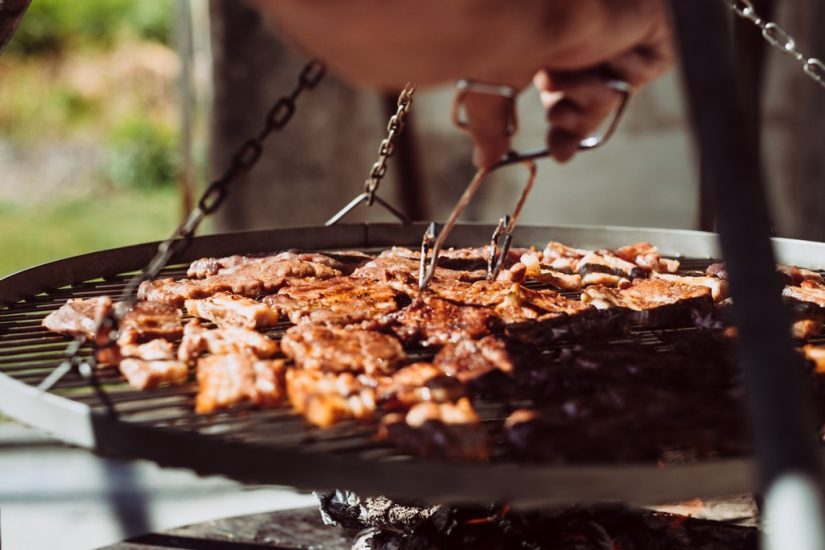 ---
A Broadview across the Brilliance of Barbados
This is really only a taster (quite literally) of what Barbados has to offer its guests.  The island is a progressive and beautiful paradise that was England's first foothold in the New World.  It is a sophisticated yet laidback destination that has evolved to cater to guests of all nationalities and ages.
There are a profusion of stylish Barbados restaurants with jaw-dropping views, where you can dine under the stars in romantic splendour.  The world-renowned Sandy Lane Hotel is here sitting on the pristine Sandy Lane beach.  It has a number of wonderful golf courses to try.  The magnificent Green Monkey course is thought to be the most expensive golf course created to date – globally!  It is not to be missed!
And all you golf widows out there, can take a leisurely afternoon away from bunkers and greens and sample some exceptional duty free retail.  The discerning shopaholic will be delighted to find a broad range of some of the world's best brands like Armani Exchange, Louis Vuitton, Ralph Lauren, Bulgari, Cartier in the Limegrove Lifestyle Centre in Holetown.
Alternatively, you can seek out the hot labels like Billabong, Reef, Quiksilver, Givenchy, Tommy Hilfiger and Mac in Cave Shepherd in Bridgetown.  All you need is to show your passport and your airline booking to make your purchases tax free.  Don't over-fill your suitcase going to Barbados as I suspect you might need some space for all those lovely goodies!
---
Luxury Catamaran Lunch or Sunset Cruise
Enjoy the stunning 'Platinum' coast of Barbados onboard a highly rated catamaran cruise. They offer a 5 hr lunch cruise, a 4 hr sunset cruise, an 'adults only' option and a 'Premium' option. Including stops to swim with turtles and viewing a shipwreck. The afternoon departure even includes a delicious dinner. Each boat caters for 12 people max. for a personalized & relaxed outing.
Price: From US$125 per adult and US$90 per child, including transportation, food & drinks.
---
5 Star Private Charter
With a Luxury Private Charter, you can tailor your cruise to exactly your own requirements. You can choose if you want to snorkel, water-ski, soak up the rays or just relax in the shade. During your private day sail you can customize the bar and menu, and the on-board chef will prepare everything on board: eat 'al fresco' at the water's edge or in the air-conditioned salon, the choice is yours. This is the ultimate sailing experience on board a beautiful and luxurious catamaran. A Power Boat Charter is another great alternative for a private charter experience. Rates on request.
---
Deep Sea Fishing
Enjoy a spectacular fishing charter aboard a 42 foot custom built sport fishing boat. All the fishing charters are private (no shared trips) and your charter can be customized depending upon your preferences. You can fish for Marlin, Sailfish, Wahoo, Barracuda and Mahi Mahi and much more. Prices: US$500 (4hrs) – US$700 (6hrs) – US$900 (8hrs) Including transportation, drinks & snacks (a light lunch is also included for the longer, 6 or 8 hr trips).
---
Island Hopping
Because of the distances involved, it is not possible to visit a neighbouring island by boat in just one day. But for a truly special day out, why not consider taking a short flight to visit one of Barbados' neighbouring islands such as The Grenadines or St Lucia. After a short 45 – 50 minute flight, a luxurious catamaran will be waiting to sail around the shores, whilst you enjoy
gourmet meals on board. You will be able to swim in the pristine waters, snorkel and even discover a small deserted island. This excursion is truly unique. Ground transfers, and drinks & snacks are included. Rates on request.
---
Overland Adventure Safari
This adventure land safari takes you to the Central, Eastern and North-eastern side of the island. The most entertaining drivers will skillfully navigate you on and off the road to some of the lesser seen, but most magnificent locations in Barbados including Bathsheba, Joes River Forest & Cove Bay. On this 4×4 Safari Tour you will experience some of the best photo opportunities on the magical coastline of Barbados. Lunch is included, along with juice, rum punch and other drinks & snacks are served along the way. Round trip transfers from your villa are also included. There are various tours available, but the standard & very popular "Island Adventure Safari" runs daily and lasts 5½ hours. Pickup time from your villa would be 8am – 8.30am/ return at 2.30pm – 3pm.
Prices: US$108 per adult/ US$75.00 per child (aged from 5 – 12 years). Children under 5 years are not permitted.
---
Submarine Excursion
This is an unforgettable undersea expedition for both adults & children (Min. height 3 feet). Discover the natural undersea world of life when you board this 65 ft submarine. There are big view ports, and it is fully submerged in the aquamarine waters as you experience a fully narrated undersea voyage. You can view a shipwreck and the submarine can travel to depths of 150 feet, in a/ c comfort. The day dive features numerous fish and busy reef life and the very different night time experience has a more romantic focus on the corals, color and night predators. Rates on request.
---
Rum Tour
Experience Barbados' finest and most celebrated spirit with an informative and interactive Rum Tour. The highly recommended 'Bajan Buffet Lunch Tour' is the one we rate as the best. This tour runs on a Tuesday and Thursday, and you will sample a refreshing rum punch at the beginning of the tour, learn a brief history of rum along with a short film, a tasting of five different rums and of course a delicious Bajan buffet lunch. You will also visit the bottling plant and there will be time for shopping afterwards. Reservations are required, and the prices are US$75 per adult/ US$38 per child. Transportation is included
---
Horse Riding
Enjoy some of the most beautiful scenery of Barbados on horseback. We can arrange rides for all levels of rider, including both tourist rides and lessons. Choose between hills & forest or beach (or combine them both), with outings ranging from 1 to 2 hours. We recommend planning the ride for the mornings, as it is cooler for both horse and rider. Price: From US$95 pp for a 1.5 hour hills, forest and beach ride.
---
Paddle Boarding
A great way to stay fit, have fun and enjoy the warm blue waters. Partake in a beach lesson if you are new to the sport, or if you are already a seasoned paddle boarder, you can hire a board by the week or by the day (delivery is included if you hire for 3 days or more). Specialist SUP activities can also be arranged, such as an amazing paddle board/ yoga class. These classes are tailored for the group and you can go at your own pace, practicing the poses with water beneath you for a challenging alternative to your usual yoga routine.
---
Scuba Diving
There is spectacular scuba diving in Barbados for all levels. If you a beginner, there is a Discover Scuba tour, which is a great introduction to diving. It begins with instruction in the safety of a swimming pool, followed by a shallow pleasure dive (up to 40ft) in a safe bay. If you are certified, they offer a 'Two Tank Dive' half day period in the morning which costs from US$150 pp for the two dives. We can also arrange night dives, wreck dives, multiple dive packages (up to 10 dives) & PADI certifications. A complete range of options and packages to suit everyone.
---
Barbados Wildlife Reserve
Spread over 4 beautiful acres in the parish of St Peter. Meander through a mahogany forest of cheeky green monkeys, cute red-footed turtles and a caiman pond. Other creatures that may be spotted include brocket deer, iguanas and agoutis – most of the animals roam free in their natural habitat. The monkeys are most lively during their afternoon feed at around 2pm. There's also a small aviary with macaws and cockatoos, as well as caged parrots, un-caged peacocks and pelicans. To top it off, there's an orchid display and an iguana sanctuary. Times: 10 am-5 p.m. with last admission at 3 p.m.
---
Yoga
Enjoy the ultimate yoga experience in an ethereal environment. Embrace the peace and tranquility of a natural outdoor studio, as the peaceful sound and feel of the tropics offers a superb space for you to relax your spirit, release any tensions and clear your mind. Whether individual or as a group, you will not want to miss this opportunity to rejuvenate and energize your senses to the pulse of the Caribbean. Our superb instructor can also conduct yoga sessions in the privacy of your villa, and in addition she teaches Pilates and Personal Training sessions.
---
Conclusion
So there you have it …..
I will sum up the wonders of Barbados by quoting from a Bajan poet and writer, Charmaine J Forde:
"No one leaves this hidden treasure,
Feeling the same way they came,
They always refer their friends to this Gem,
This island with a beautiful name,
My beautiful "Bim"—Barbados".
Yes, Barbados is pure poetry and she's waiting for you!
About Mairead Moriarty
Born and raised in Co Kerry, lived in London, New York, San Francisco, Dublin. Owner of one very battered suitcase, a well-worn passport and a million memories.
It seems very fitting for a travel writer that my surname translates as 'Skilled Navigator'. Apart from an occasion when, aged 3, I got lost in a Supermarket in Tralee, I have managed to live up to my name!
Curiosity is probably the driver that has sent me on magical mystery tours around the world. I want to 'feel' a place. I want all my senses to be engaged: from the history and geography that has influenced a country or city, the arts and achievements of its natives, anything and everything really.
Regardless of whether I am on a local train travelling through Morocco, or poking around in Marconi's study in Bologna or on a canal boat weaving through the heart of the English countryside, the same rules apply - ask questions, talk to locals, eat what they eat, sit quietly with nature and simply be.
Assimilate as much as is possible so as to understand the soul of a place. That is my passion. That is the compass by which I navigate.