Have you booked a trip to the sunny shores of St Maarten? Or maybe you're trying to decide where to jet off for your next vacation and need some inspiration. Either way, our complete guide to this Caribbean island's beaches will convince anyone to visit. 
St Maarten lies in the northeast of the Caribbean sea, which means you can expect a hot climate, paradise landscapes, and white sand beaches. This makes it a popular destination for tourists every year who need some well-deserved luxury. 
There are 37 beaches to choose from on the island, and, unfortunately, it's unlikely you'll be able to visit them all. There's something for everyone, so we're going to look at the 3 best beaches in each category for families, romantic getaways, and wild adventures. 
---
Best St Maarten Beaches for Families
You may think luxury Caribbean vacations are more suited to couples on honeymoons. And while this can be the case, these paradise islands actually make the perfect environment for family get-togethers, too. 
Calm seas, fun activities, and great restaurants mean the whole family can enjoy a St Maarten vacation. However, there are certain beaches that work better than others for people traveling with kids, so let's take a look at a few of the best. 
Orient Bay Beach
If your children need action-packed fun whilst you get a nice tan and a snooze in the sun, then this beach is for you. The calm waters make snorkeling safe and enjoyable, with the promise of seeing hundreds of tropical fish, stingrays, and turtles. 
The magic of the underwater world can soon be replaced with the exhilaration of speeding over the top of the crystal-clear sea on a jet ski. Or maybe from gliding through the air, parasailing. Orient Beach can be non-stop fun if you want it to be. 
After all of this excitement, you'll need somewhere to wind down and relax. Luckily, the bay is surrounded by beach bars and restaurants with plenty of kid-friendly options. If you don't want to sacrifice your high-end meals, try Kontiki Beach Restaurant, as they offer a kid's menu alongside their delicious Caribbean classics.
You'll always be comfortable at Orient Bay, no matter what scenarios the kids find themselves in, thanks to their brilliant facilities:
Changing rooms

Showers

Toilets

Loungers and Umbrellas

Beach chairs
Maho Beach
This one is for the kids. Stop off for an afternoon visit before heading to dinner and drinks, as it's unlikely you'll be able to find peace and quiet here! Maho Beach is also known as Airport Beach because, during take-off and landing, the airplanes from Princess Juliana International Airport come so close to the bay you'll feel as if you can touch them. 
This attracts visitors every day who come to be wowed by the sight. It's pretty exciting, even for the adults. Spend time capturing the best pictures of your children reaching to touch the huge jets and splashing around in the warm waters. 
Don't forget to bring your snorkels as you can rest assured the noise of the planes hasn't frightened away shoals of tropical fish. Once you've had your fill, watch the sunset over the sea from the comfort of a beach restaurant. It's the perfect afternoon that'll keep family members of all ages entertained and happy.
Grand Case Beach
Located on the French side of the island, St. Martin (or Saint Martin), Grand Case Beach is a spectacular slope of sand that gently meets the sea. Its proximity to the town of Grand Case means you can spend the day shopping, eating, and sunbathing.
The shallow waters mean that kids can keep cool and busy playing in the sea. With a pair of goggles, they'll be entertained for hours searching for the tiny fish that live close to the shore. You can relax knowing that strong currents and deep shelves aren't an issue. 
There are plenty of beach restaurants that overlook the shore, offering relaxed atmospheres and delicious Caribbean cuisine to finish off your perfect day. 
Our villa of choice: Petite Plage 5
---
St Maarten beaches for romantic getaways
Planning a trip for two? Whether you're on your honeymoon, celebrating an anniversary, or just enjoying a lavish date, St Maarten offers some of the most romantic and secluded beaches in the Caribbean. 
Are you prepared to fall even more in love with your significant other? Let's take a look at some beaches that might make that happen. 
Petite Cayes
Only accessible via a 30-minute walk, you can be sure to escape the tourists and children with a visit to Petite Cayes. After a short hike, you are rewarded with the most beautiful stretch of white sand and blue waters, surrounded by luscious green trees. It's the most picturesque desert island bay we think we've seen. 
The isolated nature will make you feel like you and your partner are the only people in the world. It's an experience that will bring you closer and make memories that last a lifetime. 
It's important to be prepared when visiting Petite Cayes. There are no facilities like restaurants, shops, showers, or toilets. So you need to pack well. A romantic picnic for two with lots and lots of water is recommended!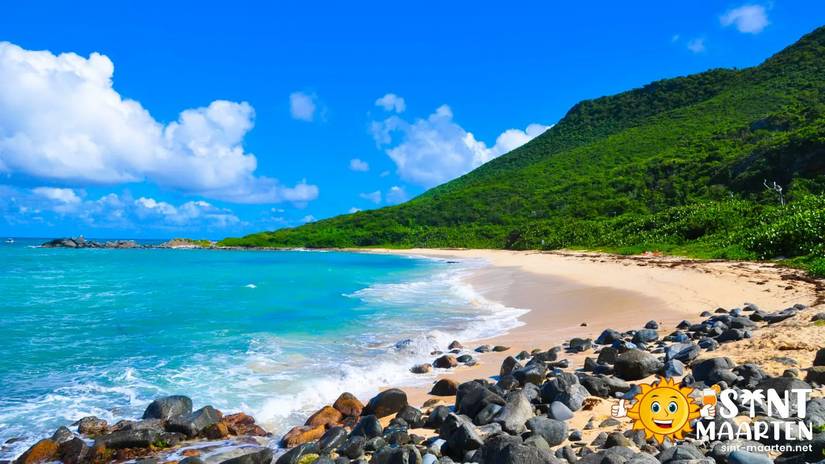 Lover's Beach
We couldn't leave this off the list for obvious reasons. And why would we? This little cul-de-sac consists of a tiny patch of sand nestled between tall rocks, making it a secluded dream. A long walking trail and a steep scramble down make it slightly trickier to reach, but it's well worth it when you do. 
The simplicity of this destination is what makes it so beautiful. It's just you two and the sea. When you lie back and close your eyes in the warm sun, all you'll hear is the gentle lapping of the waves. This is true escapism. 
Pack lots of water and snacks, as you won't find any facilities here, and the walk can be tiring. If you want to explore the area more, be sure to bring sturdy shoes for climbing and your snorkel. These secluded spots can be the best for marine life!
Cupecoy Beach
Located on the Dutch side, Sint Maarten, Cupecoy Beach is renowned as one of the most beautiful beaches on the island. The cliffs are illuminated in golden hues as the sun sets, creating a gorgeous contrast to the turquoise waters. 
The rock formations are perfect for exploring. Weather-beaten and sea-washed, the shapes and curves created are stunning. 
Be aware that this is one of the only beaches in St Maarten where clothes are optional. This means you're likely to see some full nudity. Who knows, maybe you too will want to see how the freedom of it feels.
Our villa of choice: Etoile de Mer
---
St Maarten Beaches for adventures and activities
There's only so much lounging around you can do, and St Maarten has so much to offer besides sunbathing. It'd be a waste to overlook the adventures you could have. 
Whether you're a keen surfer who wants to try some different water sports or an avid dancer looking to explore the nightlife, the island can cater to everyone's adventurous side.
Simpson Bay
Where's best to party the night away than a stunning Caribbean beach? Simpson Bay started as a fishing village and is now a huge tourist destination on the island because of its abundance of casinos, nightclubs, bars, fine restaurants, and incredible shopping. 
There are plenty of beaches to choose from in the Simpson Bay area that host a range of events and parties. Try Kim Sha beach for guaranteed partying.
Recover the next day at the many luxurious spas in the area, or sip a cocktail on the white sand at Simpson Bay Beach. Either way, hangovers don't seem to exist in this part of the world.
Friar's Bay Beach
Are you a thrill seeker? If so, Friar's bay is a must-stop destination on your St Maarten holiday. Here you can try your hand at:
Kayaking

Paddleboarding

Windsurfing 

Snorkeling 
Of course, if you're the more 'sit back and soak it all in' type, they have lounge chair rentals just for you. Friar's Bay is one of the most popular beaches because it really does have it all. After a whirlwind day of fun, treat yourself to a hearty Caribbean meal at one of the many restaurants in the area.
Mullet Bay Beach
Similarly to Friar's, Mullet Bay Beach is home to keen sailors, wind surfers, and divers. Its calm shore means the waters stay crystal clear, making it the perfect beach to try and spot your favorite marine life. It also has a golf course if you want to fit in a few rounds on your vacation. 
The flat sea means it's also perfect for trying jet skiing and windsurfing without it becoming dangerous or too difficult. Expect to see palm trees lining the bay in true paradise fashion to make the perfect backdrop for your adventures. 
The beach is located near the cruise ship terminal, so when a ship is docked, be prepared for some crowds!
---
Honorable mentions
These beaches are just a snapshot of what's to discover on this gorgeous island. There are so many incredible finds, but it'd be impossible to talk about all of them! Check out our brief list of honorable mentions. If you're stuck for plans, come back to this list and cross them off one by one. 
Little Bay Beach:

On the edge of Philipsburg lies this small bay. Because of its rocky shore but calm waters, it's the perfect place for a snorkel. It's less touristy than other areas and is perfect if half of your party wants to sail into adventure and the other half wants to relax on the white sand. 

Great Bay Beach:

Around the corner from Little Bay is, you guessed it, Great Bay. This is a great (no pun intended) alternative if you want restaurants and bars at your fingertips for ultimate comfort. Expect it to be a little more touristy for this reason. 

Guana Bay:

For a taste of the wild Atlantic West Coast, head to Guana Bay. Its dramatic landscapes make for picturesque hikes with views of the ocean towards St Barths.

Happy Bay Beach:

Just a 15-minute hike from Friar's Bay is this secluded dream. The lack of facilities means it's not often crowded. You may even have the place to yourselves! Expect a white sandy beach, stunning views of crystal clear waters, and a bit of peace and quiet. 

Pinel Island:

This hidden gem makes for a very special day out. You'll have to take a boat to this small piece of land, but once you arrive, expect a long stretch of golden sand surrounded by palm trees. The water is the most incredible color, and the calm seas make it perfect for spotting stingrays and coral reefs. 

Tintamarre Island:

Fancy exploring a desert island full of incredible wildlife? Of course you do! Tintamarre, also known as 'flat island,' has a fascinating history. Clamber along the rocky terrain to find the perfect patch of sand to catch some rays. 
Note: We would have included Oyster Pond and Dawn Beach; however, it suffered a lot of damage from the hurricane in 2017 and hasn't yet been rebuilt.
---
Excited to visit St Maarten?
St Maarten is a stunning island, suitable for everyone who desires to visit. Whether you need some well-deserved rest and relaxation or you're looking for adventures in a new environment,  you'll never tire of the warm sun, white sand, and blue sea. 
If you've already planned your trip, have fun! But if you're still considering a Caribbean vacation, get in touch and let us and our expert concierge team organize it all for you. 
We have a range of stunning villas available to rent to make sure you have the most memorable time possible. We look forward to creating a magical experience for you and your family.
About Niamh McCarthy
Niamh is our Caribbean Travel Specialist and has an in-depth knowledge of all of the islands in the Caribbean. Niamh's qualifications are in the area of Business Management and Marketing with a Bachelor degree in Business Management and a Masters degree in Public Relations. Niamh has worked for over 10 years in the travel industry and has also spent time working in the United States.