It is no surprise to read that for over 80 years Kauai has been the island destination for movie makers who want to capture the true essence of Hawaiian beauty.
Some of the most celebrated films from South Pacific, Raiders of the Lost Ark, Jurassic World, Tropic Thunder and so many more, discovered that if they wanted an unspoiled view of tropical perfection, than Kauai, rather than any of the other Hawaiian islands, could deliver.
In fact, if you were to take a look at the multi-Oscar nominated The Descendants, you could find the rather splendid George Clooney jogging down the Hanalei Beach on Kauai's North Shore.
Even the gorgeous George cannot improve what is, in essence, an expanse of beautiful shoreline, dotted here and there by some of the loveliest luxury villas in Hawaii.
Let's take a stroll together to view some of these spectacular properties … but first, let me give you some useful background knowledge about the 50th US state as a whole.  Hawaii is a magical destination located in splendid isolation in the North Pacific Ocean.  With a balmy tropical climate enjoying glorious temperatures all year round, the Hawaiian archipelago comprises eight main islands and over 120 uninhabited islets.
The fourth largest of the main islands is Kauai, known as the Garden Island.  It is the oldest of the islands as well as being the one that Captain Cook first discovered on his ramble across the Pacific.  Luckily, the most uninspiring name the explorer gifted to this remarkable location:  "The Sandwich Islands", has fallen away and Hawaii, Maui, Oahu, and the other islands have reverted to their more evocative Polynesian names. Read more about Maui luxury villas.
Kauai is the jewel in this Pacific paradise just waiting to be explored.
Exceptional Villas represents some of the most spectacular luxury villas Kauai has to offer.  Whether you are looking for unique properties with magnificent views, beach access, private pools or lush landscaped gardens, we have a diverse portfolio of beautiful Kauai villas for rent that will satisfy any and all requirements.
---
Secret Cove on Secret Beach
What a wonderful name for a beach!  Secret Cove conjures up the image of a hidden treasure, waiting for you and you alone.  Admittedly, you might not have sole use of this beach, but you can be assured of having a peaceful day along its shores as with no direct vehicle access it helps to keep the hordes of day trippers at bay.
Secret Cove, a gorgeous 4-bed villa, sits in a prime location above Secret Beach.  The pretty beach can be accessed by a pathway from your spacious and private property.  You can enjoy your own private infinity pool, dine alfresco in the covered gazebo with unimpeded ocean views or take that little stroll down to Secret Beach where you can watch some amazing surfers catch a thrilling wave or two!
With space to enjoy the beauty of the island, you can stroll barefoot across your lawns drinking in the changing views with any worldly cares washing out with the receding tide.
---
Lush Surroundings
The island of Kauai has vast tracts of green open spaces.  From gorgeous rolling hills shrouded in tropical vegetation to the deepest canyon across the archipelago.  In fact, Waimea Canyon is so awe-inspiring that it has earned the nickname 'The Grand Canyon of the Pacific'.  Such diverse terrain makes Kauai not just a beach destination but an island paradise bursting with flowers and foliage that offers visitors the best of hiking, trekking, biking, nature trails, horse riding excursions.
You can easily jump in a jeep and get off-road into the national park hinterland.  One of the Kauai villas with private pools that can offer you the most breath-taking and spacious base from which to explore all of the island's treasures is Anini Vista Drive Estate located near Kilauea and just over a mile to the nearest beach.
The huge lagoon style saltwater pool and mini-waterfall are fringed by a five bed-roomed estate that is furnished to the most luxurious of standards.  Hardwood floors, high ceilings, windows that frame views across the lush gardens onto the ocean in the distance.  For your party, you can enjoy a very private getaway with lots of lovely shaded places around the property to catch a quiet moment of solitude of your own.
---
The Garden Estate
The tropical climate of Kauai allows the most glorious array of botanical species to proliferate.  Nowhere is this more evident than in the 12-acre garden paradise that is Sea Song estate at Kahili Bay.
On a bluff overlooking the ocean, this three bedroomed property is divided into a two bedroom Main Residence, a Garden Studio and Library Bungalow.  Each location is connected by pretty meandering stone paths through the lovely gardens.  With a 10 minute walk along your own private beach path, you can visit the secluded and most scenic Kahili Beach.
This property is ideal for a small, multi-generational family getaway.  Space to be together but space to be apart.  If you are a garden enthusiast, you will be overwhelmed by the profusion of natural beauty that awaits you here.
---
Award-Winning Beaches
Any Kauai villas at Poipu Kai or Hanalei avail of spectacular and pristine beaches.  In fact, Poipu Beach is regarded by the Travel Channel as one of the best beaches not only in the US but in the world.  Crescents of golden sands link together to create different beach experiences for visitors.  Surfing waves for older guests in one area give way to calm and shallow waters for younger guests in another.  With onshore amenities, it's a great day out for the family.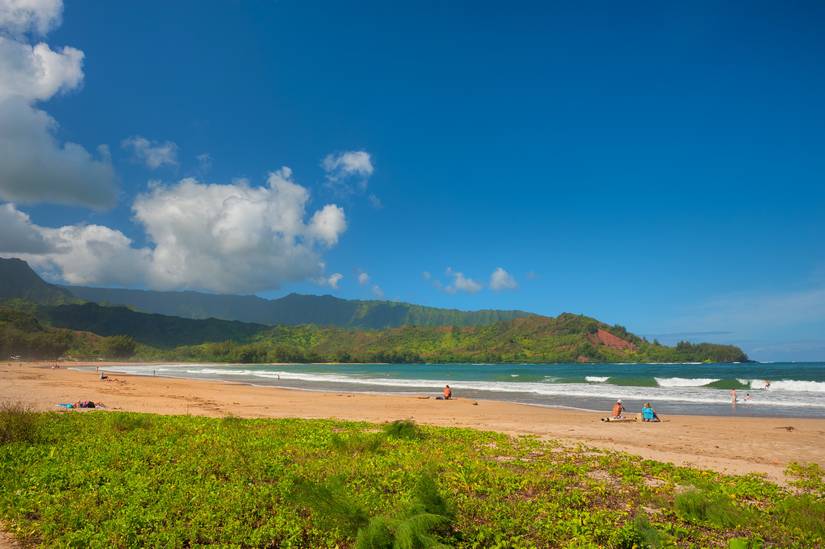 Hanalei Bay on the North Shore offers a three-mile bay with a long strip of beach perfection that provides a terrific base for surfers or those hoping to learn.  With board hire at Black Pot beach, you could establish yourself along this coastline and take on the Pacific.
Hale Aku villa, a modern four bed-roomed villa over two floors, is a short stroll to Hanalei Bay and to downtown Hanalei shops and restaurants.  This attractive property captures all the beauty of nature with lovely gardens providing a calm and private retreat from island life.  Beach access couldn't be easier for the water enthusiasts.
---
Beach Villas in Kauai
If you want to start each magical day on Kauai with an ocean swim, you will find that Hanalei Nalu located just a few hundred feet from the beach will suit you beautifully.  This beautiful beach property was used as one of the locations for the Oscar-nominated, The Descendants.  A leisurely ramble across your green lawn, skirting around your cleverly planted hedging, will find you right on the ocean's edge.
There is river access too from your property so you can enjoy kayaking and stand-up paddle-boarding.  This lovely three bed-roomed property will allow your group to be as active as they wish.  With quiet spaces, those who want to curl up with a book can find some solitude too.  A gas-fired BBQ will allow you to enjoy delicious local produce in bare-footed splendour.
---
Golden and Serene
Sometimes I am just amazed at the magic that can be woven by skilled architects and designers when they work seamlessly together.  Admittedly, the natural beauty of Kauai creates a framework so perfect that any dwelling will instantly be elevated simply by being built in such a heavenly place.  The views over mountains, lush tropical forests and the breadth of the wide blue Pacific Ocean are key features for most of the Kauai villa resorts.
The secret though is to ensure that the fabric of any structure and its internal layout and decoration add a further dimension to this perfection.
I can honestly say that Kalihiwai Bluff Hale is a villa that has exceeded this brief.  Golden and creamy tones of wood and tile work, create a fresh, clean and glamorous feel to this property.
The subtlety of the furnishings gift visitors with a luxurious stay that in no way distracts from the beauty of the natural surroundings.  The internal and external worlds blend together.  This 3 bed-roomed property with pool is the destination for those wanting a luxury break in a beach fronted location of great natural beauty.
---
Getting Around
When you decide to stay at any of our Kauai Villas, Lihue is a mere 30 miles away.  A short drive on a highway that hugs the coastline will get you from the relative bustle of the island's capital and airport to the relaxed vibe of the beaches of Hanalei, Anini and Waioli.
---
Conclusion
If you want to delve into the natural wonder that is Hawaii and learn more about its rich culture and folklore, you will discover the true magic of the islands that has captured visitors for centuries.  They say in Hawaii that the fire goddess, Pele, who rules over the elements of fire, lightning, wind and volcanoes created the islands.
If this is true, it can be said that she did her very greatest work on Kauai, shaping an island of immense natural beauty that has retained so much of what makes the Hawaiian experience like no other.
Aloha!
About Mairead Moriarty
Born and raised in Co Kerry, lived in London, New York, San Francisco, Dublin. Owner of one very battered suitcase, a well-worn passport and a million memories.
It seems very fitting for a travel writer that my surname translates as 'Skilled Navigator'. Apart from an occasion when, aged 3, I got lost in a Supermarket in Tralee, I have managed to live up to my name!
Curiosity is probably the driver that has sent me on magical mystery tours around the world. I want to 'feel' a place. I want all my senses to be engaged: from the history and geography that has influenced a country or city, the arts and achievements of its natives, anything and everything really.
Regardless of whether I am on a local train travelling through Morocco, or poking around in Marconi's study in Bologna or on a canal boat weaving through the heart of the English countryside, the same rules apply - ask questions, talk to locals, eat what they eat, sit quietly with nature and simply be.
Assimilate as much as is possible so as to understand the soul of a place. That is my passion. That is the compass by which I navigate.