Nestled in the North of the Caribbean sea and closely neighboring Cuba and Haiti, Jamaica is one of the most culturally vibrant countries in the world. Nearly three million people call this island paradise home, stretched over 4,240 sq miles of gorgeous beaches, stunning rainforests, and misty mountain ranges. 
It's the perfect destination for some truly exquisite luxury villas, and is a very popular destination for overseas wedding ceremonies. Luckily, we have an extensive list of 160 incredible villas for you to look at. 
So, whether you're coming to tie the knot, splash out with friends, or immerse yourself in another culture for a while, let's have a look at what Montego Bay has to offer for your perfect getaway. 
---
About Montego Bay
This sunny city on Jamaica's northern coast is a highly popular tourist destination thanks to its perfect mixture of adventurous and relaxing opportunities. 
Colloquially known as Mobay, it is the capital of the parish of St. James, and one of the most populated cities in Jamaica. The nearby town of Hopewell is a favorite spot for expats since it strikes the perfect balance between the serenity of the countryside with the vibrancy of the city. 
Montego Bay is on par, and often surpasses, Kingston as the tourism center of Jamaica, mainly thanks to Sangster International Airport – one of the busiest airports in the Caribbean. It also features a range of gorgeous seaside locations, such as Doctor's Cave Beach, which has some fabulous snorkeling opportunities.
---
The Tryall Club villas
Just 12 miles outside of Montego Bay is the famous Tryall Club: a luxury, private resort, opened in 1959, with an emphasis on all things elegant. 
66 of our finest rental villas are situated within these 2,200 acres of lush forest and pristine beaches. If you're looking for somewhere to relax in your own, exclusive world, then this is the place to be.
The Tryall Club is famous for its world-class tennis courts and golf courses, which are incorporated across the entirety of the resort. 
Each villa requires a temporary Tryall Club membership to be purchased for the duration of your stay. However, this grants you access to dozens of fantastic features across the resort, including air-conditioned, fully-stocked gym facilities, an assortment of weekly parties on the beach, afternoon tea in the Great House, and many more wonderful events. 
You can be sure that every villa is fitted with essential elements such as fast, free wifi, meaning you're never disconnected unless you want to be. 
So, without further ado, here are 5 of the best vacation rentals available in the Tryall Club resort. 
---
Karma Bay Villa takes top spot on our list thanks to its incredible beachfront views, lavish exterior, and bright, stylish interior design. 
With six en-suite bedrooms, able to comfortably sleep twelve guests, this is a spot where you can really unwind and spend some quality time with your loved ones. Waited on by a five-star private chef, butler, housekeeper, and many other fabulous members of staff, staying at Karma Bay means you won't want for anything.
The wide expanse of garden ensures you can enjoy your much-needed privacy without missing any of the sights on offer. Multiple dining areas means you're not limited to one view for the duration of your stay. Alternatively, host a barbeque event on the lawn and feel the grass between your toes for an added sense of that easy-living style that Jamaica encapsulates so well. 
---
Nestled on the crest of lush hillside, this dramatic villa, reminiscent of the colonial style of Jamaican country houses, boasts some of the best panoramic views of the Caribbean sea the Tryall Club has to offer. 
Not only that, but it comes with a wonderful, incredibly attentive team of five staff members who help make everything that little bit more magical, such as organizing a poolside dinner on the terrace. They consist of a chef, butler, laundress, housekeeper, and night-watchman who doubles as a gardener, ensuring you stay safe throughout the entirety of your stay.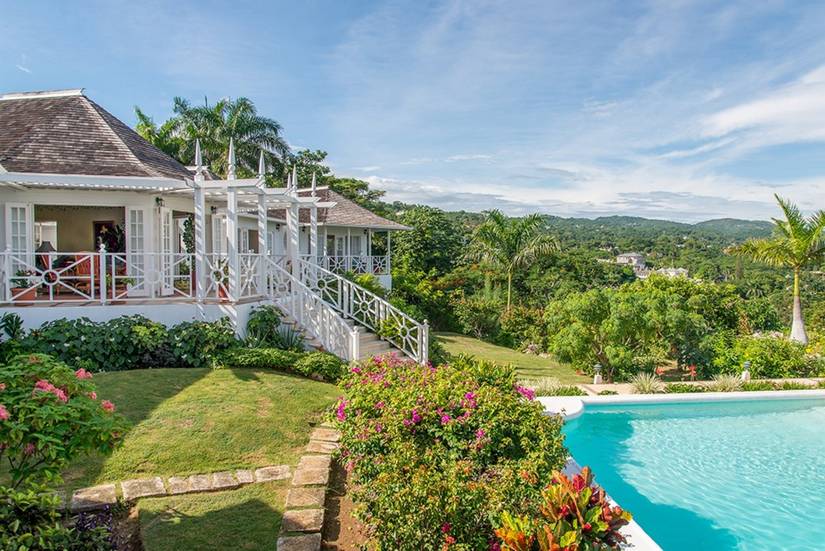 Cliffside Cottage has five bedrooms, three of which are en-suite, and is able to accommodate 10 people. This makes it perfect for those smaller family get-togethers, or intimate reunions with old friends. 
---
This delicious location actually consists of two villas, each with four en-suite bedrooms each, meaning they can accommodate a total of 16 people. This location is more of a home-away-from-home, as it also features two "his and hers" offices in the east and west wings, so you can continue to do whatever work you may need to whilst away.
The main villa is a bungalow-style residency, featuring a gorgeous veranda that stretches around to link all four bedrooms together. This then leads out towards the heated pool, beside which is the guest house, draped in bushels native flora that help blend the property into the countryside. Inside, you can find a private gym, three ground-floor bedrooms, and one stunning upper-floor bedroom with a large balcony that overlooks the water. 
A dedicated team of staff are there to cater to your every need. Additionally, Sugar Hill has two gardeners who help take care of the property, and tend to a vegetable garden and a collection of fruit trees, which are used regularly in the three daily meals your chef provides. 
---
With a design that honors the original meaning of villa, whilst incorporating quintessential elements of Jamaican style, Ambiance Sea Salt is a sprawling complex that blurs the lines between inside and out. 
The connecting corridors open out into a series of stunning courtyards, bordered by rows of Tuscan style pillars. This, when combined with the stone-coral walkways and Italian Travertine decor, evokes feelings of stepping into a Roman atrium.
Ambience Sea Salt features:
Space for twelve guests:

Two of the rooms are twin-bedrooms, perfect for children who may not want to sleep by themselves at night

Pools:

A saltwater hot tub and plunge pool, as well as a 1,900 sqft. heated swimming pool, overlooked by the main terrace 

Large terrace:

With a firepit and an enormous open-air couch, as well as one of several outdoor dining areas

Sports facilities:

Such as a private putting green and shuffleboard court
---
Bougainvillea is one of the most comfortably stylish villas Tryall has to offer. With breathtaking ocean views, an extensive veranda, and shelter from the neighboring mountain, this Caribbean Georgian style home is as gorgeous as the flower it was named after.
The structure of the house is slightly more enclosed than its counterparts, leading to an added level of intimacy and privacy that is perfect for relaxation. Amenities include:
Entertainment spaces:

A home theater, small library, and comfortable family room

Pool:

A 60ft long heated pool, with shallow kiddie-pool

5 bedrooms, able to sleep 10 guests:

Each room comes with its own marble en-suite bathroom, with both an indoor and outdoor shower. 4 master suites have their own, fully-furnished verandas

Transport:

2 complimentary golf carts 
---
Round Hill Villas 
Situated on the Round Hill Bluff, barely 25 minutes away from Sangster International Airport, is the "Classically Curated Caribbean" Round Hill resort. Founded in 1953, Round Hill is the more relaxed of the two major villa locations, with a greater emphasis on wellness and serenity. Think more 'landed gentry', rather than 'nouveau riche'. 
Whilst the majority of Round Hill's villas aren't named, and are known instead by their number, here are two iconic vacation homes that are well deserving of the name they were given – and the price tag that comes along with them. 
---
Named after the two-faced deity, Janus Villa sits at the highest point of Round Hill, overlooking sensational panoramic views of the rich tropical flora, backdropped by the Caribbean sea. 
There are two parts to this aptly named destination. Firstly, the official Villa Janus: 5,000 square feet of open plan design, built in the classic colonial plantation style. This four-bedroomed villa goes for a maximalist, yet elegant, approach when it comes to its interior. Everywhere you look, you can find Jamaican artwork and sculptures, helping you to feel more connected to the island and its incredible history. 
The white-washed walls with simple dark-wood crown molding, doors, and window frames help accentuate the color of the furniture and decoration.
The main villa has dining facilities for up to 18 people, meaning you have the space to invite other resort guests over during your stay, should you wish to. Then you can dim the lights and have a relaxing parlor evening gathered around the grand piano, composing in the same building Paul McCartney was in when he wrote his Liverpool Oratorio.
Janus Cottage maintains the simplicity of white-washed walls and furniture, this time complemented with calming pastels and floral patterns on the upholstery. With four additional bedrooms, this means your total party can be bumped up from 8 people to 16. However, unlike up at the main villa, the cottage's rooms are not en-suites. 
The cottage cannot be hired by itself. It is purely an add-on to Janus Villa to accommodate more people, or if you're looking for that little bit of extra space. It can be accessed via a separate gate. 
It almost goes without saying that Janus Villa also comes with a full staff, there to make sure everything goes off flawlessly. This spot is truly one to remember when planning that luxury vacation.
---
This modern, oceanfront villa is the ideal location for anyone looking to do a quick bit of snorkeling or splashing in something that isn't a private pool. Its clean, straight-laced design creates an elegant simplicity, allowing the main feature to be the brilliant blue expanse of sea at your doorstep, and the shimmering lights of Montego Bay in the distance. 
An array of sliding glass doors creates a fusion between the inside and outside world so you can wake up every day and step directly into paradise. The dining area makes for a dramatic difference from the rest of the villa. Made entirely from ornate wooden paneling, this splash of warm, brown tones cuts through the rest of the white building and draws all eyes towards it. When it's time to eat, everything feels a lot more personal, creating a wonderful sense of family and togetherness. 
The same can be said for the gorgeous wooden decking and bar area at the edge of the property. Take a stroll down the well-kept grass slopes and enjoy a drink of your choice as you lounge in the sun, or dip your toes into the waves.
Similarly to Janus Villa, Seaside has an adjacent cottage. The four king-sized bedrooms on the property are split evenly amongst the two buildings. Each comes with its own en-suite bathroom and flatscreen TV, leaving you lots of room for privacy without impacting the sea views. 
Whilst Seaside is perfect for a retreat with friends, it is less suitable for families with young children, as the age requirement for this location is 12 and above. 
---
Other Montego Bay Villas To Look Out For
Of course, your stay in Montego Bay isn't only limited to fancy resorts on the north-west coast. There are plenty of stunning opportunities further east. This also brings you closer to the stunning town of Ocho Rios, an amazing day-trip location if you're in the area. 
With that in mind, here are our final four luxury villas in Montego Bay, for your consideration. 
---
Starting closest to where we left off at Round Hill, we come to Bambu Villa, a gorgeous seven-bedroom mansion situated on eight acres of land. 
If you enjoyed Ambiance Sea Salt Villa's Italian influences, then you'll adore Bambu's Venetian palatial style, featuring Palladian arches, Italian sculptures by the pool, and stone-tiled towers. A rambling layout makes for a plethora of delightfully hidden spots. But you can be safe in the knowledge that everyone will come running back at the end of the day for a fabulous meal prepared by an exceptional personal chef. 
Still need a little convincing? Have a look at what our experts have said about this jaw-dropping location. It's the perfect spot for multi-generational families, as it features not only child-safety features and amenities, but it is wheelchair accessible – in the pool, too!
---
The amenities offered at Great River House are what make this five-bedroom location truly sensational. Everything you could ever want is packaged up perfectly at your convenience, including (but certainly not limited to):
Complimentary chauffeur

: Your personal driver will handle airport transfers, trips within Montego Bay area, and one day excursions (with other trips being charged locally)

Sports facilities

: Such as a private tennis court, putting green, badminton, croquet, and bocce ball equipment

Fresh produce

: Features citrus, mango and pimento trees, as well as a herb garden

Entertainment facilities

: Including Netflix, Spotify, a wireless sound system, and game room

Amazing staff

: A team of six staff members (chef, concierge/butler, housekeeping maids, gardener and night manager)
And, if you do start to feel a little cut off from the action, don't worry. Both Round Hills and the Tryall Club are within less than 15 minutes away from Great River House. Alternatively, our staff can help arrange times at world-standard golfing ranges such as Cinnamon Hill and White Witch.
---
A Brief Note
The final two villas are located in the highly attractive Spring Farm neighborhood, out past the east of Montego Bay. Here, not only will you be a lot closer to an array of lovely white-sand beaches, which are well worth a visit, but you're also right next door to the Half Moon resort and golf course. 
Then, barely five minutes down the road by car, you can also visit the extravagant Rose Hall Great House: a restored Jamaican Georgian plantation, which is now a museum and popular wedding destination. 
---
Bougain Villa is a grand two-storey home, closer in style to a modern mansion than an archetypal villa, but with just as much charm. The easy symmetry and semi-open plan provides feelings of tranquility and relaxation: you're in your own private space, here, with all the creature comforts you could want.
Whether you prefer to lounge inside or out, there's room for everyone, no matter the time of day. Easiness is built into the heart of this villa, so whether you prefer to dine and laugh with your companions underneath a starry sky, float about in the pool, cocktail in hand, or curl up on a wonderfully comfy couch with a book, the warm ocean breeze in your hair, your vacation is entirely what you make of it. It features:
6 en-suite bedrooms
Large terrace with fire-pit
Sitting rooms
Fully-stocked kitchen
Private gym
Outdoor bar
Infinity pool
---
If you want to feel like Caribbean royalty, look no further than Endless Summer Villa. This magnificent location is the perfect way to complete our list, and is sure to leave a lasting impression on you. Endless Summer breathes an air of opulence into any vacation. Its elegant, luxurious style is a timeless classic.
Its most notable feature has to be the several dramatic turrets that evoke a sense of grandeur. Endless Summer is the type of place you can imagine yourself throwing lavish parties with the rich and famous, featuring champagne towers and a live orchestra. 
Or perhaps you'd like to take things slow and just enjoy the time you have there with your friends and family. This villa can accommodate 16 people across 7 bedrooms, not including Alaina's Retreat, a private suite accessed via its own entrance – perfect for a romantic hideaway. 5 of these rooms contain en-suite bathrooms, and the ones that do not are twin rooms, ideal for any children staying over. 
A large pool, jacuzzis, wide veranda, and enclosed gardens provide ample opportunities for both group and solo activities. Then, you can end the day feasting on whatever your personal chef has meticulously created, or you can head into town and experience the fabulous selection of restaurants, as well as the bustling night-life, that Montego Bay has to offer. 
---
Your holiday awaits
Don't worry, we haven't spoiled all the surprises that come with seeing these amazing villas for yourself. Experiencing what these sensational locations have to offer in-person is infinitely more rewarding. 
Whilst there are dozens of other villas across Montego Bay, and hundreds sprawled over the entirety of Jamaica, we hope we've tickled your tastebuds with a hint of what could await you on this beautiful northern coast. 
We offer a concierge service to all of our villas, so you never have to worry about a thing. If you would like to know more about any of the villas listed, or other, equally spectacular locations we have available, get in touch so we can make your dream vacation come true.
About Sean Walsh
Sean Walsh is one of our Luxury Caribbean Villa Specialists and has an in-depth knowledge of our luxury villa rentals in The British Virgin islands, Puerto Rico and The US Virgin Islands. Seán studied Customer Service and French in College, where he received a student of the year award. Having worked in France, Spain and Norway and travelled in Asia and The United States, Seán has a real passion for exploring new places.