Here at exceptional villas, we pride ourselves on our expert knowledge of top destinations. When starting out in a new country, it can feel overwhelming trying to decide where to spend your precious vacation days. Especially when it comes to destinations like Barbados, where the options for incredible beaches are endless. 
So, we've put together a list of our 8 favourite luxury beaches in Barbados (in no particular order). We'll offer our top tips, the best lunch spots, why it's one of our favourites, and even some ideas for where to stay. Whether you're looking for family-suited beach days or isolated romantic trips for two, there'll be a perfect beach for you. 
Our Favourite 8:
1. Gibbs Bay
Gibbs has everything you could want in a paradise beach. The white sands, palm trees, and crystal clear water are staples for the Bajan west coast. There are plenty of trees to shade from the sun, and the calm waters are perfect for cooling off from the midday heat. It feels isolated and less touristy, which adds to the desert island feel.
However, this does mean there aren't facilities on the beach like toilets, showers, or changing rooms. So if you're visiting with children, bear that in mind. It's more of a layback and soak-it-all-in beach, so it's a little more suited to romantic getaways rather than family excursions. 
Best lunch spot
If you head to the left of the beach and walk around the small headland to the next bay, you will come across a perfect lunch spot. It's called Reggies Real Jamaican Jerk, and it's some of the best jerk you'll come across on the island. The walls are adorned with Jamaican flags and murals dedicated to famous Jamaican figures like Bob Marley and Usain Bolt. Outdoor seating overlooks the panoramic sea, making it the perfect oasis. 
Top tips
There isn't a specific car park for the beach, so Gibbs road is a good option for parking. It's just a 2-minute walk to the beach, and it's free. 

The entrance to the beach is a small and slightly hidden path just before the sign for 'South Winds'. 

Bring snorkeling gear to take advantage of the still waters. 
Check out our full guide for Gibbs Bay
Where to stay
If you want to have Gibbs on your doorstep, then you're in luck. We have 25 luxury villas in this area for you to browse through and find your favourite. Our top villa has to be Bonavita, with its gorgeous swimming pool and wet bar overlooking the sea.  
---
2. Carlisle Bay
If your idea of paradise is swimming with turtles, following sting rays, and liming in a beach bar, then Carlisle Bay might be the one for you. It is known for its truly stunning array of marine life that gathers around 3 shipwrecks just off the shore. For this reason, it's Barbados's number-one snorkeling spot.
Alongside this, the huge stretch of beach is populated by bars, cafes, and restaurants. Meaning from morning to night, there is always something to do. There is also a huge selection of watersports available, from kayaks and stand-up paddleboards (SUPs) to jet skis. You'll find great facilities which are clean and spacious, making your trip even more enjoyable. It's perfect for families and people of all ages. 
Best lunch spot
Lobster Alive is a beautiful restaurant that sits right on the beach. They are known for their truly exceptional lobster, but they also serve lighter lunch salads, steaks, and Bajan classics. The shabby chic atmosphere is perfect for relaxing after a beach day, and to top it all off, you can expect live jazz four nights a week. 
Top tips
If you haven't organized a boat tour for snorkeling, get to the beach at around 7.30 am to enjoy the turtles and shipwrecks without too many people around.

Don't forget your underwater camera. Some of the best wildlife photos I have taken have been at Carlisle Bay. 

Don't be surprised if a turtle swims right up to you. They are curious creatures.
---
3. Miami Beach
Located in the town of Oistins, Miami Beach is a popular spot. The location is perfect for a day out. Whether you want to head to Freights Bay and watch the turtles and the surfers bobbing around, or if you'd prefer to head into Oistins to take a look at the famous fish fry, each will only be a 10-15 minute walk max. 
Miami Beach itself is a stretch of soft white sand with loungers for comfort. Behind the beach, there is a shaded area perfect for picnics. Here, vans and cars gather, selling delicious fishcakes and beers, making it the perfect spot for a snack in the shade. There aren't watersports, but you can snorkel, although you may not find anything too exciting. It's a beach more suited to relaxing, indulging, and reading your book.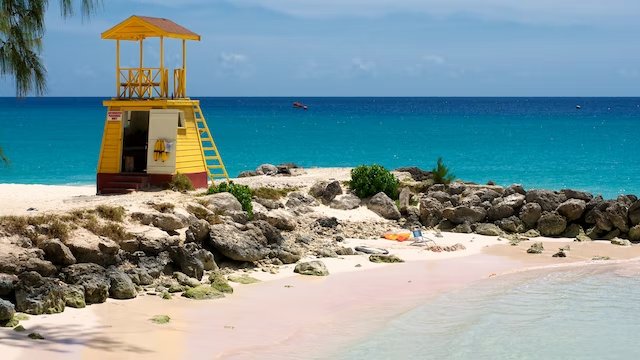 Best lunch spot
Behind the beach across the road, just a 3-minute walk away, you'll find Casper's. This gorgeous, relaxed restaurant has a shaded terrace overlooking the beach, and they'll make you any cocktail you can think of. The owners are super friendly, making you feel at home, and the food is classic Bajan dishes. We recommend the grilled chicken wrap. 
Top tips
The waves in the shallows can be surprisingly strong, so keep an eye out if you have small children playing. If you prefer no waves at all, walk around to the bay on the right.

Head to the left corner of the beach if you don't want a lounger, and set up against the rocks. It's lovely and quiet. 

If you're staying for sunset, head up to

Cafe Luna

for a cocktail and the best views.
---
4. Mullins
Mullins is the quintessential paradise beach. Being situated on the west coast of Barbados means the water is calm, clear, and perfect for swimming. There'll be plenty of watersport offers as you walk down the beach, from jet skis to paddleboarding. The coast is also backed by plenty of lovely restaurants, cafes, and little shops selling essential items. 
There are options to rent loungers for extra comfort, but if you prefer going natural, the soft sand makes for the perfect bed. It's a beach that suits everyone, popular with families with young children, couples on their honeymoon, and elderly visitors. 
Best lunch spot
The Sea Shed is the pinnacle of luxury lunches. This beautifully designed beach restaurant offers incredible food and delicious cocktails. With tables looking right over the sand from the terrace, you can expect a perfect atmosphere and brilliant service. Booking The Sea Shed offers some great perks for the day, like using their car park by the beach and renting their loungers.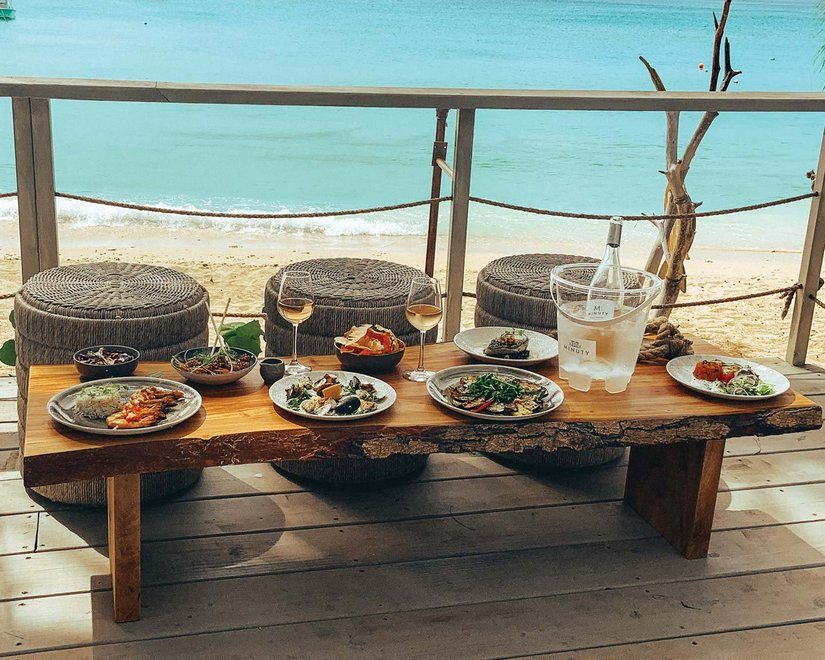 Top tips
If you stay until the evening, head to Speightstown, the new food capital of Barbados, which is just a few minutes' drive away. 

There are a few golfing options to check out nearby if you need a little extra entertainment. 

If you want to indulge in some relaxation, as you walk onto the beach, you'll see signs for massages. These are regarded as some of the best massages on the island. 
Check out our full guide for Mullins
Where to stay
Because of the pure paradise of Mullins, we have found it to be an extremely popular beach to stay on. We love our Easy Reach villa for its unique design and stunning views all day long. 
---
5. Sandy Lane Beach
Sandy Lane is known as one of the most luxurious beaches in Barbados, and it's not difficult to understand why. This crescent of white sand is the perfect place to lounge for the day. Its coral reefs near the shore offer great snorkeling experiences, and the calm waters mean you'll be able to clearly see all kinds of marine life. 
This beach is notorious for being close to the Barbadian singer Rihanna's residence, One Sandy Lane. So, if you're a fan, it's a must-see. Aside from this, it attracts many high-profile visitors because of its ultimate paradise feel. It's certainly an experience you don't want to miss. 
Best lunch spot
Bajan Blue is a one-of-a-kind dining experience. If you thought it couldn't get more luxurious than Sandy Lane beach, think again. The architecture is astounding, with a statement marble staircase leading down to the open dining terrace situated on the beachfront. They offer incredible dishes from European classics to Caribbean and Asian cuisine. It'll be a lunch you won't forget. 
Top tips
There is no dedicated car park, so most visitors park outside Rihanna's house and walk 2 minutes down a small alleyway to the beach. 

Low tide is best for access. 
Check out our full guide for Sandy Lane
Where to stay
Sandy Lane is the definition of luxury, proven by the many celebrities that frequent it. Sandy Lane Estate is home to almost 40 gorgeous villas, so why not treat yourself? Take a look at Sanzaru villa if you need some convincing.
---
6. Folkestone Beach
This is the best paradise beach for families in Barbados. The marine park means that shallow reefs and calm waters are suitable for all levels of snorkelers who wish to see turtles and tropical fish. There is also a children's adventure park, tennis courts, and basketball courts for the more restless of us. 
Folkestone has got something to offer everyone. There are loungers and umbrellas to rent for those wanting to relax while family members go and explore, and the facilities, like toilets, showers, and changing rooms, are abundant and well-kept. This is a true adventurer's paradise. 
Best lunch spot
Just a 10-minute walk away is Fusion Rooftop. This hidden gem at the top of Limegrove shopping center offers gorgeous Asian dishes and stunning views. The service is super, with an extremely friendly host and lovely service. It's a perfect place to escape the heat and see Barbados from a new perspective. 
Top Tips
If you're looking to keep the kids entertained, head to the aquarium in the Folkestone museum. 

Bring some spare cash to splash in the numerous souvenir shops.

Bring an underwater camera and be prepared to capture some incredible snaps. 
---
7. Bathsheba
If you're a keen surfer, then Bathsheba will be your ultimate paradise beach. Located on the wilder east coast, you can expect wild waves and rugged coastlines. This beach is less for families, as a relaxed cool-off in the sea is not really an option. You'll likely see surfing competitions, windsurfers, and photographers populating the banks of the beach. 
Even if you're not a surfer, plenty of great bars, restaurants, and cafes are set up so you can sit back, relax with a Banks, and watch those brave enough to face the wild waves. The surrounding landscape is vast and breathtaking, so be sure to bring a camera. 
Best lunch spot
Uncle Joe's Bar and Grill offers classic Bajan dishes. Think grilled chicken, plantain, and fish cutters (the Bajan word for a sandwich). The portions are generous, and the food is delicious. They even have a photo of Mick Jagger sitting on their steps, so you know you're in good company! Duck in for a refreshing cocktail, lunch, or snack, and then get back to watching the waves roll in. 
Top tips
If you want to explore the island's interior, head to

Andromeda Botanical Gardens

for a stunning walk. 

If you are surfing, be prepared to find a lot of sargassum (a type of seaweed).

There is a bench at the top of the big rock on the beach, offering exceptional views. 
---
8. Paynes Bay
Paynes Bay is considered the best area on the island for swimming. The beach is nestled within the bay, meaning the waters are calm and tranquil. The location is perfect for exploring the rest of the 'platinum coast', and there are plenty of restaurants, snack bars, and even some retail outlets nearby for you to browse. 
Because of the still sea, the snorkeling conditions are perfect. The reef near the shore is home to sea turtles, an array of stunning fish, and, who knows, maybe a cuttlefish or two (referred to as Sea Cats in Barbados). Despite being one of the best beaches in Barbados, it stays relatively quiet year-round, so it's perfect for a romantic getaway. 
Best lunch spot
If you've had your fill of jerk fish and rice, then maybe something a little more European is a nice change for lunch. Positano is a high-end Italian restaurant on the beachfront, offering stunning views of the bay. Expect cold glasses of wine and light seafood pasta to refresh you after a day exploring the ocean. 
Top Tips
The reef to the right of the beach is the best for snorkeling.

Loungers and umbrellas are available. 

For horse lovers, a beach ride is available starting in Holetown at

Steve's Stables

.
Check out our full guide for Paynes Bay
Where to stay
Paynes Bay is an ideal location to stay in. It's the heart of the west coast, meaning every other paradise beach in Barbados won't be far from you. Our favourite villa, one of the only private beachfront rentals in the area, is New Mansion Villa. An exquisite 4-bedroom property that couldn't get you much closer to the gorgeous sands. We have over 40 stunning villas in the area, so be sure to browse if Paynes appeals to you.
---
Conclusion
These are just a few of our favourite luxury beaches in Barbados. Something that makes this Caribbean country so magical is the public access to all bays and beaches. This means you never have to worry about stumbling onto private property or snorkeling where you shouldn't be. You can explore the whole island and find the best hidden gems just for you. 
If you book a stay through Exceptional Villas, we offer a pre-arrival expert concierge just for you. They will help you discover the very best of the island, booking excursions, day trips, restaurants, and just about anything that will make your vacation perfect. Think candlelit dinners on the beach by top chefs, or professional babysitters so you can really let your hair down. The possibilities are endless, and the world is your oyster. 
So, if any of these beaches appeal to you, chat with our specialist sales team to organize your dream vacation. 
About Alexandra Baradi
Alexandra Baradi is the founder and owner of Exceptional Villas. She started the company 1992. Alex is a hotel manager by background and has travelled around the world in search of the best villas.
Her personal passion for travel and her entrepreneurial flair for making guest feel very special from the moment they enquire to the moment they arrive home, has enabled Exceptional Villas to become the world's leader in luxury villas.
She believes anything is possible when you travel with Exceptional Villas and ensures you will be pampered every step of the way.
Alexandra and her team all have one thing in common; to provide their guests with an unmatched holiday experience and to go beyond expectations.
Each of the team members specialise in just one destination rather than in multiple destinations allowing them to become total experts in their fields.
Both Alexandra and her team spend much of their time travelling to all the destinations inspecting new villas and re-inspecting already featured villas.